By Stephanie Guerra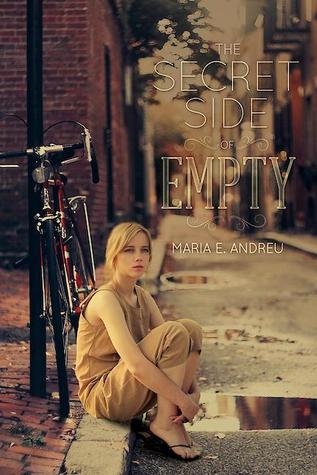 DESCRIPTION FROM THE BOOK JACKET: M.T. is undocumented. But she keeps that a secret. As a straight-A student with a budding romance and loyal best friend, M.T.'s life seems as apple-pie American as her blondish hair and pale skin. But she hides two facts to the contrary: her full name of Monserrat Thalia and her status as an undocumented immigrant.
But it's getting harder to hide now that M.T.'s a senior. Her school's National Honor Society wants her to plan their trip abroad, her best friend won't stop bugging her to get her driver's license, and all everyone talks about is where they want to go to college. M.T. is pretty sure she can't go to college, and with high school ending and her family life unraveling, she's staring down a future that just seems
In the end, M.T. will need to trust herself and others to stake a claim in the life that she wants
Told in M.T.'s darkly funny voice and full of nuanced characters, The Secret Side of Empty is a poignant but unsentimental look at what it's like to live as an "illegal" immigrant, how we're shaped by the secrets we keep, and how the human spirit ultimately always triumphs.
MY TWO CENTS: This is an ambitious book, taking on a range of powerful topics including immigration, domestic abuse, and suicide. Maria Andreu approaches her themes head on and unflinchingly. Her writing is raw and honest, and as a result, the book engages at a deeper level than the average YA.
Monserrat Thalia, or M. T., is a conflicted, loveable character and a convincing portrait of a teen struggling with the challenges of "illegal" immigrant status. M. T. is from Argentina, but her desire for rootedness, her grief, and her uneasy relationship with America and Americans all speak to common threads experienced by immigrants from many cultures. As M. T. approaches high school graduation, the differences between her situation and that of her friends emerge in stark contrast: because of her undocumented status, she has no possibility of a degree, and no chance for a job and the trappings of a "successful" life. Meanwhile, her friends are college and career bound.
As M. T. grows increasingly bleak about her dead-end future, even contemplating suicide, her father enters his own spiral of immigration-related frustration, inadequacy, and violence. The book raises provocative questions: When does disciplinary hitting cross a line into abuse? How frequently or severely must violent episodes occur to justify a call for help? What are the products of intersecting adult insecurity, fear of deportation, cultural background, and violence?
I applaud Maria Andreu for taking a courageous look at all these questions through a snapshot of M. T.'s senior year. Andreu's writing is clean and accessible with sharp-edged wit and darkly ironic undertones sure to appeal to teen readers. Characterizations are strong, with a special flair for finely drawn secondary characters. Best of all, no easy answers are offered. This book calls for thoughtful discussion, and is ideal for illuminating and humanizing an experience that many readers understand only through media coverage and political debate.
AUTHOR: Maria E. Andreu is the author of the novel The Secret Side of Empty, the story of a teen girl who is American in every way but one: on paper. She was brought to the U.S. as a baby and is now undocumented in the eyes of the law. The author draws on her own experiences as an undocumented teen to give a glimpse into the fear, frustration and, ultimately, the strength that comes from being "illegal" in your own home.
Now a citizen thanks to legislation in the 1980s, Maria resides in a New York City suburb with all her "two's": her two children, two dogs and two cats. She speaks on the subject of immigration and its effect on individuals, especially children. When not writing or speaking, you can find her babying her iris garden and reading post apocalyptic fiction. You can also find her on Facebook and Twitter.
FOR MORE INFORMATION ABOUT The Secret Side of Empty, visit your local library or bookstore. Also, check out worldcat.org, indiebound.org, goodreads.com, amazon.com, and barnesandnoble.com.