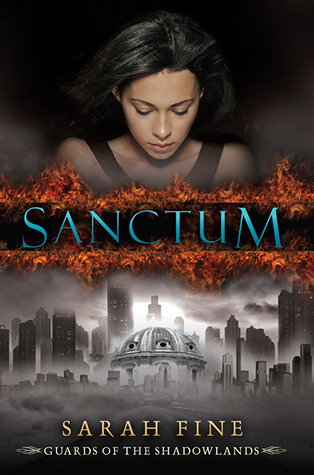 By Cindy L. Rodriguez
This month, we are taking a look at Latin@s in science fiction and fantasy. Today, we have a Q&A with Sarah Fine, author of Sanctum and Fracture. (Book three is in the works.) Here is a partial description of Sanctum, which features Lela Santos, a Latina main character, a foster child from Rhode Island who has experienced abandonment, neglect, and sexual abuse:
A week ago, seventeen-year-old Lela Santos's best friend, Nadia, killed herself. Today, thanks to a farewell ritual gone awry, Lela is standing in paradise, looking upon a vast gated city in the distance—hell. No one willingly walks through the Suicide Gates, into a place smothered in darkness and infested with depraved creatures. But Lela isn't just anyone—she's determined to save her best friend's soul, even if it means sacrificing her eternal afterlife.
Cindy: First, let me say that I loved Sanctum. The only part that frustrated me was how long it took for Lela and Malachi to kiss :.)
Sarah: I'm so glad you enjoyed it, and I hope the kiss was worth the wait!
Cindy: The premise of Lela going into hell to retrieve Nadia is similar to the Greek myth Orpheus and Eurydice, but obviously this is not a retelling. How influenced were you by that myth or mythology in general?
Sarah: I actually didn't think about that particular myth at all as I was generating the idea for this book. When I read that comparison in a review, I was like … you know, that's actually quite apt! I was a little more influenced by Jewish and Mesopotamian mythology. The Mazikin are mentioned in the Talmud as evil spirits or demons, and the inhuman Guards are very loosely based off protective deities called the lamassu in Mesopotamian myths, where they're described as half-man, half-bull.
Cindy: Your setting is an interesting kind of hell, with the buildings being alive and able to feed off its inhabitants. How did you create and develop this idea? What kind of research do you do for fantasy world creation?
Sarah: This idea was inspired by the way C.S. Lewis wrote about his version of hell/purgatory in The Great Divorce. The "grey town" is this massive, depressing city where it's always raining, always twilight—and here's the part that really got me: people could have whatever they wanted, but it was of low quality. That Grey Town at the very beginning of that book completely inspired the dark city in Sanctum. Obviously, I changed it a lot, including the idea that the city is really one living, breathing entity that grows off the depression of the people residing within, but I give Lewis the credit for the basic idea (and he was clearly influenced by Dante in that work, so he deserves credit as well.)
Cindy: Do you continue to work as a child psychologist? Did your work experiences help you to portray the emotional recovery Lela and the others have to go through in order to heal from trauma?
Sarah: I do, but in a different capacity than I have in the past, when I did a lot of home-based evaluations and therapy. Now I direct programs and supervise clinicians who provide those services to children and adolescents who are at risk for out-of-home placement in psychiatric hospitals or residential treatment facilities. Our goal is to work with families to keep these kids at home and in their communities, where research clearly shows they do best.
My work definitely influences how I see the complexity of trauma and what it takes to heal. A huge percentage of our clients have experienced some type of trauma, and usually not what we think of as single event, "simple" trauma. Though that can be devastating, it's actually easier to treat than the complex developmental trauma we often see, where the trauma is more chronic and ongoing. This is actually the type of trauma Lela's experienced—multiple disruptions in attachments, several instances of abuse or neglect. As I show her fragile but growing relationship with Diane, her foster mom, that's always on my mind. I definitely explore more of that in book three.
Cindy: In addition to the great action scenes, this story focused on the characters' battles with their personal demons. Thinking about author choices here…because of the issues the characters face, this story could have been developed as a YA contemporary. What led you to decide to develop the story as fantasy instead?
Sarah: I guess it's a preference thing. There are some brilliant, brilliant authors who have explored these issues with contemporary YA (Nina LaCour, for example), but I wanted to place these characters in an environment where the depression was a tangible, living thing. This fantasy world gave me the chance to explore a lot of philosophical issues, like what is heaven, really, and how could it possibly be the same for everyone? What if you're not emotionally ready to be there and accept what it offers? To me, that's not a religious question, but a more concrete way of exploring something very emotional–Can you have some version of that goodness in your life, no matter where you are? What would you have to understand and embrace to receive that?
Cindy: Again with author choices….Obviously you could have created characters of any race, ethnicity, etc. What made you decide to create a Latina MC?
Sarah: Lela Santos really just materialized to me in that form. However, I will tell you that the majority of the school children in the urban core of Rhode Island, where Lela's from, are Latino/a. Also, in general, children of color are overrepresented in terms of involvement in the juvenile justice system in this country (with harsher sentences as well—we've had court workers outright say that they're harder on these kids because of the racism they face within society, which is a totally twisted logic that over-penalizes those children and in my opinion perpetuates that racism). Once I considered those facts, it seemed wrong to consider making her anything other than what she was from the beginning.
Cindy: Your secondary characters have interesting back stories as well, which suggests to me that including diversity in your writing is important to you. Some authors shy away from including diverse characters for fear of "getting it wrong." Did you have any concerns about creating diverse characters? What advice, if any, would you give to fantasy writers about diversity in the genre?
Sarah: This story takes place in the afterlife, and the idea that the only people residing there would be Anglo-American, or any kind of American, is pretty laughable. The world is a BIG place—and the afterlife would be the same, minus the country divisions. Everyone would be there together, right? The dark city where most of Sanctum takes place is where everyone in the world who committed suicide has gone (with some exceptions, I think, but that's a different interview!). I felt very strongly that having Lela coincidentally meet up with people who were American would just be false and icky.
I did have concerns, of course, because I really wanted these characters to have an impact, and to feel like real people. I did quite a bit of research. I also focused on writing from the inside out, trying to focus on each of those characters as human beings who loved and hoped and despaired in their own ways. I don't think I'm some kind of expert on this. I'm certain I've made mistakes. But I'm curious and always wanting to learn about people who are different from me. And I started from the premise that all those diverse characters—Lela, Malachi, Ana, Takeshi—were on their own profoundly personal journeys, armed only with their intelligence, resilience, perseverance, and the capacity to risk their lives and hearts for a chance at peace. The rest flowed from that.
Check out these other works by Sarah Fine: