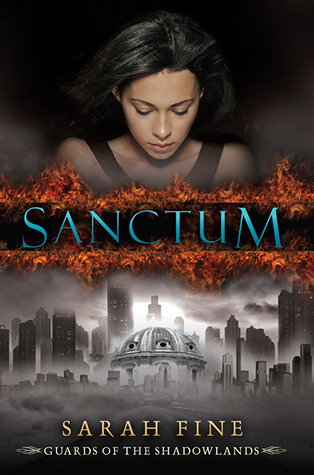 By Cindy L. Rodriguez
This month we are taking a look at Latin@s in science fiction and fantasy. On Monday, we had a Q&A with Sarah Fine, author of the Guards of the Shadowlands series. Today, we take a closer look at her debut novel, first of the series, Sanctum, which features a 17-year-old Latina protagonist.
DESCRIPTION OF THE BOOK: "My plan: Get into the city. Get Nadia. Find a way out. Simple."
A week ago, seventeen-year-old Lela Santos's best friend, Nadia, killed herself. Today, thanks to a farewell ritual gone awry, Lela is standing in paradise, looking upon a vast gated city in the distance—hell. No one willingly walks through the Suicide Gates, into a place smothered in darkness and infested with depraved creatures. But Lela isn't just anyone—she's determined to save her best friend's soul, even if it means sacrificing her eternal afterlife.
As Lela struggles to find Nadia, she's captured by the Guards, enormous, not-quite-human creatures that patrol the dark city's endless streets. Their all-too-human leader, Malachi, is unlike them in every way except one: his deadly efficiency. When he meets Lela, Malachi forms his own plan: get her out of the city, even if it means she must leave Nadia behind. Malachi knows something Lela doesn't—the dark city isn't the worst place Lela could end up, and he will stop at nothing to keep her from that fate.
MY TWO CENTS: Sanctum by Sarah Fine offers an engaging blend of fantasy, action, romance, and contemporary social issues, sure to appeal to a variety of readers. Protagonist Lela Santos has spent most of her life in foster homes and the sexual abuse she suffers at one causes her to attempt suicide. Her abuser interrupts the suicide, but Lela was gone long enough to glimpse hell. When her best friend Nadia kills herself and Lela dies accidentally soon after, she is determined to save her friend from the city that preys on souls' worst fears, insecurities, and vices.
Problem is: Lela doesn't belong there. The city won't sustain her, which puts her at risk of dying–again.
Another problem: Creepy creatures called Mazikin claim broken souls and are preparing to bust out of the city. The fights are fierce between the Mazikin and the Guards, and Lela proves to be a badass even before any formal fight training.
Yet another problem: Lela is falling in love with Malachi, the leader of the Guards. And while the romantic tension between them is hotter than Hades itself, a love affair in this setting isn't likely to last. Plus, Lela is still healing from traumas experienced in her mortal life, which means she doesn't easily trust people even in the afterlife.
One of the things I liked most about Sanctum was the development of the characters' emotional journeys through pain and into healing. They all suffered so severely in life they decided to commit suicide, and that decision landed them in a place that continues their torment. Still, as difficult as it is, in life and this afterlife, some are able to overcome the worst experiences and find purpose in life and even love. I won't give away what happens when Lela finds Nadia, but I will say I wasn't entirely surprised at Nadia's response to the rescue effort. The point that we all heal at our own pace is an important one to remember (in real life) when trying to help people with mental health issues.
TEACHING TIPS: One thing the Common Core State Standards asks is for students to compare different treatments of the same subject or analyze how one work of literature has influenced another. One way Sanctum could be used in the classroom, even if only parts are used, is to compare Fine's version of hell with other versions of hell and purgatory in literature. Discussions about the afterlife and the particular fate of those who commit suicide would be appropriate in higher level English classes that consider the Bible's influence on literature and history/social studies courses that include a comparative study of religions.
AUTHOR: Sarah Fine is the author of the Guards of the Shadowlands, a YA urban fantasy series (Skyscape/Amazon Children's Publishing), including Sanctum (October 2012) and Fractured (October 2013). The third and final book in this series comes out in October 2014. In May 2014, Putnam/Penguin published Scan, the first of two thrillers she co-authored with Walter Jury. Her gothic young adult novel Of Metal and Wishes will be published by McElderry/Simon & Schuster in August 2014. When she's not writing, she's psychologizing. Sometimes she does both at the same time. The results are unpredictable.