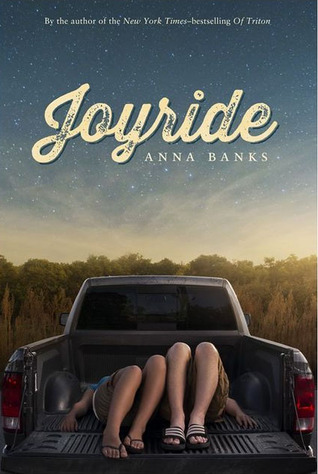 By Cindy L. Rodriguez
The latest novel by Anna Banks, the New York Times Bestselling Author of the The Syrena Legacy series: OF POSEIDON (2012) OF TRITON (2013) OF NEPTUNE (2014), releases today. JOYRIDE, a contemporary with a Mexican-American main character, is a change for Banks, but you'll see that she was ready to cleanse her fantasy palette and that the seeds for this particular story were planted years ago.
First, here is a description of the book:
A popular guy and a shy girl with a secret become unlikely accomplices for midnight pranking, and are soon in over their heads—with the law and with each other—in this sparkling standalone from NYT-bestselling author Anna Banks.
It's been years since Carly Vega's parents were deported. She lives with her brother, studies hard, and works at a convenience store to contribute to getting her parents back from Mexico.
Arden Moss used to be the star quarterback at school. He dated popular blondes and had fun with his older sister, Amber. But now Amber's dead, and Arden blames his father, the town sheriff who wouldn't acknowledge Amber's mental illness. Arden refuses to fulfill whatever his conservative father expects.
All Carly wants is to stay under the radar and do what her family expects. All Arden wants is to NOT do what his family expects. When their paths cross, they each realize they've been living according to others. Carly and Arden's journey toward their true hearts—and one another—is funny, romantic, and sometimes harsh.
CINDY: This is a genre shift for you after the very successful Syrena Legacy Trilogy. What sparked you to shift gears and write contemporary fiction?
ANNA: Before we begin, I just want to say it is my pleasure and an honor to be here today. Thank you so much for thinking of me. I enjoy your website and am very supportive of its goals and focuses.
JOYRIDE was sort of a palette cleanser between fantasy worlds. I was ready to write a standalone for once, and Carly's story kept haunting me at night. To be honest, writing something in the real world was more of a challenge because I had stricter boundaries to abide by, and my characters had only their natural abilities to use to get them out of situations. But it was also a pleasure to have those boundaries, because writing characters who had to use their natural resources, to me, made them stronger and more realistic.
CINDY: And while we're talking genre, JOYRIDE really is a mix of realistic, romance, and thriller. Was this intentional while you were plotting? Did you want to have some twists that are not always typical with a straight contemporary, or is that just where the story went as you were planning?
ANNA: While I was writing JOYRIDE, I didn't realize I was writing so many twists in it. To me, it seemed like the natural way things would have to go. Of course, I've never written contemporary before (and if I'm being honest I don't read much of it either), so I wasn't aware there were sort of "rules" to writing a straight contemporary. Now I realize I've written this steroidal hybrid, and I hope contemporary readers can move past that and embrace it. Pretty please? :.)
CINDY: Let's talk about craft for a bit next. You have a dual narrative, but you use a first-person point of view for Carly and a close third-person for Arden. As both a reader and writer, I'm always curious about these kinds of decisions. Why did you decide on this format instead of a dual first-person?
ANNA: This is me recognizing a weakness I have in writing. I can write a strong female heroine in first person, but for the hero, I need to take a step back and put some distance between myself and him, to distinguish my voice from his voice. I don't want readers as familiar with my hero and his most inner feelings and thoughts in the way writing in first person would give them access to. In fact, I considered writing JOYRIDE from only Carly's perspective, but Arden was just too funny to put behind stage.
CINDY: The topic of immigration and deportation are complex, often contentious, social and political issues. What made you want to write about the life of a Mexican-American girl whose parents were deported? What kind of research did you have to do? Was it difficult to write outside of your cultural experience?
ANNA: Living in the Florida panhandle, I live and work and play among many Mexican immigrants—both documented and undocumented. When I was a teenager in particular, I worked at a restaurant where there were some undocumented immigrants, and as we became friends, they told me their stories. They told me their anxiety about being deported, about missing their family, about the fear of being separated from the family they've established in the United States. It really left an impression on me. As a teen, I wondered what I would do if my parents were deported, if I was here all alone. I guess Carly was planted in my head all those years ago and I didn't even know it.
I didn't have much research to do, because I learned it first hand from my friends and coworkers. That you didn't want to get pulled over because instead of a speeding ticket, you'd get deported. That you didn't want to attract attention to yourself. That you sent money home as often as you could. That there were people they called coyotes who helped them cross the border and desert, who demanded large sums of money to help them get set up in the United States. That when you cross the border, you cross with what you can carry, and that's it.
I'm white, and so writing outside my own cultural experience was terrifying. I wanted to do it respectfully and realistically, because I deeply respect the work ethic and the family values of immigrants, and I wanted to share their plight with the world. But sometimes in writing it, I did wonder if it was my place to do so. But I had a story to tell, and I felt it was an important one, so I kept going.
CINDY: Do you plan to write more contemporary YA? Any projects in the works that you can tell us about?
ANNA: Right now I'm working on an Egyptian based fantasy called NEMESIS and its sequel, ALLY. It's about a princess who possesses the power to create energy who escapes her father, who wishes to weaponzie it, only to be captured by an enemy kingdom where she discovers her powers could be used to fight a terrible plague.
I write when I have a story to tell, and usually my muse takes me across a lot of different genres. As for writing contemporary again—sure, why not? But I have to have a story to tell. If I find myself wanting to add time travel or wormholes in the contemporary, I'd better just set it aside. :.)