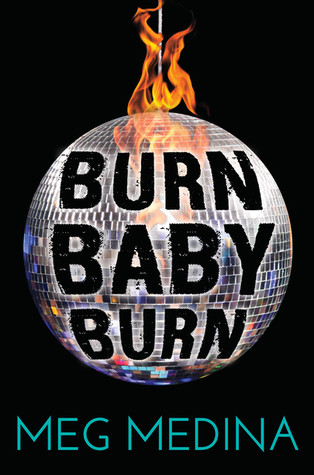 Review by Cecilia Cackley
DESCRIPTION OF THE BOOK (from Goodreads): Nora Lopez is seventeen during the infamous New York summer of 1977, when the city is besieged by arson, a massive blackout, and a serial killer named Son of Sam who shoots young women on the streets. Nora's family life isn't going so well either: her bullying brother, Hector, is growing more threatening by the day, her mother is helpless and falling behind on the rent, and her father calls only on holidays. All Nora wants is to turn eighteen and be on her own. And while there is a cute new guy who started working with her at the deli, is dating even worth the risk when the killer likes picking off couples who stay out too late? Award-winning author Meg Medina transports us to a time when New York seemed balanced on a knife-edge, with tempers and temperatures running high, to share the story of a young woman who discovers that the greatest dangers are often closer than we like to admit — and the hardest to accept. Burn Baby Burn releases March 8 from Candlewick Press. It has been named a Junior Library Guild Selection and has received a starred review from Kirkus.
MY TWO CENTS: Meg Medina follows up her Pura Belpré winner Yaqui Delgado Wants to Kick Your Ass with another story of a girl in Queens just trying to survive high school and family drama. Burn Baby Burn takes place in the summer of 1977, and the larger struggles of New York City grappling with a serial killer, power outages, and arson parallel the way the protagonist Nora is trying to cope with a threatening older brother, an absent father, and a traditional mother who protects family and men at the cost of everything else.  Medina perfectly captures the stifling atmosphere that drives Nora to hide her struggles from her best friend and love interest. I just wanted to give Nora a hug and say please, tell someone about what's going on at home, but I also understood how her pride and shame drove her decision making. Medina carefully builds the suspense, never taking the easy way out of resolving a conflict. You will be holding your breath by the end of the book, hoping desperately that Nora will triumph.
TEACHING TIPS: The historical setting makes this a good fit for a history or sociology class. Classes studying serial killers, cities in transition, or class and racial tension will find this a compelling read. Medina's incorporation of the feminist movement and in particular her nod to how it left out women of color is a great place for a class to start a discussion.
ABOUT THE AUTHOR: Meg Medina is an award-winning Cuban American author who writes picture books, middle grade, and YA fiction. She is the 2014 recipient of the Pura Belpré medal and the 2013 CYBILS Fiction winner for her young adult novel, YAQUI DELGADO WANTS TO KICK YOUR ASS. She is also the 2012 Ezra Jack Keats New Writers medal winner for her picture book TIA ISA WANTS A CAR.
Her most recent picture book, MANGO, ABUELA AND ME, a Junior Library Guild Selection, has earned starred reviews in Booklist and Publishers Weekly, and  is included in the 2015 American Booksellers Association's Best Books for Young Readers Catalog.
Meg's other books are THE GIRL WHO COULD SILENCE THE WIND, a 2012 Bank Street Best Book and CBI Recommended Read in the UK; and MILAGROS: GIRL FROM AWAY.
Meg's work examines how cultures intersect through the eyes of young people, and she brings to audiences stories that speak to both what is unique in Latino culture and to the qualities that are universal. Her favorite protagonists are strong girls. In March 2014, she was recognized as one of the CNN 10 Visionary Women in America. In November 2014, she was named one of Latino Stories Top Ten Latino Authors to Watch. 
When she is not writing, Meg works on community projects that support girls, Latino youth and/or literacy. She lives with her family in Richmond, Virginia.
FOR MORE INFORMATION about Burn Baby Burn, check your local public library, your local bookstore or IndieBound. Also, check out Goodreads, Amazon, and Barnes & Noble.
Here is the official book trailer for Burn Baby Burn:
Cecilia Cackley is a performing artist and children's bookseller based in Washington DC where she creates puppet theater for adults and teaches playwriting and creative drama to children. Her bilingual children's plays have been produced by GALA Hispanic Theatre and her interests in bilingual education, literacy, and immigrant advocacy all tend to find their way into her theatrical work. You can find more of her work at www.witsendpuppets.com.