The Pura Belpré Awards turns 20 this year! The milestone will be marked on Sunday, June 26, from 1:00-3:00 p.m. during the 2016 ALA Annual Conference in Orlando, FL. According to the award's site, the celebration will feature speeches by the 2016 Pura Belpré award-winning authors and illustrators, book signings, light snacks, and entertainment. The event will also feature a silent auction of original artwork by Belpré award-winning illustrators, sales of the new commemorative book The Pura Belpré Award: Twenty Years of Outstanding Latino Children's Literature, and a presentation by keynote speaker Carmen Agra Deedy
Leading up to the event, we will be highlighting the winners of the narrative and illustration awards. Today's spotlight is on Judith Ortiz Cofer, the winner of the 1996 Pura Belpré Narrative Award for An Island Like You: Stories of the Barrio.
Review by Marianne Snow Campbell
DESCRIPTION FROM THE PUBLISHER: Rita is exiled to Puerto Rico for a summer with her grandparents after her parents catch her with a boy. Luis sits atop a six-foot mountain of hubcaps in his father's junkyard, working off a sentence for breaking and entering. Sandra tries to reconcile her looks to the conventional Latino notion of beauty. And Arturo, different from his macho classmates, fantasizes about escaping his community. They are the teenagers of the barrio – and this is their world.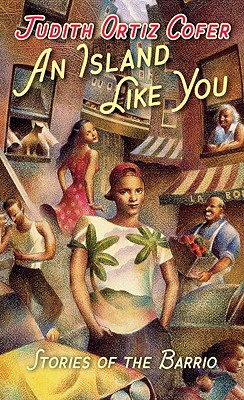 MY TWO CENTS: Winner of the very first Pura Belpré medal for narrative in 1996, An Island Like You: Stories of the Barrio consists of twelve short stories, each describing episodes in the lives of Stateside Puerto Rican teenagers living in Paterson, New Jersey. The prose is spare and straightforward, yet wonderfully descriptive in its simplicity, and Judith Ortiz Cofer captures the rawness and honesty of the characters' feelings as she describes their deeds and inner thoughts or lets them narrate for themselves. Their voices seize the humor of teenage awkwardness; clashes with family members who, as the younger generation see it, are mentally "stuck" in Puerto Rico; the anger, confusion, and despair that lead to unwise or even dangerous behaviors. Although readers can certainly learn lessons from the characters' actions, An Island Like You is never didactic. Rather, these stories are simply about life as it really happens – people make choices and face consequences.
What I enjoy most about this book are its explorations of identity. What can it mean to be a young person living in El Barrio in Paterson? The variety of stories and narrators presents readers with multiple perspectives, showing them that, although all of the book's characters share an environment and a heritage, their experiences are hardly monolithic. Arturo, who loves poetry and wants nothing to do with his peers, feels trapped in El Barrio. Connie is annoyed that she has to look after her grandmother, who's visiting from Puerto Rico. Anita gets involved with an older man. These multifaceted characters, all facing different conflicts, illustrate the panorama of identities that can exist in one community.
Moreover, some characters appear in more than one story, narrating their own episode first and then playing a supporting role in someone else's tale. For example, "The One Who Watches" depicts Doris's dealings with her friend Yolanda, who has started skipping school and shoplifting. While Doris is horrified by Yolanda's behavior, she's equally scared of losing her friend and must decide whether she wants to keep "following Yolanda into trouble" (117). Later, we meet Yolanda again, this time as the narrator of her own story, "Don José de la Mancha." Two years after her father's death, her mother has started seeing another man, and Yolanda must reconcile her lingering grief with her mother's new-found happiness.
Seeing Yolanda through two sets of eyes – Doris's and her own – demonstrates the complexity of her character. These dual snapshots of her experience show us that we never know what's really going on in someone's head or their life. If we had only seen Yolanda through Doris's eyes, we might judge her for her reckless behavior, but witnessing her struggle to get over her father's death helps us understand that pain and conflict that might be guiding her. By considering these different perspectives, young readers can enhance their powers of empathy. Engaging with these stories can allow them to enter others' heads, to understand why they think and act the way they do. Judith Ortiz Cofer sums up this act exquisitely in a poem, "Day in the Barrio," which acts as a foreword to this book:
At the day's end,
you scale the seven flights to an oasis on the roof,
high above the city noise, where you can think
to the rhythms of your own band. Discordant notes rise
with the traffic at five, mellow to a bolero at sundown.
Keeping company with the pigeons, you watch the people below,
flowing in currents on the street where you live,
each one alone in a crowd,
each one an island like you.
 TEACHING TIPS: An Island Like You lends itself beautifully to a jigsaw-style literary discussion. Instead of immediately requiring students to read the whole book, have each student read a different short story and analyze the main character of that story. What are her/his feelings about living in El Barrio? What kinds of struggles does s/he face? Does s/he overcome them? If so, how, or if not, why not? Do you relate to her/him? After getting to know her/his character, each student can then pair up with a classmate and compare/contrast characters to get an initial feel for the diversity of experiences represented in these stories. Discussing the characters aloud instead of in writing might make this analysis more authentic and natural, like students are talking about their peers rather than imaginary beings.
RESOURCES:
Interview with Judith Ortiz Cofer from Heinemann Publishing
Feature on Judith Ortiz Cofer at Vamos a Leer
Review of An Island Like You at All Brown All Around
ABOUT THE AUTHOR: Judith Ortiz Cofer was born in Hormigueros, Puerto Rico and grew up in Paterson, New Jersey, two locations that have inspired her work. She has written for all ages – children's and young adult books including ¡A bailar! / Let's Dance! (2011), The Poet Upstairs (2012), Animal Jamboree (2012), Call Me Maria (2006), and If I Could Fly (2011), and books of poetry and prose for adults, including The Meaning of Consuelo (2003) and the Pulitzer Prize-nominated The Latin Deli (1993). Her work has won various prizes and honors, such as the Pushcart Prize and the O. Henry Prize and has appeared in several literary anthologies. Moreover, she has received fellowships at Oxford University and the Bread Loaf Writers' Conference. Currently, she lives in Georgia and is the Regents' and Franklin Professor of English and Creative Writing, Emerita.
Marianne Snow Campbell is a doctoral student at The University of Georgia, where she researches nonfiction children's books about Latinx and Latin American topics and teaches an undergraduate course on children's literature. Before graduate school, she taught pre-K and Kindergarten in Texas, her home state. She misses teaching, loves critters, and can also be found on Twitter and Facebook.