The Pura Belpré Awards turns 20 this year! The milestone will be marked on Sunday, June 26, from 1:00-3:00 p.m. during the 2016 ALA Annual Conference in Orlando, FL. According to the award's site, the celebration will feature speeches by the 2016 Pura Belpré award-winning authors and illustrators, book signings, light snacks, and entertainment. The event will also feature a silent auction of original artwork by Belpré award-winning illustrators, sales of the new commemorative book The Pura Belpré Award: Twenty Years of Outstanding Latino Children's Literature, and a presentation by keynote speaker Carmen Agra Deedy.
Leading up to the event, we will be highlighting the winners of the narrative and illustration awards. Today's spotlight is on David Diaz, the winner of the 2013 Pura Belpré Illustration Medal for Martín de Porres: The Rose in the Desert and Pura Belpré Honors for Illustration for The Pot That Juan Built in 2004, César: ¡Sí, Se Puede! Yes, We Can! in 2006, Diego: Bigger Than Life in 2010, and Me, Frida in 2011.
Review by Marianne Snow Campbell
 DESCRIPTIONS FROM THE PUBLISHERS: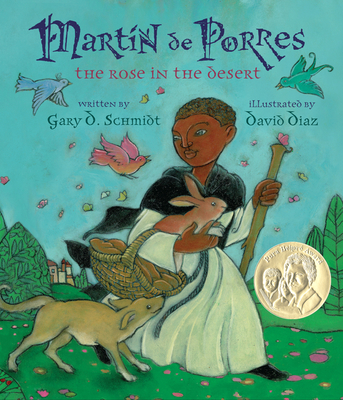 Martín de Porres: The Rose in the Desert: As the illegitimate son of a Spanish nobleman and a former slave, Martín de Porres was born into extreme poverty. Even so, his mother begged the church fathers to allow him into the priesthood. Instead, Martín was accepted as a servant boy. But soon, the young man was performing miracles. Rumors began to fly around the city of a strange mulatto boy with healing hands, who gave first to the people of the barrios. Martín continued to serve in the church, until he was finally received by the Dominican Order, no longer called the worthless son of a slave, but rather a saint and the rose in the desert.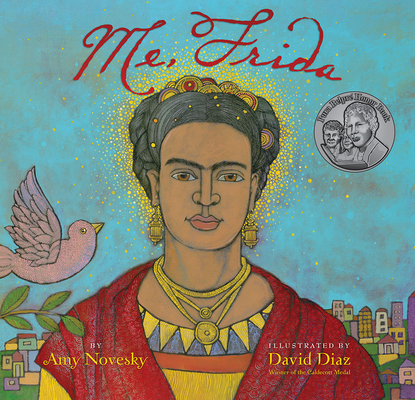 Me, Frida: Like a tiny bird in a big city, Frida Kahlo feels lost and lonely when she arrives in San Francisco with her husband, the famous artist Diego Rivera. It is the first time she has left her home in Mexico. And Frida wants to be a painter too.
But as Frida begins to explore San Francisco on her own, she discovers more than the beauty, diversity, and exuberance of America. She finds the inspiration she needs to become one of the most celebrated artists of all time.
Me, Frida is an exhilarating true story that encourages children to believe in themselves so they can make their own dreams soar.
Diego: Bigger Than Life: Carmen T. Bernier-Grand's inspiring free verse and David Diaz's vivid paintings capture the defining moments and emotions of Rivera's tumultuous life, including his stormy relationship with artist Frida Kahlo and his passion for his art. Rivera's energy, physique, love for women, and work were all "bigger than life." A biography, chronology, glossary, sources, notes, and famous quotations are included.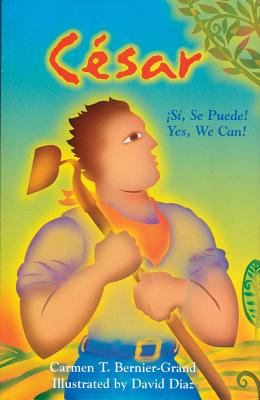 César: ¡Sí, Se Puede! Yes, We Can!: Born in 1927 in Yuma, Arizona, César Chavez lived the hard-scrabble life of a migrant worker during the Depression. Although his mother wanted him to get an education, César left school after eighth grade to work. He grew to be a charismatic leader and founded the National Farm Workers Association, an organization that fought for basic rights for farm workers. In powerful poems and dramatic stylized illustrations, Carmen T. Bernier-Grand and David Diaz pay tribute to Chavez's legacy helping migrant workers improve their lives by doing things by themselves for themselves.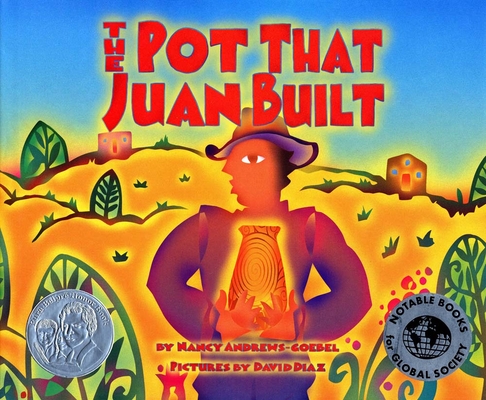 The Pot That Juan Built: Juan Quezada is the premier potter in Mexico. With local materials and the primitive methods of the Casas Grandes people — including using human hair to make brushes and cow manure to feed the flames that fire his pots — Juan creates stunning pots in the traditional style. Each is a work of art unlike any other.

This is the pot that Juan built.
These are the flames so sizzling hot
That flickered and flared and fired the pot,
The beautiful pot that Juan built.
The text is written in the form of "The House That Jack Built" and accompanied by a comprehensive afterword with photos and information about Juan's technique as well as a history of Mata Ortiz, the northern Mexican village where Juan began and continues to work. This celebratory story tells how Juan's pioneering work has transformed Mata Ortiz from an impoverished village into a prosperous community of world-renowned artists.
With vibrant illustrations by Caldecott Medal winner David Diaz, The Pot that Juan Built is sure to enlighten all who are fascinated by traditional art forms, Mexican culture, and the power of the human spirit to find inspiration from the past.
MY TWO CENTS: A few weeks ago, a friend and I were discussing picture books and the inextricable relationship, or "synergy" as Lawrence R. Sipe (1998) described it, between text and illustrations in children's literature. We agreed that, although the text and pictures are supposedly inseparable in a well done picture book, we're each automatically drawn to one over the other. While my friend pays more attention to the text than the illustrations when she first encounters a picture book, I respond in the opposite fashion. Illustrations are my everything – I love nothing more than opening up a beautiful picture book and falling into the art. Few illustrators capture my heart more completely than David Diaz. And it's clear that past Pura Belpré Award committee members have agreed with me. Diaz has won one medal (Martín de Porres: The Rose in the Desert) and four honors (Me, Frida, Diego: Bigger Than Life, César: ¡Sí se puede! Yes We Can!, and The Pot That Juan Built) for his illustrations, making him one of the most recognized artists in the award's history.
These books exhibit two different styles. In Diego: Bigger Than Life, César: ¡Sí se puede! Yes We Can!, and The Pot That Juan Built, we see Diaz's signature, abstract approach to art. He depicts human figures as silhouettes, formed with clean lines, filled with warm colors, and surrounded by geometric patterns. As I sat down to review these books, however, I had to ask myself: If these illustrations accompany biographies, factual accounts of real people's lives, is it okay to render them in such an abstract manner? Shouldn't nonfiction illustrations be as realistic and representational as possible to match the factual subject matter? After some thought, I reached the conclusion that these illustrations are a perfect fit for these books.
First of all, they're stunning. Stark yet lush, they can grab readers' attention and convince them to pick up a book that they might not otherwise. Some kids might not be incredibly interested in the lives of Diego Rivera, César Chávez, or Juan Quezada, but these images might change their minds and lure them into learning something new. Second, by creating simple silhouettes of these biographies' subjects, Diaz makes these individuals more generic, anonymous. The result is an invitation to readers to insert themselves into the stories – it's as if he's saying, "Look, you can be a great artist or civil rights leader!" Third, by enjoying his creative license, Diaz shows us that all lives are works of art. Even if the illustrations aren't mirror images of their subjects, they capture glimmers of their spirits. So many beautiful messages contained in one artistic style.
Meanwhile, the style in Martín de Porres: Rose in the Desert and Me, Frida demonstrates a very different aesthetic. Diaz's illustrations in these books are still vivid, but softer. They're still powerful, but gentler. Rendered with rich oil pastels and dark outlines, the images of Martín and Frida resemble their subjects more closely. However, Diaz's love of silhouette and pattern are still very present, linking them to the biographies of Diego, César, and Juan and indicating that, although these diverse individuals led very distinctive lives, they are all connected by their Latinx and Latin American roots.
It's wonderful that young readers today have access to such artful, beautifully illustrated biographies of all kinds of interesting people. Back in my day, we were mostly limited to dull, dry encyclopedia-style biographies with blurry photographs – very unlikely to entice kids who resist nonfiction. But books like Diaz's Belpré Award winners joyfully invite readers to experience famous lives not only cognitively but also aesthetically.
(And remember, David Diaz's work goes beyond biographies. To take a look at an extended bibliography, click here.)
 TEACHING TIPS:
Explore the connections between social studies and art with students using these books as a starting point. Students can brainstorm ways to study history using art and create their own illustrated biographies rather than simply telling the story of famous individuals' lives through text alone. Let them explore different artistic styles and media and choose the style that they believe matches their subject the best.
Analyze the illustrations in these books with students. Consider various artistic forms, such as color, line, shade, perspective, size, and shape. How do these elements work together to enhance the story? Also, encourage students to evaluate Diaz's artistic styles with regard to biography. Do his styles fit the genre? Why or why not?
Have students compare and contrast Diaz's biographies with other illustrated biographies about the same individuals (for example, Yuyi Morales's Viva Frida!, Duncan Tonatiuh's Diego Rivera: His World and Ours, and Monica Brown and Joe Cepeda's Side by Side / Lado a lado: The Story of Dolores Huerta and César Chávez). How do the text and illustrations work together in these various books? Which illustrations are more powerful/interesting/appealing? Why?
ABOUT THE ILLUSTRATOR: Born in New York and raised in southern Florida, David Diaz found joy in drawing at an early age. A supportive high school art teacher helped him nurture his talent by pushing him to enter art contests, and after graduating from the Fort Lauderdale Art Institute, Diaz found work as a graphic designer. However, his love of illustration led him to focus more intently on creating art for children's books, and he won the Caldecott Medal for Smoky Night (Bunting, 1994) in 1995. Dozens of books and many awards later, Diaz has become one of the most distinguished and recognizable illustrators in the realm of children's literature. He currently lives in California.
REFERENCE: Sipe, L. R. (1998). How picture books work: A semiotically framed theory of text-picture relationships. Children's Literature in Education, 29(2), 97-108.
Marianne Snow Campbell is a doctoral student at The University of Georgia, where she researches nonfiction children's books about Latinx and Latin American topics and teaches an undergraduate course on children's literature. Before graduate school, she taught pre-K and Kindergarten in Texas, her home state. She misses teaching, loves critters, and can also be found on Twitter and Facebook.