The Pura Belpré Awards turns 20 this year! The milestone will be marked on Sunday, June 26, from 1:00-3:00 p.m. during the 2016 ALA Annual Conference in Orlando, FL. According to the award's site, the celebration will feature speeches by the 2016 Pura Belpré award-winning authors and illustrators, book signings, light snacks, and entertainment. The event will also feature a silent auction of original artwork by Belpré award-winning illustrators, sales of the new commemorative book The Pura Belpré Award: Twenty Years of Outstanding Latino Children's Literature, and a presentation by keynote speaker Carmen Agra Deedy.
Leading up to the event, we will be highlighting the winners of the narrative and illustration awards. Today's spotlight is on Carmen Lomas Garza, the winner of the 2000 Pura Belpré Illustration Medal for Magic Windows / Ventanas mágicas and Pura Belpré Honors for Illustration for Family Pictures / Cuadros de familia in 1996 and In My Family / En mi familia in 1998.
Review by Marianne Snow Campbell
DESCRIPTIONS FROM THE PUBLISHERS: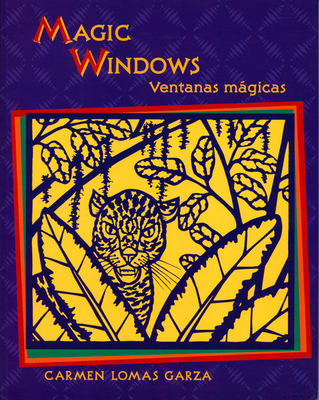 Magic Windows: Through the magic windows of her cut-paper art, Carmen shows us her family, her life as an artist, and the legends of her Aztec past. We look into Carmen's studio and see her paint a Mexican jarabe tapatío dancer; we glimpse the hummingbirds that cross the US-Mexico border to taste the sweet nectar of the cactus flowers; and we watch Carmen teach her nieces and nephews how to make their own magic windows. Magic Windows is a continuing tribute to family and community as well as a way for Carmen to connect future generations to their ancestors by teaching and sharing with them this traditional folk art.
Check out the book discussion and activity guide created by Lindsay Harris and Haley Rugger with Dr. Jamie Campbell Naidoo, provided by the University of Alabama School of Library and Informational Studies.
Family Pictures is the story of Carmen Lomas Garza's girlhood in Kingsville, Texas: celebrating birthdays, making tamales, picking cactus, and confiding to her sister her dreams of becoming an artist. These day-to-day experiences are told through fifteen paintings and stories, each focusing on a different aspect of Carmen's traditional Mexican American culture growing up. The paintings and stories reflect the author's strong sense of family and community and demonstrate how her mother's love and hard work helped Carmen achieve her dream. For the hundreds of thousands of Mexican Americans, Carmen Lomas Garza offers a book that reflects their lives and cultural traditions. For others, this beautiful work will offer insights into a fascinating life and a rich community. Sandra Cisneros provided the introduction and Pat Mora the afterword for this touchstone of Latino children's literature. This book is bilingual (English and Spanish).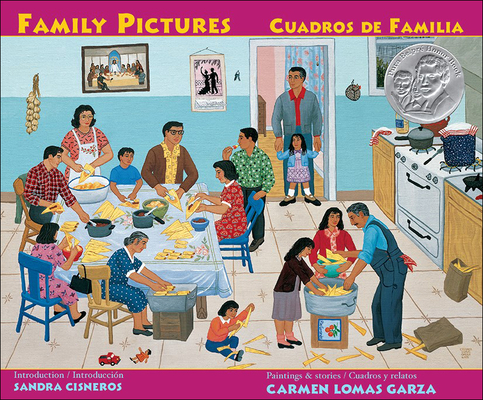 In My Family / En mi familia: In her eagerly-awaited second book for children, In My Family / En mi familia, internationally-renowned artist Carmen Lomas Garza takes us once again to her hometown of Kingsville, Texas, near the border with Mexico. Through vibrant paintings and warm personal stories, Carmen brings to life more loving memories of growing up in a traditional Mexican American community: eating empanadas, witnessing the blessing on her cousin's wedding day, and dancing to the conjunto band at the neighborhood restaurant. In My Family / En mi familia is Carmen Lomas Garza's second book of family pictures, a continuing tribute to the loving family and community that shaped her childhood—and her life.
For effective strategies on incorporating students' linguistic and cultural backgrounds into social studies curricula, check out the article "Developing Literacy through Culturally Relevant Texts" by Dr. Iliana Alanís in Social Studies and the Young Learner (2007) from the National Council for the Social Studies.  Pair In My Family with the author study guide Carmen Lomas Garza: Chicana Author and Illustrator by Deborah J. Francis, part of The Alma Project, a cultural infusion model by Denver Public Schools.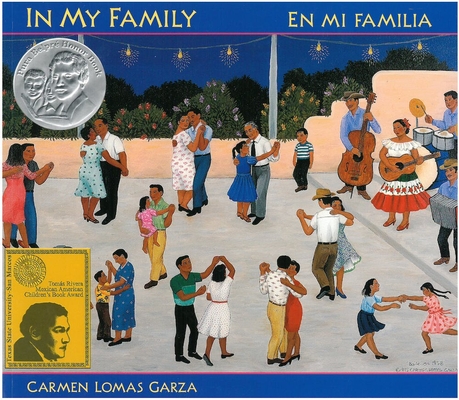 MY TWO CENTS: "At the age of thirteen I decided to become a visual artist and pursue every opportunity to advance my knowledge of art in institutions of higher education. The Chicano Movement of the late 1960s inspired the dedication of my creativity to the depiction of special and everyday events in the lives of Mexican Americans based on my memories and experiences in South Texas. I saw the need to create images that would elicit recognition and appreciation among Mexican Americans, both adults and children, while at the same time serve as a source of education for others not familiar with our culture."
With this artist's statement, Carmen Lomas Garza sums up everything I appreciate about her autobiographical children's books. They're real. They're confident. They're hopeful. In all three of her Pura Belpré award winners – Magic Windows / Ventanas mágicas, Family Pictures / Cuadros de familia, and In My Family / En mi familia – Garza uses traditional media alongside her own words to represent her memories and celebrate common Mexican American cultural practices. While engaging with these exquisite images and clear, simple (and bilingual!) captions, readers of any cultural background can learn something about life in 1950s Kingsville, Texas and compare and contrast their own experiences with the artist's.
Magic Windows / Ventanas mágicas, which won the Belpré Award in 2000, provides readers with an intricate introduction to the art of papel picado, the traditional Mexican art of paper cutting that began with Mexico's indigenous communities.
While traditional papel picado pieces often feature geometric and/or symbolic designs, Garza's paper cutouts represent moments from her life: making paper flowers with her family, catching horned frogs, helping her grandfather water his garden.
According to Magic Windows' introduction, Garza learned how to craft traditional papel picado with scissors from her mother and then, after decades of practice, began fashioning the larger, more representational pieces found in this book with a craft knife. I just can't believe she cut all of these detailed, elaborate works by with her own two hands. Can you imagine the love, patience, and dedication it took to complete them? "These pieces are like magic windows," she states. "When you look through them, you can see into another world." What I see is a deep love for her family rendered with absolute care and skill. You can't get much more magical than that.
In Family Pictures / Cuadros de familia and In My Family / En mi familia, Garza's Belpré honor winners, we can see that same care and love channeled through a very different artistic medium – painting. Both of these books contain several paintings of the artist's childhood memories coupled once again with bilingual captions that explain the significance of each work. Page after page treats readers to sumptuous, folk-art-style snapshots of family gatherings, tender moments, and humorous scenes.
I'm just going to put it out there – Carmen Lomas Garza's books for children are my absolute favorites. 100%, no joke. Their simplicity, honesty, and artistry make them the perfect package for me, and I know there are plenty of kids out there who will appreciate her straightforward, positive, oftentimes funny depictions of her experiences as well. The universal themes of love and family that appear in each magnificent yet humble work of art can hook any child that picks up these books. As Sandra Cisneros says in her introduction to Family Pictures, enjoying Garza's art is like "pressing our face against the window screens and peeking inside our house. These are family pictures. And it doesn't matter if your family is from Kingsville or Cairo, Sarajevo or Katmandu. They are your family's pictures too. Tell me, which one is you?"
TEACHING TIPS:
Carmen Lomas Garza's books are excellent models for autobiographical writing and art. After reading any of these award-winning books, let students create their own artistic representation of a personal memory (using their choice of medium, if possible) and write an autobiographical story to accompany the art.
Explore the rich history and modern practice of creating papel picado with students. Making Magic Windows, Garza's companion book to Magic Windows, provides plenty of information about this alluring art form as well as step-by-step instructions for young artists. If possible, invite a papel picado artist to your school to share their craft.
Do you live in or near Chicago, Austin, El Paso, San Francisco, or Oakland? If so, consider taking your students to an art museum or library collection that features Carmen Lomas Garza's artwork. You can find her paintings at the National Museum of Mexican Art (Chicago), the University of Texas's Benson Latin American Collection (Austin), the El Paso Museum of Art, the Mexican Museum (San Francisco), and the Oakland Museum of California. Viewing a full-size, in-person version of a painting from one of Garza's books can be a powerful experience, and many kids will love connecting their museum visit to books they've read. I'll never forget stumbling upon Las Posadas at the Museum of Mexican Art – it was definitely a highlight of my trip to Chicago.
ABOUT THE AUTHOR-ILLUSTRATOR (from her website): Carmen Lomas Garza was born in Kingsville, Texas, in 1948. Inspired by her parent's activism with the American G.I. Forum, Lomas Garza joined the Chicano Movement of the 1960s and 1970s. She is a graduate of the Texas Arts & Industry University, Juarez-Lincoln/Antioch Graduate School, and San Francisco State University where she earned her M.A. in 1981. Lomas Garza is a recipient of numerous awards and has exhibited her work in galleries and museums across the United States.
ADDITIONAL RESOURCES:
Marianne Snow Campbell is a doctoral student at The University of Georgia, where she researches nonfiction children's books about Latinx and Latin American topics and teaches an undergraduate course on children's literature. Before graduate school, she taught pre-K and Kindergarten in Texas, her home state. She misses teaching, loves critters, and can also be found on Twitter and Facebook.