By Sonia Alejandra Rodríguez, PhD
Throughout this presidential campaign, Donald Trump has referred to Latino men, generally speaking, as "criminals," "rapists," and "bad hombres." Unfortunately, the image of Latino men in popular culture as hyper-masculine, violent, and dangerous is not new. Trump tapped into, and exploited, a long standing, racist, xenophobic fear of black and brown men in this country. After many of his comments, I saw many folks challenge these stereotypes by posting pictures of themselves in their graduation gowns or with their diplomas. In doing so, the message was to state that not all Latino immigrants or Latinos of immigrant descent are criminals. The images of young Latinos in their graduation gowns were indeed powerful and much needed, in their own right. However, in saying "we are not criminals, we are college educated," or whatever, we have further distanced ourselves from the Latinos that are "criminals" and are criminalized. In other words, the pictures of us in our graduation gowns don't remove the stereotypes of Latino men as criminals, but instead, reinforces a dichotomy between the "good" type of Latino men, the college students as productive citizens, and the "bad hombres," the criminals exhausting our resources. Clearly there's a problem when we limit our understanding of Latino masculinities as "good men" and the "bad" ones. These polarizing possibilities of what it means to be a Latino man are harmful and we need more complex images of Latino men and Latino masculinities that give us a broad spectrum.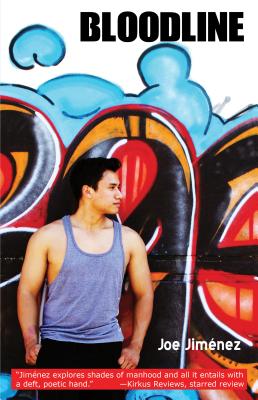 Bloodline by Joe Jiménez is an excellent example of the impact these polarizing views of Latino masculinity can have in the lives of Latino boys and young adults. At the center of the novella is Abram's struggle to define his manhood. The women in his life have made it clear that they want him to be a "good man," but he doesn't know what that means. His grandmother brings in his Uncle Claudio to serve as a father figure and guide Abram. But Abram also doesn't understand why Claudio "with his slick ways and his fat police sheet, his visits that usually end in conflict" (p. 10) is called upon to teach him how to be a man.
Throughout the story, Abram is burdened by the absence of his father because it means he needs to determine, on his own, what kind of man he wants to be. At the heart of his search is the question of whether he is innately bad or not. Abram narrates: "You wonder if there is anything in the world you can do, or if it's true that some people are really just born bad, born to enact badness, born to punch and kick and scream and fight and destroy shit, because the genes in your body have selected you for it" (p. 11). Abram is convinced he is "bad" because he knows, based on what his grandmother and Becky have said, that his father and his uncle are bad men. So, then, if his father and his uncle are bad then doesn't that make him bad too? In regards to Uncle Claudio he says, "You hate that your blood is his, the sameness coursing through you like pinpricks of words entering the ear, becoming the air, the sigh, the wickedness of rage and ire and disgust for all the shit he's done poised to become the whole body. His blood, your blood" (p. 22). The badness that he feels coursing through his veins is what he struggles with until it's too late.
"Torcido," twisted, is the word Abram hears in reference to his father from his aunts and his grandmother. He says, "Not a good man, you have figured that much out. You know that he died and that no one mentions his name. You know you are not supposed to be like him" (p. 9). Later in the story, it is revealed that his father was shot by a drug dealer but what the family doesn't know is that Claudio set him up. In this way, the silence around Abram's father has a lot to do with the way he died. It is also because his involvement with drugs that the women in the family insist that Abram not turn out like him. Abram's father is devalued because of the way he died—at the hands of a heroin dealer—which further marks him as a criminal. The family does not read Abram's father as a productive citizen because he died in a situation that was already criminalized by such tactics as "the war on drugs." In other words, Abram's father is a "bad" man because he was supposedly participating in what was already considered criminal behavior by society. His inability to prove himself a productive citizen, or because he did not leave a legacy to prove that he was a productive citizen, he instead serves as a warning story.
In an article about her cousin's death due to drunk driving, scholar Lisa Cacho states, "This is why we could not talk about Brandon as valuable; he was not only marked as 'deviant' by his race, but he also did not perform masculinity in ways to redeem, reform, or counter his (racialized) 'deviancy.' He did not leave us with any evidence to narrate him as a productive, worthy, and responsible citizen, who had been 'unfairly' treated. 'unjustly' targeted, and 'wrongfully' accused" (p. 184).  In other words, Brandon's race marked him as "deviant,' or bad, or torcido, which means that to have been considered valuable in our society he would have had to prove he was a productive citizen by potentially being a good student, having a job, saving money, etc. Cacho further explains that this was not the case for Brandon. He wasn't at the top of his class, and he spent his money on recreational activities that were considered "bad." She concludes that his life became a narrative for what not to do. Similarly, Abram's father is demonized as a "bad man" because he was not considered productive and therefore not valuable. Abram experiences this same devaluation when he is suspended from school for fighting and when his grandmother scolds him for the same reason.
Abram's inner turmoil demonstrates how the intersectionality of race and gender affect boys and men of color. Abram is marked as bad, deviant, or torcido based solely on the color of his skin. Getting in trouble for fighting only reinforces the negative conceptions his academic institution, and society in general, already had of him. What is painful to read in this story is that the women in his family are the ones reinforcing the gender expectations by continuing to read the men in his life through the harmful lens of "good men" vs "bad men." Grandma is afraid that Abram's fighting will lead to bigger problems later on in life and it is therefore important that Abram learn to be a good man before it's too late. What grandma wants is for Abram to be a productive citizen because she wants to keep him safe. In this way, we want to understand that being a productive citizen or a "good man" will mean that our boys will have access to certain rights and benefit from protection. However, we have too many examples of how this is not always the case.
Abram is not a bad man, even if he does get into fights. His family doesn't think so either, but they are afraid he will turn into one and that fear also needs to be challenged and discussed. Jiménez does a phenomenal job at representing the construction of Latino masculinity as a complex process. Abram is complicated and beautiful and loves deeply. Jiménez's poetic voice presents Abram as vulnerable, hurt, protective, and loving. Jiménez gives us a protagonist that could easily be any of our boys or young men. It is probably for this reason that the ending hurts so much. Abram reminds me of other male protagonist in Latinx kid lit that complicate Latino masculinity: Juanito from Downtown Boy by Juan Felipe Herrera, Zach from Last Night I Sang to the Monster and Aristotle from Aristotle and Dante Discover the Secrets of the Universe by Benjamin Alire Saenz, Marcus from Suckerpunch by David Hernandez, and Sean from Secret Saturdays by Torrey Maldonado. Having multiple representations of what it means to be a Latino man is important because it expands our conversations beyond "good men" and "bad men."  In an article about Chicano children's literature and representation of masculinity, Phillip Serrato says, "Perhaps above all else, this literature invites boy readers in particular to think about the examples of masculinity surrounding them, to reflect upon the pressures that they themselves have faced or will face as they grow up, and to figure out what kinds of men they want to become" (p. 154-5). Again, we need texts like Jimenez's that complicate Latino masculinity because at the end of the day so many of their lives depend on it.
Also check out this recent post by the author: Things Boys Have Asked Me: A Guest Post by Joe Jiménez
Works Cited
Cacho, Lisa Maria. (2007). "'You Just Don't Know How Much He Meant': Deviancy, Death,
and Devaluation." Latino Studies 5.2 (2007): 182-208.
Jimenez, Joe. (2016). Bloodline. Texas: Arte Publico Press.
Serrato, Phillip. (2012) "Transforming Boys, Transforming Masculinity, Transforming Culture:
Masculinity Anew in Chicano Children's Literature." Invisible No More: Understanding the Disenfranchisement of Chicano Men and Boys. Eds. Pedro Noguera, Aída Hurtado, & Edward Fergus. New York: Routledge.