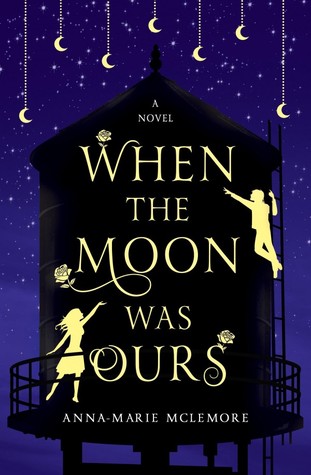 Reviewed by Elena Foulis
DESCRIPTION OF THE BOOK: To everyone who knows them, best friends Miel and Sam are as strange as they are inseparable. Roses grow out of Miel's wrist, and rumors say that she spilled out of a water tower when she was five. Sam is known for the moons he paints and hangs in the trees, and for how little anyone knows about his life before he and his mother moved to town. But as odd as everyone considers Miel and Sam, even they stay away from the Bonner girls, four beautiful sisters rumored to be witches. Now they want the roses that grow from Miel's skin, convinced that their scent can make anyone fall in love. And they're willing to use every secret Miel has fought to protect to make sure she gives them up.
MY TWO CENTS: When the Moon Was Ours, captures a beautiful love story full of colors, scents, musical prose, and magical realism. Miel and Samir are peculiar children; Miel grows roses from her wrists and Sam paints moons and hangs them in trees around town. Anna-Marie McLemore's rich narrative walks us through the lives of Miel and Sam, two teenagers with complicated histories. Miel's fear of water, ghosts, pumpkins, and tormented memories of her mother, are intensified when the town's rusted water tower falls and water rushes out over the fields and her. It is at this moment that she appears in the town, at the age of five, alone, in a thin nightgown, and bathed in rusted water.  No one knows her or approaches her, except for Moon (Sam), who talks to her and covers her with his jacket. Miel goes home with Sam, but Aracely, the town's curandera, offers to bring her home and look after her.
This town, like the novel, is full of mystery. There are four beautiful sisters, known as the Bonner sisters, who are thought to be witches. They usually get people to do what they want, and get boys to fall in love with them. They seemingly accept and care for Miel, but are manipulative and cruel to her when they think her flowers can help them get their powers back. The Bonner sisters are not free from gossip, envy, unexpected pregnancies, and secret sexual desires. The readers slowly begin to discover that what makes everyone mysterious—aside  from the growing roses from Miel's skin—is the world of secrets, half-truths, and distorted memories that each character holds. Hanging throughout the novel is the theme of gender fluidity. The story follows the blooming romance between Miel and Sam, who seem to tend to each other's pains, desires, and bodily discoveries of unexpected peculiarities. Both Miel and Sam are foreign to the town, but it is Sam who is sometimes the target of discrimination because of the color of his skin and feminine features. Sam tells Miel the story his mother told him about bacha posh, a cultural practice in which families with no sons, dress a daughter as a son, and as an adult, the daughter returns to live as woman. Eventually, we discover how this tradition has impacted Sam's life. Similarly, we learn about the connection between Sam's life and Aracely, the town's healer.
It is clear that the Bonner sisters are white, Miel is Latina, and Sam is Italian-Pakistani, and, although minimal, we can see how they experience life in this town. Las gringas bonitas, as Miel refers to them, are privileged and powerful, while Sam works the Bonner family's fields. The theme of racial experiences or discrimination is not central to the novel, but it does point us to different lived experiences.
In the end, the novel is about acceptance and love. It is also about the complexity and danger of strict gender roles, and the freedom to live outside of that. For Sam, his assigned name and gender at birth did not match who he had become. The man he had become is the man who Miel loved. It is important to note the author's personal story at the end of the book. Although she tells us at the beginning that this is a work of fiction, in the end, she explains her personal connection to Miel and Sam's story. The author grew up listening to La Llorona stories, the weeping woman who, the legend tells, tried to drown her children by the river, and later learned about the story of the bacha posh, a cultural practice in Afghanistan and Pakistan. She also tells us about her marriage to a transgender male.
TEACHING TIPS: Teaching this novel opens up the opportunity to research different legends, traditions, and cultural practices in relation to gender plurality and sexuality. For example, recent stories from India and Mexico about cultures that have embraced a third gender have come to light.  The author's page offers several links on interviews, music, and essays written about transgender awareness. As a pre-reading activity, teachers can also hold discussions about legends like La Llorona, children's folk ghost stories, and the differences and similarities between curanderos/healers and witches. Further research into McLemore's use of colors, scents, and other sensory descriptions can open up discussions about culture, mood, place, and magical realism.
ABOUT THE AUTHOR: Anna-Marie McLemore was born in the foothills of the San Gabriel Mountains, raised in the same town as the world's largest wisteria vine, and taught by her family to hear la llorona in the Santa Ana winds. She is a Lambda Literary Fellow, and her work has been featured by The Portland Review, Camara Oscura, and the Huntington—USC Institute on California and the West. Her debut novel The Weight of Feathers was a Junior Library Guild Selection, a YALSA Best Fiction for Young Adults book, and a William C. Morris YA Debut Award Finalist. When the Moon Was Ours is her second novel. 
ABOUT THE REVIEWER: Elena Foulis has a Ph.D. in Comparative Literature and Cultural Studies from the University of Arkansas. Her research and teaching interests include U.S. Latina/o literature, and Digital Oral History. She is currently working on a digital oral history collection about Latin@s in Ohio, which has been published as an eBook titled, Latin@ Stories Across Ohio. She currently lives in Cleveland, Ohio.