By Mia García
Okay, here's the thing, I'm a rambler. I tend to talk in circles until I figure out what I need to say, which usually boils down to a sentence.
So bear with me if you can – if not I totally understand; I'm sure there are many things you could be watching on Netflix right now. I've been thinking a lot about stress and fear, particularly in relation to family and history, which sounds horrible and insulting, but it will make sense. At least I hope so.
For years, I've been that person who wanted to do that Ancestry DNA thing, but never had the time or the money or the motivation (most likely these last two). Plus as a Puerto Rican born and raised in PR, I've always been taught that my ancestry boiled down to Spanish, African, and Taíno. (Which is a crazy simplification of the diversity of people who lived on the island, which include the above and Chinese, Irish, Scottish, French, German…Okay, I should stop here before I go into a full history of the island and this parenthesis gets crazy long.)
But in terms of actual knowledge, I only know a little bit about my Spanish side, like which city my great-grandparents came from and a whole lot of nothing about the rest of it, which after the test (I finally did it!) turns out to be about eight different things, half of which made my parents go: "Where did that come from?"
For those interested, it included Spanish, African, Italian, Native American, Middle Eastern, Great Britain, and a few small traces in Caucasus and Ireland. My parents' "WTF?" reactions came from the Great Britain, Caucasus, Middle East, and Ireland revelations.
The test itself didn't cause the anxious thoughts, but rather sparked interest in my past. The fear and stress came from the links to my past that are slowly disappearing. It's sad to think about the family history and stories I know nothing about and will, most likely, never know anything about because as time passes there are fewer connections to it.
Not long ago, my dad was diagnosed with Alzheimer's Disease, which after a few years of paralyzing sadness made me realize that I needed to safeguard as many of his memories as I could. And recently, I almost lost my mom due to a serious medical issue, but we were blessed enough to get the news we needed in time. Because of these events, I re-ignited my plan to sit my parents and family members down to talk about, well, anything they can remember while I record them on my computer (this is something that truly annoys my mother because I never give her enough time to fix her hair and make-up, but I digress), which doesn't always happen, which then leads to the stress, the worry, and fear.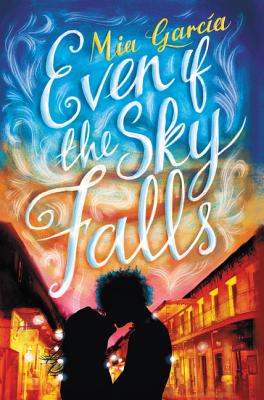 How much do we lose with each generation? What will I remember for my children? (I don't have any at the moment, but that doesn't stop my mind from going there.) But that's only where it starts, because it's not only about how do I keep this history, but how do I honor it? Then I start spiraling into thoughts about my book. A sweet romance about a Puerto Rican in New Orleans hanging out with a musician for a night…but maybe it should've been a book about my parent's history? What have I done to represent and document my family, my people, or my culture?
I should've done it all in one book. Clearly, I am a failure.
And there it is.
That tangle of thoughts that many of us face each time we pick up a pen and write our stories, trying to capture every moment that has made up our lives (but not too much, because then it's a memoir, right?), holding on tightly to the past because if we don't who will do it? Wondering if it's okay to just tell a story about a young Puerto Rican girl falling in love without a history lesson or maybe just a small one. Feeling like your culture flows in your veins, but you haven't quite honored it yet…
I realize now this is not just a blog post but a conversation. That I don't want to talk into the void, but I want to hear from my fellow Latinx community. So if you are reading this, I want to hear from you!
Have you had similar thoughts? Do you feel like you need to represent every part of your culture when you write? Tell me about yourself, your family, the stories you write!
What do you think?
If you are a Latinx creator and want to discuss the "tangle of thoughts that many of us face each time we pick up a pen and write our stories," please email us at latinosinkidlit@gmail.com with your blog post idea. We'd love to keep this conversation going.
M. García was born and raised in San Juan, Puerto Rico. She moved to New York where she studied creative writing at The New School, worked in publishing, and now lives under a pile of to-be-read books. Her debut novel, Even If the Sky Falls, from Katherine Tegen books (an imprint of Harper Collins) is out now. Visit her at MGarciaBooks.com