By Marie Marquardt
"I am fearless, except when I'm not."
This is how I describe myself, each time that I gather in a classroom of ESOL students to run writing workshops. It's part of an exercise developed by Alma Flor Ada and Isabel Campoy, in their fabulous resource Authors in the Classroom: A Transformative Education Process. Each person makes a statement about who they understand themselves to be, or maybe just about how they feel at that particular moment. The statements build together to create poetry – simple, beautiful, honest poetry.
This exercise was first introduced to me by Meg Medina, who has inspired me immensely with her practice of "literary citizenship." One way that I strive to live into the identity of a literary citizen is by gathering with nascent speakers of English – teenagers full of ideas and energy, with incredible and often heart-wrenching stories to tell, yet struggling to put them into words that are not their first language – and, in some cases, not their second or third, either. I try to be fearless as I read to them from my own stories, but sometimes I'm not.
I worry about how they will evaluate me – the middle-aged white lady whose recent book features characters like many of them – kids who have run away from some of the most dangerous communities in the world, looking for a safe place to live and maybe – just maybe – to one day call "home".
My very best days as an author are these days, when eager students come rushing up to me after our workshop, asking for selfies; when they tell me about their favorite character; when they marvel at how I learned to cuss like a Salvadoran, or how much I know about making pupusas. I want so much for my books to resonate with them — Their stories inspire me to write young adult novels in the first place.
Because of how profoundly these young adults' experiences have shaped me, every one of my books has at least one point-of-view character who is an immigrant from Mexico or Central America. For twenty years, as an academic researcher, advocate, and service provider in Latinx immigrant communities in the South, I've listened to teen immigrants' stories, and I've seen them unfold. I consider it an honor to create characters inspired by the teens I have had the great privilege to know. They have trusted me with their stories and I feel a great responsibility to convey their truth onto each page.
This is not a process that I take lightly, so I don't do it alone. I rely on consultants who identify with the cultural traditions and national-origin groups I am representing. They teach me about the nuances of the culture and language, and they help me get a deeper understanding so I can build more robust and honest characters on the page (in other words, they teach me such important skills as cussing like a Salvadoran!).  I also rely on sensitivity readers, and I take their feedback very seriously.
Equally important, I consider it my responsibility to support the work of #ownvoices authors by  mentoring young authors from marginalized communities. I have worked for two years as a volunteer with We Need Diverse Books' Walter Dean Myers Grant committee, and this year, I've pledged to work with ESOL students, facilitating workshops that help them build their own authorial voices and tell their own powerful stories.
I recently read a short interview with Jacqueline Woodson, when she was honored with the Lambda Literary Visionary Award. She said something that I think is damn near perfect: "Write specifically and furiously. Write to change the world."
I aim to write specifically.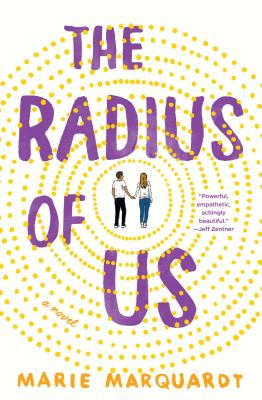 I can only tell the stories that I know. In the case of The Radius of Us, I felt compelled to write the story of a young asylum seeker from El Salvador because of the relationships I have built with real young adults in similar situations. It has been one of my greatest honors to help run a non-profit called El Refugio, which works with detained immigrants and their families. As part of that work, I have experienced the heartbreak of building friendships with dozens of young asylum seekers from the northern triangle of Central America. I have spent countless hours visiting with these young men in detention, sitting across the glass from them, telephones pressed to our ears. Unlike my story's protagonist, most of these young men never have the chance to leave detention, until they are deported.
I aim to write furiously.
I am desperate for more people to know and understand the stories of these young men, and I also am, indeed, furious. I have followed some of them back to El Salvador, to see how they are faring after deportation. I have seen the dire circumstances into which our courts return them. I can't wrap my head around the fact that, in the immigration court that determines the fate of these young men, only 5% are granted asylum. I can't bear the thought that, like our friend Moises, some of these young people are being sent back to die.
I write to change the world.
On good days (fearless days), I remind myself that writing these stories is an act of compassion. When I allow myself to dive into the experience of Phoenix – an asylum-seeker from El Salvador, or Gretchen – a white suburban girl who was the victim of assault – I practice compassion. I hope that by telling these stories, I can model compassionate action, and I also fervently hope that, once they are out in the world, my stories will open safe, compassionate spaces. I hope that they create opportunities for teen readers to speak honestly with one another, to recognize those insidious systems (like racism and xenophobia) that aim to keep us apart, and also to affirm the beautiful, fragile humanity that we share in common.
I believe that, with more compassion, our world would be a radically different place. Compassion compels us to walk alongside people in crisis, and not to turn away. Compassion drives us to seek mutual understanding, to find those human qualities and dispositions that we share in common, while also not dismissing the profound differences that shape our experiences. Compassion changes the world.
This is what drives me to be fearless (except when I'm not).
Marie Marquardt is a Scholar-in-Residence at Emory University's Candler School of Theology and author of contemporary YA fiction. She has written several articles and co-authored two non-fiction books about Latin American immigration to the U.S. South. She also has written three novels for young adults, based in part on her experience working with immigrants in the South: DREAM THINGS TRUE (St. Martin's Griffin/ September 2015), THE RADIUS OF US (St. Martin's Griffin/ January 2017) and FLIGHT SEASON (St. Martin's Griffin/ forthcoming February 2018). She lives in a very busy household in Decatur, Georgia, with her spouse, four children, a dog, and a bearded dragon. When not writing, teaching, or chauffeuring her children, she can be found working with El Refugio, a non-profit that serves detained immigrants and their families.