Reviews by Dora M. Guzmán
The following books are examples of what to do when confronted with a problem. Both texts demonstrate the power of teamwork and sharing our voice with love and joy.
LOLA LEVINE MEETS JELLY AND BEAN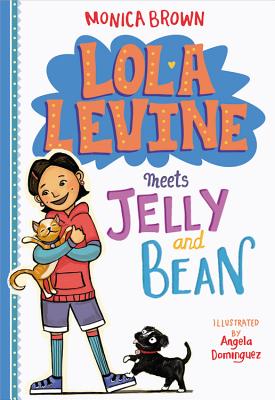 DESCRIPTION OF THE BOOK: The Levines are finally getting a pet–a furry one that is. They are excited about adopting a kitty they name Jelly, but they don't get very far in the process when Ben starts sneezing. Oh no, he's allergic! Lola is devastated and sets out to find Jelly a good home. Luckily, Lola is rewarded with a very happy (and still furry) ending. With Lola's trademark humor, we can expect a few mishaps, many funny moments, and a cute new pet all wrapped in one adorable book.
MY TWO CENTS: This realistic fiction chapter book is the definition of a bicultural family that loves to spend time with each other and solve everyday problems! Lola Levine has a younger brother named Ben. She is your typical older sister who is always looking out for her brother. Lola and Ben are adopting a kitten! But before they can get a cat, they have to do some research on what a cat needs and even start building a cat play structure, or as the family calls it "a cat castle". Once their new cat, Jelly, is home, Ben and Lola discover that Ben is allergic to cats! The ending of this realistic and humorous book is a true reflection of how a family solves a problem and works together for one goal. An amazing series to add to your diverse classroom library!
Monica Brown created an excellent bicultural character when she started the Lola Levine series. The sibling relationship between Lola and Ben is so apparent and loving, as well as the other relationships within the family. Lola Levine is a great role model for all as she navigates her childhood throughout this great series!
TEACHING TIPS: Teachers can use this early chapter book or components of it to model narrative writing, especially how to focus on small moments or details. Teachers can also use this book to focus on character analysis of either Lola or Ben as well as teaching story elements and making connections.
WHERE TO GET IT: To find Lola Levine Meets Jelly and Bean, check your local public library, your local bookstore, or IndieBound. Also, check out Goodreads, Amazon, and Barnes & Noble.
ABOUT THE AUTHOR: Monica Brown, Ph.D. is the author of many award-winning books for children, including Waiting for the Biblioburro, Marisol McDonald Doesn't Match/ Marisol McDonald no combina The Lola Levine series including: Lola Levine is Not Mean!; Lola Levine, Drama Queen; Lola Levine and the Ballet Scheme, and Lola Levine Meets Jelly and Bean. Find Monica on Facebook at Monica Brown, Children's Author, on twitter @monicabrownbks, or online at www.monicabrown.net.
ABOUT THE ILLUSTRATOR: Angela Dominguez was born in Mexico City, grew up in the great state of Texas, and lived in San Francisco. She's the author and illustrator of picture books such as Let's Go, Hugo!; Santiago Stays; Knit Together, and Maria Had a Little Llama, which was an American Library Association Pura Pelpré Honor Book for Illustration. She now writes and creates in her studio in Brooklyn, New York.
THE ROOSTER WOULD NOT BE QUIET!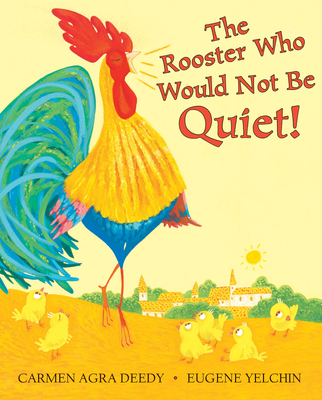 DESCRIPTION OF THE BOOK: La Paz is a happy, but noisy village. A little peace and quiet would make it just right. So the villagers elect the bossy Don Pepe as their mayor. Before long, singing of any kind is outlawed. Even the teakettle is afraid to whistle
But there is one noisy rooster who doesn't give two mangos about this mayor's silly rules. Instead, he does what roosters were born to do.
He sings:
"Kee-kee-ree-KEE "
Carmen Deedy's masterfully crafted allegory and Eugene Yelchin's bright, whimsical mixed-media paintings celebrate the spirit of freedom — and the courage of those who are born to sing at any cost.
MY TWO CENTS: There is a town, La Paz, that loves to sing and make all types of noise! However, there is a new mayor in town and with new leaders come new rules. The new mayor, Don Pepe, establishes a law of absolutely no singing or noise EVER! Well, a few days later, there is a rooster who moves into town and what roosters do best is sing in the morning. The mayor is shocked that someone would disobey the new noise ordinance and does everything in his power to enforce his law. Little to the mayor's knowledge, the town sides with the Rooster and dethrones the mayor. The little town is back to what it was meant to be- joyful, noisy, and proud of it!
A hilarious bilingual story with a strong message for all to hear! The illustrations are vivid and significantly engage the reader as they are pulled into the plot of what is going to happen next.
TEACHING TIPS: Teachers can use this text to teach predicting, character analysis of the townspeople, the Rooster, and/or Don Pepe, as well as teaching readers about the progression of a problem and solution. Teachers can highlight the theme of what it means to have a voice and stand up for your community. Teachers can also use this book as a writing mentor text to model onomatopoeia, transition words, and dialogue.
WHERE TO GET IT: To find The Rooster Would Not Be Quiet, check your local public library, your local bookstore, or IndieBound. Also, check out Goodreads, Amazon, and Barnes & Noble.
ABOUT THE AUTHOR: Carmen Agra Deedy is an internationally known author of children's literature, a storyteller and radio contributor. Born in Havana, Cuba, she immigrated to the United States with her family in 1963 after the Cuban Revolution. Deedy grew up in Decatur, Georgia and currently lives in Atlanta and has three daughters. She has also written books like 14 Cows in America and Martina The Beautiful Cockroach.
ABOUT THE ILLUSTRATOR: Russian-born artist Eugene Yelchin graduated from the Leningrad Institute of Theater Arts. During his studies, he designed sets and costumes for dramas, comedies and ballets. He also co-founded a children's theatre in Siberia. Despite obstacles, Eugene traveled to the United States to share his expertise and talent as an artist. His work has appeared in magazines and newspapers and advertising campaigns, TV commercials, and animated films. His novel Breaking Stalin's Nose was awarded a Newbery Honor in 2012. His website is http://eugeneyelchinbooks.com/index.html
ABOUT THE REVIEWER: Dora is a bilingual reading specialist for grades K-3 and also teaches an undergraduate college course in Children's Literature. When she is not sharing her love of reading with her students, you can find her in the nearest library, bookstore, or online, finding more great reads to add to her never ending "to read" pile!