Review by Elena Foulis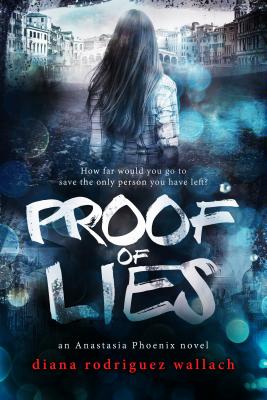 DESCRIPTION OF THE BOOK: Anastasia Phoenix has always been the odd girl out, whether moving from city to international city with her scientist parents or being the black belt who speaks four languages. And most definitely as the orphan whose sister is missing, presumed dead. She's the only one who believes Keira is still alive, and when new evidence surfaces, Anastasia sets out to follow the trail—and lands in the middle of a massive conspiracy. Now she isn't sure who she can trust. At her side is Marcus, the bad boy with a sexy accent who's as secretive as she is. He may have followed her to Rome to help, but something about him seems too good to be true.
Nothing is as it appears, and when everything she's ever known is revealed to be a lie, Anastasia has to believe in one impossibility. She will find her sister.
MY TWO CENTS: It is not often that we find books written by Latina women that are outside of the traditional coming of age stories, biculturalism, bilingualism, or exploring patriarchal dominance within their culture and religion. In Proof of Lies, author Diana Rodriguez Wallach gives us a fast-paced, mystery and detective-style novel that has us turning page after page to discover how Anastasia Phoenix will make sense of her parents' death, her sister's disappearance, the untangled webs of half-truths and the untrustworthy adults in her life. Proof of Lies is a fast novel, full of twists, and with three strong female characters. Keira is Anastasia's older sister; she is her guardian after her parents die in a car accident. She works, studies to be a nurse, and is the not-always responsible adult presence in Anastasia's life. Charlotte is a friend who lives with them, she is tech-savvy and a hacker; she helps Anastasia find information when Keira goes missing, leaving only a bathtub full of her blood the morning after their home party. Anastasia, our protagonist, constantly criticizes her sister for having too many loser boyfriends, yet their sister bond is so strong that she spear-heads the quest to find her across the world. Anastasia is about to enter her last year of high school, when she finds herself looking for answers regarding her sister's disappearance and her parents' true identity. She enlists the help of Charlotte, Marcus—a Spaniard boy who just moved into her neighborhood— and the financial resources of her parents' old boss Mr. Urban, the CEO of Dresden corporation.
When the local police refuse to give her information regarding her sister's whereabouts, Anastasia takes matters into her own hands and travels all the way to Italy. She follows tips and clues from people who knew her and her family, fights and chases thugs, and isn't afraid to confront whoever can help her find Keira. Rodriguez Wallach's female characters are strong, and the novel offers the hint of romance, too. But what keeps you turning the page is the fact that everyone seems suspect, everyone seems to be hiding something, and Anastasia, like the reader, begins to question who might be withholding information that might lead her to her sister, or knows the truth about who their parents really were. Rodriguez Wallach offers additional information regarding some of the historical references and characters she uses in this novel. For example, the last pages of the book include information about the real Department D, an entity who has had considerable impact on world affairs and was involved with the KGB and Czech STB during the Cold War. There is also information about Lawrence Martin-Bittman, who the author met when she was a student at Boston University and who is a character in the novel, under a different name. Such attention to detail gives the author mastery of the narrative line and provides the reader with additional "clues" about the authenticity of events. To know that there was an agency in the business of disinformation makes us question our own reality, and it certainly keeps us wanting the second and third book on the Anastasia Phoenix series. As a teaser, the author includes the first chapter of the second book series titled, Lies that Bind.
TEACHING TIPS: This novel can be taught in comparison with male-centered characters like in the movie series Bourne Identity or Taken, but also in conjunction with the Hunger Games trilogy. Although the novel is much less bloody, these movies can provide an interesting point of comparison of male vs. female leading roles or male vs. female centered voices. Given that the author is Latina, this novel can also provide a needed conversation about authorship and the freedom to write what one wants—not confined by gender, ethnicity or age. Although Rodriguez Wallach has written novels with distinctly Latina characters, she is not bound by them.
WHERE TO GET IT: To find Proof of Lies, check your local public library, your local bookstore, or IndieBound. Also, check out Goodreads, Amazon, and Barnes & Noble.
ABOUT THE AUTHOR (from her website): Diana Rodriguez Wallach is the author of the Anastasia Phoenix Series, three young adult spy thrillers (Entangled Publishing, 2017, '18, '19). The first book in the trilogy, Proof of Lies, was named by Paste Magazine as one of the "Top 10 Best Young Adult Books for March 2017." Bustle also listed her as one of the "Top Nine Latinx Authors to Read for Women's History Month 2017." Additionally, she is the author of three award-winning young adult novels: Amor and Summer Secrets, Amigas and School Scandals, and Adios to All The Drama (Kensington Books); as well as a YA short-story collection entitled Mirror, Mirror (Buzz Books, 2013).
In 2010, Diana was named one of the Top Ten New Latino Authors to Watch by LatinoStories.com, and she placed second in the International Latino Book Awards. Diana is featured in the anthology, Latina Authors and Their Muses (Twilight Times Books, 2015), and she currently blogs for Quirk Books.
CLICK HERE to read Diana's recent guest post: How I Broke Out of My Latina YA Box
ABOUT THE REVIEWER: Elena Foulis has a Ph.D. in Comparative Literature and Cultural Studies from the University of Arkansas. Her research and teaching interests include U.S. Latina/o literature, and Digital Oral History. Dr. Foulis is currently working on a digital oral history project about Latin@s in Ohio, which is being archived at the Center for Folklore Studies' internet collection. Some of these narratives can be found in her iBook titled, Latin@ Stories Across Ohio.