Judith Ortiz Cofer was the first author to win the Pura Belpré Award for her first young adult book An Island Like You: Stories of the Barrio. On December 30, 2016, she passed away at the young age of 64, due to cancer. This week, we celebrate her life and work with reviews of four of her books and a giveaway. Please scroll to the end of this post to enter!
Reviewed by Toni Margarita Plummer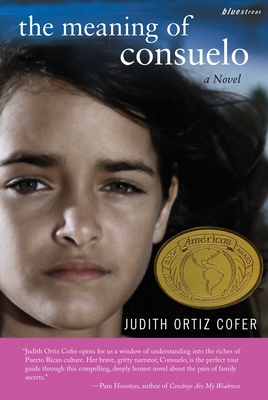 DESCRIPTION OF THE BOOK: La nina seria, the serious child. That's how Consuelo's mother has cast her pensive, book-loving daughter, while Consuelo's younger sister Mili, is seen as vivacious—a ray of tropical sunshine. Two daughters: one dark, one light; one to offer comfort and consolation, the other to charm and delight. But something is not right in this Puerto Rican family.
Set in the 1950s, a time when American influence is diluting Puerto Rico's rich island culture, Consuelo watches her own family's downward spiral. It is Consuelo who notices as her beautiful sister Mili's vivaciousness turns into mysterious bouts of hysteria and her playful invented language shift into an incomprehensible and chilling "language of birds." Ultimately Consuelo must choose: Will she fulfill the expectations of her family—offering consolation as their tragedy unfolds? Or will she risk becoming la fulana, the outsider, like the harlequin figure of her neighbor, Mario/Maria Sereno, who flaunts his tight red pedal pushers and empty brassiere as he refuses the traditional macho role of his culture.
This affecting novel is a lively celebration of Puerto Rico as well as an archetypal story of loss, the loss each of us experiences on our journey from the island of childhood to the uncharted territory of adulthood.
MY TWO CENTS: The Meaning of Consuelo is Judith Ortiz Cofer's first young adult novel. It won the 2003 Américas Award and was included on the New York Public Library's "Books for the Teen Age 2004 List."
It is set in the 1950s, in San Juan, Puerto Rico. The time period is evoked in the conservative social views and in the unquestioning obedience children are expected to give to their parents. Mami is described as speaking like the Pope, with infallibility. Also evoking the 50s is the consumerism of household appliances meant to make life simpler. There is a passage about the family's vacuum cleaner. Papi, in his enthusiasm for new gadgets, buys it from a door-to-door salesman, even though their house of ceramic tiles has no need of it. Mami uses it anyway, on a small rug, to please him. The senselessness of this is both funny and sad.
The novel begins when Consuelo is eight and ends when she is a teenager. The first character we meet is actually the neighbor Maria Sereno, who was born as Mario. Maria is an outrageous, highly sexual, and thoroughly enjoyable character. He (the book refers to Maria as "he") embodies the term fulano, which is a major theme of the novel. The women hire Maria to do their nails, but only if their husbands are away, and he must use the back door. They ignore him in public. This is confusing to Consuelo and her sister Mili, who don't yet understand the dualities of adults. Maria is not a major character in the story, in that he only appears now and then. But his outsider status is illustrative of the closed-mindedness of the community. When at the end of the book we glimpse a ray of hope for Maria, we find hope for this whole world.
Consuelo is the designated caretaker for Mili, who is four years younger. Mili, a "Puerto Rican Shirley Temple," is a lively, imaginative character and we understand why the family is protective of her. Mili lives in her own world, is often unaware of her surroundings, and can wander off. Her behavior becomes more and more concerning and we feel the real pain of her parents, who don't know what is wrong or how to care for her. When they are told she may have psychological problems, Papi doesn't want to discuss the possibility. Ortiz Cofer hints throughout at a coming tragedia, which is tied to Mili. This builds an ominous feeling, a feeling which is justified when, indeed, a tragedy strikes this fragile family. Consuelo has been typecast as the doting daughter, the responsible one, the one who will sacrifice herself. But that is not the life she chose and she risks becoming a fulana herself as she tries to assert her independence.
Her cousin Patricio is another fulano. He is Consuelo's only playmate, aside from her sister. They play with puppets Patricio makes. I loved reading about how they enact scenes at the hotel where Papi works, some puppets playing the roles of annoyed American tourists. The family begins to shun Patricio when they discover he is gay. When his father takes him to New York for a fresh start, we are happy to see him escape this stifling atmosphere. But Consuelo grieves at being left behind.
Her home life is not harmonious. Papi craves an American lifestyle, but Mami does not share his admiration for all things American. Abuelo, Mami's father, is an outspoken critic of the U.S. and vigilant about maintaining the culture of the island. Consuelo immerses herself in his library, which is filled with Puerto Rican literature and history. The Americanization of the island looms like a threat or a promise, depending on your viewpoint, as does Papi's desire to move the family to New York.
This novel has a more literary tone than some of Judith Ortiz Cofer's other young adult books. It's marked by both elegance and solemnity. There is a great sense of loss here. The loss of a way of life, and the loss of a family. This is my favorite of her books and the one I would most recommend to adults. Engrossing, suspenseful, and devastating, Consuelo's story is both an immersion into one Puerto Rican family and a timeless coming-of-age tale.
WHERE TO GET IT: To find The Meaning of Consuelo, check your local public library, your local bookstore, or IndieBound. Also, check out Goodreads, Amazon, and Barnes and Noble.
ABOUT THE AUTHOR: Judith Ortiz Cofer is an award-winning author known for her stories about coming-of-age experiences in the barrio and her writings about the cultural conflicts of immigrants. She is the author of many distinguished titles for young adults such as An Island Like You, Silent Dancing: A Partial Remembrance of a Puerto Rican Childhood, and The Line in the Sun. She was the Regents' and Franklin Professor of English and Creative Writing at the University of Georgia. In 2010, she was inducted into the Georgia Writers Hall of Fame.
.
.
.
ABOUT THE REVIEWER: Toni Margarita Plummer is a Macondo Fellow, a winner of the Miguel Mármol Prize, and the author of the story collection The Bolero of Andi Rowe. She hails from South El Monte, a working-class suburb of Los Angeles, and worked as an acquiring editor at a major publisher for more than ten years. Toni now freelance edits and lives in the Hudson Valley with her family. Visit her website at ToniMargaritaPlummer.Wordpress.com.
We will be giving away a copy of each of the Judith Ortiz Cofer books reviewed here this week to one lucky winner! The titles are: Call Me María, If I Could Fly, and The Meaning of Consuelo and the picture book A Bailar/Let's Dance.