Review by Mark Oshiro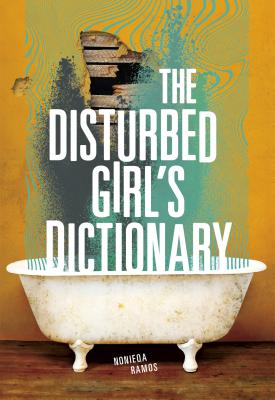 DESCRIPTION OF THE BOOK: Macy's school officially classifies her as "disturbed," but Macy isn't interested in how others define her. She's got more pressing problems: her mom can't move off the couch, her dad's in prison, her brother's been kidnapped by Child Protective Services, and now her best friend isn't speaking to her. Writing in a dictionary format, Macy explains the world in her own terms—complete with gritty characters and outrageous endeavors. With an honesty that's both hilarious and fearsome, slowly Macy reveals why she acts out, why she can't tell her incarcerated father that her mom's cheating on him, and why her best friend needs protection . . . the kind of protection that involves Macy's machete.
MY TWO CENTS: The Disturbed Girl's Dictionary is unlike any YA I've read in 2017. A raw, unflinching, and surprisingly hilarious book, it's organized as a series of definitions, like a dictionary, but with vignettes instead of sentence-long explanations. This is an ambitious book with a concept that is effortlessly pulled off, and it has one of the most compelling and authentic voices I've come across in a long time. The entire book is presented as the writings of Macy Cashmere MYOFB in real time, and I never once questioned it; that's just how good this story is. Macy is self-aware of her challenging predicaments—a mother who seems to care more about the men who visit her than her own daughter, a brother stuck in another family's home due to a CPS intervention, a father in prison—but the book is vibrant in discussing such weighty issues. As dark as this book gets at times (I flat-out bawled the final thirty pages or so), Nonieqa Ramos never lets this book fall into despair. No, Macy is unbelievably alive, and the energy conveyed through Ramos's immersive writing is one of many things that makes this a compelling, electrifying read. There's a chapter here where Ramos manages to reference a machete, Fabuloso, and Agüeybaná in the span of a few pages, and not once does it come across inauthentic.
There's no mistaking how vulgar and gritty the text feels at times, but it's all part of the convincing, believable world that Ramos builds. These people feel so real, so completely fleshed out that you begin to ache for them before you're halfway through The Disturbed Girl's Dictionary. And the bulk of that sympathy lands on Macy. While Ramos doesn't shy away from portraying the full experience of a young girl with ADHD, compulsive behavior, and who has been deemed "emotionally disturbed," I can only imagine the sheer power this must give to people like Macy who have never seen themselves in a book, let alone as the protagonist. Simply put, this book feels larger-than-life, the kind of endeavor you'd expect from someone who had been publishing novels for years. Somehow, this is Ramos's debut, which makes me eager to see what they've got up their sleeves.
For now, though, this is a book that is easy to devour, but will haunt you long after you finish it. It is unique, shocking, and heartbreaking; it is also the kind of novel I want kids everywhere to read. It is certain to be one of my top recommended novels for 2018.
TEACHING TIPS: There are a number of issues that Ramos speaks on through Macy that are ripe for a moderated class discussion: drug use, sex work, mental illness (and the stigmas that come with having a mental illness), foster care, misogyny, and racism. The book is populated with a diverse cast—many of these people are not common in YA in general!—and the language/slang is modern and convincing, so I expect students will find themselves captivated by Macy's unique voice. Because of the way that the book is broken up, it will be easy to assign writing prompts or topics based solely on one of the definitions. I would recommend discussions about "CLANG," "DOLPHIN," "FEED," and "GOOD-BYE."
ABOUT THE AUTHOR: NoNieqa Ramos spent her childhood in the Bronx, where she started her own publishing company and sold books for twenty-five cents until the nuns shut her down. With the support of her single father and her tias, she earned dual master's degrees in creative writing and education at the University of Notre Dame. As a teacher, she has dedicated herself to bringing gifted-and-talented education to minority students and expanding access to literature, music, and theater for all children. A frequent foster parent, NoNieqa lives in Ashburn, Virginia, with her family.
WHERE TO GET IT: The Disturbed Girl's Dictionary releases a week from today! To find it, check your local public library, your local bookstore, or IndieBound. Also, check out Goodreads, Amazon, and Barnes & Noble.
ABOUT THE REVIEWER: Mark Oshiro is the Hugo-nominated writer of the online Mark Does Stuff universe (Mark Reads and Mark Watches), where he analyzes book and television series unspoiled. He was the nonfiction editor of Queers Destroy Science Fiction! and the co-editor of Speculative Fiction 2015. He is the President of the Con or Bust Board of Directors and is usually busy trying to fulfill his lifelong goal to pet every dog in the world. His YA Contemporary debut, Anger is a Gift, is out May 22, 2018 with Tor Teen.