By NoNieqa Ramos
I'll never forget the sweltering summer in NY, when my soul mate and I dined with a friend and editor from a NYC publishing house, partially because we spent 300 dollars on appetizers. I mean for 20 bucks we could have had arroz con habichuelas y maduros and a friggin bistec, you know?
But we had all gotten into the friend zone–where you want to be when your friend happens to be a Big Wig–and I was loving being back in Manhattan, where I used to bus to the Port Authority and cab it to the Village to get various body parts pierced.
The Disturbed Girl's Dictionary was a Work-in-Progress. I met said editor at an SCBWI pitch conference and she had told me, "I was the reason she came to these conferences." That even though the plot of my manuscript was "crazy town"– I was writing about a Korean boy named Yin Coward who shot his nemesis and true love and ended up hiding in the walls of his Catholic school–my "voice" was "OMG."
Yin Coward later got rejected by a hotshot agent who said "Alas, it had too much voice," and was eventually put to bed in a C drive. Ultimately, years later, when my agent Emily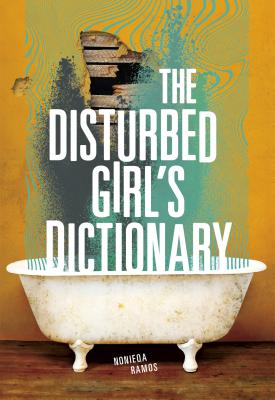 Keyes sent the completed The Disturbed Girl's Dictionary to my friend and editor at the aforementioned publishing house, she declined, saying "It was too beautiful." Now I sit with reviews from Kirkus calling my voice "hard to process" but "inimitable" and "unique." I'm speaking at the ALAN Conference at NCTE to discuss The Disturbed Girl's Dictionary on the Panel: "Giving Voices to Difficult Experiences." BookList says my writing is "exceptional" and "I'm a voice to watch."
It fascinates me that Kirkus called the syntax of DDG a "stylistic choice." What's of great fascination to me, is as a Nuyorican from the Bronx, it wasn't until my thirties that I found my own voice, my own place at the table, so to speak. I've spent my life, like my protagonist Macy Cashmere, being defined by other people.
In the Bronx, I was 100 Puerto Rican. Let me 'splain. With my people, it was a source of pride and defiance. In my family, my elders had started in the barrio and worked their way from poverty to being lab techs, social workers, principals, and vice-presidents in the 'burbs.
In my reality, I learned, there were hidden definitions. So there was this Italian boy I had a crush on. He used to give me extra cannolis with my orders. I'm thirteen. One day I'm walking home and he's standing on the corner.
He's saying things like come over here and talk to me. I smiled, but kept walking, not knowing, really, what to do with my skinny-ass self. Then the cursing started. I was a Puerto Rican slut. (Whaaat?) etc. etc. This was one of many delightful experiences with race. I learned boobs weren't the only thing to enter a room first. My brownness did, too.
Back to that editor and friend. There was wine and three-hundred-dollar lobster rolls. Did I want an actual entree? Well, having a need for food, shelter, and insurance–I had a Catholic teacher's budget at the time–made that a hard NO.
Anyway, there was witty repartee to fill me up. Have I mentioned, I'm that English teacher that delights in witty repartee, the use of active voice, and sentence diagramming? Then I did it. I code switched. Can't remember exactly what ungrammatical thing I said. But I do remember being corrected by this friend, this editor, this white lady in public like I was a child.
About the English teacher thing. Command of the English language has empowered me (and my family) throughout life to get awards, attention, scholarships, employment, respect, and lots of comments like "What are you?" (Puerto Rican and literate, that's what I am bee–)
Losing the Spanish language has done the same, and is one of the biggest tragedies in my cultural life. My protagonist Macy Cashmere's ungrammatical language is not a "stylistic choice." It is an outright rebellion. Nod if you feel me. As Macy would say, "Just because you monolingual motherfoes can't speak my language ain't my problem. I mean, you could read Faulkner, but you can't get me because I say 'a' instead of 'an'?"
The thing is, we need diverse voices that speak grammatically correct. We need diverse voices that crush stereotypes like cockroaches under chancletas. We writers love to write from the perspective of the diamonds-in-the-rough who also happen to be literary geniuses. Well, guess what?
Macy's there, too. If you're not going to make room at the table for her, she's bound to do something about it. Maybe sit right on your lap. Maybe toss the table. You find her story hard to read? Intense? Remember the Macys of the world are living that story. She's been silenced all her life. She doesn't look right. She doesn't act right. But she's stronger than you. If the whole damn world ended, she'd still be standing because her world has ended a thousand times. But what, you want to filter her? Don't get me wrong, I gave Macy Miss Black. I want Macy to make it. I  want to get her counselors and tutors and have her rescued by librarians.
But Macy doesn't exist for me or for you. The Disturbed Girl's Dictionary is BY Macy and FOR Macy. As Kirkus said, Macy is "aggressive, angry, and intimidating." And, hello, that's because she doesn't get the luxury of magic powers or magic foster parents. One of my foster kids left me to be adopted by her aunt. Years later, I found her back on a foster kids website–now having been abused by her mom and rejected by the only sane relative she had—hoping desperately for someone to be her "forever family" at the age of thirteen. The age kids almost NEVER get adopted. This book is for that kid. Take a listen.
CLICK HERE for our review of The Disturbed Girl's Dictionary.
NoNieqa Ramos spent her childhood in the Bronx, where she started her own publishing company and sold books for twenty-five cents until the nuns shut her down. With the support of her single father and her tias, she earned dual master's degrees in creative writing and education at the University of Notre Dame. As a teacher, she has dedicated herself to bringing gifted-and-talented education to minority students and expanding access to literature, music, and theater for all children. A frequent foster parent, NoNieqa lives in Ashburn, Virginia, with her family. She can be found on Twitter at @NoNiLRamos.