Reviewed by Cecilia Cackley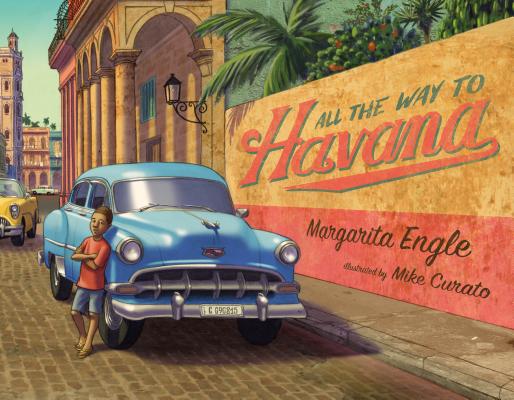 DESCRIPTION OF THE BOOK: Together, a boy and his parents drive to the city of Havana, Cuba, in their old family car. Along the way, they experience the sights and sounds of the streets–neighbors talking, musicians performing, and beautiful, colorful cars putt-putting and bumpety-bumping along. In the end, though, it's their old car, Cara Cara, that the boy loves best.
MY TWO CENTS: I really enjoyed the trip this picture book takes through the Cuban countryside and into the city of Havana. It is easy to identify with the narrator, as he gets squashed in the backseat by all the passengers! Engle makes the question of whether or not the narrator and his father can get the car to work a suspenseful one, but as the journey gets underway, we don't feel pity for the family for having an old car, but rather excitement for everything they see along the road to Havana. The bright colors of the cars alongside the blue of the sky and ocean make the pictures very attractive and illustrator Mike Curato adds plenty of detail to the vehicles and the scenery in Havana. The figures in the pictures can sometimes look a little flat, but it was nice to see an Afro-Latinx family featured—an unfortunate rarity in a lot of picture books. Both the author and illustrator include notes at the end talking a little about the background of the story and the process of researching the illustrations.
TEACHING TIPS: As might be expected, this is a perfect story time book, especially for kids around ages 2-4 who are usually VERY into cars, trucks, and trains (so much that many bookstores have a separate section just for those books). The sounds the car makes invite call and response with story time or classroom listeners. The way the narrator talks about how Cara-Cara looks compared to all of the other cars might be a good lead in to having students draw their own imaginary car, including what it would look like and what sounds it would make. The context of traveling to a family celebration is also a good discussion point, where children can talk about their own trips to visit relatives and various family celebrations.
WHERE TO GET IT: To find All the Way to Havana, check your local public library, your local bookstore, or IndieBound. Also, check out Goodreads, Amazon, and Barnes & Noble.
ABOUT THE AUTHOR: Margarita Engle is the national Young People's Poet Laureate, and the first Latino to receive that honor. She is the Cuban-American author of many verse novels, including The Surrender Tree, a Newbery Honor winner, and The Lightning Dreamer, a PEN USA Award winner. Her verse memoir, Enchanted Air, received the Pura Belpré Award, Golden Kite Award, Walter Dean Myers Honor, and Lee Bennett Hopkins Poetry Award, among others. Drum Dream Girl received the Charlotte Zolotow Award for best picture book text. Her newest verse novel about the island is Forest World, and her newest picture books are All the Way to Havana, and Miguel's Brave Knight, Young Cervantes and His Dream of Don Quixote.
Books forthcoming in 2018 include The Flying Girl, How Aída de Acosta learned to Soar, and Jazz Owls, a Novel of the Zoot Suit Riots. Margarita was born in Los Angeles, but developed a deep attachment to her mother's homeland during childhood summers with relatives. She was trained as an agronomist and botanist as well as a poet and novelist. She lives in central California with her husband.
ABOUT THE ILLUSTRATOR: Mike Curato loves drawing and writing almost as much as he loves cupcakes and ice cream (and that's a LOT!). He is the author and illustrator of everyone's favorite polka-dotted elephant, Little Elliot. His debut title, Little Elliot, Big City (Henry Holt Books for Young Readers, Macmillan), released in 2014 to critical acclaim, has won several awards, and is being translated into over ten languages. There are now four books in the Little Elliot series: Little Elliot, Big City; Little Elliot, Big Family; Little Elliot, Big Fun; and the latest addition, Little Elliot, Fall Friends. Meanwhile, Mike had the pleasure of illustrating Worm Loves Worm by J.J. Austrian, All the Way to Havana by Margarita Engle, and contributed to What's Your Favorite Color? by Eric Carle and Friends. He is working on several other projects, including What If… by Samantha Berger and his first graphic novel. Publishers Weekly named Mike a "Fall 2014 Flying Start." In the same year he won the Society of Illustrators Original Art Show Founder's Award.
ABOUT THE REVIEWER: Cecilia Cackley is a performing artist and children's bookseller based in Washington, DC, where she creates puppet theater for adults and teaches playwriting and creative drama to children. Her bilingual children's plays have been produced by GALA Hispanic Theatre and her interests in bilingual education, literacy, and immigrant advocacy all tend to find their way into her theatrical work. You can find more of her work at www.witsendpuppets.com.