Review by Carolina Hinojosa-Cisneros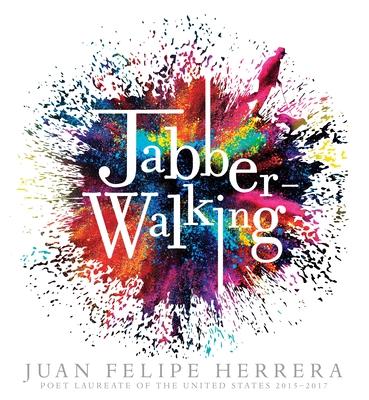 DESCRIPTION OF THE BOOK: Can you walk and talk at the same time? How about Jabberwalk? Can you write and draw and walk and journal all at the same time? If not, you're in luck: exuberant, blue-cheesy cilantro man Juan Felipe Herrera, Poet Laureate of the United States, is here to teach you everything he knows about being a real-life, bonified, Jabberwalking poet! Jabberwalkers write and speak for themselves and others no matter where their feet may take them — to Jabberwalk is to be a poet on the move. And there's no stopping once you're a Jabberwalker, writing fast, fast, fast, scribble-poem-burbles-on-the-run. Scribble what you see! Scribble what you hear! It's all out there — vámonos!
Juan Felipe Herrera, the first Mexican-American Poet Laureate in the USA, is sharing secrets: how to turn your wonder at the world around you into weird, wild, incandescent poetry.
MY TWO CENTS: JabberWalking is about a poet who walks and talks, and moves and jives, and does all things at once, and sometimes not at all. Juan Felipe Herrera is the son of migrant farmworkers, MFA graduate of the University of Iowa, and was the 2015 Poet Laureate of the United States. His own story of JabbberWalking through life as a poet, is vivid within the pages of this poetry book. The book describes a Jabber Walker as a person who moves to their own beat and speaks and writes for themselves. It is a book of the colorful life of a poet who does not color inside the lines.
It's important to note that this book must be read aloud. Herrera brings us back to a place where reading poems on paper is too comfortable and does nothing for the flourishing mind. When the reader speaks JabberWalking into existence, it changes the entire meaning of the book. Suddenly, we're running down streets, picking up guitars, running to grab our diploma, and wondering why our dog is so distracted by a squirrel! Did you SEE it? Squirrel! Only the dog did. Come BACK here, LoTus!
My favorite parts are when the Jabber Walker slows down in the Jabber Notebook. It's a journal entry of sorts and a reflection that sums up the unconventional chapters throughout the book. The font changes often, creating the movement of both the poem and the poet. In the Jabber Notebook the font is steady. The words come alive in an entirely different way. This section, in each chapter, can be read aloud or to oneself. The reader will find a calming joy in these snippets before it's time to get up out of our chair and transcend time again.
The doodles take me back to those of John Lennon and Shel Silverstein's sidewalk series. The playful manner of the words reminds me of Dr. Seuss. JabberWalking is where Latinxs can find themselves in the pages between the universe and Laurette status. Although JabberWalking is an entirely different poetic animal, I feel that those readers who grow up with parents who are keenly aware of the literary canon, will find a desire to be more poetically adventurous when they read Juan Felipe Herrera's JabberWalking.
JabberWalking presses up against boundaries, takes risks, and lends permission to its reader to become an active participant in creating poetry. Herrera's cool and jovial approach to poetry allows readers at all ages to imagine a less constricted view of poetry. Herrera allows us, with him, to imagine another world. Herrera pens, "On my eyes the diamond stuff of my soul is pouring out as if my life was made of all that — instead of being a poor brown boy, a lonesome boy, a boy who grew up in the darkness of tiny trailers and raw, raw sawdust flying up from the blue-cheesy roads up, up to a cold slick moon seeking the blue-candy light over the strange jagged mountains."
Imagine a world where you Jabber Talk, Jabber Think, Jabber Write, and Jabber Walk. Great Jabber, in the pages of JabberWalking,you will find a new way to walk, bounce, speak, throw down a beat, and doodle to the beat of your own drum. Herrera's narrative is timeless and one the entire family can and will enjoy.
ABOUT THE AUTHOR: Juan Felipe Herrera is a poet, performance artist, and activist. The son of migrant farm workers, he was the U.S. Poet Laureate from 2015–2017. Herrera has published more than a dozen collections of poetry, in addition to short stories, young adult novels, and children's literature. Juan Felipe Herrera lives in California.
ABOUT THE REVIEWER: Carolina Hinojosa-Cisneros is a Tejana poet, freelance writer, and speaker. Her work focuses on faith and Latinidad. Both her poetry and essays can be found in On Being, The Rumpus, The Acentos Review, Christianity Today, Rock & Sling, and many others. Hinojosa-Cisneros is a regular contributor at The Mudroom and is a first-year grad student at Our Lady of the Lake University in San Antonio, TX. Additionally, she holds a BA in English from the University of Texas at San Antonio. When she is not writing, she can be found growing nopalitos at her home in San Antonio, Texas.