Review by Katrina Ortega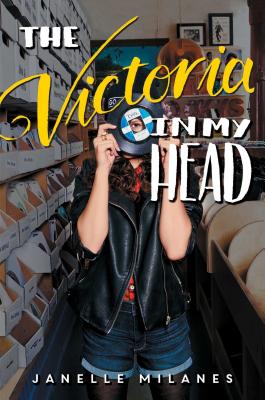 DESCRIPTION OF THE BOOK (from Simon & Schuster): A shy, rule-following teen winds up joining a local rock band in this laugh-out-loud, heartfelt coming-of-age novel.
Victoria Cruz inhabits two worlds: In one, she is a rock star, thrashing the stage with her husky voice and purple-streaked hair. In the other, currently serving as her reality, Victoria is a shy teenager with overprotective Cuban parents, who sleepwalks through her life at the prestigious Evanston Academy. Unable to overcome the whole paralyzing-stage-fright thing, Victoria settles for living inside her fantasies, where nothing can go wrong and everything is set to her expertly crafted music playlists.
But after a chance encounter with an unattainably gorgeous boy named Strand, whose band seeks a lead singer, Victoria is tempted to turn her fevered daydreams into reality. To do that, she must confront her insecurities and break away from the treadmill that is her life. Suddenly, Victoria is faced with the choice of staying on the path she's always known and straying off-course to find love, adventure, and danger.
From debut author Janelle Milanes comes a hilarious and heartfelt tale of the spectacular things that can happen when you go after what you really want.
MY TWO CENTS: I'm not a voracious reader of romance novels for any age group. This book, however, completely caught me off guard. I won't say that the book wasn't predictable. It was, but it would have been disappointing if it had not been predictable.
Without giving too many details away, Victoria Cruz is growing up in a world where all outcomes are designed to please what she thinks others are expecting of her. The Victoria in her head wants so much to be her own person, but she has a hard time dealing with what she thinks her parents reactions will be. Her Cuban parents gave up everything in Cuba and have worked so hard in the United States to give Victoria and her brother the life that is often unavailable in countries like Cuba. Victoria, like so many children of immigrant parents, feels like telling them that she doesn't want to become a doctor and graduate from Harvard will disappoint them in a way she's not ready to accept. When she finally takes the plunge and starts rebelling in small ways (which she does with help from her best friend, Annie), Victoria finally starts feeling like herself. In doing this, of course, she lies to her parents, hiding her real self once she begins acting more like the "Victoria in her head."
Here's where the predictability sets in. Does Victoria get in over her head with the lies she's telling to others? Yes. Does she inevitably have to face some truths that she's been trying to hide from herself? Maybe. Does everything turn out well in the end? Quite possibly, but I don't want to give any spoilers!
But as I mentioned, that's not a disadvantage in this case! The version of herself that she tries to hide is a person who is passionate, easy-going, and even incredibly funny. In one passage, Victoria complains about a part of her female anatomy in a way that is "lmao" funny, but in a way that most anyone, regardless of gender, can empathize with. Herein lies Victoria's real value. She's a very likable character who makes questionable decisions (just like any of us), is afraid of disappointing her parents, sometimes is a little self-centered, but not maliciously. Readers will want her to succeed, to make the person she is in her head a reality.
Because of her Cuban background, the reader gets a taste of the Latinidad that she identifies with (large family gatherings, celebrating Noche Buena with her abuelita who never lets an opportunity to comment on Victoria's vegetarianism pass, learning choreographed salsa dances because you're in your cousin's quince court). The thing that Milanes does particularly well is she makes Victoria more than just a Cuban-American. While her parents are a little obsessed with her being an exemplary child (for legitimate reasons, of course), Victoria is not defined just by her Cuban identity or her Latina ethnicity. Instead, those things are small parts of the compilation that is a more real representation of identity: where she comes from is important, but so is what she likes and dislikes, who she meshes well with, what her dreams are. The way that Milanes creates a "whole package" character in Victoria is what shines brightest in this book.
TEACHING TIPS: One important lesson to be learned from reading The Victoria In My Head is that it's important to be true to yourself. Throughout the book, Victoria tries to deny the things that she wants out of life to either please those around her or be the model person that she thinks others want to see. The reader can see her grapple with her identity throughout, and can hopefully associate with her struggle and learn that compromising one's identity to please the world often leads to catastrophe.
ABOUT THE AUTHOR (from Author's Website): Janelle Milanes is originally from Miami, FL and received her BA in English Literature from Davidson College. A lifelong YA addict, she moved to New York for her first job as a children's literature associate at Simon & Schuster. For the past five years, Janelle has worked as a teacher and librarian throughout the New York City area. Her first novel reflects many of her own experiences growing up as a second-generation Latina in America. Janelle currently lives in Brooklyn with her husband and their two cats. Her favorite Disney princess is Belle, since she was also a big book nerd.
ABOUT THE REVIEWER: Katrina Ortega (M.L.I.S.) is the Young Adult Librarian at the Hamilton Grange Branch of the New York Public Library. Originally from El Paso, Texas, she has lived in New York City for six years. She is a strong advocate of continuing education (in all of its forms) and is very interested in learning new ways that public libraries can provide higher education to all. She is also very interested in working with non-traditional communities in the library, particularly incarcerated and homeless populations. While pursuing her own higher education, she received two Bachelors of Arts degrees (in English and in History), a Masters of Arts in English, and a Masters of Library and Information Sciences. Katrina loves reading most anything, but particularly loves literary fiction, YA novels, and any type of graphic novel or comic. She's also an Anglophile when it comes to film and TV, and is a sucker for British period pieces. In her free time, if she's not reading, Katrina loves to walk around New York, looking for good places to eat.