By Cindy L. Rodriguez
This is the seventh in an occasional series about middle grade Latinx authors. We decided to shine a spotlight on middle grade writers and their novels because, often, they are "stuck in the middle"–sandwiched between and overlooked for picture books and young adult novels. The middle grades are a crucial time in child development socially, emotionally, and academically. The books that speak to these young readers tend to have lots of heart and great voices that capture all that is awkward and brilliant about that time.
Today we highlight Hilda Eunice Burgos.
Her debut middle grade novel, Ana María Reyes Does Not Live in a Castle, released October 2, 2018! Here's a description of it: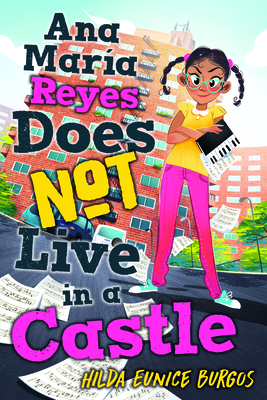 Her last name may mean "kings," but Ana María Reyes REALLY does not live in a castle. Rather, she's stuck in a tiny apartment with two parents (way too lovey-dovey), three sisters (way too dramatic), everyone's friends (way too often), and a piano (which she never gets to practice). And when her parents announce a new baby is coming, that means they'll have even less time for Ana María.
Then she hears about the Eleanor School, New York City's best private academy. If Ana María can win a scholarship, she'll be able to get out of her Washington Heights neighborhood school and achieve the education she's longed for. To stand out, she'll need to nail her piano piece at the upcoming city showcase, which means she has to practice through her sisters' hijinks, the neighbors' visits, a family trip to the Dominican Republic . . . right up until the baby's birth! But some new friends and honest conversations help her figure out what truly matters, and know that she can succeed no matter what. Ana María Reyes may not be royal, but she's certain to come out on top.
And now more about Hilda: Hilda's parents emigrated from the Dominican Republic before she was born, and she grew up in Washington Heights, New York City, as the third of four sisters. Hilda received her undergraduate degree from the University of Pennsylvania, where she majored in French and Spanish literatures, and her J.D from Harvard Law School. She now lives and practices law in the Philadelphia area. Hilda and her husband have two grown children and an adorable little dog. Ana María Reyes Does Not Live in a Castle is her first book.
Hilda is also a member of Las Musas, the first collective of women and non binary Latinx MG and YA authors to come together in an effort to support and amplify each other's debut or sophomore novels in US children's literature.
Hilda Eunice Burgos
Q. Who or what inspired you to become a writer?
A. Books and my love of language. I wanted to be a writer as soon as I learned how to read, but I never thought it could be my "real job." I took creative writing classes for fun in college and law school, but it was after law school, when I took a night course on writing for children, that I felt I had found my writing niche.
Q. Why do you choose to write middle grade novels?
A. I choose to write middle grade novels because I enjoy reading them. Middle grade books can include thought-provoking themes that expand our hearts and minds, while also providing a hopeful and encouraging message. It's great to see that middle grade books are more diverse and inclusive now than they were when I was a child (a LONG time ago), but we still have a long way to go before every reading child feels represented. I hope to do my part by adding my traditionally underrepresented voice to the mix.
Q. What are some of your favorite middle grade novels?
A. That is a very tough question to answer. I love so many middle grade novels! I especially enjoy realistic fiction that tugs at the heart, like Because of Winn-Dixie by Kate DiCamillo; Gaby, Lost and Found by Angela Cervantes; When Friendship Followed Me Home by Paul Griffin; Where the Streets Had a Name by Randa Abdel-Fattah; Echo by Pam Muñoz Ryan; One Crazy Summer by Rita Williams-Garcia … I could go on and on. I also enjoy humorous books and novels in verse, both of which are so difficult to write, yet authors like Susan Tan (creator of the very funny Cilla Lee-Jenkins books), Guadalupe Garcia McCall, Kwame Alexander, and Margarita Engle make them seem effortless. As you can see, I can't really pick one or even a few favorites.
Q. If you could give your middle grade self some advice, what would it be?
A. Have fun and enjoy being a kid!
Q: Please finish this sentence: Middle grade novels are important because…
A. Middle grade novels are important because middle grade children are ready and eager to explore the world outside of themselves, and novels are a great and safe way to do that.One of my favorite authors, Julia Alvarez, has said that "we come out of a great book as a different person from the person we were when we began reading it." This is certainly true of good middle grade books, which can teach children that tough circumstances are out there, but we can deal with them, and we will emerge different and stronger on the other side.
Cindy L. Rodriguez was a newspaper reporter for The Hartford Courant and researcher at The Boston Globe before becoming a public school teacher. She is now a reading specialist at a Connecticut middle school. Cindy is a U.S.-born Latina of Puerto Rican and Brazilian descent. She has degrees from UConn and CCSU. Her debut contemporary YA novel, When Reason Breaks (Bloomsbury 2015). She also has an essay in Life Inside My Mind (Simon Pulse 2018). She can be found on Facebook, Twitter, and Goodreads.