Drum roll, please……HERE IT IS! The 2019 list of books releasing by/for/about Latinxs. Here are the 80+ titles we know about that are releasing this year. We're sure there will be more added, so please check the site often or follow the blog for updates.  The coming year brings new books from so many of our favorite creators along with exciting debuts from Tehlor Kay Mejia, Aida Salazar, Laura Pohl, Claribel Ortega, Maya Motayne, and Nina Moreno, among others. The books are listed by the publishing date. Please let us know in the comments if we are missing any!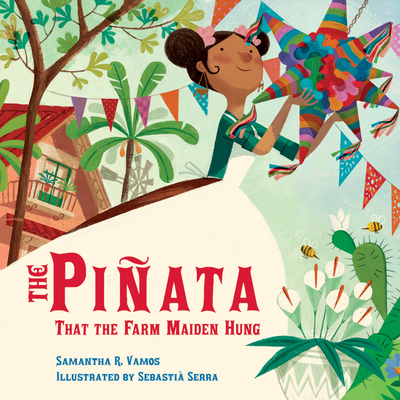 THE PIÑATA THAT THE FARM MAIDEN HUNG by Samantha R. Vamos, illus. by Sebastià Serra (Charlesbridge, January 8, 2019). Picture Book. A young girl sets out on errands for the day, and while she's gone, the farm maiden prepares a piñata from scratch with help from a boy, horse, goose, cat, sheep, and farmer. After they all fall asleep in the afternoon sun, they must scramble to finish preparations in time–just as the girl arrives back to her surprise party. Key English words change to Spanish as the cumulative verse builds to the celebratory ending. With the familiarity of "The House That Jack Built," the tale cleverly incorporates Spanish words, adding a new one in place of the English word from the previous page. This book makes learning the language easy and fun. Back matter includes a glossary, definitions, and directions for making a piñata at home.
OUR REVIEW: https://latinosinkidlit.wordpress.com/2019/03/21/book-review-the-pinata-that-the-farm-maiden-hung-by-samantha-r-vamos-illus-by-sebastia-serra/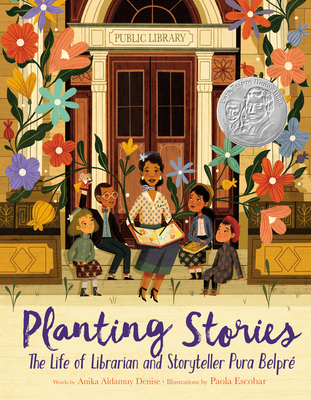 PLANTING STORIES: THE LIFE OF LIBRARIAN AND STORYTELLER PURA BELPRÉ by Anika Aldamuy Denise, illus by Paola Escobar (HarperCollins, January 15, 2019). Picture Book. An inspiring picture book biography of storyteller, puppeteer, and New York City's first Puerto Rican librarian, who championed bilingual literature.
When she came to America in 1921, Pura Belpré carried the cuentos folklóricos of her Puerto Rican homeland. Finding a new home at the New York Public Library as a bilingual assistant, she turned her popular retellings into libros and spread story seeds across the land. Today, these seeds have grown into a lush landscape as generations of children and storytellers continue to share her tales and celebrate Pura's legacy. A Spanish-language edition, Sembrando historias: Pura Belpré: bibliotecaria y narradora de cuentos, is also available.
OUR REVIEW: https://latinosinkidlit.wordpress.com/2019/04/11/book-review-planting-stories-the-life-of-librarian-and-storyteller-pura-belpre-sembrando-historias-pura-belpre-bibliotecaria-y-narradora-de-cuentos/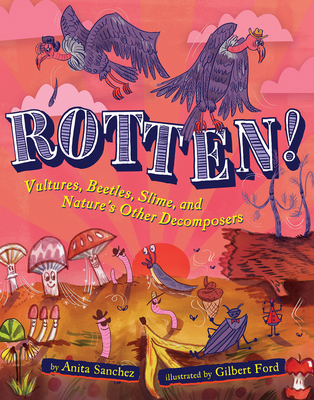 ROTTEN! VULTURES, BEETLES, AND SLIME: NATURE'S DECOMPOSERS by Anita Sanchez, illus by Gilbert Ford (HMH Books for Young Readers, January 22, 2019). Nonfiction. A funny and fact-filled look at decomposition in all of its slimy glory. Vultures fungi, dung beetles, and more aid in this fascinating and sometimes smelly aspect of the life cycle that's right under our noses.
What's that terrible smell? It's the revolting scent of rot. But being rotten isn't necessarily bad. If nothing ever rotted, nothing new could live.
Decomposition may seem like the last stop on the food chain, but it's just the beginning. When dead plants and animals decay, they give life to a host of other creatures, and each one helps ecosystems thrive. Decomposition happens in the forest, the ocean—even in your stomach and between your teeth! From vultures and sharks to bacteria, maggots, mushrooms, and more, discover the dirty rotten truth about one of nature's most fascinating processes.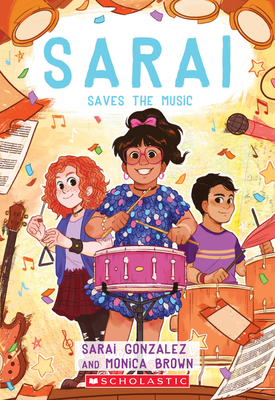 SARAI SAVES THE MUSIC (SARAI #3) by Sarai Gonzalez and Monica Brown (Scholastic, January 29, 2019). Middle Grade. They're cutting funding at Sarai's school and her band program is the first to go. That is totally not okay with Sarai. She decides to organize a benefit concert to raise money! When she and her bandmates promote the concert on their video channel, it catches the attention of Sarai's favorite singer, Sparkles Sanchez! Can Sarai save the music?
Also available in a Spanish-language edition, Saraí salva la música, releasing February 26, 2019.
.
.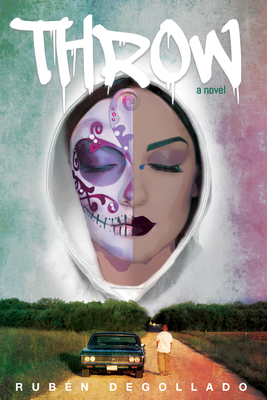 THROW by Rubén Degollado (Slant, February 1, 2019). Young Adult. Llorona is the only girl Guero has ever loved. A wounded soul, she has adopted the name of a ghost from Mexican folklore. True to her namesake, Llorona cast Guero away with the coldness of the apparition she has become. But Guero–though he would never admit it to his friends–still wants to get back together with her.
Guero spends time with his friends Angel and Smiley–members of the HCP (Hispanics Causing Panic) gang–roaming the streets of the South Texas border towns they inhabit, trying to forget Llorona even as she seems to appear around every corner.
Over three days Guero's increasingly violent confrontations with Llorona's current boyfriend will jeopardize the lives of Angel and Smiley and the love he hopes to regain.
As events begin to accelerate toward their conclusion–and gang signs are thrown as both threats and claims of identity–the question arises: will Guero throw the HCP sign, or will he throw off that life? Guero's life will be irrevocably changed by violence and loss, but who will he lose, and will he–somewhere along the way–lose himself? OUR REVIEW: Coming soon.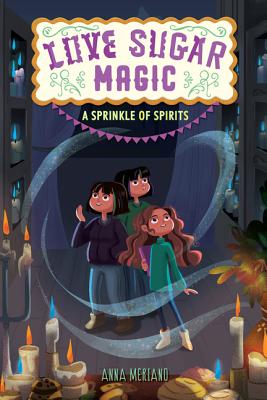 LOVE, SUGAR, MAGIC: A SPRINKLE OF SPIRITS by Anna Meriano, illus by Mirelle Ortega (Walden Pond Press, February 5, 2019). Middle Grade. Leonora Logroño has finally been introduced to her family's bakery bruja magic—but that doesn't mean everything is all sugar and spice. Her special power hasn't shown up yet, her family still won't let her perform her own spells, and they now act rude every time Caroline comes by to help Leo with her magic training.
She knows that the family magic should be kept secret, but Caroline is her best friend, and she's been feeling lonely than ever since her mom passed away. Why should Leo have to choose between being a good bruja and a good friend?
In the midst of her confusion, Leo wakes up one morning to a startling sight: her dead grandmother, standing in her room, looking as alive as she ever was. Both Leo and her abuela realize this might mean trouble—especially once they discover that Abuela isn't the only person in town who has been pulled back to life from the other side.
Spirits are popping up all over town, causing all sorts of trouble! Is this Leo's fault? And can she reverse the spell before it's too late?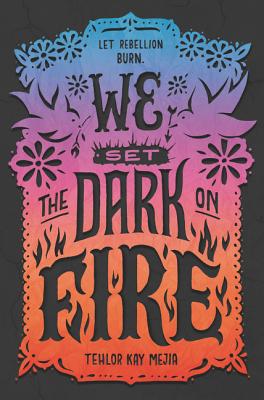 WE SET THE DARK ON FIRE by Tehlor Kay Mejia (Katherine Tegen Books, February 26, 2019). Young Adult. At the Medio School for Girls, distinguished young women are trained for one of two roles in their polarized society. Depending on her specialization, a graduate will one day run a husband's household or raise his children. Both paths promise a life of comfort and luxury, far from the frequent political uprisings of the lower class.
Daniela Vargas is the school's top student, but her pedigree is a lie. She must keep the truth hidden or be sent back to the fringes of society.
And school couldn't prepare her for the difficult choices she must make after graduation, especially when she is asked to spy for a resistance group desperately fighting to bring equality to Medio.
Will Dani cling to the privilege her parents fought to win for her, or will she give up everything she's strived for in pursuit of a free Medio—and a chance at a forbidden love?
OUR REVIEW: https://latinosinkidlit.wordpress.com/2019/03/18/book-review-we-set-the-dark-on-fire-by-tehlor-kay-mejia/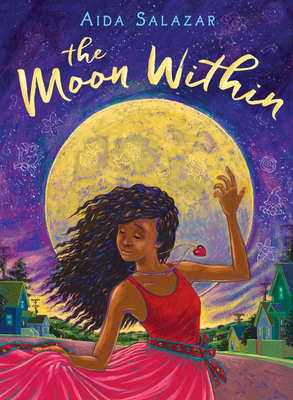 THE MOON WITHIN by Aida Salazar (Arthur A. Levine Books, February 26, 2019). Middle Grade. Celi Rivera's life swirls with questions. About her changing body. Her first attraction to a boy. And her best friend's exploration of what it means to be genderfluid.
But most of all, her mother's insistence she have a moon ceremony when her first period arrives. It's an ancestral Mexica ritual that Mima and her community have reclaimed, but Celi promises she will NOT be participating. Can she find the power within herself to take a stand for who she wants to be?
OUR REVIEW: https://latinosinkidlit.wordpress.com/2019/02/25/book-review-the-moon-within-by-aida-salazar/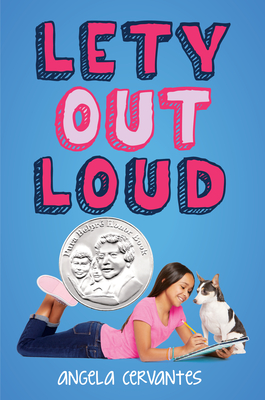 LETY OUT LOUD by Angela Cervantes (Scholastic Press, February 26, 2019). Middle Grade. Can Lety find her voice before it's too late? Lety Muñoz's first language is Spanish, and she likes to take her time putting her words together. She loves volunteering at the Furry Friends Animal Shelter because the dogs and cats there don't care if she can't always find the right word.
When the shelter needs a volunteer to write animal profiles, Lety jumps at the chance. But grumpy classmate Hunter also wants to write profiles — so now they have to work as a team. Hunter's not much of a team player, though. He devises a secret competition to decide who will be the official shelter scribe. Whoever helps get their animals adopted the fastest wins. The loser scoops dog food.
Lety reluctantly agrees, but she's worried that if the shelter finds out about the contest, they'll kick her out of the volunteer program. Then she'll never be able to adopt Spike, her favorite dog at the shelter!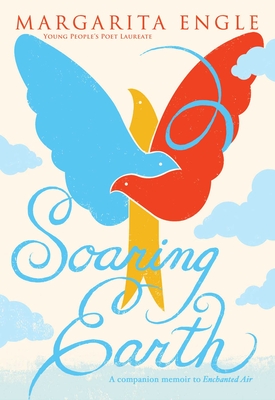 SOARING EARTH: A Companion Memoir to Enchanted Air by Margarita Engle (Antheneum Books for Young Readers, February 26, 2019). Young Adult. Margarita Engle's childhood straddled two worlds: the lush, welcoming island of Cuba and the lonely, dream-soaked reality of Los Angeles. But the revolution has transformed Cuba into a mystery of impossibility, no longer reachable in real life. Margarita longs to travel the world, yet before she can become independent, she'll have to start high school.
Then the shock waves of war reach America, rippling Margarita's plans in their wake. Cast into uncertainty, she must grapple with the philosophies of peace, civil rights, freedom of expression, and environmental protection. Despite overwhelming circumstances, she finds solace and empowerment through her education. Amid the challenges of adolescence and a world steeped in conflict, Margarita finds hope beyond the struggle, and love in the most unexpected of places.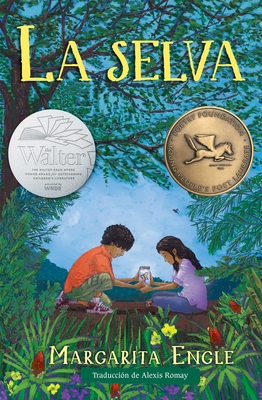 LA SELVA, the Spanish version of FOREST WORLD by Margarita Engle, translated by Alexis Romay (Antheneum Books for Young Readers, February 26, 2019). Middle Grade. Now in Spanish, award-winning author Margarita Engle's lively middle grade novel in verse about a Cuban-American boy who visits his family's village in Cuba for the first time—and meets a sister he didn't know he had.
Edver isn't happy about being shipped off to Cuba to visit the father he barely knows. Yet now that travel laws have changed and it's a lot easier for divided families to be reunited, his mom thinks it's time for some father-son bonding.
Edver doesn't know what this summer has in store, but he's definitely not expecting to meet a sister he didn't know existed! Luza is a year older and excited to see her little brother, until she realizes how different their lives have been. Looking for anything they might have in common, they sneak onto the internet—and accidentally catch the interest of a dangerous wildlife poacher. Edver has fought plenty of villains in video games. Now, to save the Cuban jungle they love, he and Luza are going to have to find a way to conquer a real villain!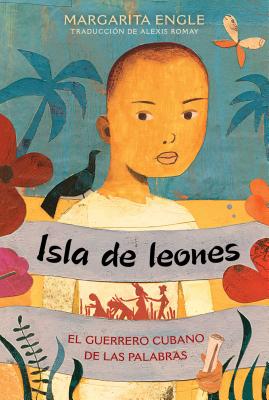 ISLA DE LEONES, the Spanish version of LION ISLAND by Margarita Engle, illus by Alexis Romay (Atheneum Books for Young Readers, February 26, 2019). Young Adult. The Spanish translation of this "beautifully written, thought provoking" (School Library Journal, starred review) novel in verse by Young People's Poet Laureate Margarita Engle, which tells the story of Antonio Chuffat, a young man of African, Chinese, and Cuban descent who becomes a champion for civil rights.
Asia, Africa, Europe—Antonio Chuffat's ancestors clashed and blended on the beautiful island of Cuba. The country is fighting for freedom from Spain. Enslaved Africans and near-enslaved Chinese indentured servants are forced to work long, backbreaking hours in the fields.
So Antonio feels lucky to have found a good job as a messenger, where his richly blended cultural background is an asset. Through his work he meets Wing, a young Chinese fruit seller who barely escaped the anti-Asian riots in San Francisco, and his sister Fan, a talented singer. With injustice all around them, the three friends are determined to prove that violence is not the only way to gain liberty.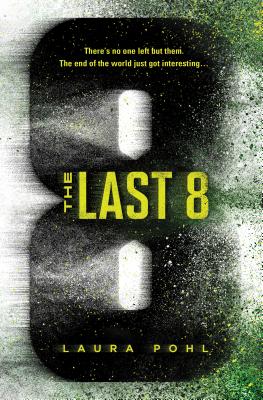 THE LAST 8 by Laura Pohl (Sourcebooks Fire, March 5, 2019). Young Adult. Clover Martinez has always been a survivor, which is the reason she isn't among the dead when aliens invade and destroy Earth as she knows it.
Clover is convinced she's the only one left until she hears a voice on the radio urging her to go to the former Area 51. When she arrives, she's greeted by a band of misfits who call themselves The Last Teenagers on Earth.
Only they aren't the ragtag group of heroes Clover was expecting. The seven strangers seem more interested in pretending the world didn't end than fighting back, and Clover starts to wonder if she was better off alone. But when she finds a hidden spaceship within the walls of the compound, she doesn't know what to believe…or who to trust.
OUR REVIEW: https://latinosinkidlit.wordpress.com/2019/04/15/book-review-the-last-8-by-laura-pohl/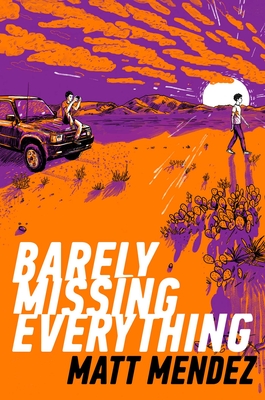 BARELY MISSING EVERYTHING by Matt Mendez (Atheneum/Caitlyn Dlouhy Books, March 5, 2019.) Young Adult. Juan has plans. He's going to get out of El Paso, Texas, on a basketball scholarship and make something of himself—or at least find something better than his mom Fabi's cruddy apartment, her string of loser boyfriends, and a dead dad. Basketball is going to be his ticket out, his ticket up. He just needs to make it happen.
His best friend JD has plans, too. He's going to be a filmmaker one day, like Quinten Tarantino or Guillermo del Toro (NOT Steven Spielberg). He's got a camera and he's got passion—what else could he need?
Fabi doesn't have a plan anymore. When you get pregnant at sixteen and have been stuck bartending to make ends meet for the past seventeen years, you realize plans don't always pan out, and that there some things you just can't plan for.
Like Juan's run-in with the police, like a sprained ankle, and a tanking math grade that will likely ruin his chance at a scholarship. Like JD causing the implosion of his family. Like letters from a man named Mando on death row. Like finding out this man could be the father your mother said was dead.
Soon Juan and JD are embarking on a Thelma and Louise­–like road trip to visit Mando. Juan will finally meet his dad, JD has a perfect subject for his documentary, and Fabi is desperate to stop them. But, as we already know, there are some things you just can't plan for. OUR REVIEW: Coming soon.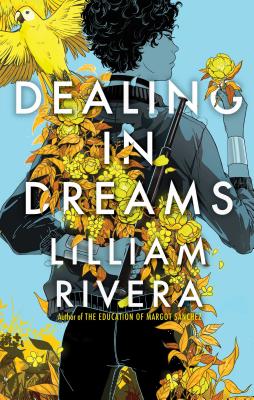 DEALING IN DREAMS by Lilliam Rivera (Simon & Schuster Books for Young Readers, March 5, 2019). Young Adult. Sixteen-year-old Nalah leads the fiercest all-girl crew in Mega City. That role brings with it violent throwdowns and access to the hottest boydega clubs, but Nala quickly grows weary of her questionable lifestyle. Her dream is to get off the streets and make a home in the exclusive Mega Towers, in which only a chosen few get to live. To make it to the Mega Towers, Nalah must prove her loyalty to the city's benevolent founder and cross the border in a search of the mysterious gang the Ashé Riders. Led by a reluctant guide, Nalah battles crews and her own doubts but the closer she gets to her goal the more she loses sight of everything—and everyone—she cares about.
Nalah must choose whether or not she's willing to do the unspeakable to get what she wants. Can she discover that home is not where you live but whom you chose to protect before she loses the family she's created for good?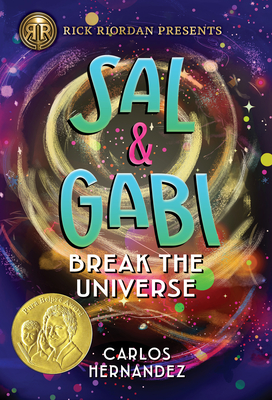 SAL AND GABI BREAK THE UNIVERSE by Carlos Hernandez (Rick Riordan Presents, March 5, 2019). Middle Grade. When Sal Vidon meets Gabi Real for the first time, it isn't under the best of circumstances. Sal is in the principal's office for the third time in three days, and it's still the first week of school. Gabi, student council president and editor of the school paper, is there to support her friend Yasmany, who just picked a fight with Sal. She is determined to prove that somehow, Sal planted a raw chicken in Yasmany's locker, even though nobody saw him do it and the bloody poultry has since mysteriously disappeared.
Sal prides himself on being an excellent magician, but for this sleight of hand, he relied on a talent no one would guess . . . except maybe Gabi, whose sharp eyes never miss a trick. When Gabi learns that he's capable of conjuring things much bigger than a chicken–including his dead mother–and she takes it all in stride, Sal knows that she is someone he can work with. There's only one slight problem: their manipulation of time and space could put the entire universe at risk. OUR REVIEW: Coming soon.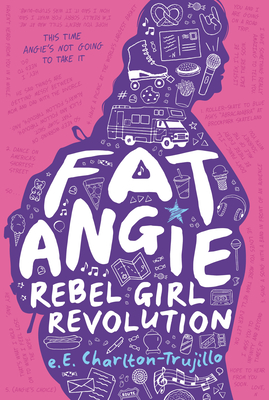 FAT ANGIE: REBEL GIRL REVOLUTION by e.E. Charlton-Trujillo (Candlewick, March 5, 2019). Young Adult. Sophomore year has just begun, and Angie is miserable. Her girlfriend, KC, has moved away; her good friend, Jake, is keeping his distance; and the resident bully has ramped up an increasingly vicious and targeted campaign to humiliate her. An over-the-top statue dedication planned for her sister, who died in Iraq, is almost too much to bear, and it doesn't help that her mother has placed a symbolic empty urn on their mantel. At the ceremony, a soldier hands Angie a final letter from her sister, including a list of places she wanted the two of them to visit when she got home from the war. With her mother threatening to send Angie to a "treatment center" and the situation at school becoming violent, Angie enlists the help of her estranged childhood friend, Jamboree. Along with a few other outsiders, they pack into an RV and head across the state on the road trip Angie's sister did not live to take. It might be just what Angie needs to find a way to let her sister go, and find herself in the process.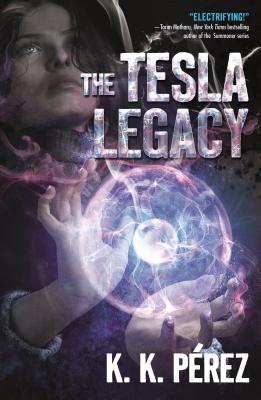 THE TESLA LEGACY by K.K. Pérez (Tor Teen, March 12, 2019). Young Adult. An action-packed, young adult coming-of-age adventure, K. K. Perez's The Tesla Legacy follows a precocious young scientist named Lucy Phelps whose fateful encounter in the Tesla Suite of the New Yorker Hotel unlocks her dormant electrical powers. As Lucy struggles to understand her new abilities through scientific experimentation, she is thrust into a centuries old battle between rival alchemical societies.
One side wants her help and the other wants her dead, but both believe she is the next step in human evolution. Unfortunately, carriers of the genetic mutation—including Nikola Tesla—have a greatly reduced life expectancy. Even if Lucy can outrun her enemies, she can't outrun herself.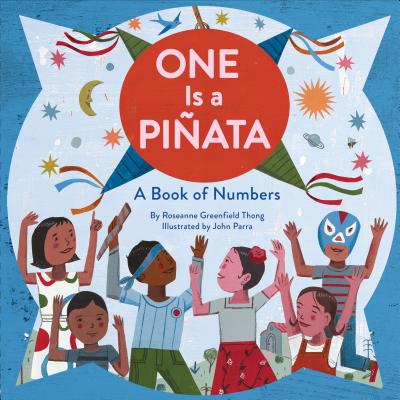 ONE IS A PIÑATA: A BOOK OF NUMBERS by Roseanne Greenfield Thong, illus by John Parra (Chronicle Books, March 12, 2019). Picture Book. One is a rainbow. One is a cake. One is a piñata that's ready to break! In this lively picture book, a companion to the Pura Belpré–honored Green Is a Chile Pepper, children discover a fiesta of numbers in the world around them, all the way from one to ten: Two are maracas and cold ice creams, six are salsas and flavored aguas. Many of the featured objects are Latino in origin, and all are universal in appeal. With rich, boisterous illustrations, a fun-to-read rhyming text, and an informative glossary, this vibrant book enumerates the joys of counting and the wonders that abound in every child's day! OUR REVIEW: Coming soon.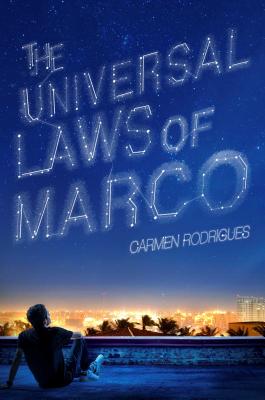 THE UNIVERSAL LAWS OF MARCO by Carmen Rodrigues (Simon Pulse, March 19, 2019). Young Adult. In the summer before eighth grade, Marco Suarez kissed his best friend Sally Blake. This was his first spark.
And since then, whenever he's thought about that moment, he's traveled through a wormhole—of sorts—to relive those brief seconds when time sped up (or, rather, his view of time distorted) and he kissed her.
And then, at the end of that year, she disappeared, leaving in that way that people sometimes leave—alive and well and somewhere out there but gone, nonetheless. She never even said why.
And now in their senior year, Sally unexpectedly returns and Marco is shaken. Still, he holds tightly to his carefully choreographed life. A life that is full of reasons why first sparks don't matter:
Reason 1: He has a girlfriend. Her name is Erika Richards.
Reason 2: He's leaving on a full scholarship to college.
Reason 3: He's busy with his friends and making money to help support his family.
But as Marco navigates the final days of high school, he learns that leaving home is never easy and a first spark is hard to ignore.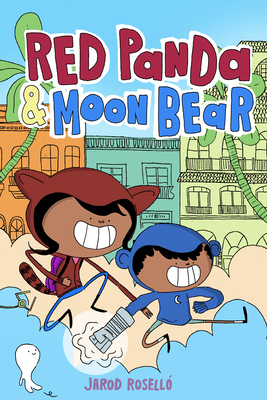 RED PANDA AND MOON BEAR by Jarod Roselló (Top Shelf Productions, March 26, 2019). Graphic Novel. Two Latinx kids battle supernatural threats to their working-class neighborhood with the power of science, magic, and a pair of very special hoodies.
Red Panda and Moon Bear are the defenders of their community! Together, these brave siblings rescue lost cats, scold bullies, and solve mysteries, all before Mamá and Papá get home. But lately… the mysteries have been EXTRA mysterious. All of RP and MB's powers may not be enough to handle spooks, supervillains, alien invaders, and time warps! It'll take all their imagination — and some new friends — to uncover the secret cause behind all these events before the whole world goes crazy.
END OF THE LIE by Diana Rodriguez Wallach (Entangled Publishing, March 2019). Young Adult. With her harrowing tale of espionage and near death experiences finally out in the open, Anastasia Phoenix thought things would be better. That she and her friends had outsmarted Department D, the criminal empire her parents helped create.
She thought wrong.
Former friends have turned to enemies, causing more innocent lives to get swept up into the dangerous world her parents created. Now it's up to Anastasia to stop the damage before anyone else gets hurt—or worse. She embarks on a treacherous trail from Poland to Prague, and old rivals emerge at every turn. But when the final confrontation occurs, will she be too late to protect the ones she loves… or even herself?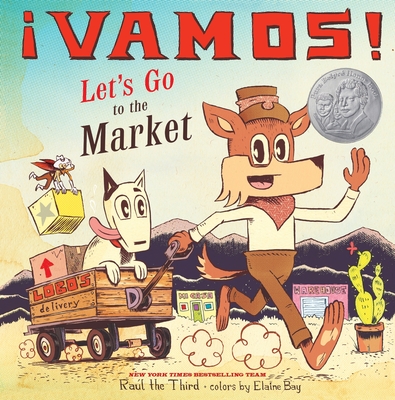 ¡VAMOS! LET'S GO TO THE MARKET by Raúl the Third (Versify, April 2, 2019). Picture Book. Bilingual in a new way, this paper over board book teaches readers simple words in Spanish as they experience the bustling life of a border town. Follow Little Lobo and his dog Bernabe as they deliver supplies to a variety of vendors, selling everything from sweets to sombreros, portraits to piñatas, carved masks to comic books!
OUR REVIEW: https://latinosinkidlit.wordpress.com/2019/09/26/book-reviews-vamos-lets-go-to-the-market-by-raul-the-third-and-babymoon-by-hayley-barrett-illus-by-juana-martinez-neal/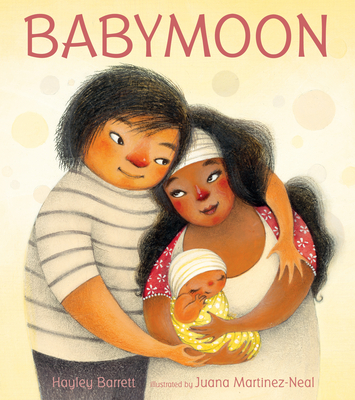 BABYMOON by Hayley Barrett, illus by Juana Martinez-Neal (Candlewick, April 2, 2019). Picture Book. Inside the cozy house, a baby has arrived! The world is eager to meet the newcomer, but there will be time enough for that later. Right now, the family is on its babymoon: cocooning, connecting, learning, and muddling through each new concern. While the term "babymoon" is often used to refer to a parents' getaway before the birth of a child, it was originally coined by midwives to describe days like these: at home with a newborn, with the world held at bay and the wonder of a new family constellation unfolding. Paired with warm and winsome illustrations by Juana Martinez-Neal, Hayley Barrett's lyrical ode to these tender first days will resonate with new families everywhere.
OUR REVIEW: https://latinosinkidlit.wordpress.com/2019/09/26/book-reviews-vamos-lets-go-to-the-market-by-raul-the-third-and-babymoon-by-hayley-barrett-illus-by-juana-martinez-neal/
ZOMBIES DON'T EAT VEGGIES! by Jorge Lacera and Megan Lacera (Children's Book Press, April 2, 2019). Picture Book. Mo Romero is a zombie who loves nothing more than growing, cooking, and eating vegetables. Tomatoes? Tantalizing. Peppers? Pure perfection The problem? Mo's parents insist that their niño eat only zombie cuisine, like arm-panadas and finger foods. They tell Mo over and over that zombies don't eat veggies. But Mo can't imagine a lifetime of just eating zombie food and giving up his veggies. As he questions his own zombie identity, Mo tries his best to convince his parents to give peas a chance.
OUR REVIEW: https://latinosinkidlit.wordpress.com/2019/06/17/book-review-zombies-dont-eat-veggies-by-megan-lacera-and-jorge-lacera/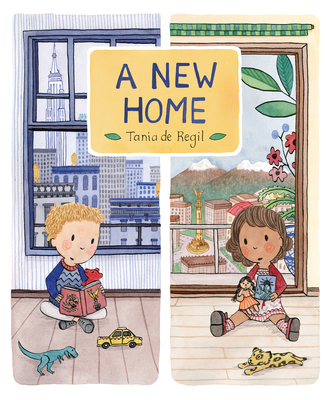 A NEW HOME/UN NUEVO HOGAR by Tania de Regil (Candlewick, April 9, 2019.) Picture Book. Moving to a new city can be exciting. But what if your new home isn't anything like your old home? Will you make friends? What will you eat? Where will you play? In a cleverly combined voice — accompanied by wonderfully detailed illustrations depicting parallel urban scenes — a young boy conveys his fears about moving from New York City to Mexico City while, at the same time, a young girl expresses trepidation about leaving Mexico City to move to New York City. Tania de Regil offers a heartwarming story that reminds us that home may be found wherever life leads. Fascinating details about each city are featured at the end. The book will be released simultaneously in English and Spanish. OUR REVIEW: Coming soon.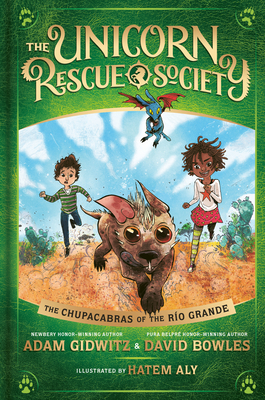 THE CHUPACABRAS OF THE RÍO GRANDE: THE UNICORN RESCUE SOCIETY #4 by Adam Gidwitz and David Bowles, illus by Hatem Aly (Dutton Books for Young Readers, April 16, 2019). Middle Grade. Elliot and Uchenna have only just returned from their most recent Unicorn Rescue Society mission when Professor Fauna whisks them away (Jersey, too!), on their next exciting adventure. This time, they're headed to Laredo, on the U.S.-Mexican border to help another mythical creature in need: the chupacabras.
Teaming up with local kids Lupita and Mateo Cervantes–plus their brilliant mother, Dr. Alejandra Cervantes and her curandero husband Israel–the kids struggle to not only keep the chupacabras safe, but also to bring a divided community together once more.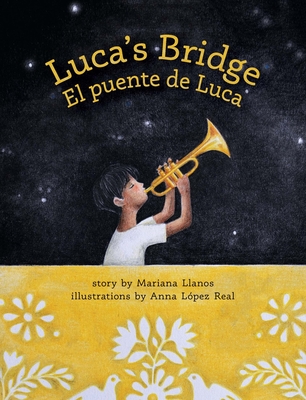 LUCA'S BRIDGE/EL PUENTE DE LUCA by Mariana Llanos, illus by Anna López Real (Penny Candy Books, April 16, 2019). Picture Book. The book tells the emotional story of a boy coming to terms with his family's deportation from the United States to Mexico. A powerful meditation on home and identity at a time when our country sorely needs it.
OUR REVIEW: https://latinosinkidlit.wordpress.com/2019/09/12/book-review-lucas-bridge-el-puente-de-luca-by-mariana-llanos-illus-by-anna-lopez-real/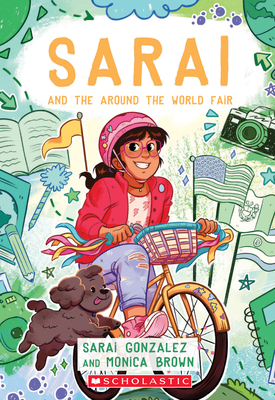 SARAI AND THE AROUND THE WORLD FAIR (SARAI #4) by Sarai Gonzalez and Monica Brown (Scholastic, April 16, 2019). Middle Grade. When Sarai outgrows her bike, she worries she'll never get to travel anywhere. But, when Martin Luther King Jr. Elementary hosts their first Around the World Fair, Sarai learns that with a little imagination, you can go anywhere you want!
Also available in a Spanish-language edition, releasing September 17, 2019, Saraí y la Feria Alrededor del Mundo 
OUR REVIEW: Coming soon.
A LIBRARY FOR JUANA/UNA BIBLIOTECA PARA JUANA by Pat Mora, illus. by Beatriz Vidal (Lee & Low, April 23, 2019). Picture Book. From a very young age, Juana Inés loved words. When she was three years old, she followed her sister to school and begged the teacher to let her stay so she could learn how to read. Juana enjoyed poring over books and was soon making up her own stories, songs, and poems.
Juana wanted to become a scholar, but career options for women were limited at this time. She decided to become a nun—Sor Juana Inés de la Cruz—in order to spend her life in solitude reading and writing. Though she died in 1695, Sor Juana Inés is still considered one of the most brilliant writers in Mexico's history: her poetry is recited by schoolchildren throughout Mexico and is studied at schools and universities around the world.
The recipient of the Tomás Rivera Mexican American Children's Book Award, A Library for Juana celebrates Juana Inés's incredible thirst for knowledge, and is lovingly written by renowned children's book author Pat Mora and gorgeously illustrated by Beatriz Vidal.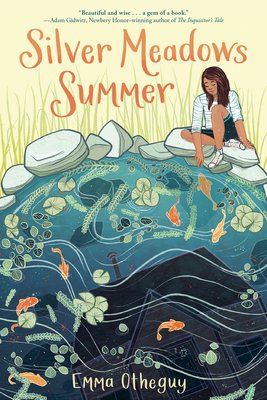 SILVER MEADOWS SUMMER by Emma Otheguy (Knopf Books for Young Readers, April 30, 2019). Middle Grade. Eleven-year-old Carolina's summer–and life as she knows it–is upended when Papi loses his job, and she and her family must move from Puerto Rico to her Tía Cuca and Uncle Porter's house in upstate New York. Now Carolina must attend Silver Meadows camp, where her bossy older cousin Gabriela rules the social scene.
Just as Carolina worries she'll have to spend the entire summer in Gabriela's shadow, she makes a friend of her own in Jennifer, a fellow artist. Carolina gets another welcome surprise when she stumbles upon a long-abandoned cottage in the woods near the campsite and immediately sees its potential as a creative haven for making art. There, with Jennifer, Carolina begins to reclaim the parts of the life she loved in Puerto Rico and forget about how her relationship with Mami has changed and how distant Papi has become.
But when the future of Silver Meadows and the cottage is thrown into jeopardy, Carolina and–to everyone's surprise–Gabriela come up with a plan to save them. Will it work?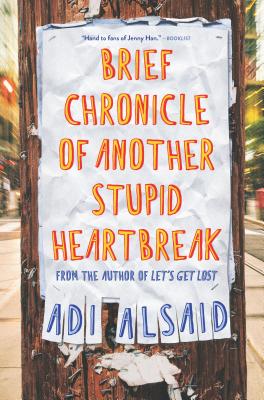 BRIEF CHRONICLE OF ANOTHER STUPID HEARTBREAK by Adi Alsaid (Inkyard Press, April 30, 2019). Young Adult. Dumped by her boyfriend the summer after senior year, teen love and relationship columnist Lu Charles has hit a wall with her writing. The words just won't come to her like they used to and if she doesn't find a topic for her column, she'll lose her gig at hip online magazine Misnomer, and the college scholarship that goes along with it.Her best friend, Pete, thinks she should write through her own pain, but when Lu overhears another couple planning a precollege breakup just like hers, she becomes convinced that they're the answer to cracking her writer's block. And when she meets them–super-practical Iris and cute, sweet Cal–and discovers they're postponing their breakup until the end of the summer, she has to know more.Have Cal and Iris prolonged their own misery by staying together, knowing the end is in sight? Or does the secret to figuring out all this love business–and getting over it–lie with them? One thing is certain–if Lu can't make a breakthrough before summer is over, she can kiss her future goodbye.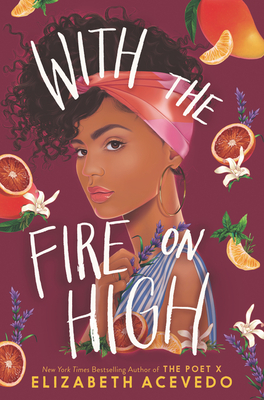 WITH THE FIRE ON HIGH by Elizabeth Acevedo (HarperTeen, May 7, 2019). Young Adult. Ever since she got pregnant freshman year, Emoni Santiago's life has been about making the tough decisions—doing what has to be done for her daughter and her abuela. The one place she can let all that go is in the kitchen, where she adds a little something magical to everything she cooks, turning her food into straight-up goodness.
Even though she dreams of working as a chef after she graduates, Emoni knows that it's not worth her time to pursue the impossible. Yet despite the rules she thinks she has to play by, once Emoni starts cooking, her only choice is to let her talent break free.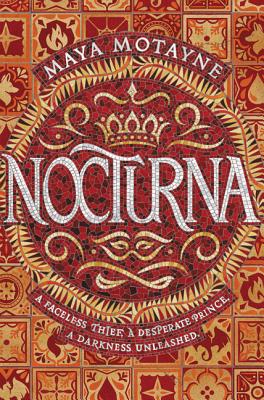 NOCTURNA by Maya Motayne (Balzer + Bray, May 7, 2019). Young Adult. To Finn Voy, magic is two things. The first: a knife to hold under the chin of anyone who crosses her. The second: a disguise she shrugs on as easily as others pull on cloaks. A talented shapeshifter, it's been years since Finn has seen her own face, and that's exactly how she likes it. But when Finn gets caught by a powerful mobster she's indebted to, she's forced into an impossible mission—steal a legendary treasure from the palace or lose her shapeshifting magic forever.
After the murder of his older brother, Prince Alfehr is first in line for the Castallan throne. But Alfie can't help but feel that he will never live up to his brother's legacy. Riddled with grief, Alfie is obsessed with finding a way to bring his brother back, even if it means dabbling in forbidden magic.
In a cruel twist of fate, Alfie's best friend is nearly killed in the crossfire of Finn's heist, and Alfie accidentally unlocks a terrible, ancient magic to save him—a magic, which, if not contained, will devour the world. Alfie and Finn race to vanquish what they have unleashed. But to do so, they each must contend with the darkness hiding in their pasts. OUR REVIEW: Coming Soon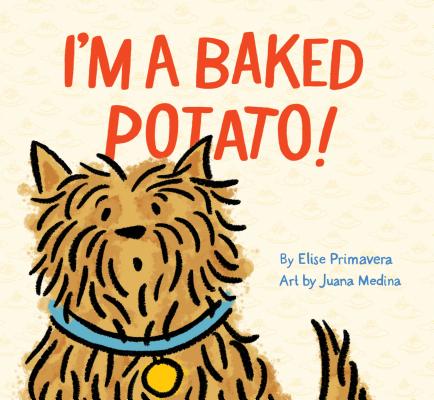 I'M A BAKED POTATO by Elise Primavera, illus by Juana Medina (Roaring Brook Press, May 7, 2019). Picture Book. When a baked potato–loving lady adopts a dog, she adores him unconditionally—and given the pup's small, round frame and warm, brown coat she can't help but call him "Baked Potato"! But what happens when a dog who thinks he's a baked potato gets lost? Will he find his lady? And more importantly, will he find himself? I'm a Baked Potato! is a fun, bighearted story about the names we're given, the names we choose, and how both can help us find our way home. Full of heart and laugh-out-loud moments, this story will leave readers giggling—and looking at pets in a whole new way.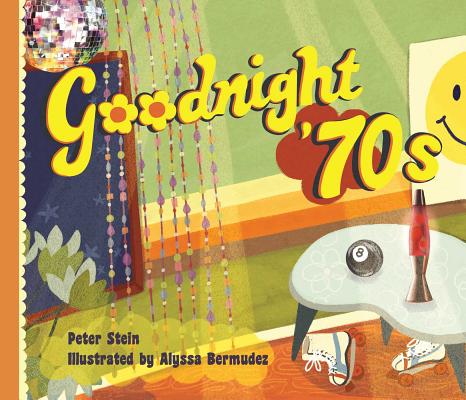 GOODNIGHT '70s by Peter Stein, illus by Alyssa Bermudez (Andrews McMeel Publishing, May 9, 2019). Picture Book. Say goodnight to long hair and beanbag chairs, Kung Fu champs and lava lamps, Pop Rocks and your David Cassidy lunchbox—this playful Goodnight Moon parody is a retro rhyming ride back to the seventies!
Illustrated and packaged à la Margaret Wise Brown's Goodnight Moon, Goodnight '70s turns the classic children's book into a baby boomer's ode to the far out 1970s. It's the perfect gift for anyone nostalgic for the good old days of bell-bottoms, disco balls, and 8-track tapes.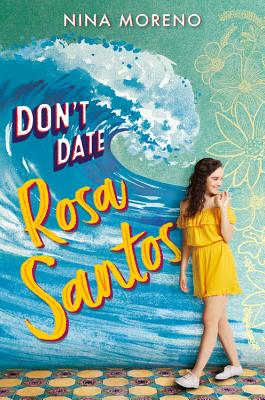 DON'T DATE ROSA SANTOS by Nina Moreno (Disney-Hyperion, May 14, 2019). Young Adult. Rosa Santos is cursed by the sea-at least, that's what they say. Dating her is bad news, especially if you're a boy with a boat.
But Rosa feels more caught than cursed. Caught between cultures and choices. Between her abuela, a beloved healer and pillar of their community, and her mother, an artist who crashes in and out of her life like a hurricane. Between Port Coral, the quirky South Florida town they call home, and Cuba, the island her abuela refuses to talk about.
As her college decision looms, Rosa collides-literally-with Alex Aquino, the mysterious boy with tattoos of the ocean whose family owns the marina. With her heart, her family, and her future on the line, can Rosa break a curse and find her place beyond the horizon?
OUR REVIEW: https://latinosinkidlit.wordpress.com/2019/05/02/book-review-dont-date-rosa-santos-by-nina-moreno/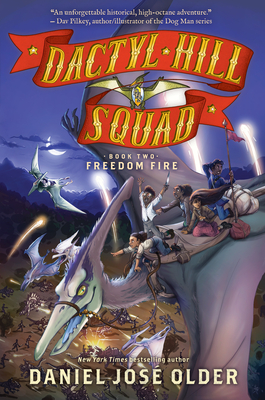 FREEDOM FIRE: DACTYL HILL SQUAD #2 by Daniel José Older (Arthur A. Levine Books, May 14, 2019). Middle Grade. Magdalys and the squad are flying south on pteroback. South to rescue her older brother. South to war.
The squad links up with the dino-mounted troops of the Louisiana Native Guard, an all-black regiment in the Union Army fighting to free their people. They're led by General Sheridan, surrounded by enemy forces in Tennessee and desperate for any edge to sway the tide of battle.
Magdalys's burgeoning powers might be the Union's last hope. But she doesn't want to abandon the search for her brother. And she might not be the only one with a mysterious connection to dinosaurs.
With the Civil War raging around her and the Union on the brink of collapse, how can Magdalys choose between the army that needs her help to survive and the brother she risked everything to save?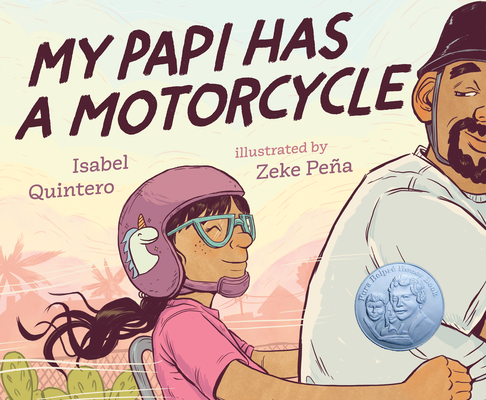 MY PAPI HAS A MOTORCYCLE by Isabel Quintero, illus buy Zeke Peña (Kokila, May 14, 2019). Picture Book. When Daisy Ramona zooms around her neighborhood with her papi on his motorcycle, she sees the people and places she's always known. She also sees a community that is rapidly changing around her.
But as the sun sets purple-blue-gold behind Daisy Ramona and her papi, she knows that the love she feels will always be there.
With vivid illustrations and text bursting with heart, My Papi Has a Motorcycle is a young girl's love letter to her hardworking dad and to memories of home that we hold close in the midst of change.
OUR REVIEW: https://latinosinkidlit.wordpress.com/2019/10/17/book-review-my-papi-has-a-motorcycle-by-isabel-quintero-illus-by-zeke-pena/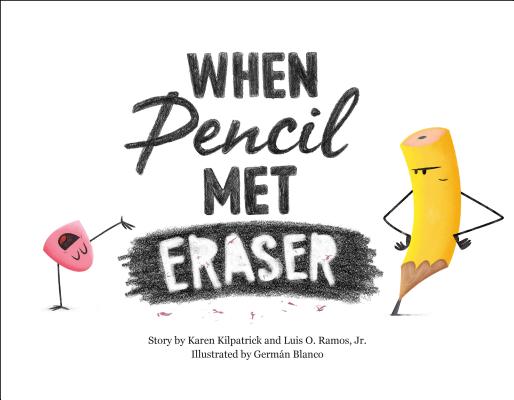 WHEN PENCIL MET ERASER by Karen Kilpatrick, Luis O. Ramos Jr., illus by Germán Blanco (Imprint, May 28, 2019). Picture Book. Ever wonder why there's a little pink eraser on every pencil? Find out in this funny, clever picture book that tells the true story of how Pencil and Eraser became the best of friends.
When Pencil draws on the pages of this book, Eraser erases parts of Pencil's work, and the book itself becomes a canvas for their different takes on creativity—until the two discover their artwork is even better when they work together.
From Karen Kilpatrick, Luis O. Ramos, Jr., and illustrator Germán Blanco, When Pencil Met Eraser brings to life something kids use every day at school and at home. Engaging art, adorable characters, and a clever ending create a memorable message about friendship and creativity.
MY SHOES AND I: CROSSING THREE BORDERS / MIS ZAPATOS Y YO: CRUZADO TRES FRONTERAS by René Colato Laínez's illustrated by Fabricio Vanden Broeck (Arte Publico Press, May 31, 2019). Bilingual Picture Book. Sharing his own experiences, René Colato Laínez's moving bilingual picture book brings to life the experiences of many young children who make the arduous journey from Central America to the United States in search of a better life. In an author' note, René tells the story of how he and his Papá had to leave El Salvador to escape the civil war in 1985. He hopes sharing his story will help show the hard journey immigrant children and families face to escape violence and crime. OUR REVIEW: Coming soon.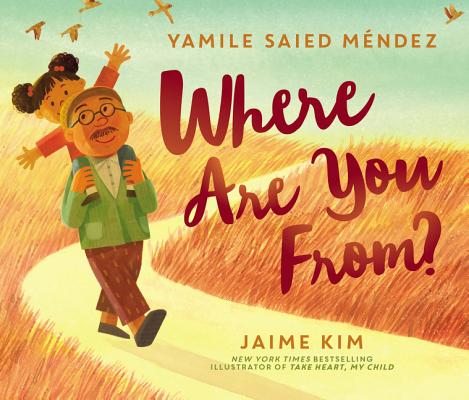 WHERE ARE YOU FROM? by Yamile Saied Méndez, illus by Jaime Kim. (HarperCollins, June 4, 2019). Picture Book. When a girl is asked where she's from—where she's really from—none of her answers seems to be the right one. Unsure about how to reply, she turns to her loving abuelo for help. He doesn't give her the response she expects. She gets an even better one.
Where am I from?
You're from hurricanes and dark storms, and a tiny singing frog that calls the island people home when the sun goes to sleep….
With themes of self-acceptance, identity, and home, this powerful, lyrical picture book will resonate with readers young and old, from all backgrounds and of all colors—especially anyone who ever felt that they don't belong.
OUR REVIEW: https://latinosinkidlit.wordpress.com/2019/06/27/where-are-you-from-by-yamile-saied-mendez/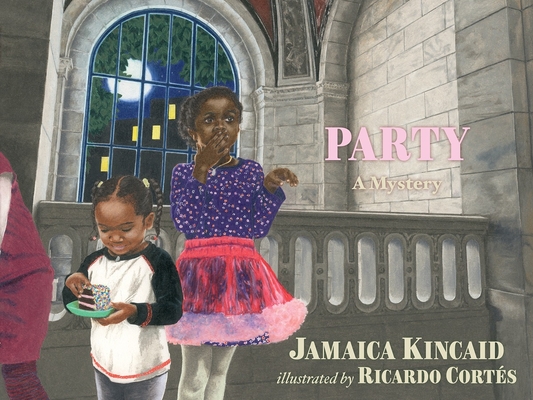 PARTY: A Mystery by Jamaica Kincaid, illus by Ricardo Cortes (Black Sheep, June 4, 2019). Picture Book. Three girls–Pam, Beth, and Sue–attend a party to celebrate the publication of the first of the Nancy Drew mystery books. There are many distractions at the fancy affair: flower arrangements, partygoers, refreshments, and lots and lots of marble. Suddenly, the oldest girl, Pam, sees what can only be described as something truly…bilious…not good Beth sees it too. The youngest, Sue, does not, and as usual she has a hard time getting anyone to tell her anything. Party: A Mystery is a beautifully drawn adventure story that promises questions that will grab children, but does not guarantee an answer.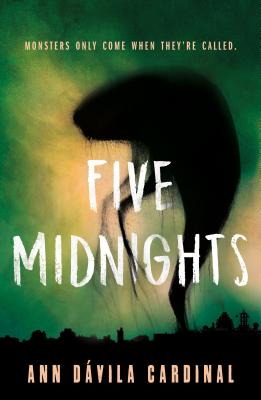 FIVE MIDNIGHTS by Ann Dávila Cardinal (Tor Teen, June 4, 2019). Young Adult. If Lupe Dávila and Javier Utierre can survive each other's company, together they can solve a series of grisly murders sweeping though Puerto Rico. But the clues lead them out of the real world and into the realm of myths and legends. And if they want to catch the killer, they'll have to step into the shadows to see what's lurking there—murderer, or monster?
OUR REVIEW: https://latinosinkidlit.wordpress.com/2019/10/10/book-review-five-midnights-by-ann-davila-cardinal/
.
.
.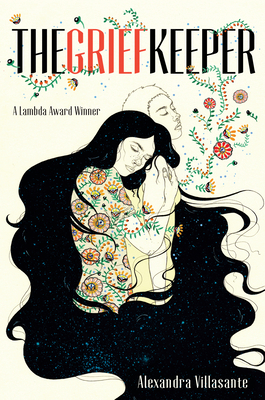 THE GRIEF KEEPER by Alexandra Villasante (G.P. Putnam's Sons Books for Young Readers, June 11, 2019). Young Adult. Seventeen-year-old Marisol has always dreamed of being American, learning what Americans and the US are like from television and Mrs. Rosen, an elderly expat who had employed Marisol's mother as a maid. When she pictured an American life for herself, she dreamed of a life like Aimee and Amber's, the title characters of her favorite American TV show. She never pictured fleeing her home in El Salvador under threat of death and stealing across the US border as "an illegal", but after her brother is murdered and her younger sister, Gabi's, life is also placed in equal jeopardy, she has no choice, especially because she knows everything is her fault. If she had never fallen for the charms of a beautiful girl named Liliana, Pablo might still be alive, her mother wouldn't be in hiding and she and Gabi wouldn't have been caught crossing the border.
But they have been caught and their asylum request will most certainly be denied. With truly no options remaining, Marisol jumps at an unusual opportunity to stay in the United States. She's asked to become a grief keeper, taking the grief of another into her own body to save a life. It's a risky, experimental study, but if it means Marisol can keep her sister safe, she will risk anything. She just never imagined one of the risks would be falling in love, a love that may even be powerful enough to finally help her face her own crushing grief.
OUR REVIEW: https://latinosinkidlit.wordpress.com/2019/05/30/book-review-the-grief-keeper-by-alexandra-villasante/
ALL OF US WITH WINGS by Michelle Ruiz Keil (Soho Teen, June 18, 2019). Young Adult. Seventeen-year-old Xochi is alone in San Francisco, running from her painful past: the mother who abandoned her, the man who betrayed her. Then one day, she meets Pallas, a precocious twelve-year-old who lives with her rockstar family in one of the city's storybook Victorians. Xochi accepts a position as Pallas's live-in governess and quickly finds her place in their household, which is relaxed and happy despite the band's larger-than-life fame.
But on the night of the Vernal Equinox, as a concert afterparty rages in the house below, Xochi and Pallas accidentally summon a pair of ancient creatures devoted to avenging the wrongs of Xochi's adolescence. She would do anything to preserve her new life, but with the creatures determined to exact vengeance on those who've hurt her, no one is safe—not the family she's chosen, nor the one she left behind.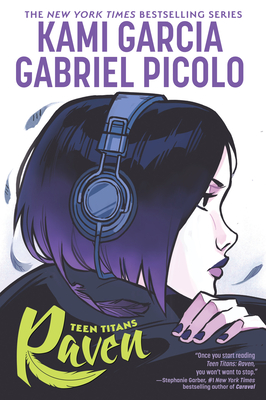 TEEN TITANS: RAVEN by Kami Garcia (DC Ink, July 2, 2019). Graphic novel. When a tragic accident takes the life of seventeen-year-old Raven Roth's foster mom–and Raven's memory–she moves to New Orleans to live with her foster mother's family and finish her senior year of high school.
Starting over isn't easy. Raven remembers how to solve math equations and make pasta, but she can't remember her favorite song or who she was before the accident. When strange things start happening–impossible things–Raven starts to think it might be better not to know who she was in her previous life.
But as she grows closer to her foster sister, Max, her new friends, and Tommy Torres, a guy who accepts her for who she is now, Raven has to decide if she's ready to face what's buried in the past…and the darkness building inside her.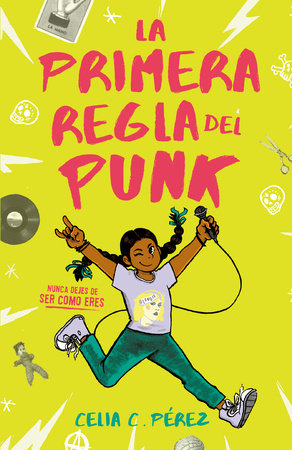 La primera regla del punk by Celia C. Pérez (Penguin Random House, July 9, 2019). Middle Grade. No hay atajos para navegar el primer día de clases en una nueva escuela – no se arregla con cinta gafer como lo harías con tu par de tenis Chuck Taylor. La adolecente Malú, (María Luisa, si quieres irritarla), logra molestar a la chica mandamás de Posada Middle School, romper el código de vestimenta con su vestido punk rock, y decepcionar a su madre, quien es profesora universitaria. Y todo esto en su primer día de escuela intermedia. Su padre, quien ahora vive a miles de millas de distancia, le dice que las cosas mejorarán siempre y cuando nunca olvide la primera regla del punk: ser tú mismo.
La auténtica Malú ama el rock and roll, las patinetas, las revistas de manualidades y el Soyrizo (sin cilantro, por favor). Cuando empieza a encontrar otros estudiantes inadaptados con intereses parecidos, y forma su propio grupo musical, Malú empieza a sentirse feliz. Para resguardar esa nueva felicidad, ella haría cualquier cosa, incluyendo el enfrentarse con los administradores "anti-punk" de su escuela, ¡y luchar por su derecho a expresarse!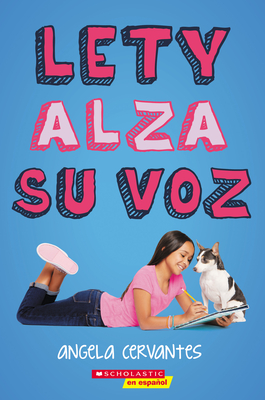 Lety alza su voz by Angela Cervantes (Scholastic, July 30, 2019). Middle Grade. ¡La versión en español de Lety Out Loud!
La lengua maternal de Lety Muñoz es el español, y a ella le gusta pasar el tiempo juntando palabras. También le gusta hacer de voluntaria en el refugio de animales, porque a los perros y gatos no les importa que a veces ella no encuentre la palabra apropiada.
Lety Muñoz's first language is Spanish, and she likes to take her time putting her words together. She loves volunteering at the Furry Friends Animal Shelter because the dogs and cats there don't care if she can't always find the right word.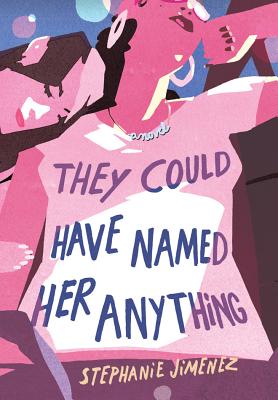 THEY COULD HAVE NAMED HER ANYTHING by Stephanie Jimenez (Little a, August 1, 2019). Young Adult. Every morning, seventeen-year-old Maria An's Rosario takes the subway an hour from her boisterous and close-knit family in Queens to her private high school on the Upper East Side, where she struggles to fit in as one of the only Latina students–until Rocky welcomes her into this new life. White, rebellious, and ignored by her wealthy parents, Rocky uses her money toward one goal: to get away with anything. To Maria, it's a dazzling privilege.
As a bond develops between these unlikely friends, neither can see what they share most–jealousy and the desire for each other's lives. But crackling under the surface of their seemingly supportive alliance, the girls begin to commit little betrayals as they strive to get closer to their ideals regardless of the consequences.
Told from the perspectives of Maria, Rocky, and their fathers, They Could Have Named Her Anything explores the heartfelt expectation of what it means to live up to the name you've been given and the more rewarding discovery of what really matters.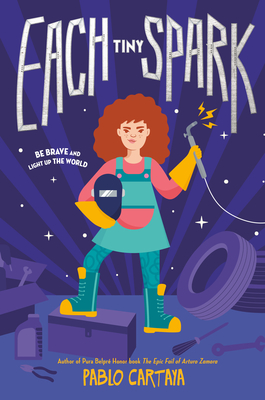 EACH TINY SPARK by Pablo Cartaya (Kokila, August 6, 2019). Middle Grade. Emilia Torres has a wandering mind. It's hard for her to follow along at school, and sometimes she forgets to do what her mom or abuela asks. But she remembers what matters: a time when her family was whole and home made sense. When Dad returns from deployment, Emilia expects that her life will get back to normal. Instead, it unravels.
Dad shuts himself in the back stall of their family's auto shop to work on an old car. Emilia peeks in on him daily, mesmerized by his welder. One day, Dad calls Emilia over. Then, he teaches her how to weld. And over time, flickers of her old dad reappear.
But as Emilia finds a way to repair the relationship with her father at home, her community ruptures with some of her classmates, like her best friend, Gus, at the center of the conflict.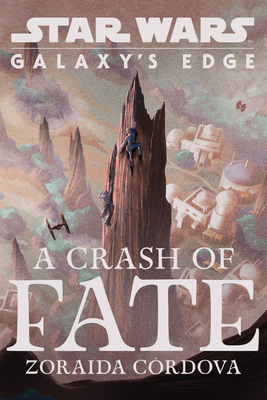 STAR WARS: GALAXY'S EDGE, A CRASH OF FATE by Zoraida Córdova (Disney Lucasfilm Press, August 6, 2019). Young Adult. Izzy and Jules were childhood friends, climbing the spires of Batuu, inventing silly games, and dreaming of adventures they would share one day. Then, Izzy's family left abruptly, without even a chance to say goodbye. Izzy's life became one of constant motion, traveling from one world to the next, until her parents were killed and she became a low-level smuggler to make ends meet. Jules remained on Batuu, eventually becoming a farmer like his father, but always yearning for something more.
Now, thirteen years after she left, Izzy is returning to Batuu. She's been hired to deliver a mysterious parcel, and she just wants to finish the job and get gone. But upon arrival at Black Spire Outpost she runs smack into the one person who still means something to her after all this time: Jules.
The attraction between them is immediate, yet despite Jules seeming to be everything she's ever needed, Izzy hesitates. How can she drag this good-hearted man into the perilous life she's chosen?
Jules has been trying to figure out his future, but now all he knows for certain is that he wants to be with Izzy. How can he convince her to take a chance on someone who's never left the safety of his homeworld?
When Izzy's job goes wrong, the two childhood friends find themselves on the run. And all their secrets will be revealed as they fight to stay alive?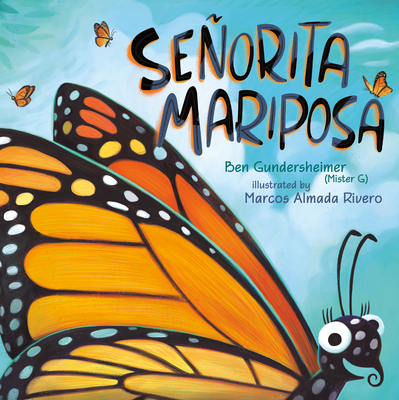 Señorita Mariposa by Ben Gundersheimer, illustrated by Almada Rivero (Nancy Paulsen Books, August 6, 2019). Picture Book. A captivating and child-friendly look at the extraordinary journey that monarch butterflies take each year from Canada to Mexico; with a text in both English and Spanish. Rhyming text and lively illustrations showcase the epic trip taken by the monarch butterflies. At the end of each summer, these international travelers leave Canada to fly south to Mexico for the winter–and now readers can come along for the ride! Over mountains capped with snow, to the deserts down below. Children will be delighted to share in the fascinating journey of the monarchs and be introduced to the people and places they pass before they finally arrive in the forests that their ancestors called home.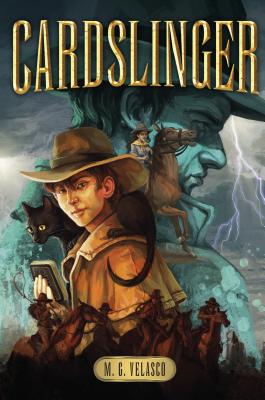 CARDSLINGER by M.G. Velasco (Carolrhoda Books, August 6, 2019). Middle Grade. It's 1881, and a newfangled card game called Mythic is sweeping the nation. Twelve-year-old Jason "Shuffle" Jones doesn't like it. He and his father created the game for themselves, before his father went missing. Mythic should have disappeared with him. But when Shuffle discovers a clue in a pack of Mythic cards, he sets out on a quest to find his dad. Along the way he clashes with a devious card swindler, an epic twister, and the ruthless bounty hunter Six-Plum Skylla and her gang. As he gets closer to the truth, will he turn tail or push all-in to become a real hero?
TODOS IGUALES/ALL EQUAL by Christy Hale (Lee & Low, August 13, 2019). Picture Book. Ten-year-old Roberto Álvarez loved school. He, his siblings, and neighbors attended the Lemon Grove School along with the white children from nearby homes. The children studied and played together as equals.
In the summer of 1930, the Lemon Grove School Board decided to segregate the Mexican American students. The board claimed the children had a "language handicap" and needed to be "Americanized." When the Mexican families learned of this plan, they refused to let their children enter the new, inferior school that had been erected. They formed a neighborhood committee and sought legal help. Roberto, a bright boy who spoke English well, became the plaintiff in a suit filed by the Mexican families. On March 12, 1931, the case of Roberto Álvarez v. the Board of Trustees of the Lemon Grove School District was decided. The judge ruled in favor of the children's right to equal education, ordering that Roberto and all the other Mexican American students be immediately reinstated in the Lemon Grove School.
The Lemon Grove Incident stands as a major victory in the battle against school segregation, and a testament to the tenacity of an immigrant community and its fight for equal rights. OUR REVIEW: Coming soon.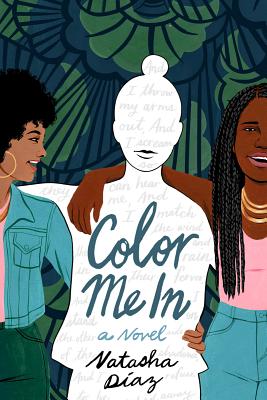 COLOR ME IN by Natasha Díaz (Delacorte Press, August 20, 2019). Young Adult. Growing up in an affluent suburb of New York City, sixteen-year-old Nevaeh Levitz never thought much about her biracial roots. When her Black mom and Jewish dad split up, she relocates to her mom's family home in Harlem and is forced to confront her identity for the first time.
Nevaeh wants to get to know her extended family, but one of her cousins can't stand that Nevaeh, who inadvertently passes as white, is too privileged, pampered, and selfish to relate to the injustices they face on a daily basis as African Americans. In the midst of attempting to blend their families, Nevaeh's dad decides that she should have a belated bat mitzvah instead of a sweet sixteen, which guarantees social humiliation at her posh private school. Even with the push and pull of her two cultures, Nevaeh does what she's always done when life gets complicated: she stays silent.
It's only when Nevaeh stumbles upon a secret from her mom's past, finds herself falling in love, and sees firsthand the prejudice her family faces that she begins to realize she has a voice. And she has choices. Will she continue to let circumstances dictate her path? Or will she find power in herself and decide once and for all who and where she is meant to be? OUR REVIEW: Coming soon.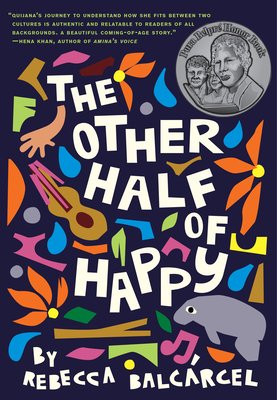 THE OTHER HALF OF HAPPY by Rebecca Balcárcel (Chronicle Books, August 20, 2019). Middle Grade. Quijana is a girl in pieces. One-half Guatemalan, one-half American: When Quijana's Guatemalan cousins move to town, her dad seems ashamed that she doesn't know more about her family's heritage. One-half crush, one-half buddy: When Quijana meets Zuri and Jayden, she knows she's found true friends. But she can't help the growing feelings she has for Jayden. One-half kid, one-half grown-up: Quijana spends her nights Skyping with her ailing grandma and trying to figure out what's going on with her increasingly hard-to-reach brother. In the course of this immersive and beautifully written novel, Quijana must figure out which parts of herself are most important, and which pieces come together to make her whole. This lyrical debut from Rebecca Balcárcel is a heartfelt poetic portrayal of a girl growing up, fitting in, and learning what it means to belong.
OUR REVIEW: https://latinosinkidlit.wordpress.com/2019/09/09/book-review-the-other-half-of-happy-by-rebecca-balcarcel/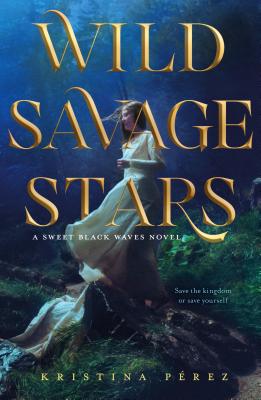 WILD SAVAGE STARS by Kristina Pérez (Imprint, August 27, 2019). Young Adult. Inspired by the legend of Tristan and Iseult, Wild Savage Stars is the spellbinding sequel to Sweet Black Waves. Branwen has a secret powerful enough to destroy two kingdoms. Her ancient magic led to a terrible betrayal by both her best friend, the princess Essy, and her first love, Tristan. Now this same magic is changing Branwen. Adrift in a rival court, Branwen must hide the truth from the enemy king by protecting the lovers who broke her heart—and finds herself considering a darker path. Not everyone wants the alliance with Branwen's kingdom to succeed—peace is balanced on a knife's edge, and her only chance may be to embrace the darkness within.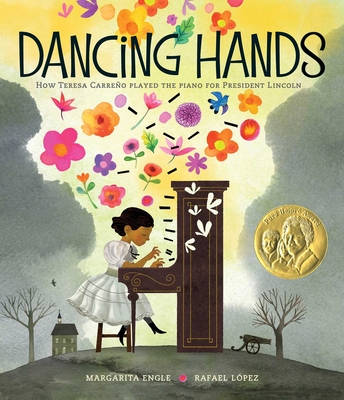 DANCING HANDS: When Teresa Carreño Played the Piano for President Lincoln by Margarita Engle, illus by Rafael López (Atheneum Books, August 27, 2019). Picture Book. A new picture book by the team who created the Pura Belpré Award-winning Drum Dream Girl, Margarita Engle and Rafael López. Dancing Hands is the story of Teresa Carreño, a child prodigy refugee from Venezuela who played piano for President Abraham Lincoln. As a little girl, Teresa Carreño loved to let her hands dance across the beautiful keys of the piano. Soon she was writing her own songs and performing in grand cathedrals. Then a revolution in Venezuela forced her family to flee to the United States. Teresa felt lonely in this unfamiliar place, where few of the people she met spoke Spanish. Worst of all, there was fighting in her new home, too—the Civil War. Still, Teresa kept playing, and soon she grew famous as the talented Piano Girl. So famous, in fact, that President Abraham Lincoln wanted her to play at the White House! Yet with the country torn apart by war, could Teresa's music bring comfort to those who needed it most?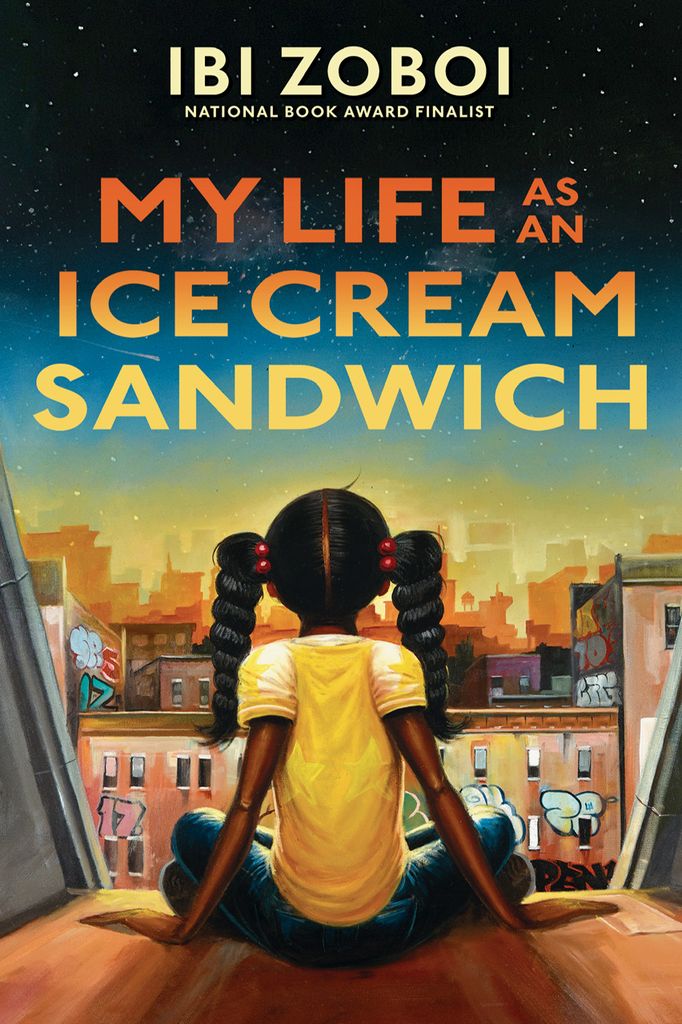 MY LIFE AS AN ICE CREAM SANDWICH by Ibi Zoboi (Dutton Books for Young Readers, August 27, 2019.) Middle Grade. In the summer of 1984, 12-year-old Ebony-Grace Norfleet makes the trip from Huntsville, Alabama, to Harlem, where she'll spend a few weeks with her father while her mother deals with some trouble that's arisen for Ebony-Grace's beloved grandfather, Jeremiah. Jeremiah Norfleet is a bit of a celebrity in Huntsville, where he was one of the first black engineers to integrate NASA two decades earlier. And ever since his granddaughter came to live with him when she was little, he's nurtured her love of all things outer space and science fiction–especially Star Wars and Star Trek, both of which she's watched dozens of time on Grandaddady's Betamax machine. So even as Ebony-Grace struggled to make friends among her peers, she could always rely on her grandfather and the imaginary worlds they created together. In Harlem, however, she faces a whole new challenge. Harlem in 1984 is an exciting and terrifying place for a sheltered girl from Hunstville, and her first instinct is to retreat into her imagination. But soon 126th Street begins to reveal that it has more in common with her beloved sci-fi adventures than she ever thought possible, and by summer's end, Ebony-Grace discovers that gritty and graffitied Harlem has a place for a girl whose eyes are always on the stars.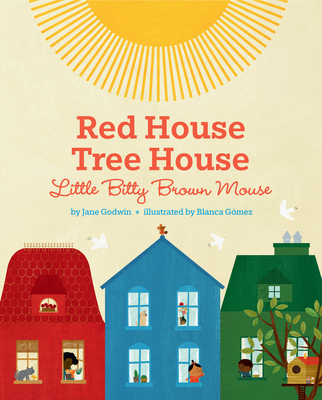 RED HOUSE, TREE HOUSE, LITTLE BITTY BROWN MOUSE by Jane Godwin, illus by Blanca Gómez (Dial Books, August 27, 2019). Picture Book. A little mouse makes her way around the world, and invites preschoolers along as she sets out: Red house / Blue house / Green house / Tree house! / See the tiny mouse in her little brown house? Seamless, simple, and inspiring, the rhyming story abounds in concepts for the very young, with a particular focus on colors, and a delightful search-and-find element on every spread–the intrepid mouse herself!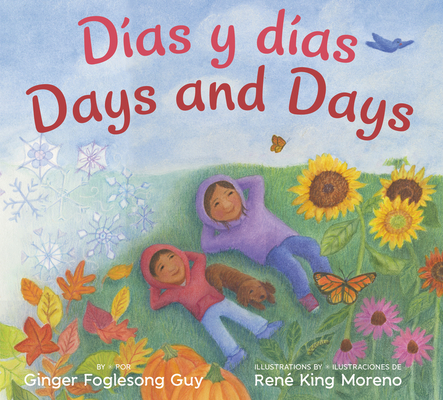 DIAS Y DIAS/DAYS AND DAYS by Ginger Foglesong Guy, illustrated by Rene King Moreno (Greenwillow Books, August 27, 2019). Picture Book. Días y días y días pasan, hasta que pasan doce meses y cuatro estaciones. Amigos y familiares juegan en el sol, en la lluvia, en el viento y en la nieve.
¡Y entonces comienza un año nuevo!
Days and days and days go by, adding up to twelve months and four seasons. Friends and family play in sun and rain and wind and snow.
And then, a new year starts again!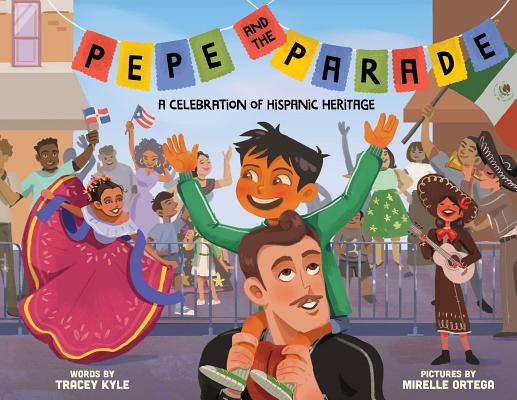 PEPE AND THE PARADE by Tracey Kyle and Mirelle Ortega (little bee books, August 27, 2019). Picture Book. Pepe wakes up energized to attend his first Hispanic Day parade. With new food to taste, music to dance to, and a parade to watch, Pepe couldn't be more excited to celebrate and share his Hispanic heritage. Many of Pepe's friends also attend the festival, celebrating their own Hispanic ties. Mexican, Dominican, Panamanian, Colombian, Honduran, Nicaraguan, Chilean, Puerto Rican, Salvadoran, Guatemalan, and Cuban cultures are all represented in the parade. A day filled with joy and pride, Pepe and the Parade is a jubilant celebration of culture and identity.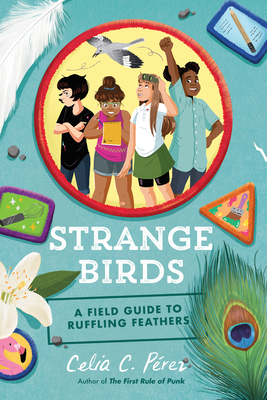 STRANGE BIRDS: A Field Guide to Ruffling Feathers by Celia C. Pérez (Kokila, September 3, 2019). Middle Grade. When three very different girls find a mysterious invitation to a lavish mansion, the promise of adventure and mischief is too intriguing to pass up.
Ofelia Castillo (a budding journalist), Aster Douglas (a bookish foodie), and Cat Garcia (a rule-abiding birdwatcher) meet the kid behind the invite, Lane DiSanti, and it isn't love at first sight. But they soon bond over a shared mission to get the Floras, their local Scouts, to ditch an outdated tradition. In their quest for justice, independence, and an unforgettable summer, the girls form their own troop and find something they didn't know they needed: sisterhood.
OUR REVIEW: https://atomic-temporary-55195476.wpcomstaging.com/2019/09/19/book-review-strange-birds-a-field-guide-to-ruffling-feathers-by-celia-c-perez/
RATED by Melissa Grey (Scholastic, September 3, 2019). Young Adult. Societies thrive on order, and the Rating System is the ultimate symbol of organized social mobility.
The higher it soars, the more valued you are. The lower it plummets, the harder you must work to improve yourself. For the students at the prestigious Maplethorpe Academy, every single thing they do is reflected in their ratings, updated daily and available for all to see.
But when an act of vandalism sullies the front doors of the school, it sets off a chain reaction that will shake the lives of six special students — and the world beyond.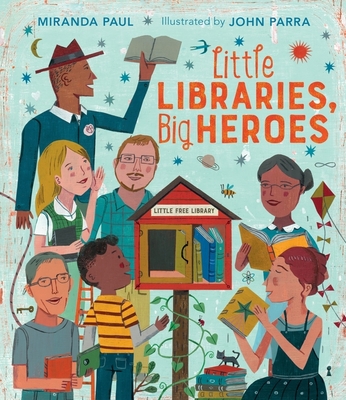 LITTLE LIBRARIES, BIG HEROES by Miranda Paul, illus by John Parra (Clarion Books, September 3, 2019). Picture Book. From an award-winning author and illustrator, the inspiring story of how the Little Free Library organization brings communities together through books, from founder Todd Bol's first installation to the creation of more than 75,000 mini-libraries around the world.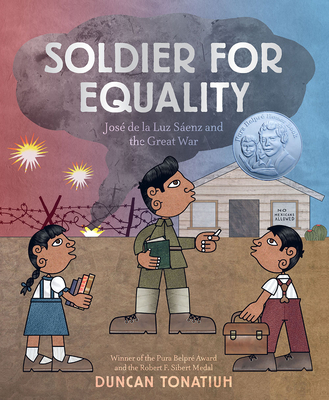 SOLDIER FOR EQUALITY: José de la Luz Sáenz and the Great War by Duncan Tonatiuh (Abrams Books for Young Readers, September 3, 2019). Picture Book. José de la Luz Sáenz (1888–1953)—or Luz—believed in fighting for what was right. Although he was born in the United States, he and his family experienced prejudice because of their Mexican heritage. When World War I broke out, Luz volunteered to join the fight. Because of his ability to quickly learn languages, he became part of the Intelligence Office in Europe. However, despite his hard work and intellect, Luz often didn't receive credit for his contributions. Upon his return to the US, he joined other Mexican-Americans whom he had met in the army to fight for equality. His contribution, along with others, ultimately led to the creation of the League of United Latin American Citizens (LULAC), which is the oldest Latino civil rights organization. Soldier for Equality is based in part on Luz's diary during the war. It includes a biography of Luz's later years, an author's note, a timeline, a bibliography, and an index.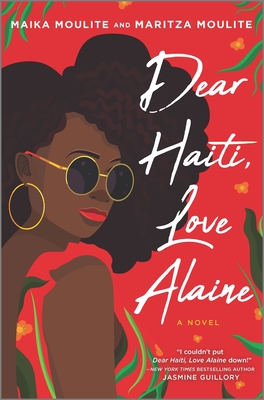 DEAR HAITI, LOVE ALAINE by Maika Moulite and Maritza Moulite (Inkyard Press, September 3, 2019). Young Adult. You might ask the obvious question: What do I, a seventeen-year-old Haitian American from Miami with way too little life experience, have to say about anything? Actually, a lot.Thanks to "the incident" (don't ask), I'm spending the next two months doing what my school is calling a "spring volunteer immersion project." It's definitely no vacation. I'm toiling away under the ever-watchful eyes of Tati Estelle at her new nonprofit. And my lean-in queen of a mother is even here to make sure I do things right. Or she might just be lying low to dodge the media sharks after a much more public incident of her own…and to hide a rather devastating secret.All things considered, there are some pretty nice perks…like flirting with Tati's distractingly cute intern, getting actual face time with my mom and experiencing Haiti for the first time. I'm even exploring my family's history–which happens to be loaded with betrayals, superstitions and possibly even a family curse.You know, typical drama. But it's nothing I can't handle.
THE TRUTH IS by Nonieqa Ramos (Carolrhoda Lab, September 3, 2019). Young Adult. Fifteen-year-old Verdad doesn't think she has time for love. She's still struggling to process the recent death of her best friend, Blanca; dealing with the high expectations of her hardworking Puerto Rican mother and the absence of her remarried father; and keeping everyone at a distance. But when she meets Danny, a new guy at school–who happens to be trans–all bets are off. Verdad suddenly has to deal with her mother's disapproval of her relationship with Danny as well as her own prejudices and questions about her identity, and Danny himself, who is comfortable in his skin but keeping plenty of other secrets.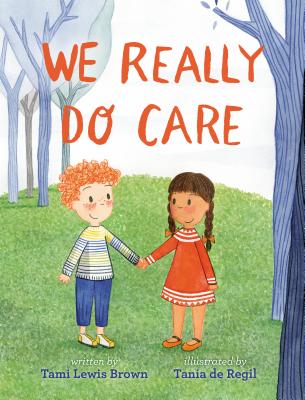 WE REALLY DO CARE by Tami Lewis Brown, illus. by Tania de Regil. (Philomel Books, September 3, 2019). Picture Book. Inspired by current events, this picture book shows the importance of compassion, empathy, and demonstrates how even the smallest act of kindness can make a difference.
A little boy has a ball. It's his, and he really doesn't care if nobody else has a ball. He's not sharing. He's not sharing his pets either. Or his family. Especially not his brother. But then he realizes that both he and the new little girl he meets–the one who's all alone without a ball or a pet or a family of her own–are actually quite similiar. And when he sees their similarities instead of their differences, he's happy to share. Even his little brother.
With gentle text from Tami Lewis Brown and sweet illustrations from Tania de Regil, this poignant and touching picture book challenges each and every one of us to to lend a helping hand. Because we really should care. Perfect for fans of Be Kind and All Are Welcome.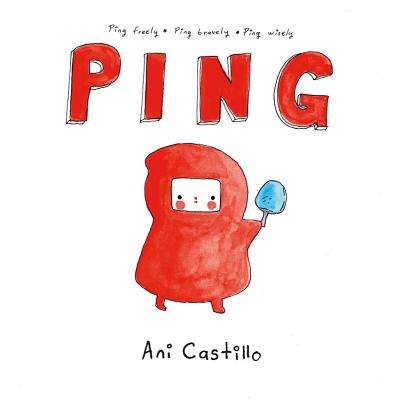 PING by Ani Castillo. (Little, Brown Books for Young Readers, September 3, 2019). Picture Book. In the era of social media, communication feels both more anxiety-producing, and more inescapable, than ever before. This clever, comforting picture book debut explores the challenges and joys of self-expression and social connection.
Using an imaginative visual metaphor to bring to life how we send out (ping!) and receive (pong!) communications, Ani Castillo's words and pictures will empower and inspire anyone who has experienced the fear of sharing themselves with the world.
With an artful, accessible package, an eloquent message, and a lot of heart, here is a new classic to bring courage and comfort to humans of all ages.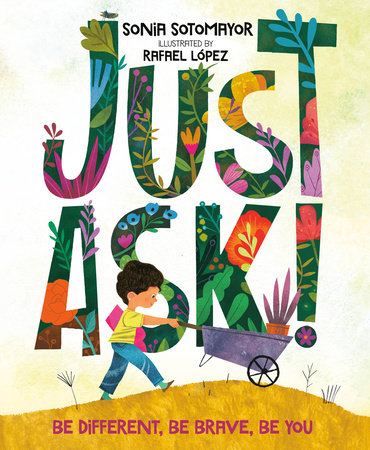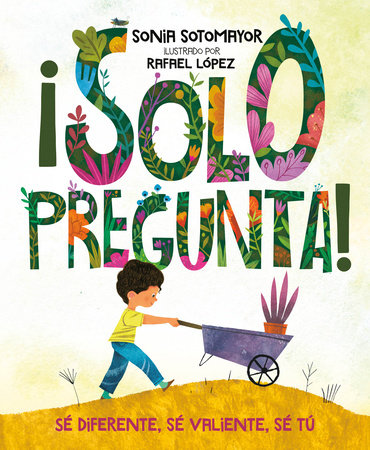 JUST ASK! by Sonia Sotomayor, illus. by Rafael López (Penguin Random House, September 3, 2019). Picture Book. Feeling different, especially as a kid, can be tough. But in the same way that different types of plants and flowers make a garden more beautiful and enjoyable, different types of people make our world more vibrant and wonderful.
In Just Ask, United States Supreme Court Justice Sonia Sotomayor celebrates the different abilities kids (and people of all ages) have. Using her own experience as a child who was diagnosed with diabetes, Justice Sotomayor writes about children with all sorts of challenges–and looks at the special powers those kids have as well. As the kids work together to build a community garden, asking questions of each other along the way, this book encourages readers to do the same: When we come across someone who is different from us but we're not sure why, all we have to do is Just Ask.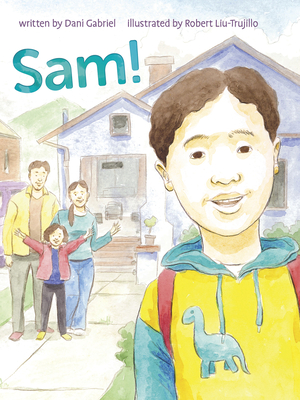 SAM! by Dani Gabriel, illus. by Robert Liu-Trujillo. (Penny Candy Books, September 10, 2019). Picture Book. Nobody knew Sam was a boy except for him. Sam loves riding his bike and learning about the American Revolution. He is full of laughter and joy. There's just one problem: Sam's family knows him as a girl named Isabel. Sam feels a sense of relief when he finally confides in his annoying but caring sister Maggie, and then his parents, even though it takes them a while to feel comfortable with it. But with lots of love and support, Sam and his family learn and grow through Sam's journey to embrace his true self. In the vein of I Am Jazz by Jessica Herthel, Sam is based on a true story. With a note from the author explaining their family's experience, Sam is an important addition to a list of books that help children and adults discuss gender identity.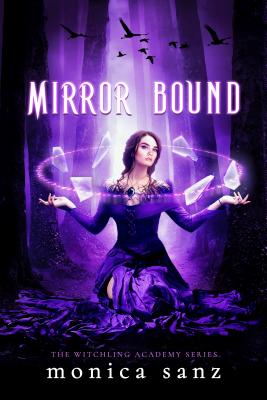 MIRROR BOUND (The Witchling Academy #2) by Monica Sanz. (Entangled Teen, September 10, 2019). Conspirator. Failure. Murderer. Seraphina Dovetail is used to being called all these things. As the seventh-born daughter to a witch, and the cause of her mother losing both her powers and her life, Sera has always felt isolated. Until Nikolai Barrington.
The young professor not only took an interest in Sera—he took her into his home, hired her for his moonlighting detective agency, and gave her the one thing she'd always dreamed of: a chance. Under Barrington's tutelage, Sera can finally take the School of Continuing Magic entrance exam to become an inspector and find her family. Now if only she could stop her growing attraction to her maddening boss—which is about as easy as this fiery elementalist quitting setting things on fire.
But when ghosts start dragging Sera into possessions so deep she can barely escape, and then the souls of lost witches and wizards appear trapped in mirrors, these two opposites will have to work together to uncover a much deeper secret that could destroy the Witchling world.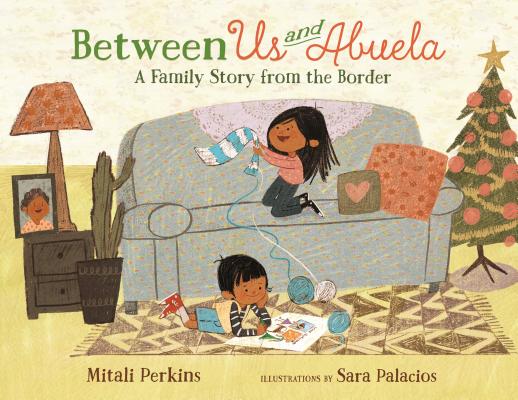 BETWEEN US AND ABUELA: A Family Story from the Border by Mitali Perkins, illustrated by Sara Palacios (Farrar, Straus, and Giroux BYR, September 10, 2019). Picture Book. It's almost time for Christmas, and Maria is traveling with her mother and younger brother, Juan, to visit their grandmother on the border of California and Mexico.
For the few minutes they can share together along the fence, Maria and her brother plan to exchange stories and Christmas gifts with the grandmother they haven't seen in years. But when Juan's gift is too big to fit through the slats in the fence, Maria has a brilliant idea. She makes it into a kite that soars over the top of the iron bars.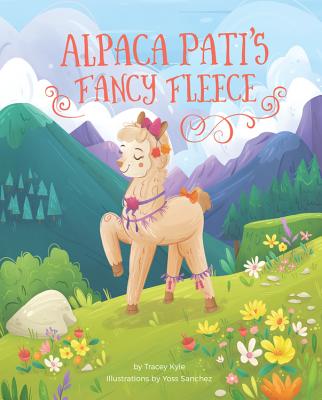 ALPACA PATI'S FANCY FLEECE by Tracey Kyle, illus by Yoss Sanchez (Running Kids Press, September 10, 2019). Picture Book. Little alpaca Pati has a beautiful coat of fur that is the envy of the other alpacas. Pati loves to adorn her fur with velvet bows, sparkly hair clips, and flower headbands. When she learns that she will have to lose her coat in the spring, she is heartbroken. She doesn't want to give up what makes her beautiful, so she runs away to the city. Upon arriving, Pati is amazed by the many vibrant goods for sale at the market. She realizes that her alpaca fur is used to make everything and decides that she must give up her coat to keep the villagers warm. Incorporating Spanish terminology throughout, Alpaca Pati's Fancy Fleece offers an endearing message about sacrifice and reminds readers that it's what's on the inside that counts.
BECOMING BEATRIZ by Tami Charles (Charlesbridge Teen, September 17, 2019). Young Adult. Up until her fifteenth birthday, the most important thing in the world to Beatriz Mendez had been her dream of becoming a professional dancer and getting herself and her family far from the gang life that defined their days–that and meeting her dance idol Debbie Allen on the set of her favorite TV show, Fame. But after the latest battle in a constant turf war leaves her gang leader brother, Junito, dead and her mother grieving, Beatriz has a new set of priorities. How is she supposed to feel the rhythm when her gang needs running, when her mami can't brush her own teeth, and when the last thing she can remember of her old self is dancing with her brother, followed by running and gunshots? When the class brainiac reminds Beatriz of her love of the dance floor, her banished dreams sneak back in. Now the only question is: will the gang let her go?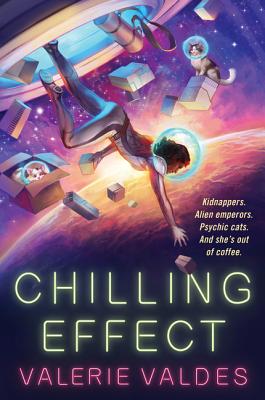 CHILLING EFFECT by Valerie Valdes (Harper Voyager, September 17, 2019). Captain Eva Innocente and the crew of La Sirena Negra cruise the galaxy delivering small cargo for even smaller profits. When her sister Mari is kidnapped by The Fridge, a shadowy syndicate that holds people hostage in cryostasis, Eva must undergo a series of unpleasant, dangerous missions to pay the ransom.
But Eva may lose her mind before she can raise the money. The ship's hold is full of psychic cats, an amorous fish-faced emperor wants her dead after she rejects his advances, and her sweet engineer is giving her a pesky case of feelings. The worse things get, the more she lies, raising suspicions and testing her loyalty to her found family.
To free her sister, Eva will risk everything: her crew, her ship, and the life she's built on the ashes of her past misdeeds. But when the dominoes start to fall and she finds the real threat is greater than she imagined, she must decide whether to play it cool or burn it all down.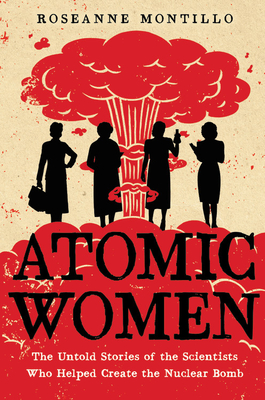 ATOMIC WOMEN by Roseanne Montillo (Little, Brown Books for Young Readers, September 17, 2019). Meet the World War II female scientists who worked in the secret sites of the Manhattan Project. Recruited not only from labs and universities from across the United States but also from countries abroad, these scientists helped in-and often initiated-the development of the atomic bomb, taking a starring role in the Manhattan Project. In fact, their involvement was critical to its success, though many of them were not fully aware of the consequences.
The atomic women include
Lise Meitner and Irène Joliot-Curie (daughter of Marie Curie), who led the groundwork for the Manhattan Project from Europe;
Elizabeth Rona, the foremost expert in plutonium, who gave rise to the "Fat Man" and "Little Boy," the bombs dropped over Japan; and
Leona Woods, Elizabeth Graves, and Joan Hinton, who were inspired by European scientific ideals but carved their own paths.
This book explores not just the critical steps toward the creation of a successful nuclear bomb, but also the moral implications of such an invention.
ACROSS THE BAY by Carlos Aponte (Penguin, September 17, 2019). Picture Book. Author-illustrator Carlos Aponte takes readers on a journey to the heart of Puerto Rico in this enchanting picture book set in Old San Juan.
Carlitos lives in a happy home with his mother, his abuela, and Coco the cat. Life in his hometown is cozy as can be, but the call of the capital city pulls Carlitos across the bay in search of his father. Jolly piragüeros, mischievous cats, and costumed musicians color this tale of love, family, and the true meaning of home.
THE FIRE KEEPER by J. C. Cervantes (Disney Hyperion Rick Riordan Presents, September 17, 2019). Middle Grade. Zane Obispo's new life on a beautiful secluded tropical island, complete with his family and closest friends, should be perfect. But he can't control his newfound fire skills yet (inherited from his father, the Maya god Hurakan); there's a painful rift between him and his dog ever since she became a hell hound; and he doesn't know what to do with his feelings for Brooks. One day he discovers that by writing the book about his misadventures with the Maya gods, he unintentionally put other godborn children at risk. Unless Zane can find the godborns before the gods do, they will be killed. To make matters worse, Zane learns that Hurakan is scheduled to be executed. Zane knows he must rescue him, no matter the cost. Can he accomplish both tasks without the gods detecting him, or will he end up a permanent resident of the underworld? In this cleverly plotted sequel to The Storm Runner, the gang is back together again with spirited new characters, sneaky gods, Aztec royalty, unlikely alliances, and secrets darker than Zane could ever have imagined. Secrets that will change him forever.
RAFI AND ROSI MUSIC! / RAFI Y ROSI MÚSICA! by Lulu Delacre (Lee & Low, September 17, 2019). Chapter Book. In this new book in the popular Dive Into Reading: Rafi and Rosi chapter book series, Rafi and his younger sister, Rosi, are excited to learn about and participate in the traditional forms of music of their native Puerto Rico. They drum and dance to the rolling and rippling beats of bomba instruments. They sing and sway with the rhythms of plena songs. And they attend a party where they eat paella and warm corn fritters and dance to the hot, spicy beat of la salsa. Engaging and informative, the book is perfect for independent readers in grade 2. Children will enjoy joining Rafi and Rosi on their new adventures while they learn about Puerto Rico's musical traditions and culture.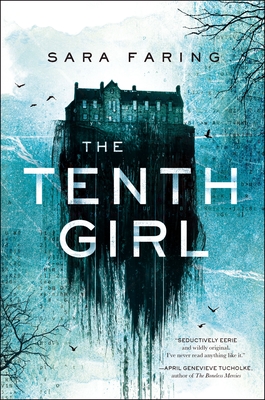 THE TENTH GIRL by Sara Faring (Imprint, September 24, 2019). Young Adult. Simmering in Patagonian myth, The Tenth Girl is a gothic psychological thriller with a haunting twist.
At the very southern tip of South America looms an isolated finishing school. Legend has it that the land will curse those who settle there. But for Mavi—a bold Buenos Aires native fleeing the military regime that took her mother—it offers an escape to a new life as a young teacher to Argentina's elite girls.
Mavi tries to embrace the strangeness of the imposing house—despite warnings not to roam at night, threats from an enigmatic young man, and rumors of mysterious Others. But one of Mavi's ten students is missing, and when students and teachers alike begin to behave as if possessed, the forces haunting this unholy cliff will no longer be ignored.
One of these spirits holds a secret that could unravel Mavi's existence. In order to survive she must solve a cosmic mystery—and then fight for her life.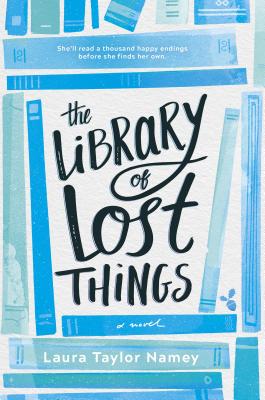 THE LIBRARY OF LOST THINGS by Laura Taylor Namey (Inkyard Press, October 8, 2019). Young adult. From the moment she first learned to read, literary genius Darcy Wells has spent most of her time living in the worlds of her books. There, she can avoid the crushing reality of her mother's hoarding and pretend her life is simply ordinary. But when a new property manager becomes more active in the upkeep of their apartment complex, the only home Darcy has ever known outside of her books suddenly hangs in the balance.While Darcy is struggling to survive beneath the weight of her mother's compulsive shopping, Asher Fleet, a former teen pilot with an unexpectedly shattered future, walks into the bookstore where she works…and straight into her heart. For the first time in her life, Darcy can't seem to find the right words. Fairy tales are one thing, but real love makes her want to hide inside her carefully constructed ink-and-paper bomb shelter.Still, after spending her whole life keeping people out, something about Asher makes Darcy want to open up. But securing her own happily-ever-after will mean she'll need to stop hiding and start living her own truth–even if it's messy.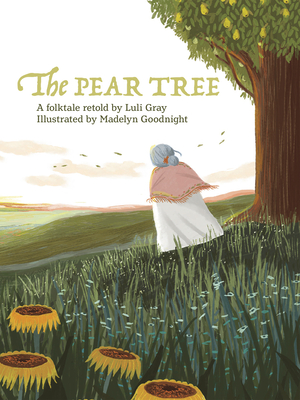 THE PEAR TREE by Luli Gray, illus by Madelyn Goodnight. (Penny Candy Books, October 8, 2019). Picture Book. In this retelling of an old folktale, an old woman named Esperanza (originally called Tia Miseria) gives her last pear to a beggar and is rewarded with the best pear crop she's ever had–and the power to ensnare anyone she wants in her tree. When Se or Death comes for her, Esperanza tricks him into climbing her tree, where he becomes stuck, unable to come down and do his work. From that point on, no one dies. But when Esperanza learns that the end of death doesn't mean the end of suffering, she agrees to let Se or Death down from her tree. The final work by legendary children's author Luli Gray. An afterword by the publisher encourages children and adults to consider why the author may have changed the story the way she did.
WARREN THE 13TH AND THE 13-YEAR CURSE by Tania del Rio, illus by Will Staehle (Quirk Books, October 15, 2019). Middle Grade. At the end of the second book in the Warren the 13th series, the Warren Hotel had transformed into a giant ship and set sail for the open seas! When Warren the 13th and the 13-Year Curse opens, Warren is adjusting to the demands of running a floating hotel and is planning his 13th birthday party when disaster strikes–the hotel is shipwrecked on a strange island. To make things worse, his octopus-like friend Sketchy is kidnapped by a traveling circus! Warren and his friends must solve a series of riddles to find the next location of the circus and rescue their friend before it's too late. Along the way, they meet a delightful new cast of characters, including elderly pirates, a sea witch, a talking clam, and a giant sea monster. As Warren pursues Sketchy's kidnappers, he will learn the truth of his friend's mysterious origins–as well as one final secret of the Warren Hotel.
MY SINGING NANA by Pat Mora, illus by Alyssa Bermudez (Magination Press, October 15, 2019). Picture Book. My Singing Nana is a compassionate tribute to families dealing with Alzheimer's Disease. This story celebrates the ideals of family, heritage, and happy memories, showing kids that no matter how their loved one might change they always have ways to maintain their special connection.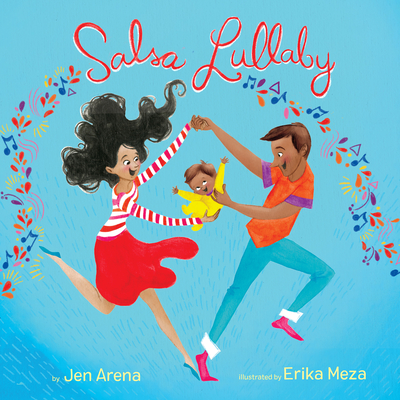 SALSA LULLABY by Jen Arena, illus by Erika Meza (Knopf Books for Young Readers, October 15, 2019). Picture Book. How to get baby to sleep? Mami and Papi will try anything in this bouncy, loving, bilingual lullaby that gently says good night in both Spanish and English.
Mami starts a salsa song.
Papi keeps the beat.
Baby loves this lullaby,
moves those dancing feet.
Baila, baby, baila!
Dance, dance, dance.
When nighttime falls, it's time for baby to go to sleep. In this household, that means it's also time for mama, papa, and baby to baila/dance, canta/sing, salta/jump, and more all the way to bedtime!
This bouncy bilingual text and gorgeous, inviting illustrations gently wind down to make this a bedtime favorite no matter what language families say "good night" in!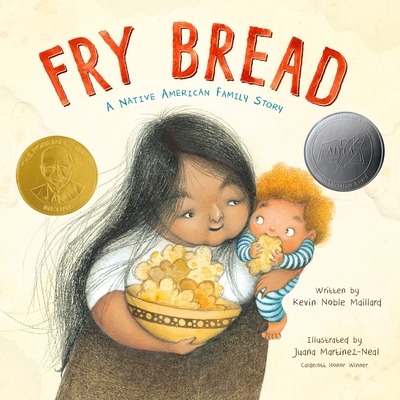 FRY BREAD: A Native American Family Story by Kevin Noble Maillard, illus. by Juana Martinez-Neal (Roaring Brook Press, October 22, 2019). Picture Book. Told in verse, the book explores the culture and history surrounding this Native staple, and how it brings together family and community through love and tradition.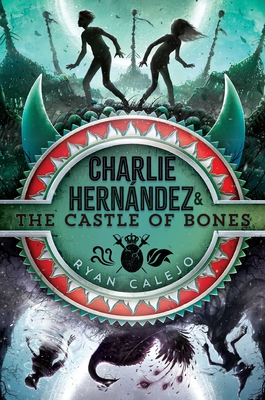 CHARLIE HERNÁNDEZ & THE CASTLE OF BONES by Ryan Calejo (Aladdin, October 22, 2019). Middle Grade. Charlie Hernandez still likes to think of himself as a normal kid. But what's normal about being a demon-slaying preteen with an encyclopedic knowledge of Hispanic and Latino mythology who can partially manifest nearly any animal trait found in nature? Well, not much. But, Charlie believes he can get used to this new "normal," because being able to sprout wings or morph fins is pretty cool.
But there is a downside: it means having to constantly watch his back for La Mano Peluda's sinister schemes. And when the leader of La Liga, the Witch Queen Jo herself, is suddenly kidnapped, Charlie's sure they're at it again.
Determined to save the queen and keep La Liga's alliances intact, Charlie and his good friend Violet Rey embark on a perilous journey to track down her captors. As Charlie and Violet are drawn deeper into a world of monstruos and magia they are soon left with more questions than answers—like, why do they keep hearing rumors of dead men walking, and why is Charlie suddenly having visions of an ancient evil: a necromancer priest who's been dead for more than five centuries?
Charlie's abuela once told him that when dead men walk, the living run in fear. And Charlie's about to learn the truth of that—the hard way.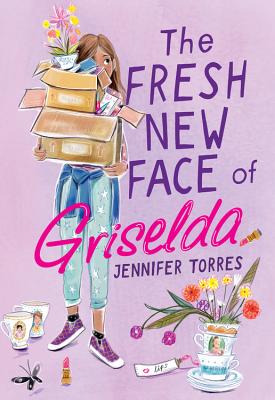 THE FRESH NEW FACE OF GRISELDA by Jennifer Torres (Little, Brown Books for Young Readers, October 29, 2019). Middle Grade. Griselda "Geez" Zaragoza has a love for beautiful things, like her collection of vintage teacups and the flower garden she and her dad planted in the front yard. But when his business fails, Griselda loses not just her home, but also her confidence and her trust in her unflappable parents.
Tagging along with big sister Maribel, who postponed college for a job selling Alma Cosmetics, Geez dreams up a way to reclaim the life she thinks she lost. If she can sell enough tubes of glistening, glittery Alma lip gloss, she'll win a cash prize that could help jump start her dad's business.
With ups and downs along the way, Geez will discover that beauty isn't just lost or found, but made and re-made.
FREEDOM SOUP by Tami Charles (Candlewick, December 10, 2019). Picture Book. Every year, Haitians all over the world ring in the new year by eating a special soup, a tradition dating back to the Haitian Revolution. This year, Ti Gran is teaching Belle how to make the soup — Freedom Soup — just like she was taught when she was a little girl. Together, they dance and clap as they prepare the holiday feast, and Ti Gran tells Belle about the history of the soup, the history of Belle's family, and the history of Haiti, where Belle's family is from. In this celebration of cultural traditions passed from one generation to the next, Jacqueline Alcántara's lush illustrations bring to life both Belle's story and the story of the Haitian Revolution. Tami Charles's lyrical text, as accessible as it is sensory, makes for a tale that readers will enjoy to the last drop.
The books below will be updated with release dates and covers during the year, so be sure to stop by and check this post often!
CLOCKWORK CURANDERA by David Bowles, illus by Raúl the Third. Published by Tu Books: A YA steampunk graphic novel reimagining of Frankenstein set in an alternate colonial Mexico.
WHAT LANE? by Torrey Maldonado. Published by Nancy Paulsen Books.
HEAVEN ISN'T ME by Darlene Campos Summer 2019 Vital Narrative Press