By Cindy L. Rodriguez
This is the ninth in an occasional series about middle grade Latinx authors. We decided to shine a spotlight on middle grade writers and their novels because, often, they are "stuck in the middle"–sandwiched between and overlooked for picture books and young adult novels. The middle grades are a crucial time in child development socially, emotionally, and academically. The books that speak to these young readers tend to have lots of heart and great voices that capture all that is awkward and brilliant about that time.
Today, we highlight Aida Salazar.
Aida Salazar​ is a writer, arts advocate and home-schooling mother whose writings for adults and children explore issues of identity and social justice. She is the author of the forthcoming middle grade verse novels, THE MOON WITHIN (Feb. 26, 2019), THE LAND OF THE CRANES (Spring, 2020), the forthcoming bio picture book JOVITA WORE PANTS: THE STORY OF A REVOLUTIONARY FIGHTER (Fall, 2020). All books published by Arthur A. Levine Books / Scholastic. Her story, BY THE LIGHT OF THE MOON, was adapted into a ballet production by the Sonoma Conservatory of Dance and is the first Xicana-themed ballet in history. She lives with her family of artists in a teal house in Oakland, CA.
The Moon Within is her debut novel, which releases on Tuesday!! Here is the publisher's description: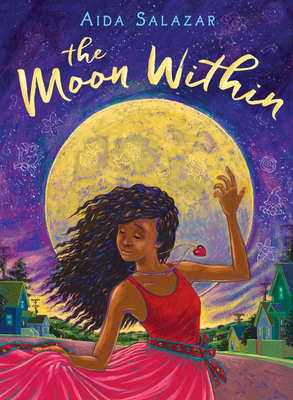 Celi Rivera's life swirls with questions. About her changing body. Her first attraction to a boy. And her best friend's exploration of what it means to be genderfluid.
But most of all, her mother's insistence she have a moon ceremony when her first period arrives. It's an ancestral Mexica ritual that Mima and her community have reclaimed, but Celi promises she will NOT be participating. Can she find the power within herself to take a stand for who she wants to be?
Aida Salazar
Q. Who or what inspired you to become a writer?
A. I began to write when I was thirteen years old after the suicide of my seventeen-year-old sister. Poetry was my first refuge. It was the place where I began to express and unravel the pain I felt in my grief over losing my beautiful sister in such an incomprehensible way. Poetry, too, was how I made sense of the simultaneous changes happening to my body, to my mind, inside my community and life. That creative connection was special and it quietly flowed through me and accompanied me while I navigated high school and began college and tried to discover what I wanted to be and do with my life. It remained tucked away in my journals until I was 18 when, for the first time, I read the work of other Latinx writers while in a Latinx literature course. That class not only saved me from academic probation (because I got an A to balance out my terrible grades) but it revolutionized my existence as a Xicana and my own writing that had been hidden in those journals. It was as if the work of Sandra Cisneros, Helena Maria Viramontes, Rudolfo Anaya, Lorna Dee Cervantes, among others, gave me permission to share my own writing with a very Xicana perspective with the world. I could dare call myself a writer because I had their great example.
Q. Why do you choose to write middle grade novels?
A. Middle grade is a tremendously fertile space from which to write because there is a unique tension between two worlds. Middle grade readers, I think, possess the innocence, rich sense of wonder and play inherent in childhood, while at the same time, they are discovering deeper feelings and learning about things beyond their immediate lives that push against childhood. There are so many questions that beg to be answered, so many stories that beg to explore those questions and a new, almost magical, awareness that enfolds as they bloom into wiser beings.
Q. What are some of your favorite middle grade novels?
A. There are so many! I am especially drawn to stories from people of diverse backgrounds, those that break from the white, heteronormative literary cannon. I loved Bird in a Box and The Red Pencil by Andrea Davis Pinkney – it was actually after reading the latter that I was inspired to write The Moon Within in verse; Echo by Pam Muñoz Ryan is a masterpiece (as is just about anything she writes); As Brave As You by Jason Reynolds; Margarita Engle's Hurricane Dancers; See You in the Cosmos by Jack Cheng; One Shadow on the Wall by Leah Henderson, Front Desk by Kelly Yang; A Long Walk to Water by Linda Sue Park; and Shooting Kabul by N.H. Senzai; George by Alex Gino; some older titles that are evergreen for me – Bud Not Buddy by Christopher Paul Curtis, Locomotion by Jaqueline Woodson, and Roll of Thunder, Hear My Cry by Mildred D. Taylor. However, the middle grade novels emerging from Las Musas (the first kidlit debut group of Latinx writers) have me most excited because they are opening the cannon wider than we have ever seen. Look for great middle grade stories by Anna Meriano, Emma Otheguy, Jennifer Cervantes, Yamile Saied Mendez, Hilda Solis, Mary Louise Sanchez and Claribel Ortega!
Q. If you could give your middle-grade self some advice, what would it be?
A. Don't be afraid to believe in your poems though they may seem awful and as if they could help no one. Believe in their pain and in their heart because one day that very vulnerability will touch someone else's life in ways you least expect. And when that magical moment comes, you will realize the meaning in the risk you took in believing.
Q. Please finish this sentence: Middle grade novels are important because…
A. Middle grade novels are important because they can be the source of inquiry, of discovery, of refuge, of delight, and inspiration while on the tight rope between childhood and adolescence.
Cindy L. Rodriguez was a newspaper reporter for The Hartford Courant and researcher at The Boston Globe before becoming a public school teacher. She is now a reading specialist at a Connecticut middle school. Cindy is a U.S.-born Latina of Puerto Rican and Brazilian descent. She has degrees from UConn and CCSU. Her debut contemporary YA novel, When Reason Breaks (Bloomsbury 2015). She also has an essay in Life Inside My Mind (Simon Pulse 2018). She can be found on Facebook, Twitter, and Goodreads.