Reviewed by Cris Rhodes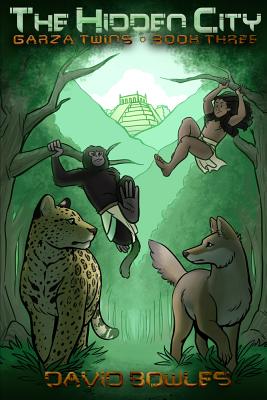 DESCRIPTION OF THE BOOK: When Carol and Johnny learn of the Ollamat, an ancient stone that can channel savage magic, they convince their parents to take them to the cloud forests of Oaxaca. With Pingo's help, they search for the legendary city where it has been protected for a thousand years. But the twins aren't the only ones hunting for the Ollamat. After it is stolen, they must travel through an emerald mirror into the beautiful yet dangerous Tlalocan: the paradise of the rain god. To retrieve the stone, they must face talking apes and forest elementals, rock worms and vicious elves, demons of lightning, and something even more unexpected: the souls of people they have watched die. As always, they are aided by allies old and new, though nothing can quite prepare them for the biggest foe of all – a member of their very family.
MY TWO CENTS: As with the first two books in the Garza Twins series, The Hidden City follows a similar structure: Carol and Johnny Garza, twin shapeshifters, learn more about their heritage and powers, uncovering a dire plot that must be foiled. This time, Carol and Johnny go in search of the Ollamat, a stone created from the heart of one of the ancestors, another in a set of twins who could wield savage magic. Along the way, however, Carol and Johnny learn that their uncle is a member of a militaristic force bent on eradicating naguales, or shapeshifters like Carol, Johnny, and their mother. Their lives are further thrown into turmoil when their hunt for the Ollamat requires that they once more travel into mythical lands, navigating a series of planes inhabited by the dead. The plot takes Carol and Johnny on another magical journey and sets the stage for future entries into the series.
As Carol and Johnny face new foes and meet new friends, The Hidden City adds more dimension to this series by revealing Carol's crush on her friend, Nikki. Carol's sexuality isn't treated as a novelty or a token, but an extension of herself. Carol is aware of the heteronormative bounds within which she and Nikki live, and so her trepidation to reveal those feelings to Nikki feels natural. She questions her sexuality and attraction like many young people do—is this love? Is this just friendship? She's confused, but not because of any internalized homophobia, rather she's young and this feeling is so new. What's more, Carol's sexuality is normalized when Johnny reveals to her that he's known about her bisexuality for a while and, of course, he's accepting of it because both of their parents are bi. Thus, not only do we have a young, Latinx, bisexual protagonist, but we also have queer parents—this is radical for Latinx youth literature, and, frankly, all youth literature. Carol's sexuality is implied and hinted to in the previous books, but that this text names it—and names it bisexuality in a world where media is so often guilty of bisexual erasure—is significant and changemaking.
Carol's sexuality, juxtaposed against the search for the Ollamat, produces a dynamic and intriguing plot, one that will doubtless captivate young readers. As with all of the other books in this series, Bowles has a particular magic in making his worlds believable even as he adds more and more fantastic elements. For readers familiar with Latinx youth literature, it is easy to recognize that Bowles's Garza Twins series not only fills in a gap as far as queer representation within the genre, but it also provides some much-needed fantasy. Latinx children's literature is a relatively young genre, but contributions like Bowles's mean that we're getting more and more texts that move away from the racialized problem novel and instead offer fun, engaging, and challenging texts for young readers, Latinx and non-Latinx alike.
ABOUT THE AUTHOR: A Mexican-American author from deep South Texas, David Bowles is an assistant professor at the University of Texas Rio Grande Valley. Recipient of awards from the American Library Association, Texas Institute of Letters and Texas Associated Press, he has written a dozen or so books, including Flower, Song, Dance: Aztec and Mayan Poetry, the critically acclaimed Feathered Serpent, Dark Heart of Sky: Mexican Myths, and They Call Me Güero: A Border Kid's Poems. In 2019, Penguin will publish The Chupacabras of the Rio Grande, co-written with Adam Gidwitz, and Tu Books will release his steampunk graphic novel Clockwork Curandera. His work has also appeared in multiple venues such as Journal of Children's Literature, Rattle, Strange Horizons, Apex Magazine, Nightmare, Asymptote, Translation Review, Metamorphoses, Huizache, Eye to the Telescope, and Southwestern American Literature. In April 2017, David was inducted into the Texas Institute of Letters for his literary work.
ABOUT THE REVIEWER: Cris Rhodes is a lecturer in the English department at Sam Houston State University. She recently completed a Ph.D. in English with an emphasis on Latinx children's literature. Her research explores the intersections between childhood activism and Latinx identities.