Reviewed by Jessica Agudelo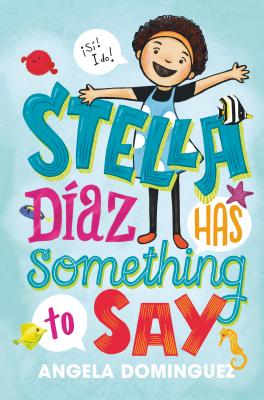 DESCRIPTION OF THE BOOK: Stella Diaz loves marine animals, especially her betta fish, Pancho. But Stella Diaz is not a betta fish. Betta fish like to be alone, while Stella loves spending time with her mom and brother and her best friend Jenny. Trouble is, Jenny is in another class this year, and Stella feels very lonely. When a new boy arrives in Stella's class, she really wants to be his friend, but sometimes Stella accidentally speaks Spanish instead of English and pronounces words wrong, which makes her turn roja. Plus, she has to speak in front of her whole class for a big presentation at school! But she better get over her fears soon, because Stella Díaz has something to say!
MY TWO CENTS: The narrative of the "shy kid" is not rare in children's literature. There are countless tales about boys and girls alike who struggle to express themselves and would rather be overlooked than have to speak in front of their class, a school assembly, or otherwise step outside their comfort zones. Growing up as a shy kid myself, I think about this experience a lot and have realized that "shy" is often misleading or represented one dimensionally in literature and pop culture. In Angela Dominguez's quietly poignant middle grade debut, Stella Diaz Has Something to Say, the "shy kid" narrative is enriched by a unique but deeply relatable character, with an active internal life, and explored through the lens of language itself.
For someone who is shy, language is a fickle friend–not necessarily because you may not know words in a given language, but because simply pulling them together in a coherent order while in front of someone unfamiliar or in an overwhelming situation can be quite the burden. Stella Diaz is no stranger to this scenario. At home playing cards with her older brother, Nick, dancing salsa with her Mom, or in the lunchroom sitting with her best friend, Jenny, she is easily able to express herself, but many other social settings quickly flip her discomfort switch, leaving her "stomach in knots." Through a charming and direct first-person narrative, Dominguez brings Stella to life, treating readers to her thoughts, concerns, passions, and moments of joy, making Stella's story much more than just a-shy-kid-trying-to-get-over-their-shyness plot. Stella faces many common childhood challenges, like learning to ride a bike, bullying, and a project presentation, alongside other weightier concerns, like realizing her status as a green card holder ("Did you know we're aliens?," she asks her brother). But Stella, an astute observer of the world (a super power, if you ask me), is able to, in spite of some creeping, self-conscious worries, confidently cope with minor failures and push herself to take on challenges. An inspiration to many, and a validation for readers who may recognize that same quiet fortitude in themselves.
Despite her shyness, Stella longs to connect with others, including the new kid joining her third grade class, who she hopes "speaks Spanish." Stella's simple wish for a Spanish speaking friend reveals the significance of the language in her life, it's representation of her culture, and how intrinsic it is to her identity. At school, when Stella feels nervous, she jumbles her Spanish and English, but worries that others will perceive it as weird. When her relatives visit from Mexico, her limited Spanish makes her feel timid because "here, around my family, I just don't have the words to say everything I want to say." Stella's imperfection in each language makes her feel out of sync with both identities. Although is not uncommon nowadays to proudly refer to this dance between cultures through language as "code switching" or speaking "Spanglish," Stella's insecurities reflect a familiar struggle for many first- and second-generation Latinxs growing up in the US.
But still, Stella loves Spanish. How it "feels nice to my ears," how so many of the words "sound better…than in English," and singing the lyrics to "El Corrido de Chihuahua," as Abuelo plays it on his guitar. Stella's hope for a Spanish-speaking friend can be read as a desire to have someone tacitly understand the nuances of navigating these identities and the part language plays in feeling connected and forming a sense of self. Ultimately, language is just that, a way to be understood by the world. Stella herself notes how she appreciates that despite speaking in a low voice she never "had to repeat anything" to Jenny, and the laughs she shares with her family don't need to be translated.
As Dominguez relates in the "Author's Note," many of Stella's experiences and struggles mirror the author's own, including migrating from Mexico, having a Vietnamese best friend, and taking speech classes. Not surprisingly, Dominguez's spot art is featured throughout the chapters, a device that makes this title accessible and appealing for younger readers, while simultaneously making the book a realistic and personal document. Readers can imagine that Stella herself doodled the images on the pages chronicling her experiences and observations. Stella Diaz is Dominguez's first middle grade novel, and it is simply unforgettable.
ABOUT THE AUTHOR: Angela Dominguez was born in Mexico City, grew up in the great state of Texas, and now resides on the east coast. She is the author and illustrator of several books for children including Maria Had a Little Llama, which received the American Library Association Pura Belpré Illustration Honor. In 2016, she received her second Pura Belpré Honor for her illustrations in Mango, Abuela, and Me (written by Meg Medina). Her debut middle grade novel, Stella Díaz Has Something to Say, was published January 2018. When Angela is not in her studio, she teaches at the Academy of Art University, which honored her with their Distinguished Alumni Award in 2013.
Angela is a proud member of SCBWI, PEN America, and represented by Wernick and Pratt Literary Agency. As a child, she loved reading books and making a mess creating pictures. She's delighted to still be doing both.
ABOUT THE REVIEWER: Jessica Agudelo is a Children's Librarian at the New York Public Library. She has served on NYPL's selection committee for its annual 100 Best Books for Kids list, most recently as a co-chair for the 2018 list. She contributes reviews for School Library Journal of English and Spanish language books for children and teens, and is a proud member of the Association of Library Services to Children, Young Adult Library Services Association, and REFORMA (the National Association to Promote Library and Information Services to Latinos and Spanish Speakers). Jessica is Colombian-American and born and raised in Queens, NY.