By Cindy L. Rodriguez
This is the tenth in an occasional series about middle grade Latinx authors. We decided to shine a spotlight on middle grade writers and their novels because, often, they are "stuck in the middle"–sandwiched between and overlooked for picture books and young adult novels. The middle grades are a crucial time in child development socially, emotionally, and academically. The books that speak to these young readers tend to have lots of heart and great voices that capture all that is awkward and brilliant about that time.
Today, we highlight Emma Otheguy.
Emma Otheguy is the author of the bilingual picture book Martí's Song for Freedom (Lee & Low, 2017) about Cuban poet and national hero José Martí as well as the forthcoming novel Silver Meadows Summer (Knopf, 2019). Martí's Song for Freedom received five starred reviews, from School Library Journal, Booklist, Kirkus, Publishers Weekly, and Shelf Awareness. Martí was also named a Best Book of the Year by Kirkus Reviews, School Library Journal, and the New York Public Library, and was the recipient of the International Literacy Association's 2018 Children's and Young Adult Book Award in Intermediate Nonfiction.
Emma attended Swarthmore College, where she studied children's literature with Donna Jo Napoli and graduated with Honors. Later, she worked in farm-based education, at a children's bookstore, and as a Spanish teacher. She holds a Ph.D. in History from New York University, where she focused on Spain and colonial Latin America. Emma has held fellowships and grants from the Mellon Foundation, the American Historical Association, the Council of Library and Information Resources, and Humanities New York. Emma lives in New York City.
Silver Meadows Summer is her debut middle grade novel.
IT RELEASES TOMORROW!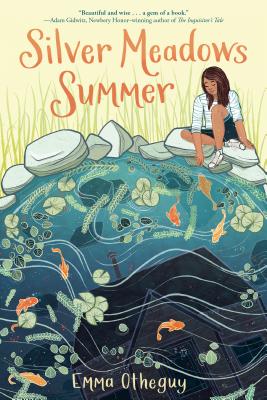 Here is the publisher's description: Eleven-year-old Carolina's summer–and life as she knows it–is upended when Papi loses his job, and she and her family must move from Puerto Rico to her Tía Cuca and Uncle Porter's house in upstate New York. Now Carolina must attend Silver Meadows camp, where her bossy older cousin Gabriela rules the social scene.
Just as Carolina worries she'll have to spend the entire summer in Gabriela's shadow, she makes a friend of her own in Jennifer, a fellow artist. Carolina gets another welcome surprise when she stumbles upon a long-abandoned cottage in the woods near the campsite and immediately sees its potential as a creative haven for making art. There, with Jennifer, Carolina begins to reclaim the parts of the life she loved in Puerto Rico and forget about how her relationship with Mami has changed and how distant Papi has become.
But when the future of Silver Meadows and the cottage is thrown into jeopardy, Carolina and–to everyone's surprise–Gabriela come up with a plan to save them. Will it work?
Emma Otheguy
Q: Who or what inspired you to become a writer?
A. I was inspired by my parents, who read me Latin American poetry and picture books, and by my elementary school teachers, who made time for free writing and independent reading every single day. The journals I kept in elementary school were never graded or marked up, they were a private space that we were given as students to write whatever we wanted. The same was true of independent reading time (or DEAR as we called it, and some schools still do it today). Time and space for reading and writing during the school day made all the difference for me and helped me develop my own literary tastes, stamina in both reading and writing, and a true love for these activities that allowed my inner life to blossom in school. If I could give elementary and middle schoolers one gift, it would be access to print books and time to read them in school.
Q. Why did you decide to write a middle grade novel?
A. Even before I wrote Martí's Song for Freedom, I was interested in connections between the Caribbean and New York State. Writing about José Martí gave me space to explore one of those connections, but I needed fiction to fully delve into what it is to belong to both the Caribbean and the northeast of the United States. Carolina, the protagonist of Silver Meadows Summer, comes from a Cuban-American family that lives in Puerto Rico until their move to the Hudson Valley in upstate New York. Through Carolina, I was able to return to my memories of my grandmother's house in Puerto Rico, my love of the Hudson Valley, the relationship between Cuba and Puerto Rico, and the dynamics of many cousins living under one roof.
Q. What are some of your favorite middle grade novels?
A. Lots! A few of the middle-grade novels that you might find echoes of in Silver Meadows Summer include The Four-Story Mistake by Elizabeth Enright, Mandy by Julie Edwards, and Esperanza Rising by Pam Muñoz Ryan. All books that feature a child's relationship with nature and the landscape around them, and their desires to make sweet homes for themselves in new or challenging environments.
Q. If you could give your middle-grade self some advice, what would it be?
A. Figure out what being a Latina means to you and embrace that. Society is always telling children who they should be, and I think that Latinas often experience that pressure times two—the pressure to fit in with peers, and the pressure to be a certain ideal type of Latina. But the reality is that Latinidad is something we each carry inside of us, an identity that encompasses as many types as there are individuals.
Q. Please finish this sentence: Middle grade novels are important because…
A. Middle grade novels are important because they guide children through growing up, which is the most important transition of our lives. Ursula K. Le Guin said that narrative is change, and if that is true, then middle-grade novels are the definition of great narrative, the reflection of the moment in life when we become ourselves. I think that it's not only narrative that is change—hope is also change, the hope embodied in the changes that children effect in our society when they become adults, and therefore, in their evolution as they grow. So in a nutshell, I think middle-grade novels are important because they represent change, and hope, and because the best narratives I have ever read are middle-grade novels.
Cindy L. Rodriguez was a newspaper reporter for The Hartford Courant and researcher at The Boston Globe before becoming a public school teacher. She is now a reading specialist at a Connecticut middle school. Cindy is a U.S.-born Latina of Puerto Rican and Brazilian descent. She has degrees from UConn and CCSU. Her debut contemporary YA novel, When Reason Breaks (Bloomsbury 2015). She also has an essay in Life Inside My Mind (Simon Pulse 2018). She can be found on Facebook, Twitter, and Goodreads.