Reviewed by Mimi Rankin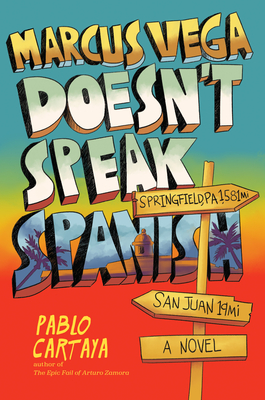 DESCRIPTION OF THE BOOK: Marcus Vega is six feet tall, 180 pounds, and the owner of a premature mustache. When you look like this and you're only in the eighth grade, you're both a threat and a target.
After a fight at school leaves Marcus facing suspension, Marcus's mom decides it's time for a change of environment. She takes Marcus and his younger brother to Puerto Rico to spend a week with relative they don't remember or have never met. But Marcus can't focus knowing that his father— who walked out of their lives ten years ago—is somewhere on the island.
So begins Marcus's incredible journey, a series of misadventures that take him all over Puerto Rico in search of his elusive namesake. Marcus doesn't know if he'll ever find his father, but what he ultimately discovers changes his life. And he even learns a bit of Spanish along the way.
MY TWO CENTS: What immediately drew me to this book was the title. So much discussion of "Latinx Children's Literature" centers around bilingualism or dual-language published titles, but this title adds a very compelling commentary to those claims. Marcus Vega is 14 years old, 180 pounds, and six feet tall. This stellar combination makes some kids fear him and some taunt him. When he is nearly suspended after a fight in which he was defending his younger brother, Charlie, who has Down Syndrome, Marcus's mom agrees that going to Puerto Rico, where the boys were born and where Marcus's estranged dad allegedly still lives, for spring break may be just what the family needs. Suddenly embraced by a family he never knew he had, Marcus begins to learn that you can get to know yourself by knowing where you're from.
Written in the first-person perspective of Marcus, the writing felt occasionally flat, however I've never been a 14-year-old boy, so I can't authentically comment on the voice. Although I felt some parts of the plot were a bit hurried, I found myself bawling on an airplane as I finished this book. I so wholly connected with Marcus and his feeling of wondering if "where" he's from determines who he is. Cartaya explores Latinx identity in a way that may not be recognizable to many children identifying as Latinx in some capacity. However, it was certainly a familiar feeling to this reviewer. Between not growing up speaking Spanish (only hearing it consistently at my maternal grandparents' home) and being slapped with a Scottish surname, I was never confident in defining my being "Puerto Rican." In reading Cartaya's novel, I no longer felt that imposter syndrome of identifying as a Hispanic woman because I'm not terribly fluent in Spanish. Identity politics are a complicated matter and Cartaya beautifully explores a side of Latinx identity through the eyes of a young boy who has been abandoned by his connection to his Puerto Rican identity.
Cartaya introduces readers to life in Puerto Rico as Marcus is introduced to it. Arriving in Old San Juan, Marcus meets uncles and cousins he had never heard of, let alone remembered, from his very early childhood living in Puerto Rico. He is welcomed unquestionably and unconditionally. The extended family ventures to more rural areas of the island, seemingly all in search of Marcus and Charlie's father. An interesting approach to this story was the character of Marcus's mom, Melissa. Melissa, who is not claimed as Puerto Rican herself, spent a significant amount of time in Puerto Rico when she was younger and this is where she met her sons' father. Melissa is revealed to be fluent in Spanish and has a close relationship with her ex-husband's family, despite not having spoken to them in years. The character of Melissa could present some interesting conversations on the "adoption" of culture and language, and I would be interested in discussing this further. Tackling everything from bullying, economic prejudice, cultural identity theory, separated parents, parental abandonment, and coming of age, this book needs to be a cornerstone of MG literature, particularly in the #ownvoices world.
ABOUT THE AUTHOR: Pablo Cartaya is an award-winning author whose books have been reviewed by The New York Times, featured in The Washington Post, received starred reviews from Kirkus, Booklist, Publisher's Weekly, and School Library Journal, as well as been among the Best Books of the Year for Amazon, Chicago Public Library, NYPL, and several state award lists. He Is the author of the critically acclaimed middle grade novels The Epic Fail of Arturo Zamora (a 2018 Pura Belpré Honor Book) and Marcus Vega Doesn't Speak Spanish. His next novel, Each Tiny Spark will debut on the new Kokila Penguin/Random House Imprint, which focuses on publishing diverse books for children and young adults. He teaches at Sierra Nevada College's MFA program in Writing and visits schools and colleges around the country. Pablo is proudly bilingual en español y ingles. @phcartaya
ABOUT THE REVIEWER: Mimi Rankin received her Master's Degree with distinction in Children's Literature from the University of Reading. Her thesis, on which she received a rating of First, centered around claims to cultural authenticity and representation in Hispanic Children's Literature. She currently works in the publishing industry as a marketing manager for over 20 international children's publishers. Her reviews do not reflect the opinions of her employer or clients. She currently lives in Nashville, Tennessee.