By Cecilia Cackley
Zara González Hoang is an illustrator who is just beginning her career in children's literature. She created the art for the picture book Thread of Love by Kabir Sehgal and Surishtha Sehgal and recently sold her book A New Kind of Wild which is inspired by her father's experience moving from Puerto Rico to the United States as a child. We met at her studio in Falls Church, VA to talk about her journey to becoming an illustrator.
Cecilia Cackley: Tell me a little about your path to becoming an artist
Zara González Hoang: When I was little my dad was really artistic and he used to draw with us. Some of my favorite memories are of me and my dad just laying on the floor in the porch or something and just drawing horses. My mom was a teacher so we always had paper and pens and I just always drew as a kid. And I think, too, everybody has things in their growing up that are probably not all that fantastically awesome and for me drawing was my escape. I would go hide in my room and draw and make up all these different worlds. I really liked to combine animals into new animals. My favorite was the "horseger"—it was a horse and a tiger which were my two favorite animals.
I've always been doing art, but I never considered doing it seriously. I went to college and took art classes but I also studied computer science and that was the practical side of me. There's always been these two parts of me, the very logical side and the creative side. I've always been drawn to computers, and I've always been drawn to art. I majored in art, but then I worked doing network administration and web design—merging art and computers in a way. I didn't start seriously drawing until the iPhone came out and I started a company with some friends making apps for kids and I illustrated them.
I never wanted to do kids books, it's so weird! And it's because I was afraid. I was afraid that I wouldn't be able to be consistent, that it was too much work, that I just wasn't good enough. After I had my son, and I was reading all these picture books, I came back to this place I really loved that I thought I couldn't have anymore. I always looked at picture books and wanted to buy them, but I always thought, I don't have any kids, I can't buy them, which is such a silly thing. There's no reason why you can't have these things you want just because you're not a child. It doesn't mean they're any less beautiful or valid. I've always been someone who hid that part of me. I always hid my sketchbooks. It was such a personal part of myself that I felt I couldn't flaunt it.
It wasn't until I had my son that I felt like I really had permission to do this. I was looking for something to do with more meaning, and I realized–or my sister realized for me–that I have this gift for art and for writing. So I started putting together my portfolio for children's books, and then I started going to SCBWI conferences, and I realized that everyone there was just like me: super nerdy about books and picture books! My friends talked me into submitting my work to agents, and I got a super awesome agent who I love. When I queried agents, I queried them as an illustrator who wanted to write, and I sent my portfolio but not any writing. The reason I knew she was the right agent for me was that she read my story A New Kind of Wild, and she told me how to make it better, and we spent the next year working on it to get it to a place where we could send it out. I feel like I finally came back to where I was supposed to be.
CC: You started out working digitally, but in your studio, you showed me more traditional media like pen, ink, and watercolor. How has that process gone?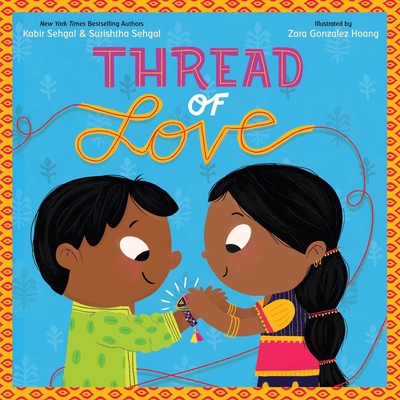 ZGH: When I did Thread of Love, I didn't think I'd want to do anything the traditional way. I didn't think I was any good at it. I liked digital, I liked the control of it. So when I got the manuscript of Thread of Love, that was how I was going to do it. I could see the color palette as soon as I read the manuscript. I don't know if it's my background in graphic design or what, but I saw the color palette first. It wasn't until after that project that I started moving into more traditional media. Two things happened. One, I started thinking about the things that I liked and the illustrators and artists who I love the most work traditionally. There seemed to be a disconnect for me between what I did and what I liked, and I wanted to bring that closer.
When I started writing A New Kind of Wild, it had originally been digital to me, and that's how I submitted my dummy, but I wanted to do it traditionally because in my mind that's how it was. So I was doing all these studies of my characters traditionally and posting them on Instagram. My editor was creeping on me, and she saw them and she asked me if I would consider doing it traditionally. It was like she was seeing into my mind or my heart because that's what I wanted, but I didn't feel comfortable enough to say what I wanted. I'm not at the point of making the art yet, so it may end up being digital, but it may end up being a hybrid mix. And that's fine because I have a lot of comfort with the ability to erase mistakes digitally.
I'm a perfectionist in some ways. I don't like the mistakes and even when I'm working traditionally because I'm using watercolor and colored pencil and ink, the things I love about watercolor I also hate. If you have a big swatch of color, you're going to see the way the water moves in that swatch of color and those imperfections are the things that make it interesting.  I'm constantly fighting with myself to be okay with the imperfect, but I want to try and embrace it because the reality is, life isn't perfect. I think there's more emotion and interest in things that are loose rather than tight.
CC: Thread of Love is about a very specific Indian holiday, Rashka Bandhan. What was the research process like for that?
ZGH: I am not Indian, so I had to do a lot of research to make sure I got things right. It's something that was constantly on my mind while I was working on the book. Since I'm not of that culture, I worked really had to get it right. I checked out all the books I could from the library about the holiday, and I relied a lot on the authors telling me that I was portraying things correctly.  I also talked to friends who are Indian and who celebrate Rashka Bandhan. I wanted to make sure my illustrations depicted Raksha Bandhan accurately, especially since it is a holiday that is not one that I celebrate.
CC: A New Kind of Wild is inspired by your own family history, so what has the research process been like for that?
ZGH: I wrote this book without thinking that it was about my dad's story—it wasn't until I was reworking the book that I realized that was the story I was telling. My dad passed away, and he's not here for me to ask him, so a lot of the stuff I'm relying on is memories of the stories he told me about him growing up. My dad grew up in Puerto Rico with his grandmother until he was ten or twelve, when his mom was in New York. So, in the book, there's a page where he's leaving his grandmother. Pieces of my dad's story are woven through like that. When we went back to Puerto Rico, we went to my dad's house that he grew up in, so there will probably be some of that place in the book.
CC: What are some goals you have for where you want your career to go as a writer and illustrator?
ZGH: I think where I want to go does involve being a writer, so it means telling my own stories, and that's both on the Latinx side and also on my other side because I'm half Puerto Rican and half Russian/Polish/Belaruski because my mom's family came from a place where the borders kept shifting. I want to tell stories about people who are mixed. I have all these ideas for stories about things that are interesting about being from two cultures. I'm also Jewish and I think I'm the only Jewish person I know who had a big pork roast on Hanukkah sometimes because Hanukkah and Christmas fell on the same day and we always had a big pernil and arroz con gandules. I want to write more about that experience. There aren't really a lot of stories that talk about what it's like to be part of a family where you eat pho and also matzo balls. It can be confusing to be in the middle of everything. I want to start telling stories about my reality and the reality of kids that are mixed growing up. I don't really feel that there are books out there that are telling those stories in a way that shows all the fantastic things about having multiple cultures.
CC: What advice do you have for other Latinx artists who are just starting out?
ZGH: The only real advice I have is to find other people that are doing it and try to make friends. One of the best things I ever did was meet someone who created a critique group that let me in. Having people to talk to who understand what you're going through is priceless; even if nobody's published, just having somebody to say keep going. It's hard to talk to people who aren't trying to be in publishing because they don't understand how weird this industry is. There's no rhyme or reason, it's just persistence and luck. The advice is keep going and find people to share the experience with.
Cecilia Cackley is a Mexican-American playwright and puppeteer based in Washington, DC. A longtime bookseller, she is currently the Children's/YA buyer and event coordinator for East City Bookshop on Capitol Hill. Find out more about her art at www.ceciliacackley.com or follow her on Twitter @citymousedc