Review by Sanjuana Rodriguez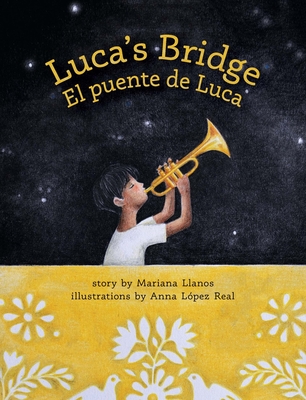 DESCRIPTION FROM THE PUBLISHER: Luca has never lived outside the U.S., but when his parents receive a letter in the mail, the family must pack up and leave home for a strange land. Together in their car, Luca, his brother Paco, and their parents head across the border to Mexico, where his parents were born. Luca doesn't understand why he must leave the only home he's ever known, his friends, and his school. He struggles through lonely and disorienting times–reflected both in Real's delicate, symbolic illustrations and through Llanos' description of his dreams–and leans on music, memory, and familial love for support. Luca's Bridge / El puente de Luca is a story for everyone about immigration, deportation, home, and identity.
MY TWO CENTS: Luca lives in the United States with his parents. One day his parents receive a letter in the mail letting them know that they must leave the U.S. The entire family chooses to stay together and they leave the U.S. to go live in Mexico. Luca has a difficult time understanding why they must leave and he thinks about his friends, his school, and how he doesn't speak Spanish. When he arrives in Mexico, he sees the small house where they will live and he has a difficult time imagining a life there. Luca uses music to help him cope with his new reality. He plays the trumpet and the entire family dances to the music reminding the readers that there is hope in what may appear to be a hopeless situation.
This bilingual picture books is timely considering the anti-immigrant sentiment in the United States and the realities for many families experiencing family separation due to immigration status. It is particularly important because it addresses the situation of many families who are considered to have mixed-family status, meaning that some in the family are authorized to live in the U.S. (typcially children who are U.S. citizens) and others are not (typcially the parent or parents).
The story begins with the family leaving together and the father telling his sons the following: "Mami and I don't have the papers we need to stay here… we have to go back to Mexico if we want to stay together." In the picture book, Luca fears what it means to return to a country that he does not know. He thinks about his friends and even wonders what will happen when he returns to his country since he does not speak Spanish. What makes this books particularly special is that allows the reader to have some insight into the emotional toll that immigration takes on children. The illustrations includes hues of gray and speak to the emotions that Luca is feeling. At one point, when Luca is thinking about how he doesn't speak Spanish, the books states that "Luca sobbed quietly until he ran out of tears." Another instance of a strong emotion is when Paco, Luca's older brother, yells, "They don't want us here," when their parents received the letter.
This books sheds a light on the decisions that families must make in situations where the parents are not allowed to stay in the U.S. In the case of Luca's family, the parents decide that they must stay together. This decision allows the family to stay together, but the sadness of leaving the only home that Luca knows is heartbreaking. This is one of the few picture books that addresses the issue of deportation and the strong sentiments that families experience when forced to make decisions that impact the entire family. The books also sheds light on the emotions that children experience when faced with realities of immigration.
The backmatter includes the author's note that discusses the difficulties of immigration, describes the process of deportation, and the realities of family separation. The author discloses that she is an immigrant and discusses the need to address immigration in a humane way.
RESOURCES:
Toolkit for Educators from Teaching Tolearnce on supporting immigrant families
https://www.tolerance.org/magazine/fall-2018/toolkit-for-this-is-not-a-drill
ABOUT THE AUTHOR: Born in Lima, Peru, to two journalists, Mariana Llanos developed an early passion for writing and studied theater in the prestigious CuatroTablas school in Lima. She has lived in Oklahoma since 2002, where she worked as a teacher in a preschool center. In 2013, Mariana self-published her first book, Tristan Wolf, which won a Finalist in the 2013 Readers' Favorite Book Award. Since then, she has published seven books independently in English and Spanish and through virtual technology has chatted with students from more than 150 schools around the world to promote literacy.
ABOUT THE ILLUSTRATOR: Anna López Real is a freelance illustrator born in Guadalajara, Mexico. She spent her early years in a small town with a big lake, in a
bilingual home full of books, movies, diverse music and art. She has a degree Graphic Design from Universidad de Guadalajara. Since she was young, she has needed to feel colors, shadows, textures, and shapes with her own hands, which inspired her to use
traditional techniques. She is also the co-founder of a local stationary company. Her favorite place is the beach, and she loves to read and hang out with her family and her cats and dogs. She is passionate about human rights, animal rights and has a great
love for nature.
ABOUT THE REVIEWER: Sanjuana C. Rodriguez is an Assistant Professor of Literacy and Reading Education in the Elementary and Early Childhood Department at Kennesaw State University. Her research interests include the early literacy development of culturally and linguistically diverse students, early writing development, literacy development of students who are emergent bilinguals, and Latinx children's literature. She has published in journals such as Journal of Language and Literacy Education, Language Arts, and Language Arts Journal of Michigan.