Review by Maria Ramos-Chertok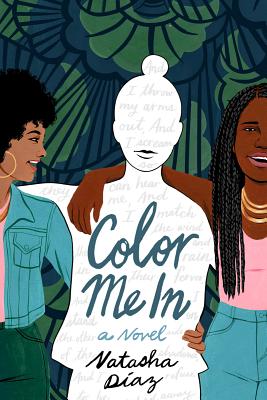 DESCRIPTION OF THE BOOK: Growing up in an affluent suburb of New York City, sixteen-year-old Nevaeh Levitz never thought much about her biracial roots. When her Black mom and Jewish dad split up, she relocates to her mom's family home in Harlem and is forced to confront her identity for the first time.
Nevaeh wants to get to know her extended family, but because she inadvertently passes as white, her cousin thinks she's too privileged, pampered, and selfish to relate to the injustices African Americans face on a daily basis. In the meantime, Nevaeh's dad decides that she should have a belated bat mitzvah instead of a sweet sixteen, which guarantees social humiliation at her posh private school. But rather than take a stand, Nevaeh does what she's always done when life gets complicated: she stays silent.
Only when Nevaeh stumbles upon a secret from her mom's past, finds herself falling in love, and sees firsthand the prejudice her family faces that she begins to realize she has her own voice. And choices. Will she continue to let circumstances dictate her path? Or will she decide once for all who and where she is meant to be?
MY TWO CENTS: In Color Me In, Nevaeh Levitz shares her adolescent journey as a bi-racial girl trying to find herself in the races and cultures that make up her ancestry.  Daughter of a Jewish father and a Black mother, Nevaeh is caught between two worlds when her parents get divorced. I was very excited to read this book because I identified with many of the themes:  parents getting divorced, Jewish heritage, multicultural family, and trying to find myself in the two distinct cultures that make up my background. What I was reminded by reading this book is that despite the many levels on which I could relate to the themes, every journey is unique. This is particularly the case when dealing with the reality of what it means to have black skin in a country founded on racism and white supremacy.
The book exposes how skin color plays out not only in Nevaeh's family, but when she's out in her community trying to live life. It also exposes the implications of how the class divide operates to create different realities in education and access to material goods.
The book does a wonderful job of grappling with the challenges and gifts of a dual identity (and in some instances dueling identities). Nevaeh is looking to find herself in places that don't have a blueprint for her existence. I wish this book had been available for me forty years ago.
One of my favorite parts of the book was the letter from the author at the end where she talks about what this book means to her and why she wrote it. That is where the entire book came together for me at a deeper level.
TEACHING TIPS: While the primary audience for this book is adolescents, I think anyone of any age with a bi-racial identity could relate to the themes.
Nevaeh's grandmother is portrayed as overbearing, controlling, and unloving, so if this is a class's first introduction or discussion of Jewish people, it might leave a negative impression, especially given that the Jewish father is a philanderer and not a very sympathetic character either. Nevaeh is able to find a foothold in Judaism despite them, but not because of their full support or acceptance. I'd encourage teachers to provide a larger context for understanding Jewish people.
The theme of bullying and racist language used against Nevaeh by her classmate and former friend Ally allows for an opportunity to discuss how words hurt and can be used as weapons. This could lead to an interesting discussion about hate speech, how the Supreme Court defines and classifies hate speech, and how the legal standard doesn't necessarily help someone being bullied at school. Identifying strategies to respond to bullies and bystander intervention role plays could be fruitful.
There is an opportunity to discuss the role of ritual in developing and maintaining cultural identity. Students could be asked to examine the rituals in their life and how they offer (or don't offer) them a way to deepen their understanding of who they are.
Given Nevaeh's friendship with Stevie, I could imagine a meaningful discussion about what it means to be a good friend, how friendship makes a difference in one's life, and what Nevaeh learned about friendship over the course of the story.
The topic of police brutality and misuse of power also stands out in two scenes where racial profiling occurs. Both of these situations help open Nevaeh's eyes to the reality of racism and could lead to a discussion of how folks walk in the world with or without white skin privilege.
ABOUT THE AUTHOR: Natasha Díaz is a born and raised New Yorker, currently residing in Brooklyn, NY with her tall husband. She spends most of her days writing with no pants on and alternating between E.R. and Grey's Anatomy binges. Natasha is both an author and screenwriter. Her scripts have placed as a quarterfinalist in the Austin Film Festival and a finalist for both the NALIP Diverse Women in Media Fellowship and the Sundance Episodic Story Lab. Her essays can be found in The Establishment and Huffington Post. Her first novel, Color Me In, was published by Delacorte Press/Random House August, 20 2019.
ABOUT THE REVIEWER: Maria Ramos-Chertok is a writer, workshop leader and coach who facilitates The Butterfly Series, a writing and creative arts workshop for women who want to explore what's next in their life journey.  In December 2016, she won 1st place in the 2016 Intergenerational Story Contest for her piece, Family Recipes Should Never be Lost.  Her work has appeared in the Apogee Journal, Entropy Magazine, and A Quiet Courage.   Her piece Meet me by the River will be published in Deborah Santana's forthcoming anthology All the Women in my Family Sing (Jan 2018) http://nothingbutthetruth.com/all-the-women-in-my-family-sing/. She is a trainer with Rockwood Leadership Institute www.rockwoodleadership.organd a member of the Bay Area chapter of Write on Mamas. For more information, visit her website at www.mariaramoschertok.com