Review by Romy Natalia Goldberg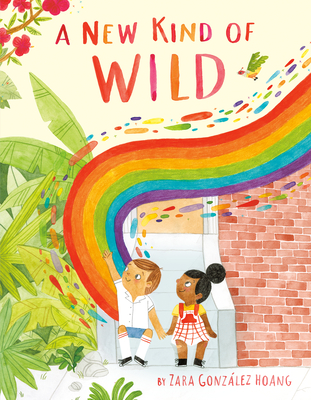 DESCRIPTION OF THE BOOK: For Ren, home is his grandmother's little house, and the lush forest that surrounds it. Home is a place of magic and wonder, filled with all the fantastical friends that Ren dreams up. Home is where his imagination can run wild.
For Ava, home is a brick and cement city, where there's always something to do or see or hear. Home is a place bursting with life, where people bustle in and out like a big parade. Home is where Ava is never lonely because there's always someone to share in her adventures.
When Ren moves to Ava's city, he feels lost without his wild. How will he ever feel at home in a place with no green and no magic, where everything is exactly what it seems? Of course, not everything in the city is what meets the eye, and as Ren discovers, nothing makes you feel at home quite like a friend.
Inspired by the stories her father told her about moving from Puerto Rico to New York as a child, Zara González Hoang's author-illustrator debut is an imaginative exploration of the true meaning of "home."
MY TWO CENTS: Ren, an imaginative young boy, lives at the edge of El Yunque, a tropical rain forest whose lush vegetation is the perfect setting for daily magical escapades. A move to the city (location unspecified) leaves Ren homesick and lonely. He sees no room for magic in the urban landscape. Ava, on the other hand, is at home in the city. Equally imaginative, she delights in the hustle and bustle.
When she meets Ren, Ava is determined to help him see the city through her eyes. But her enthusiastic city tour only makes Ren more homesick and they part ways frustrated with each other. From his apartment window, Ren observes Ava, noticing she is as happy and at ease in the city as he used to be in El Yunque. When they meet up again, Ren apologizes, explaining how everything feels different to him. Ava listens first, rather than barreling into action. Armed with a new understanding of Ren, Ava takes him on yet another tour of the city. This time, Ren is able to see the magic she was trying to show him all along.
I thoroughly enjoyed A New Kind of Wild's take on how the unfamiliar can become familiar with the help of an understanding friend. It would have been easy to simply have Ava show Ren around, resulting in him immediately seeing all the magical possibilities he missed before when experiencing the city alone. The message there would be "All it takes is a friend!" However, González Hoang's approach is different. When Ava first approaches Ren, she eagerly bombards him with questions, so many "he thought his head would explode." When Ren explains his discomfort with his new surroundings, "all Ava heard was a challenge." Ava enthusiastically shows Ren her world, but it is only after she has truly listened to Ren and understood where he came from that she is able to connect with him and help him feel welcome. In a time when we are (too) slowly realizing good intentions aren't always enough, the lessons this book imparts can be powerful and useful both at home and in the classroom.
I also appreciate A New Kind of Wild's depiction of magic in a working class, urban setting. Often the "positives" of urban areas are all upper class signifiers, but González Hoang's delightful watercolors show us children finding inspiration and fun in basements and on rooftops, rather than on outings to museums or large fancy parks. I'm not sure I've ever seen so many garbage bags in a picture book, but I loved it. 
TEACHING TIPS: A New Kind of Wild could be used to start a classroom discussion about moving, be it from one country to another or simply one type of community to another. Where would students take Ren if he moved to their community? Another possible activity is to take a photo of an everyday place (a street corner, a storefront) and have students use mixed media to overlay imaginative elements.
A New Kind of Wild releases April 21, 2020.
ABOUT THE AUTHOR: (from her website): Zara González Hoang grew up in a little bungalow in the frozen tundra of Minnesota. Surrounded by snow, she spent her days dreaming, doodling and listening to the colorful stories of her Dad's life growing up in Puerto Rico while trying to figure out where she fit in as a Puerto Rican Jew in a sea of Scandinavians. (She's still figuring that out.)
These days, she lives outside of DC in a magical suburban forest with her Mad Man husband, human-shaped demon, and curly coated corgi. She still spends her days dreaming and doodling, but now instead of listening to stories, she's starting to tell some of her own.
To learn more about Zara González Hoang, click HERE to get an inside look at her studio and HERE to for a brief Q&A as part of our Spotlight on Latina Illustrators series.
ABOUT THE REVIEWER: Romy Natalia Goldberg is a Paraguayan-American travel and kid lit author with a love for stories about culture and communication. Her guidebook to Paraguay, Other Places Travel Guide to Paraguay, was published in 2012 and 2017 and led to work with "Anthony Bourdain: Parts Unknown," and The Guardian. She is an active SCBWI member and co-runs Kidlit Latinx, a Facebook support group for Latinx children's book authors and illustrators. Learn more at romynatalia.com