By Cindy L. Rodriguez
This is an occasional series about middle grade Latinx authors. We decided to shine a spotlight on middle grade writers and their novels because, often, they are "stuck in the middle"–sandwiched between and overlooked for picture books and young adult novels. The middle grades are a crucial time in child development socially, emotionally, and academically. The books that speak to these young readers tend to have lots of heart and great voices that capture all that is awkward and brilliant about that time.
Today, we highlight Kim Baker.
Kim Baker's first middle grade novel, PICKLE, has been selected for many reading lists and was a CBC Children's Choice Awards Book of the Year finalist, a Texas Bluebonnet Award finalist, and an SCBWI Crystal Kite winner. Her next book, THE WATER BEARS, will be released from Wendy Lamb Books, Random House on April 21, 2020. When she was thirteen, she lived above an old theater and drove a rusty VW van to odd jobs. Now she lives in Seattle, near tide pools but usually far from bears. Find more at www.kimbakerbooks.com
Water Bears releases tomorrow, April 21, 2020.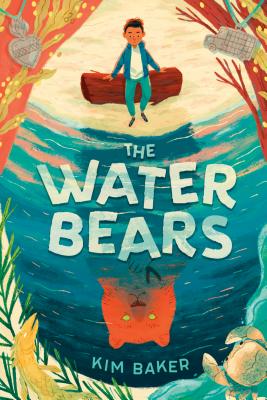 Here is the publisher's description:
Newt Gomez has a thing with bears. Last year, he survived a bear attack. And this year, he finds an unusual bear statue that just might grant wishes. Newt's best friend, Ethan, notices a wishbone on the statue and decides to make a wish. When it comes true, Newt thinks it's a coincidence. Even as more people wish on the bear and their wishes come true, Newt is not convinced.
But Newt has a wish too: while he loves his home on eccentric Murphy Island, he wants to go to middle school on the mainland, where his warm extended family lives. There, he's not the only Latinx kid, he won't have to drive the former taco truck–a gift from his parents–and he won't have to perform in the talent show. Most importantly, on the mainland, he never has bad dreams about the attack. Newt is almost ready to make a secret wish when everything changes.
Tackling themes of survival and self-acceptance, Newt's story illuminates the magic in our world, where reality is often uncertain but always full of salvageable wonders.
Kim Baker

Q. Who or what inspired you to become a writer?
I wanted to be a writer for my whole life. I love reading. I love spending time around books and story makers. Shelves of books are my happy place. I volunteered after school in the school library during fourth and fifth grade. I would bike across town to go to the used bookstore and soak up that vanilla smell that comes off the yellow pages. Some of my favorite places are libraries and bookstores. My parents and teachers were supportive, so I wrote a lot as a kid. My second grade teacher, Ms. Moyer, wrote, "Hope to see you as a writer someday!" in my yearbook. She probably wrote that in every student's yearbook, but I took it to HEART. I felt like she really saw me that way. For a long time, I didn't think writing stories for a living was practical, so I pursued other careers. After a move, I switched gears and took writing classes when my kids were little. I got involved in our regional SCBWI community. I attended conferences and workshops, read craft books, and wrote crappy stories. I honed my abilities and took a shot. Now, I'm inspired to keep writing by the book community. I want to stay in this club forever.
Q. Why do you choose to write middle grade novels?
Sometimes, when I teach workshops, I have writers make a list of their five favorite books growing up. Not just the first ones they remember, but the ones that they identified with that filled their hearts. It's a good gauge to find where your voice might be. Most of my favorites came from the middle grade years. They call it the golden age of reading, when kids pick out more of their own books and look for those windows and mirrors. It's outwardly focused as kids look for where they might fit in the world. When I really started diving in and considering middle grade as a direction, I'm continuously amazed by how much great writing and potential there is with the form.
I didn't have a lot in common with the characters as a kid because they didn't reflect a lot about my life. There weren't a lot of Latinx families, or working class families, or blended families. I really like that stories are reflecting more realities now and giving kids those opportunities to see themselves as the heroes.
Q. What are some of your favorite middle grade novels?
The quality of middle grade novels is amazing these days! There's so much more choice now than when I was young. It's so hard to narrow down, but I'll read anything by Kate Messner, Jason Reynolds, Meg Medina, or Rebecca Stead. We've seen some amazing debut novels in the last couple of years— Front Desk by Kelly Yang, The Line Tender by Kate Allen, I Can Make This Promise by Christine Day, Into the Tall, Tall, Grass by Loriel Ryon, and Efrén Divided by Ernesto Cisneros. And I'm preordering so many books by new Latinx authors, like my fellow writers in Las Musas. How cool is that?
Q. If you could give your middle-grade self some advice, what would it be?
I would say that anything is possible and never to count myself out.
Q. Please finish this sentence: Middle grade novels are important because…
They offer hope.
Also by Kim Baker: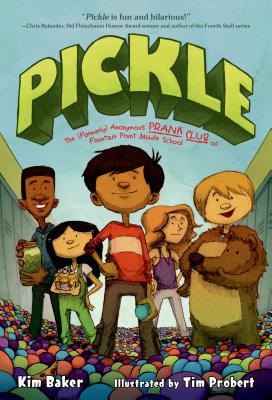 Cindy L. Rodriguez was a newspaper reporter for The Hartford Courant and researcher at The Boston Globe before becoming a public school teacher. She is now a reading specialist at a Connecticut middle school. Cindy is a U.S.-born Latina of Puerto Rican and Brazilian descent. She has degrees from UConn and CCSU. Her debut contemporary YA novel is When Reason Breaks (Bloomsbury 2015). She also has an essay in Life Inside My Mind (Simon Pulse 2018) and wrote the text for Volleyball Ace, a Jake Maddox book (Capstone 2020). She can be found on Facebook, Twitter, and Goodreads