.
Review by Sonia Alejandra Rodríguez, PhD & Ingrid Campos
DESCRIPTION OF THE BOOK: As powerful as it is beautiful, Freedom, We Sing is a lyrical picture book designed to inspire and give hope to readers around the world. Molly Mendoza's immersive, lush illustrations invite kids to ponder singer/songwriter Amyra León's poem about what it means to be free. It's the perfect book for parents who want a way to gently start the conversation with their kids about finding hope in these very tense times we are living in.
OUR TWO CENTS: Amyra León's Freedom, We Sing (2020) is a lyric poem told between a Black mother and her child as they contemplate the meaning of freedom. They ask questions about freedom like "Is it a place?/ Is it a thought?/ Can it be stolen?/ Can it be bought?" Questioning what freedom is, where it is, and who can access it are tremendously important questions for children and adults alike to ask and analyze. In this book, the idea of freedom is threaded to the experiences of others: "Mama tells me that/ there are children/ with hearts like mine/ beat beat beating in their chests/  With different skin colors/ hair, languages, and interests/ they learn to walk and talk/ and dance and scream/  Just like me or anybody." While there are differences amongst people that could, and have, created forms of oppression limiting one's freedoms, León also reminds readers that inside our chest are similar beating hearts.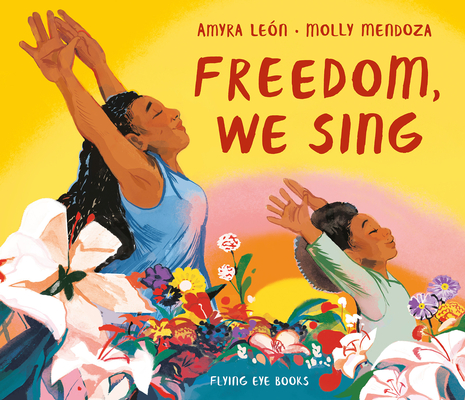 The purpose of freedom for all is not to ignore each other's differences but to embrace them while also highlighting our similarities. León and Mendoza also represent the very real oppressions that can impact one's freedom. In one spread, Mendoza illustrates refugees of different skin tones walking together toward freedom. León writes: "Mama tells me that/ There are mothers/ With hearts like ours/ Beat beat beating/ In their chest/ Running from war/ With whatever is left/ Doing everything/ They can to protect/ Their children/ And their breath." Again, León and Mendoza highlight differences and similarities as means of coming together rather than finding ways to other one another. 
The mother and the child give readers a poetic definition of freedom: "Mama tells me/ Breath is Freedom/ A sweet release/ The right to be/ A universal sign of life and peace." In these lines, freedom is tied to breathing, to existing, to life. Freedom is as essential as breathing. Freedom can be seen as an individual act because, for the most part, we are responsible for our own breathing. However, León and Mendoza align the idea of freedom as breathing to the idea of community. On the page spread with "Breath is Freedom," Mendoza has illustrated a diverse group of people with their eyes closed, drawn to look like they're inhaling. Their faces look peaceful and some of them smile. Throughout the story, León repeats the words "inhale" and "exhale" to describe many things, such as people breathing, but also as trees, and the relationship between the sun and the moon. The repetition of the phrase forces readers to pause and take a deep breath. The relationship of breath and freedom can also be linked to Climate Change. There are several depictions of nature in the book, such as birds, trees, and flowers that suggest that breathing clean air should be a freedom that should also be protected.  
Molly Mendoza's illustrations are vibrant and magical. There are several depictions of movement in her illustrations. In the first pages, the mother and her child are dancing and twirling and strokes of yellows and oranges mimic their movements behind them. In the pages depicting large groups of diverse people marching, there are also bold strokes of color signaling their direction or standing in for a sort of path to guide them. The pages with "inhale" and "exhale" also demonstrate movement by showing contraction and expansion. In one page, for example, a beautiful tree with yellow, green, and blue leaves stands tall and packed in with the word "inhale" to the left of the tree. On the other page, the same tree, now bare showing all its branches, is surrounded by an explosion of color and shapes with the word "exhale" underneath.
Additionally, Mendoza uses the idea of differences and similarities to visually depict the message of the book. Contrasting concepts such as the colors blues, yellows and oranges, the sun and the moon, and the expression to inhale and exhale can be found throughout the book. One scene, for example, shows the mother and her child sitting next to each other with a sun above the mother and a moon above the child. The word "Inhale" rests above the moon. In the next page, the mother and the child hug and above them the sun and moon have come together to create a new shape. Below them is the word "Exhale." Readers will certainly have fun looking at all of Mendoza's brilliant art. 
Freedom, We Sing presents an always relevant conversation about the meaning of freedom. León's poem examines how freedom is all around us and within us and something we can give to ourselves. León also points to the ways that people around the world are fighting for their freedoms, even if it means having to leave one's home behind. Mendoza's artwork is a visual representation of what freedom looks like–from the tiniest flower to the vastness of the universe. With this book, León and Mendoza remind readers that freedom starts with breathing—inhale and exhale.
.
ABOUT THE WRITER (from her website): Amyra is a musician, playwright, author, and activist. Her work fuses music and poetry through powerfully transparent performances focusing on social inequalities and communal healing whilst celebrating love, blackness, and womanhood.
She has performed throughout the United States and Europe collaborating with the likes of The Apollo, BAM, BBC, Roundhouse, Amnesty International and more.
Amyra composed Una Mujer Derramada in collaboration with Sivan Eldar commissioned by and performed with Lisbon's Gulbenkian Orchestra, the Montpellier National Opera, and the Paris Chamber Orchestra. She is the inaugural recipient of the Battersea Arts Centre Phoenix Award which led to the 2019 London premiere of her debut play VASELINE.
She is the author of Concrete Kids (Penguin 2020), Freedom We Sing (Flying Eye Books 2020) and Darling (Walker, Candlewick 2022) . Her musical debut, Something Melancholy, led to sharing stages with Common, Robert Glasper, Nikki Giovanni and more. Amyra's debut album, WITNESS, is set to release this summer.
.
ABOUT THE ILLUSTRATOR (from her website): Molly Mendoza is an illustrator currently living in Portland, Oregon. She is captivated by the relationships that she has built with friends, family, and foes alike over the course of her life. Molly sets out to emulate those relationships through her chaotic yet rhythmic style to make some dang-good drawings.
Alongside personal/observational narrative, Molly enjoys making images of  space travel, plants, ladies and small dogs. Frequently she can be found working on editorial projects, making comics/zines, and eating hot dogs. Molly is a BFA graduate from the Pacific Northwest College of Art and recipient the RockStar Games Award from the 2015 SOI Student Competition — she continues to work hard and remain a pretty cool lady.
.
.
.
ABOUT THE REVIEWERS: Sonia Alejandra Rodriguez, PhD is an Associate Professor of English at LaGuardia Community College (CUNY) where she teaches composition, literature, and creative writing. Her academic research focuses on decolonial healing in Latinx children's and young adult literature. Sonia is a Mellon Emerging Faculty Leader.
.
.
Ingrid Campos is a 19-year-old college student interested in Latinx Literature. After graduating from LaGuardia Community College (CUNY) this year with an associates in Writing and Literature, she will continue her studies at Queens College to earn her Bachelors in English Education 7-12 . Ingrid was born and raised in Queens, New York. As a Mexican-American living in Queens and graduating from the public school system, Ingrid is inspired to become a high school teacher. One of her main goals is to center academic curriculums around more diversity and inclusivity towards Black and Brown students.