.
In addition to listing 2021 titles by/for/about Latinx on our master list, we will remind readers of what's releasing each month. CONGRATULATIONS to these Latinx creators. Let's celebrate these January book babies!
.
.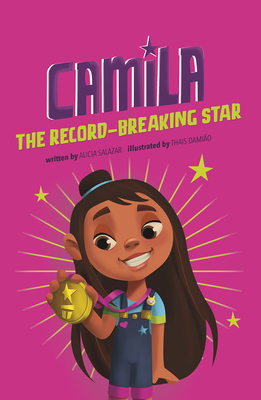 CAMILA THE RECORD-BREAKING STAR by Alicia Salazar, illustrated by Thais Damiao (Picture Window Books, January 1, 2021). Early chapter book. After reading about kid record-breakers, Camila dreams of breaking a record of her own. But which world record should she tackle? No matter what she tries, Camila finds that breaking records is hard. Will she ever become a record-breaking star?
.
.
.
.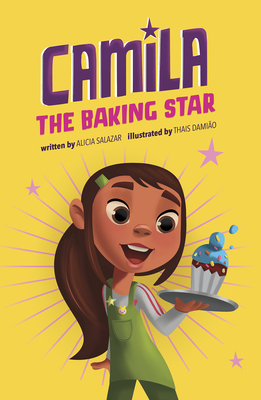 CAMILA THE BAKING STAR by Alicia Salazar, illustrated by Thais Damiao (Picture Window Books, January 1, 2021). Early chapter book. Camila and her papa enter a baking competition on TV. As they start their challenge, Camila is determined to take complete control of their challenge, strawberry-iced cake pops. But without teamwork, their dessert is a mess. Is it too late to become baking stars?
.
.
.
.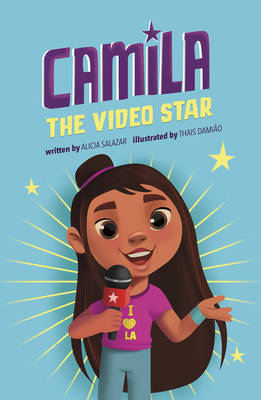 CAMILA THE VIDEO STAR by Alicia Salazar, illustrated by Thais Damiao (Picture Window Books, January 1, 2021). Early chapter book. A video contest is the perfect way for Camila to become a star. To enter, she must make a video that explains what her city, Los Angeles, means to her. But Los Angeles is so big–how will she decide what to talk about? As Camila works on her video, she realizes that there's one special thing that makes her city feel like home.
.
.
.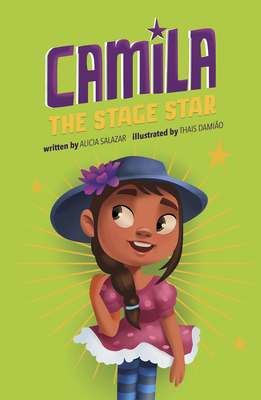 CAMILA THE STAGE STAR by Alicia Salazar, illustrated by Thais Damiao (Picture Window Books, January 1, 2021). Early chapter book. When Camila tries out for a play, she practices hard to get ready for auditions. So she's extra disappointed when she doesn't get the starring role. But as she learns her part and works with the rest of the cast, Camila discovers there is more than one way to be a star.
.
.
.
.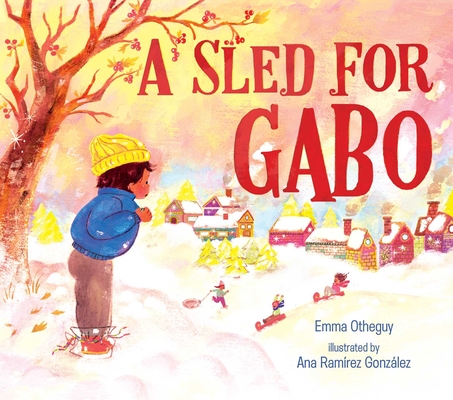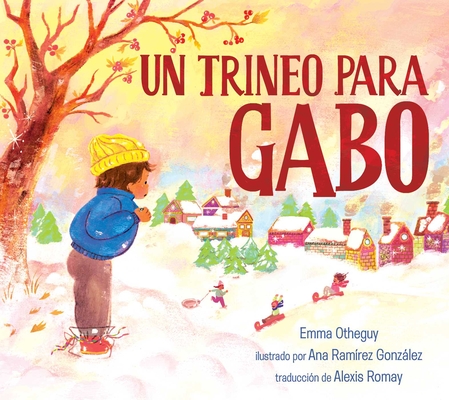 A SLED FOR GABO by Emma Otheguy, illustrated by Ana Ramírez González (Atheneum Books for Young Readers, January 5, 2021). Picture Book. On the day it snows, Gabo sees kids tugging sleds up the hill, then coasting down, whooping all the while. Gabo wishes he could join them, but his hat is too small, and he doesn't have boots or a sled. But he does have warm and welcoming neighbors in his new town who help him solve the problem in the sweetest way possible!
.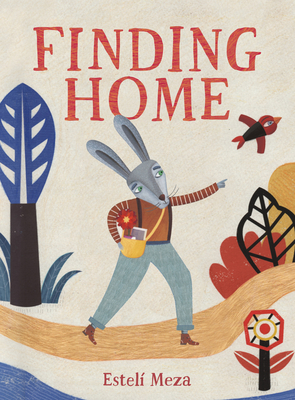 FINDING HOME/BUSCANDO EL HOGAR written and illustrated by Estelí Meza (Orchard Books, January 5, 2021). Picture Book. When Conejo's house blows away in a storm, his friends and neighbors take turns helping him look for it. Though they do not find his house, they each send him on his way with good cheer and small gifts. Conejo is grateful for their support, but still finds himself sitting with sadness for some time. When the rain clears, Conejo finds the courage to rebuild. He fills his new home with the memories, love, and support he collected from his friends along the way. Simultaneous bilingual English-Spanish editions.
.
.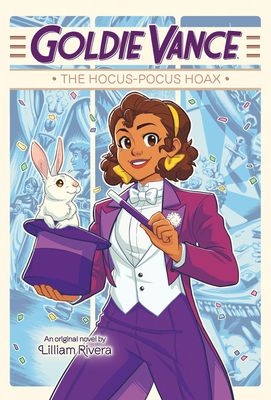 GOLDIE VANCE: The Hocus-Pocus Hoax by Lilliam Rivera (Little, Brown Books for Young Readers, January 5, 2021). Middle Grade. The Crossed Palms is hosting the first ever League of Magical Arts Convention, bringing the world's most renowned and emerging magicians to the resort, including an overeager part-time magician and detective named Derek Von Thurston. When some of the magic starts to go awry, Goldie — and Derek — are on the case! Can Goldie uncover the saboteur before the final act goes live?
.
.
.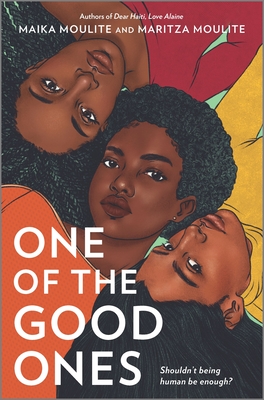 ONE OF THE GOOD ONES by Maika Moulite and Maritza Moulite (Inkyard Press, January 5, 2021). Young Adult. When teen social activist and history buff Kezi Smith is killed under mysterious circumstances after attending a social justice rally, her devastated sister Happi and their family are left reeling in the aftermath. As Kezi becomes another immortalized victim in the fight against police brutality, Happi begins to question the idealized way her sister is remembered. Perfect. Angelic. One of the good ones.
Even as the phrase rings wrong in her mind–why are only certain people deemed worthy to be missed?–Happi and her sister Genny embark on a journey to honor Kezi in their own way, using an heirloom copy of The Negro Motorist Green Book as their guide. But there's a twist to Kezi's story that no one could've ever expected–one that will change everything all over again.
.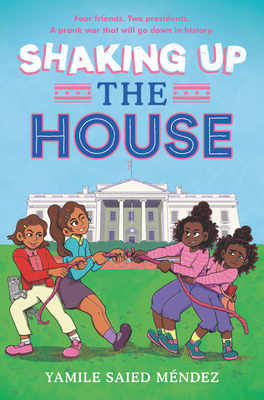 SHAKING UP THE HOUSE by Yamile Saied Méndez (HarperCollins, January 5, 2021). Middle Grade. Ingrid and Winnie López have lived at 1600 Pennsylvania Avenue for eight years, but their friends Skylar and Zora Williams—the new first daughters—are about to move into the White House with their mom, the president-elect. What the Williamses don't know is that incoming presidents' families are often pranked by the folks they're replacing, and Ingrid and Winnie take that tradition very seriously.
But when the four girls get wrapped up in an ever-escalating exchange of practical jokes and things spiral out of control, can they avoid an international incident? Or will their battle go down in American history and ruin their friendship forever?
.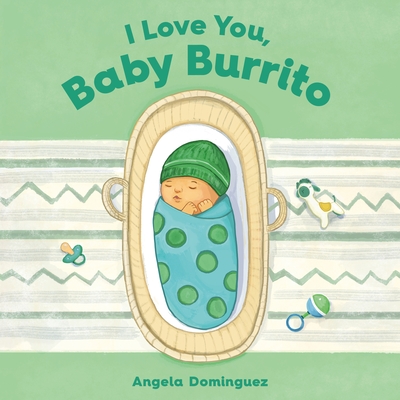 I LOVE YOU, BABY BURRITO by Angela Dominguez (Roaring Brook Press, January 12, 2021). Picture Book. From Pura Belpré honoree Angela Dominguez, I Love You Baby Burrito celebrates the act of swaddling a newborn into a "baby burrito."
.
.
.
.
.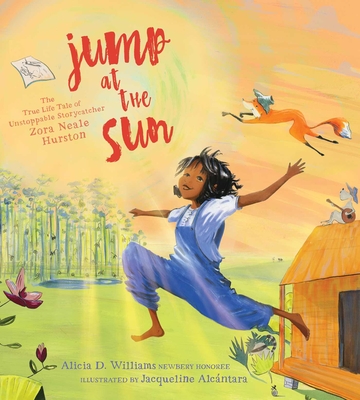 JUMP AT THE SUN: The True Life Tale of Unstoppable Storycatcher Zora Neale Hurston by Alicia D. Williams, illustrated by Jacqueline Alcántara (Atheneum/Caitlyn Dlouhy Books, January 12, 2021). Picture Book. Zora was a girl who hankered for tales like bees for honey. Now, her mama always told her that if she wanted something, "to jump at de sun," because even though you might not land quite that high, at least you'd get off the ground. So Zora jumped from place to place, from the porch of the general store where she listened to folktales, to Howard University, to Harlem. And everywhere she jumped, she shined sunlight on the tales most people hadn't been bothered to listen to until Zora. The tales no one had written down until Zora. Tales on a whole culture of literature overlooked…until Zora. Until Zora jumped.
.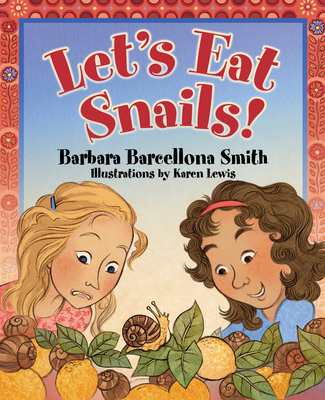 LET'S EAT SNAILS! by Barbara Barcellona Smith, illustrated by Karen Lewis (NewSouth Books, January 12, 2021). Picture Book. Let's Eat Snails celebrates Italian-American culture through a story that introduces kids to its familial and culinary traditions. When Margie visits the Barcellona family home, she isn't ready for what the Sicilian family is bringing to the table: snails Margie embarks on a culinary adventure in harvesting, purifying, and cooking snails to find that they are, in fact, delizioso.
.
.
.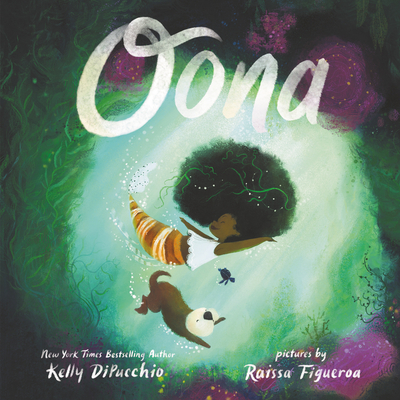 OONA by Kelly DiPucchio, illustrated by Raissa Figueroa (Katherine Tegen Books, January 12, 2021). Picture Book. Oona and her best friend Otto love to search for treasure…and often find trouble instead. Messy trouble. Tricky trouble. Even shark-related trouble. That's never stopped them before, though!
After all, no proper treasure hunt is without some adventure. But when the grandest treasure yet is stuck in a deep, dark rift, Oona's not sure if she can dive right in. What might be waiting for her in those unknown waters?
.
.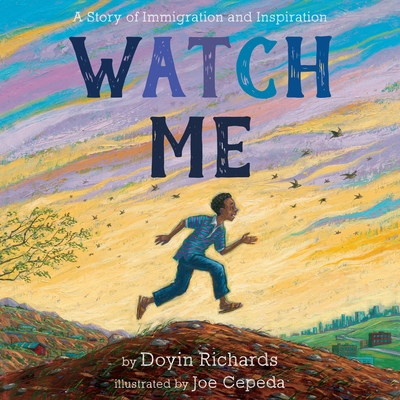 WATCH ME: A Story of Immigration and Inspiration by Doyin Richards, illustrated by Joe Cepeda (Feiwel & Friends, January 12, 2021). Picture Book. Joe came to America from Africa when he was young. He worked hard in school, made friends, and embraced his new home. Like so many immigrants before and after him, Joe succeeded when many thought he would fail. In telling the story of how his father came to America, Doyin Richards tells the story of many immigrants, and opens the experience up to readers of all backgrounds.
.
.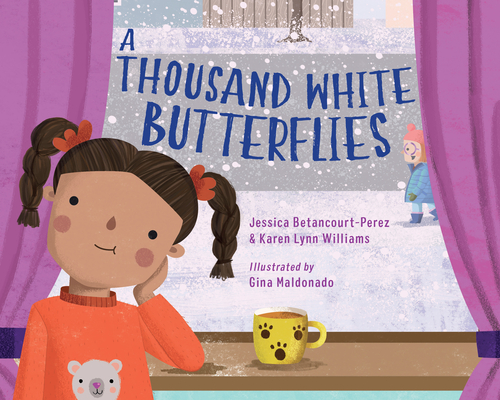 A THOUSAND WHITE BUTTERFLIES by Jessica Betancourt-Perez and Karen Lynn Williams, illustrated by Gina Maldonado (Charlesbridge, January 19, 2021). Picture Book. Isabella has recently arrived from Colombia with her mother and abuela. She misses Papa, who is still in South America. It's her first day of school, her make-new-friends day, but when classes are canceled because of too much snow, Isabella misses warm, green, Colombia more than ever. Then Isabella meets Katie and finds out that making friends in the cold is easier than she thought!
.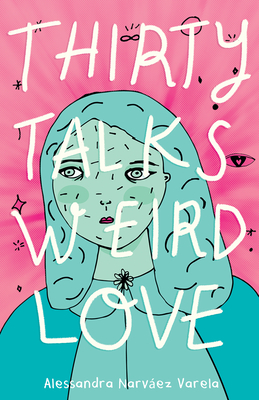 THIRTY TALKS WEIRD LOVE by Alessandra Narváez Varela (Cinco Puntos Press, January 19, 2021). Young Adult. Out of nowhere, a lady comes up to Anamaria and says she's her, from the future. But Anamaria's thirteen, she knows better than to talk to some weirdo stranger. Girls need to be careful, especially in Ciudad Juárez, Mexico–it's the 90's and fear is overtaking her beloved city as cases of kidnapped girls and women become alarmingly common. This thirty-year-old "future" lady doesn't seem to be dangerous, but she won't stop bothering her, switching between cheesy Hallmark advice about being kind to yourself, and some mysterious talk about saving a girl.
Anamaria definitely doesn't need any saving, she's doing just fine. She works hard at her strict, grade-obsessed middle school–so hard that she hardly gets any sleep; so hard that the stress makes her snap not just at mean girls but even her own (few) friends; so hard that when she does sleep she dreams about dying–but she just wants to do the best she can so she can grow up to be successful. Maybe Thirty's right. Maybe she's not supposed to be so exhausted with her life, but how can she ask for help when her city is mourning the much bigger tragedy of its stolen girls?
.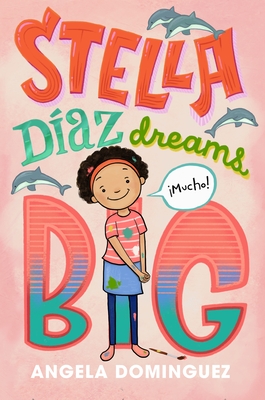 STELLA DÍAZ DREAMS BIG written and illustrated by Angela Dominguez (Roaring Brook Press, January 21, 2021). Chapter Book. Stella is happy as a clam in fourth grade. She's the president of the Sea Musketeers conservation club, she starts taking swim lessons, and she joins a new art club at school. But as her schedule fills up, school gets harder, too. Suddenly the tides have turned, and she is way too busy!
Stella will be in an ocean of trouble if she can't keep her head above water. But with her trusty Sea Musketeers by her side, she hopes to make her big dreams come true!
.
.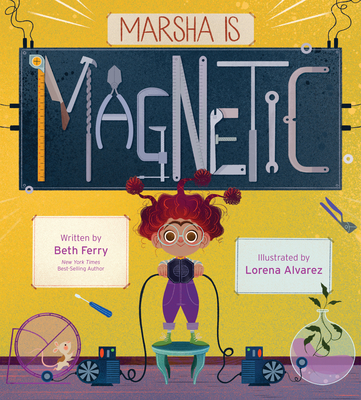 MARSHA IS MAGNETIC by Beth Ferry, illustrated by Lorena Alvarez (HMH Books for Young Readers, January 26, 2021). Picture Book. Marsha is a scientist who has never met a problem she couldn't solve. But when it comes to making friends to invite to her birthday party, she is stumped.

Luckily, Marsha knows the solution to being stumped: the scientific method.

With equal parts creativity, determination, and humor, Marsha sets out to attract as many friends as she can—what could possibly go wrong?
.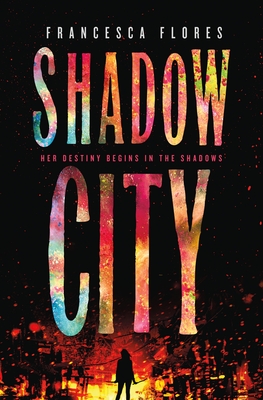 SHADOW CITY by Francesca Flores (Wednesday Books, January 26, 2021). Young Adult. Aina Solís has fought her way to the top of criminal ranks in the city of Kosín by wresting control of an assassin empire owned by her old boss, Kohl. She never has to fear losing her home and returning to life on the streets again—except Kohl, the man who tried to ruin her life, will do anything to get his empire back. Aina sets out to kill him before he can kill her.
But Alsane Bautix, the old army general who was banned from his seat in the government after Aina revealed his corruption, is working to take back power by destroying anyone who stands in his way. With a new civil war on the horizon and all their lives at risk, the only way for Aina to protect her home is to join up with the only other criminal more notorious than her: Kohl himself.
As Bautix's attacks increase, Aina and Kohl work together to stop his incoming weapons shipments and his plans to take back the Tower of Steel. To defeat them both, Aina will resort to betrayal, poison, and a deadly type of magic that hasn't been used in years.
Through narrow alleys, across train rooftops, and deep in the city's tunnels, Aina and Kohl will test each other's strengths and limits, each of them knowing that once Bautix is dead, they'll still have to face each other. If she manages to kill him, she'll finally have the freedom she wants—but it might forever mark her as his shadow in a city where only the strongest survive.
.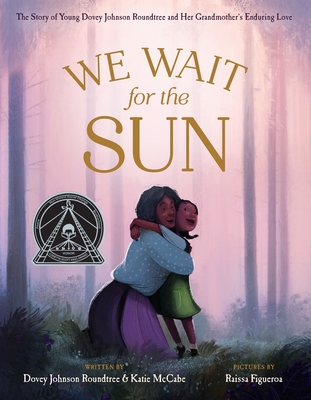 WE WAIT FOR THE SUN by Dovey Johnson Roundtree and Katie McCabe, illustrated by Raissa Figueroa (Roaring Brook Press, January 26, 2021). Picture Book.
.
.
.
.
.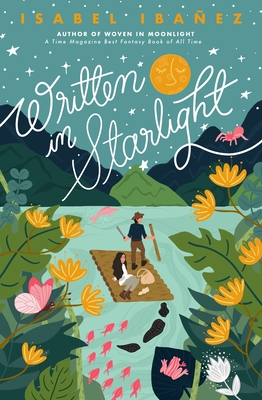 WRITTEN IN STARLIGHT by Isabel Ibañez (Page Street Kids, January 26, 2021). Young Adult. Catalina Quiroga is a condesa without a country. She's lost the Inkasisa throne, the loyalty of her people, and her best friend. Banished to the perilous Yanu Jungle, Catalina knows her chances of survival are slim, but that won't stop her from trying to escape. Her duty is to rule.
While running for her life, Catalina is rescued by Manuel, the son of her former general, who has spent years searching for allies. With his help, Catalina could find the city of gold that's home to the fierce Illari people and strike a deal with them for an army to retake her throne.
But the elusive Illari are fighting a battle of their own—a mysterious blight is corrupting the jungle, laying waste to everything they hold dear. As a seer, Catalina should be able to help, but her ability to read the future in the stars is as feeble as her survival instincts. While on her journey, Catalina must reckon with her duty and her heart to find her true calling, which is key to stopping the corruption before it destroys the jungle completely.