In addition to listing 2021 titles by/for/about Latinx on our master list, we will remind readers of what's releasing each month. CONGRATULATIONS to these Latinx creators. Let's celebrate these March book babies!
.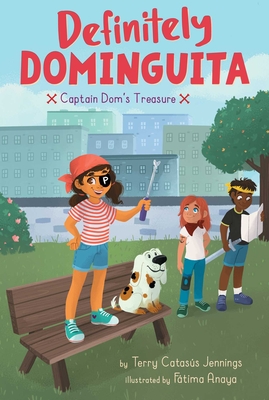 DEFINITELY DOMINGUITA: Captain Dom's Treasure by Terry Castasús, illustrated by Fatima Anaya (Aladdin, March 2, 2021). Chapter Book. When Dominguita finds an old map in the back of an even older book in her beloved library, she is excited to see a telltale X marking an unknown place. Everyone knows that X marks the spot for treasure—and Dom knows that means a new adventure for her, Pancho, and Steph!
But everyone seems to think that the map, while fun, probably isn't real. Dom is determined to prove them wrong. And as the trio starts to uncover the mystery of the map, they realize that it has closer ties to the community they love than they could have imagined.
.
.
.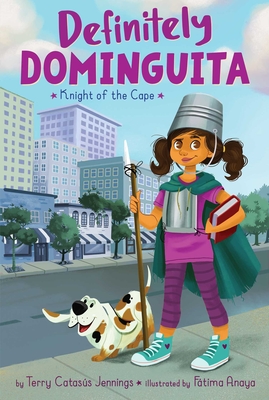 DEFINITELY DOMINGUITA: Knight of the Cape by Terry Castasús, illustrated by Fatima Anaya (Aladdin, March 2, 2021). Chapter Book. All Dominguita wants to do is read. Especially the books in Spanish that Abuela gave to her just before she moved away. They were classics that Abuela and Dominguita read together, classics her abuela brought with her all the way from Cuba when she was a young girl. It helps Dominguita feel like Abuela's still there with her.
One of her favorites, Don Quixote, tells of a brave knight errant who tries to do good deeds. Dominguita decides that she, too, will become a knight and do good deeds around her community, creating a grand adventure for her to share with her abuela. And when the class bully tells Dominguita that girls can't be knights, Dom is determined to prove him wrong. With a team of new friends, can Dominguita learn how to be the hero of her own story?
.
.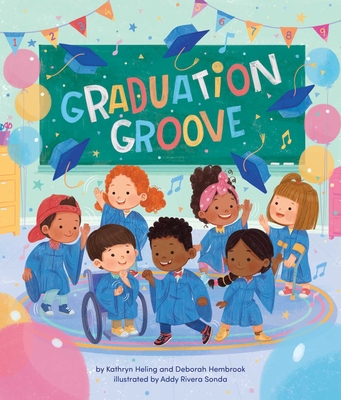 GRADUATION GROOVE by Kathryn Heling and Deborah Hembrook, illustrated by Addy Rivera Sonda (little bee books, March 2, 2021). Picture Book. It's time to graduate from kindergarten! This book celebrates all of the things that make kindergarten great. From classmates to projects, teachers to pets, kindergarten is full of amazing experiences. Graduating from kindergarten and starting first grade is an important milestone in every kid's life. Whether you're excited or nervous, this book is perfect for your special day and will help you dance to first grade!
.
.
.
.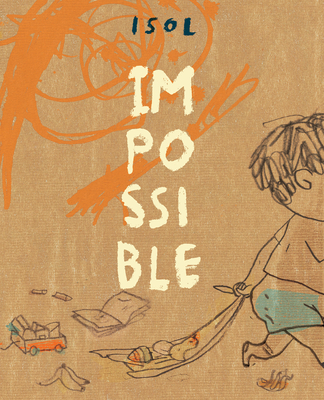 IMPOSSIBLE by Isol, translated by Elisa Amado (Groundwood Books, March 2, 2021). Picture Book. Toribio is two years old and his parents love him very much, but some days, taking care of him feels like an impossible task. He won't sleep, makes a fuss when eating, splashes his bath water everywhere, and refuses to use his potty. At the end of the day, Toribio's parents are exhausted. So when they see an ad for a specialist who can solve any type of problem, his desperate parents make an appointment right away. Mrs. Meridien's methods deliver overnight results, but her solution isn't quite what they had in mind.
.
.
.
INFINITY REAPER by Adam Silvera (Quill Tree Books, March 2, 2021) Young Adult. Emil and Brighton Rey defied the odds. They beat the Blood Casters and escaped with their lives–or so they thought. When Brighton drank the Reaper's Blood, he believed it would make him invincible, but instead the potion is killing him.
In Emil's race to find an antidote that will not only save his brother but also rid him of his own unwanted phoenix powers, he will have to dig deep into the very past lives he's trying to outrun. Though he needs the help of the Spell Walkers now more than ever, their ranks are fracturing, with Maribelle's thirst for revenge sending her down a dangerous path.
Meanwhile, Ness is being abused by Senator Iron for political gain, his rare shifting ability making him a dangerous weapon. As much as Ness longs to send Emil a signal, he knows the best way to keep Emil safe from his corrupt father is to keep him at a distance.
The battle for peace is playing out like an intricate game of chess, and as the pieces on the board move into place, Emil starts to realize that he may have been competing against the wrong enemy all along.
.
.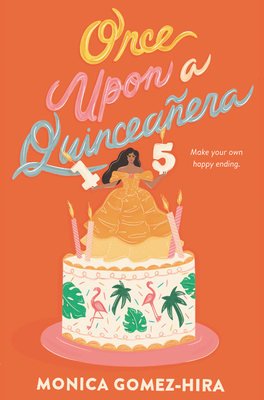 ONCE UPON A QUINCEAÑERA by Monica Gomez Hira (HarperTeen, March 2, 2021). Young Adult. Carmen Aguilar just wants to make her happily ever after come true. Except apparently "happily ever after" for Carmen involves being stuck in an unpaid summer internship. Now she has to perform as a party princess! In a ball gown. During the summer. In Miami.
Fine. Except that's only the first misfortune in what's turning out to be a summer of Utter Disaster.
But if Carmen can manage dancing in the blistering heat, fending off an oh-so-unfortunately attractive ex, and stopping her spoiled cousin from ruining her own quinceañera—Carmen might just get that happily ever after—after all.
.
.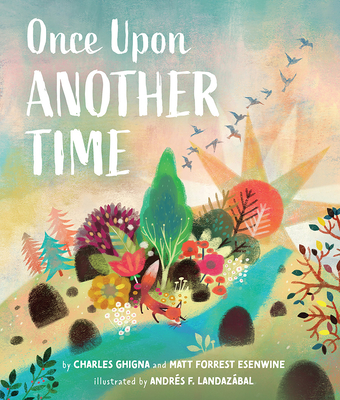 ONCE UPON ANOTHER TIME by Matt Forrest Esenwine and Charles Ghigna, illustrated by Andres F. Landazabal (Beaming Books, March 2, 2021). Picture Book. With sweeping landscapes and up-close details of the natural world, Once Upon Another Time takes readers through a lyrical exploration of the world as it was before humans made their mark. Contrasting the past with the present, this expansive picture book serves as a warm invitation for children–and all people–to appreciate, explore, and protect the magic and wonder of this planet we call home.
.
.
.
.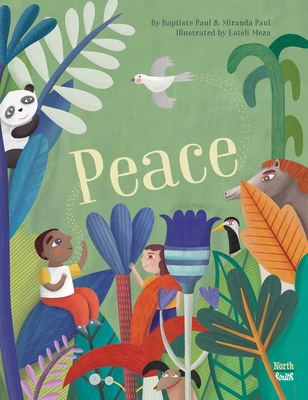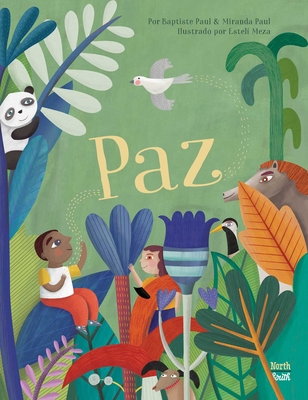 PEACE by Miranda Paul and Baptiste Paul, illustrated by Estelí Meza(NorthSouth Books, March 2, 2021). Picture Book. Peace is on purpose. Peace is a choice. Peace lets the smallest of us have a voice. From a hello and pronouncing your friend's name correctly to giving more than you take and saying I'm sorry, this simple concept book explores definitions of peace and actions small and big that foster it. Simultaneously published in Spanish.
.
.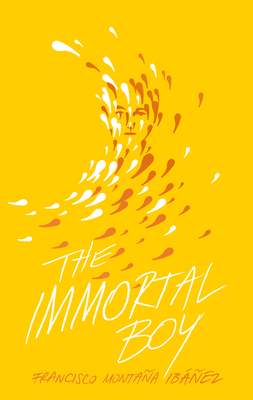 THE IMMORTAL BOY by Francisco Montaña Ibáñez, translated by David Bowles (Levine Querido, March 9, 2021). Two intertwining stories of Bogotá. One, a family of five children, left to live on their own. The other, a girl in an orphanage who will do anything to befriend the mysterious Immortal Boy. How they weave together will never leave you. Presented in English and Spanish.
.
.
.
.
,
.
.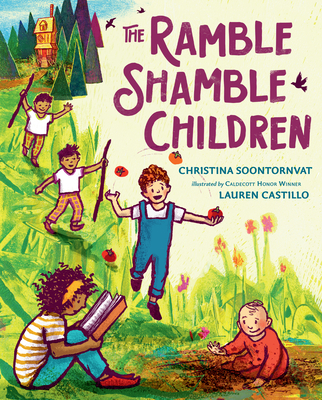 THE RAMBLE SHAMBLE CHILDREN by Christine Soontornvat, illustrated by Lauren Castillo(Nancy Paulsen Books, March 9, 2021). Picture Book. Merra, Locky, Roozle, Finn, and little Jory love their ramble shamble house. It's a lot of work taking care of the garden, the chickens, and themselves, but they all pitch in to make it easier–even Jory, who looks after the mud puddles. When they come across a picture of a "proper" house in a book, they start wondering if their own home is good enough. So they get to work "propering up" the garden, the chickens, and even the mud puddles. But the results aren't exactly what they expected, and when their now-proper household's youngest member goes missing, they realize that their ramble shamble home might be just right for their family, after all.
.
.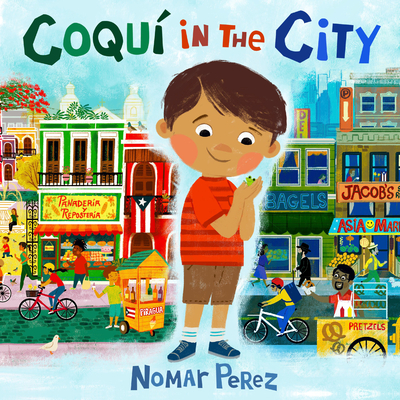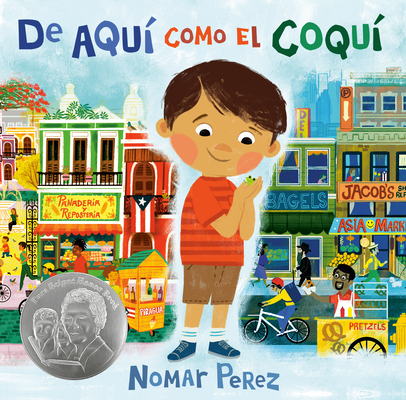 COQUI IN THE CITY written and illustrated by Nomar Perez (Dial Books, March 16, 2021). Picture Book. Miguel's pet frog, Coquí, is always with him: as he greets his neighbors in San Juan, buys quesitos from the panadería, and listens to his abuelo's story about meeting baseball legend Roberto Clemente. Then Miguel learns that he and his parents are moving to the U.S. mainland, which means leaving his beloved grandparents, home in Puerto Rico, and even Coquí behind. Life in New York City is overwhelming, with unfamiliar buildings, foods, and people. But when he and Mamá go exploring, they find a few familiar sights that remind them of home, and Miguel realizes there might be a way to keep a little bit of Puerto Rico with him–including the love he has for Coquí–wherever he goes.
.
.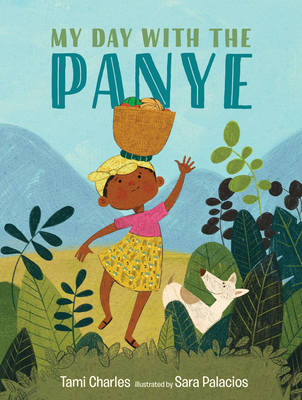 MY DAY WITH THE PANYE by Tami Charles, illustrated by Sara Palacios (Candlewick, March 16, 2021). Picture Book. In the hills above Port-au-Prince, a young girl named Fallon wants more than anything to carry a large woven basket to the market, just like her Manman. As she watches her mother wrap her hair in a mouchwa, Fallon tries to twist her own braids into a scarf and balance the empty panye atop her head, but realizes it's much harder than she thought. BOOM! Is she ready after all?
.
.
.
.
.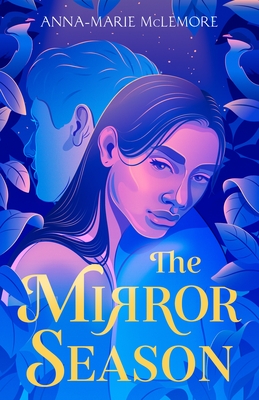 THE MIRROR SEASON by Anna-Marie McLemore (Feiwel & Friends, March 16, 2021). Young Adult. Graciela Cristales' whole world changes after she and a boy she barely knows are assaulted at the same party. She loses her gift for making enchanted pan dulce. Neighborhood trees vanish overnight, while mirrored glass appears, bringing reckless magic with it. And Ciela is haunted by what happened to her, and what happened to the boy whose name she never learned.
But when the boy, Lock, shows up at Ciela's school, he has no memory of that night, and no clue that a single piece of mirrored glass is taking his life apart. Ciela decides to help him, which means hiding the truth about that night. Because Ciela knows who assaulted her, and him. And she knows that her survival, and his, depend on no one finding out what really happened.
.
.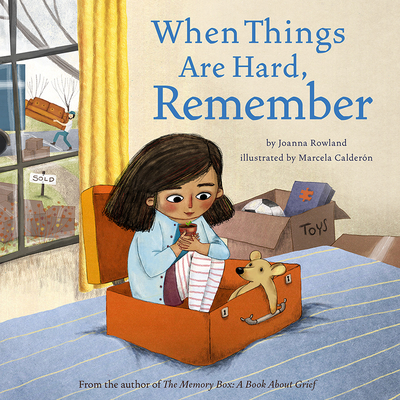 WHEN THINGS ARE HARD, REMEMBER by Joanna Rowland, illustrated by Marcela Calderon (Beaming Books, March 16, 2021). Picture Book. A seed falls to the ground. A child moves away from home. Can life bloom in a new place? Joanna Rowland explores what it means to have hope–hope that things will get better, hope that you are cared for even when things are hard, and hope that new growth is waiting to burst forth, just around the corner.
.
.
.
.
,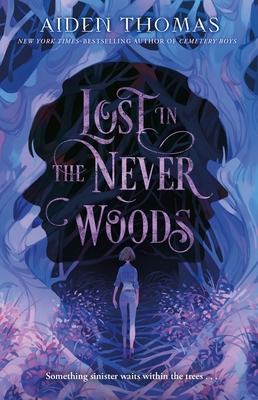 LOST IN THE NEVER WOODS by Aiden Thomas (Swoon Reads, March 23, 2021). Young Adult. It's been five years since Wendy and her two brothers went missing in the woods, but when the town's children start to disappear, the questions surrounding her brothers' mysterious circumstances are brought back into the light. Attempting to flee her past, Wendy almost runs over an unconscious boy lying in the middle of the road.

Peter, a boy she thought lived only in her stories, asks for Wendy's help to rescue the missing kids. But, in order to find them, Wendy must confront what's waiting for her in the woods.
.
.
.
.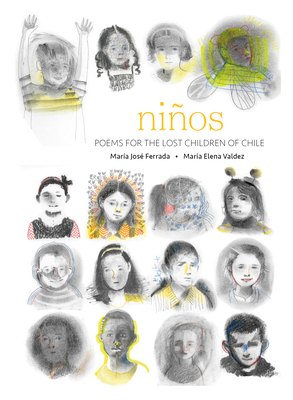 NIÑOS: POEMS FOR THE LOST CHILDREN OF CHILE by María José Ferrada, illustrated by María Elena Valdez, translated by Lawrence Schimel (Eerdmans, March 23, 2021). Picture Book. On September 11, 1973, a military coup plunged Chile into seventeen long years of dictatorial rule. Only the return of democracy could reveal the full horrors of Augusto Pinochet's regime: 3,197 people dead or disappeared—including thirty-four children under the age of fourteen.
This book is a stirring memorial to those victims and to the cost of extremism. Thirty-four poems—one for each child lost—consider the diverse hopes of these fragile young lives. From Alicia to Jaime, Héctor to Paola, Soledad to Rafael, they were brave and creative, thoughtful and strong. In these pages, some children watch for the changing seasons. Some listen for new sounds on rainy afternoons. And some can't wait for their next birthday.
.
.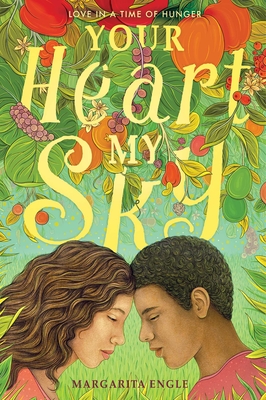 YOUR HEART, MY SKY: Love in a Time of Hunger by Margarita Engle (Atheneum Books for Young Readers, March 23, 2021). Young Adult. The people of Cuba are living in el período especial en tiempos de paz—the special period in times of peace. That's what the government insists that this era must be called, but the reality behind these words is starvation.
Liana is struggling to find enough to eat. Yet hunger has also made her brave: she finds the courage to skip a summer of so-called volunteer farm labor, even though she risks government retribution. Nearby, a quiet, handsome boy named Amado also refuses to comply, so he wanders alone, trying to discover rare sources of food.
A chance encounter with an enigmatic dog brings Liana and Amado together. United in hope and hunger, they soon discover that their feelings for each other run deep. Love can feed their souls and hearts—but is it enough to withstand el período especial?
.
.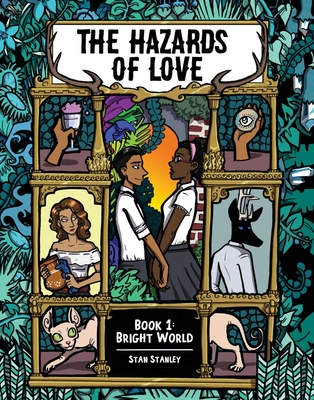 THE HAZARDS OF LOVE VOL. 1 by Stan Stanley (Oni Press, March 30, 2021). YA Graphic Novel. Amparo's deal with the talking cat was simple: a drop of blood and Amparo's name to become a better person. Their mother and abuela would never worry about them again, and they'd finally be worthy of dating straight-A student Iolanthe. But when the cat steals their body, becoming the better person they were promised, Amparo's spirit is imprisoned in a land of terrifying, flesh-hungry creatures known as Bright World.
With cruel and manipulative masters and a society that feeds on memories, Amparo must use their cleverness to escape, without turning into a monster like the rest. On "the other side," Iolanthe begins to suspect the new Amparo has a secret, and after the cat in disguise vanishes, she's left searching for answers with a no-nonsense medium from the lesbian mafia and the only person who might know the truth about Bright World.
.
.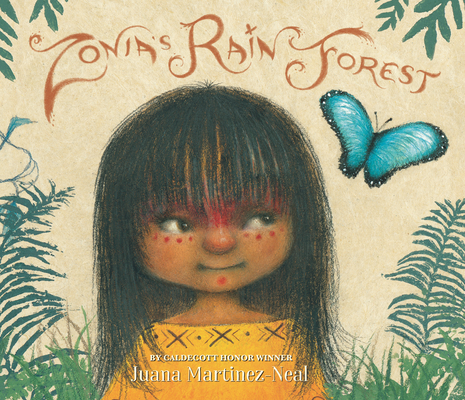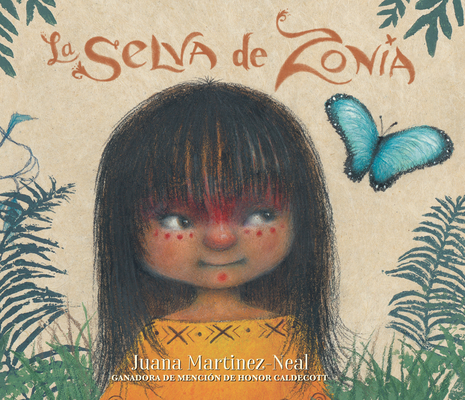 ZONIA'S RAIN FOREST/ La selva de Zonia written and illustrated by Juana Martinez-Neal (Candlewick, March 30, 2021). Picture Book. Zonia's home is the Amazon rain forest, where it is always green and full of life. Every morning, the rain forest calls to Zonia, and every morning, she answers. She visits the sloth family, greets the giant anteater, and runs with the speedy jaguar. But one morning, the rain forest calls to her in a troubled voice. How will Zonia answer? Back matter includes a translation of the story in Asháninka, information on the Asháninka community, and resources on the Amazon rain forest and its wildlife.
.