.
Review by Dr. Cris Rhodes
DESCRIPTION OF THE BOOK: There hasn't been a winner of the Miss Meteor beauty pageant who looks like Lita Perez or Chicky Quintanilla in all its history.
But that's not the only reason Lita wants to enter the contest, or her ex-best friend Chicky wants to help her. The road to becoming Miss Meteor isn't about being perfect; it's about sharing who you are with the world—and loving the parts of yourself no one else understands.
So to pull off the unlikeliest underdog story in pageant history, Lita and Chicky are going to have to forget the past and imagine a future where girls like them are more than enough—they are everything.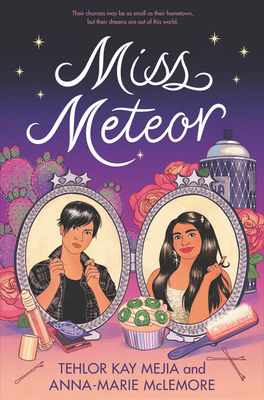 MY TWO CENTS: Born from a magical collaboration between Tehlor Kay Mejia and Anna-Marie McLemore, Miss Meteor follows the rekindled friendship between Lita Perez and Chicky Quintanilla as Lita, who has an urgent and extraterrestrial secret, decides to spend her final days on earth entering the Miss Meteor pageant. In the opening chapter, Lita tells the reader, "I don't remember the moment I turned from star-stuff thrown off a meteor into a girl," but her corporeal body is slowly deteriorating, leaving her "turning back into the stardust [she] once was" (1, 6). Lita explains that this isn't the beginning of losing herself; in fact that process started years before when her friendship with Chicky Quintanilla deteriorated. Chicky, for her part, is an anomaly in her family–nothing like her boisterous sisters, Chicky prefers no makeup and keeping to the margins. But, as Lita's body increasingly returns to stardust, she resolves to enter the pageant and to enlist Chicky to manage her success.
If Miss Meteor were just to follow the rekindled friendship between Lita and Chicky, it would be an uplifting and touching story–but add in Mejia and McLemore's characteristic magic and intrigue, it is an out of this world adventure. Lita's literal otherworldliness is well-tempered by her somewhat geeky love of cacti and her clumsiness. Chicky's rebellion is grounded by her devotion to her family's struggling restaurant, "Selena's," named for the Tejana superstar who shares their last name (and a woman whom Chicky, despite her standoffish exterior, secretly idolizes). Together, Chicky and Lita's campaign to climb to the top of the pageant allows each to excavate the parts of themselves they had long buried. Confronting the realities of their failures and shortcomings allows them to grow individually and together.
As the great Selena Quintanilla once said, "if you have a dream, don't let anybody take it away. And you always believe that the impossible is always possible." This wisdom holds true for Miss Meteor, as Chicky and Lita defy the odds throughout the book. In alternating chapters, the two narrate their story of overcoming and the power of friendship. The text itself is relatively accessible, in keeping with both Mejia and McLemore's traditionally immersive prose. While the pace is sometimes a bit slow, I was always invested in the characters and their pursuits. Further, the normalized queer content of the book is something that I have found to be a key part of Mejia's and McLemore's oeuvres.
Tehlor Kay Mejia exploded onto the Latinx literature scene with her We Set the Dark on Fire series and Anna-Marie McLemore's opulent books like When the Moon was Ours have been captivating readers for years. So, then, a collaboration between the two clearly sparks magic. Co-authored books like Miss Meteor run the risk of sounding too disparate, not cohering the dual narratives. While it is clear that Chicky belongs to Mejia and Lita is McLemore's, the two blend well together. Chicky's attitude and personality are emblematic of the gritty and industrious characters in Mejia's other books. Likewise, Lita's supernaturality and light share McLemore's trademark magical realism. The balance in the narrative was equal between the two, and I was invested in both Chicky and Lita. Both characters were equally intriguing and I can see readers developing an affinity for either depending on their own personality and interests. Overall, Miss Meteor is a beautiful book, a fun read, and a shining addition to Mejia and McLemore's bibliographies.
.
.
Cris Rhodes is an assistant professor of English at Shippensburg University of Pennsylvania. She teaches courses of writing, culturally diverse literature, and ethnic literatures. In addition to teaching, Cris's scholarship focuses on Latinx youth and their literature or related media. She also has a particular scholarly interest in activism and the ways that young Latinxs advocate for themselves and their communities.