.
Review by Katrina Ortega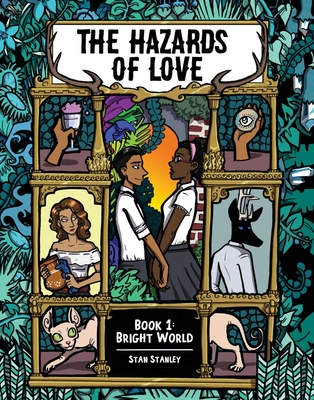 DESCRIPTION OF THE BOOK: The Hazards of Love follows the story of a queer teen from Queens who makes some mistakes, gets dragged into a fantastical place, and tries to hustle their way back home.
Amparo's deal with the talking cat was simple: a drop of blood and Amparo's name to become a better person. Their mother and abuela would never worry about them again, and they'd finally be worthy of dating straight-A student Iolanthe. But when the cat steals their body, becoming the better person they were promised, Amparo's spirit is imprisoned in a land of terrifying, flesh-hungry creatures known as Bright World.
With cruel and manipulative masters and a society that feeds on memories, Amparo must use their cleverness to escape, without turning into a monster like the rest. On "the other side," Iolanthe begins to suspect the new Amparo has a secret, and after the cat in disguise vanishes, she's left searching for answers with a no-nonsense medium from the lesbian mafia and the only person who might know the truth about Bright World.
MY TWO CENTS: Stan Stanley's The Hazards of Love Vol. 1: The Bright World caught me totally off guard. Based on the cover, I was expecting a cute (and fantastical) love story, but I got so much more than that.
First, the artwork in this graphic novel was extraordinarily captivating. It almost felt startling at first–the colors were so strong and dramatic, and the weight of the lines was so bold. But the style, which, I believe, was intentionally done in a way that strengthened the Latinx feel of the story, quickly grew on me. The artwork also adds an air of mystery to the story itself. 
The Bright World–an alternate and fantastical universe–is brought to life through Stanley's artwork. It is a complex world clarified through brightly (pun intended) colored illustrations and sharp, heavy black outline. The vividness of the color helps differentiate which world the story is taking place in (which is helpful, as the story line switches between present day Queens, New York, and the Bright World), and highlights the Latinidad of the storyline, reminding me of the brightness that one might see at a feria or fiesta in Mexico. Both the characters and the places in the Bright World could be mistaken for belonging in a Mexican folklore picture book. 
The story, however, is definitely not one for a picture book! The artwork appeals to young adult readers, and the story itself is definitely not one for kids. The characters of this story are well developed (and some of them are downright creepy), the world is intricate with a very detailed history of its own, and the plot is enticing while often being thrilling and suspenseful.
Amparo, our queer, non-binary main character, is a feisty high schooler when the story begins. Through the betrayal of a mysterious cat, they find their body stolen and are thrust into a mysterious, fantastical world where their life is on the line, with no corporeal body and they're unsure that they'll ever find their way back home. Amparo's experience in the Bright World is terrifying, but shows how cunning and sharp they are as a character, and how dedicated they are to returning to their real world love, Iolanthe, even if that means making a deal with a metaphorical devil and risking any hope they have of survival. All in all, The Hazards of Love Vol 1 was a delightfully fanciful way to begin this series and I'm excitedly awaiting the next volume!
.
ABOUT THE AUTHOR: (via Simon and Schuster):  Stan Stanley makes comics that are sometimes creepy, sometimes funny, but always queer. She's been making comics since she was in high school and has continued doing so throughout various science-related careers when she was supposed to be doing science. Instead, she created Friendly Hostility, The Hazards of Love, and her online journal comic, Stananigans. The Hazards of Love is heavily influenced by the ephemera of the Mexico in which Stan grew up, though she now finds herself in NYC among a lovely crew of weirdos. She lives with her spouse, a large cat, and a larger collection of bones.
.
.
.
.
ABOUT THE REVIEWER: Katrina Ortega (M.L.I.S.) is the manager of the New York Public Library's College and Career Pathways program. Originally from El Paso, Texas, she has lived in New York City for six years. She is a strong advocate of continuing education (in all of its forms) and is very interested in learning new ways that public libraries can provide higher education to all. She is also very interested in working with non-traditional communities in the library, particularly incarcerated and homeless populations. While pursuing her own higher education, she received two Bachelors of Arts degrees (in English and in History), a Masters of Arts in English, and a Masters of Library and Information Sciences. Katrina loves reading most anything, but particularly loves literary fiction, YA novels, and any type of graphic novel or comic. In her free time, if she's not reading, Katrina loves to walk around New York, looking for good places to eat.