.
We are an affiliate with Indiebound and Bookshop. If If you make a purchase through these links, at no additional cost to you, we will earn a small commission.
In addition to listing 2021 titles by/for/about Latinx on our master list, we will remind readers of what's releasing each month. CONGRATULATIONS to these Latinx creators. Let's celebrate these October book babies! Please let us know in the comments if we are missing any.
.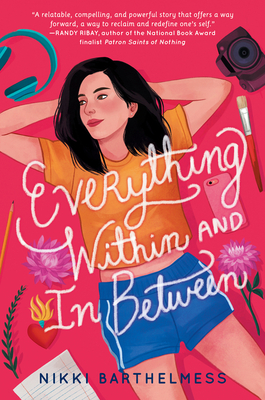 EVERYTHING WITHIN AND IN BETWEEN by Nikki Barthelmess (Harper, October 5, 2021). Young Adult.
For Ri Fernández's entire life, she's been told, "We live in America and we speak English." Raised by her strict Mexican grandma, Ri has never been allowed to learn Spanish.
What's more, her grandma has pulled Ri away from the community where they once belonged. In its place, Ri has grown up trying to fit in among her best friend's world of mansions and country clubs in an attempt try to live out her grandmother's version of the "American Dream."
In her heart, Ri has always believed that her mother, who disappeared when Ri was young, would accept her exactly how she is and not try to turn her into someone she's never wanted to be. So when Ri finds a long-hidden letter from her mom begging for a visit, she decides to reclaim what Grandma kept from her: her heritage and her mom.
But nothing goes as planned. Her mom isn't who Ri imagined she would be and finding her doesn't make Ri's struggle to navigate the interweaving threads of her mixed heritage any less complicated. Nobody has any idea of who Ri really is—not even Ri herself.
.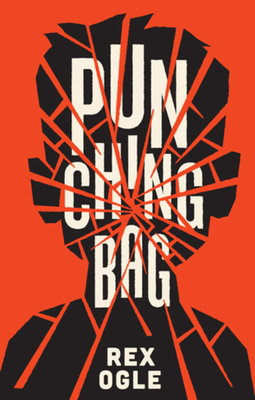 PUNCHING BAG by Rex Ogle. (Norton Young Readers, October 5, 2021). Young Adult. Punching Bag is the compelling true story of a high school career defined by poverty and punctuated by outbreaks of domestic abuse. Rex Ogle, who brilliantly mapped his experience of hunger in Free Lunch, here describes his struggle to survive; reflects on his complex, often paradoxical relationship with his passionate, fierce mother; and charts the trajectory of his stepdad's anger. Hovering over Rex's story is the talismanic presence of his unborn baby sister.
Through it all, Rex threads moments of grace and humor that act as beacons of light in the darkness. Compulsively readable, beautifully crafted, and authentically told, Punching Bag is a remarkable memoir about one teenager's cycle of violence, blame, and attempts to forgive his parents—and himself.
.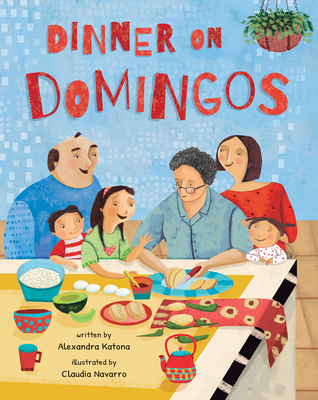 DINNER ON DOMINGOS by Alexandra Katona, illustrated by Claudia Navarro (Barefoot Books, October 11, 2021). Picture Book. "This magical home turns a normal Sunday into domingo: the best day of the week." Warm memories wash over a first-generation Latinx American girl as she experiences a typical Sunday night dinner at her Abuelita's house. Readers are immersed in the rich ways love is expressed within this home: the delicious smells of Ecuadorian home cooking, dancing, hugging and playing games with aunts, uncles and cousins. As Alejandra thinks about all the good times her family has had there, she decides that she wants to be brave and try speaking Spanish with Abuelita so that they can deepen their bond. Based on the author's own life, this timely tale reflects the experience of many families.
.
.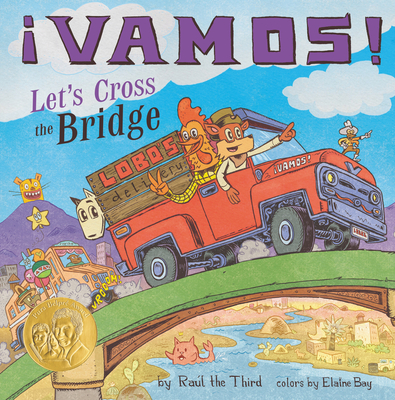 ¡VAMOS! Let's Cross The Bridge by Raúl The Third (Versify, October 12, 2021). Picture Book. Little Lobo and Bernabe are back in this joyful story about coming together and celebrating community. People are always crossing the bridge for work, to visit family, or for play. Some going this way; others going that way. Back and forth they go. With friends on foot and in bicycles, in cars and trucks, the bridge is an incredibly busy place with many different types of vehicles.

Little Lobo and his dog Bernabé have a new truck and they are using it to carry party supplies over the bridge with their pals El Toro and La Oink Oink. The line is long and everyone on the bridge is stuck. How will they pass the time? Eventually everyone comes together for an epic party on the bridge between two different countries. Richard Scarry's Cars and Trucks and Things That Go gets Mexican American makeover in this joyful story about coming together.
.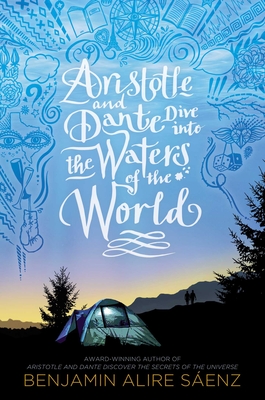 ARISTOTLE AND DANTE DIVE INTO THE WATERS OF THE WORLD by Benjamin Alire Sáenz (Simon & Schuster Books for Young Readers, October 12, 2021). Young Adult. In Aristotle and Dante Discover the Secrets of the Universe, two boys in a border town fell in love. Now, they must discover what it means to stay in love and build a relationship in a world that seems to challenge their very existence.
Ari has spent all of high school burying who he really is, staying silent and invisible. He expected his senior year to be the same. But something in him cracked open when he fell in love with Dante, and he can't go back. Suddenly he finds himself reaching out to new friends, standing up to bullies of all kinds, and making his voice heard. And, always, there is Dante, dreamy, witty Dante, who can get on Ari's nerves and fill him with desire all at once.
The boys are determined to forge a path for themselves in a world that doesn't understand them. But when Ari is faced with a shocking loss, he'll have to fight like never before to create a life that is truthfully, joyfully his own.
.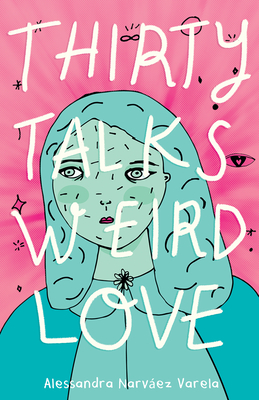 THIRTY TALKS WEIRD LOVE by Alessandra Narváez Varela (Cinco Puntos Press, October 12, 2021). Young Adult. Out of nowhere, a lady comes up to Anamaria and says she's her, from the future. But Anamaria's thirteen, she knows better than to talk to some weirdo stranger. Girls need to be careful, especially in Ciudad Juárez, Mexico–it's the 90's and fear is overtaking her beloved city as cases of kidnapped girls and women become alarmingly common. This thirty-year-old "future" lady doesn't seem to be dangerous, but she won't stop bothering her, switching between cheesy Hallmark advice about being kind to yourself, and some mysterious talk about saving a girl.
Anamaria definitely doesn't need any saving, she's doing just fine. She works hard at her strict, grade-obsessed middle school–so hard that she hardly gets any sleep; so hard that the stress makes her snap not just at mean girls but even her own (few) friends; so hard that when she does sleep she dreams about dying–but she just wants to do the best she can so she can grow up to be successful. Maybe Thirty's right. Maybe she's not supposed to be so exhausted with her life, but how can she ask for help when her city is mourning the much bigger tragedy of its stolen girls?
.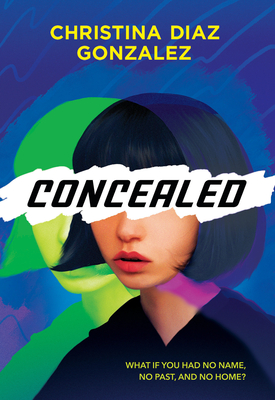 CONCEALED by Christina Diaz Gonzalez (Scholastic Press, October 19, 2021). Middle Grade. Katrina believes that she and her parents are part of the Witness Protection Program. That's why they keep switching towns, and names, and identities… right?
But when her father disappears, Katrina learns that she's the reason they've been hiding all these years. And it's not just her identity that is called into question-but her very humanity.
.
.
.
.
.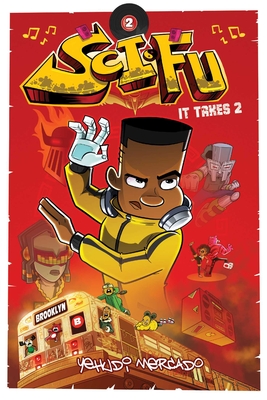 SCI-FU: IT TAKES 2 written and illustrated by Yehudi Mercado (Oni Press, October 19, 2021). Graphic Novel. Wax, aspiring DJ and sci-fu master-in-training, made it back safely from the alien robot planet of Discopia, where he defeated the Five Deadly Dangers and became the rightful king of Discopia. He doesn't want the crown, though. He just wants things to go back to normal. Wax and his crew thought the robot trouble was behind them, but strange creatures have been showing up in Brooklyn, and Wax is determined to take care of them once and for all. Little does he know, there's a new villain in Discopia, and she'll do anything to take the crown from Wax. Wax starts to worry he doesn't have what it takes to protect his family, friends, and all of Brooklyn from the new threats. Wax will need to kick his hip-hop and sci-fu training into high gear—and learn to rely on his family and friends for help—if he's going to have a shot at saving his neighborhood.
.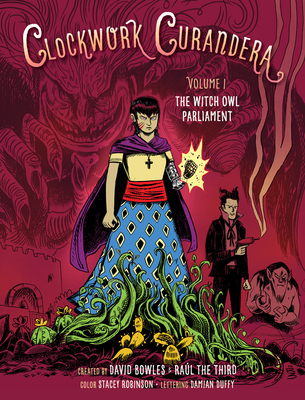 THE WITCH OWL PARLIAMENT by David Bowles and Raúl the Third. (Tu Books, October 19, 2021). Graphic Novel. Discover a graphic novel unlike any other–a brilliant steampunk reimagining of Frankenstein set in colonial Mexico.
In the Republic of Santander, non-Christian magic is frowned upon, if not outright prohibited. But when Cristina Franco, an apprentice shaman, is killed by witch owls, her brother Enrique cannot let her go. With forbidden alchemy and engineering, Enrique brings her back to life: part human, part machine. Though her very existence is an abomination to Santander's citizens, Cristina vows to use her new abilities to protect her country from attack.
With help from a handsome skinwalker named Mateo, Cristina and Enrique track down the witch owl coven and uncover a sinister plot to bring Santander under the rule of the Witch Owl Parliament, whose legendary cruelty would dismantle the country's hard-won freedoms. At the same time, Indigenous folks and immigrants are disappearing from Santander–including Enrique's beloved, Gaspar. Could the attacks and the disappearances be related? As the witch owls attack more trains and more refugees go missing, the trio must uncover the witch owls' origins to understand their weakness.
Energetic illustrations by Pura Belpr Award winner Ra l the Third bring to life the words of award-winning author and poet David Bowles. Don't miss this amazing first volume of the Clockwork Curandera trilogy.
.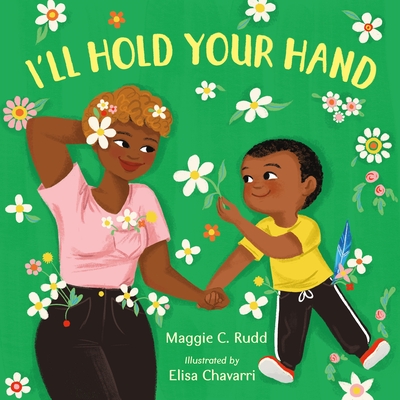 I'LL HOLD YOUR HAND by Maggie C. Rudd, illustrated by Elisa Chavarri (Farrar, Straus and Giroux BYR, October 26, 2021). Picture Book. I'll Hold Your Hand celebrates the unbreakable bond of family, and all the ways our actions can say "I love you" louder than words.
.
.
.
.
.
.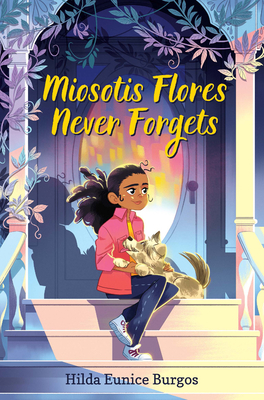 MIOSOTIS FLORES NEVER FORGETS by Hilda Eunice Burgos (Tu Books, October 26, 2021). Middle Grade. Miosotis Flores is excited about three things: fostering rescue dogs, goofy horror movies, and her sister Amarilis's upcoming wedding. School? Not on that list. But her papi cares about school more than anything else, so they strike a deal: If Miosotis improves her grades in two classes, she can adopt a dog of her own in the summer.
Miosotis dives into her schoolwork, and into nurturing a fearful little pup called Freckles. Could he become her forever dog? At the same time, she notices Amarilis behaving strangely–wearing thick clothes in springtime, dropping her friends in favor of her fianc , even avoiding Miosotis and the rest of their family.
When she finally discovers her sister's secret, Miosotis faces some difficult choices. What do you do if someone is in danger, but doesn't want your help? When should you ask for support, and when should you try to handle things on your own? And what ultimately matters most–what Miosotis wants, or what's right for the ones she loves?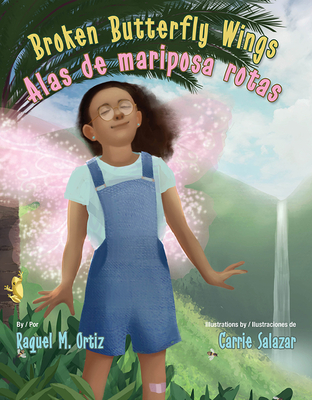 BROKEN BUTTERFLY WINGS / Alas De Mariposa Rotas by Raquel M. Ortiz, illustrated by Carrie Salazar (Piñata Books, October 31, 2021). Picture Book. Gabriela is super excited when her gift from Titi Sylvia finally arrives. She loves the colorful, glittery butterfly wings! She stands in the middle of her room and flaps and flaps her new wings, but nothing happens. She jumps off her bed, vigorously moving the wings up and down, but again, nada. She hops down the hallway and the stairs, but she still can't fly!
Disappointed, Gabriela goes to the garage, digs into her father's toolbox and sets about trying to fix the broken butterfly wings. Maybe she can add a battery or an engine. Her father has a better idea, though, and encourages her to close her eyes and think about where she would like to fly. Soon she is envisioning El Yunque, a rainforest on the island of Puerto Rico that is full of tall green trees, humming waterfalls and chattering birds. She can even hear the coquí, a tiny tree frog that lives only on the island, singing its special song: coquí-coquí.
Demonstrating the joy found in using one's imagination, this bilingual picture book depicts a young girl drawing on her senses—smell, hearing, sight—to return to a beloved place. Kids will appreciate the beauty of the rainforest's birds, frogs and other natural wonders while admiring a strong girl willing to create solutions to problems.
.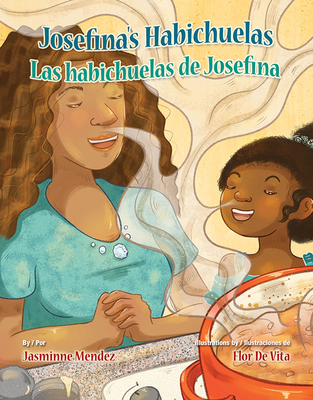 JOSEFINA'S HABICHUELAS / Las Habichuelas De Josefina by Jasminne Mendez, illustrated by Flor de Vita, translated by Adnaloy Espinosa (Piñata Books, October 31, 2021). Picture Book. Like all kids, Josefina loves to eat sweets. She loves warm chocolate chip cookies right out of the oven, cupcakes and candy! One night, while eating a piece of flan, Mami asks her to consider giving up sweets for Lent, the 40 days leading up to Easter. "That's impossible!" Josefina says. When Mami promises to teach her how to make her favorite dessert, habichuelas con dulce, she agrees to give it a try.
Josefina can't wait to end her fast and eat the delicious sweet cream beans, her family's traditional Easter dessert. While she and her mom, tías and abuela prepare the dish, they dance to merengue music and tell stories about life back in the Dominican Republic. The kitchen fills with the aromatic smells of cinnamon and sugar, but it's the feelings of love and happiness Josefina will never forget. On Easter Sunday, when the family eats the special dessert she prepared, the girl's grandmother proclaims, "It's the best pot of habichuelas con dulce I've tasted in my life!"
This heart-warming, bilingual picture book for children shares a universal story all kids can relate to—learning about one's culture through food, music and family stories—while focusing on a cultural tradition specific to the Dominican Republic. As a bonus, the book includes the recipe for this special dessert—in both English and Spanish!
.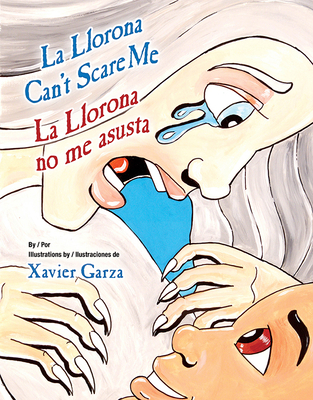 LA LLORONA CAN'T SCARE ME / La Llorona no me asusta by Xavier Garza (Piñata Books, October 31, 2021). Picture Book. Little Damian is getting ready for bed, and the spooky monster called La Llorona is hollering up a storm outside his bedroom window. But he's not afraid. "You can't scare me, silly Llorona," says Damian, "and neither can your monster friends!"
When evil-looking witch owls fly around his room and little green duendes, or goblins, make creepy noises under his bed, he's still not frightened. Not even a little bit. The Donkey Lady, a chupacabras and even some little devils parade through his room, but Damian still isn't afraid. A witch casting spells, a ghost rattling its chains, a cucuy with a burlap bag to catch him … nada. None of them can terrify brave little Damian. How can a little boy like him be so fearless?!?
No one knows it, but Damian has a secret weapon: a night light shaped like a mighty wrestler wearing a silver mask. When he plugs it in, its bright light terrifies all the monsters and sends them running for a place to hide! Touching on issues such as bedtime rituals and nighttime terrors, children ages 4-8 will enjoy this entertaining story that features creepy creatures familiar to many Hispanic kids.
.
VINCENT VENTURA AND THE CURSE OF THE WEEPING WOMAN / VINCENT VENTURA Y LA MALDICIÓN DE LA LLORONA by Xavier Garza ((Piñata Books, October 31, 2021). Middle Grade. Vincent Ventura, monster fighter extraordinaire, can't believe the house at 666 Duende Street has attracted yet another creepy creature! In fact, this time there are several unusual beings, including two boys who disappear and reappear—are they ghosts?!? And the lady in white with fiery glowing eyes who calls out for them? Is she … La Llorona?!? And who is the other young woman?
The next day at school, Vincent and his cousins Bobby and Michelle meet a new substitute teacher, Ms. Malin Che, who just moved into the haunted house. What is her connection to La Llorona and the unusual children? At least this time, the kids have new friends to help solve the mystery: Sayer, who they helped in a previous battle with trolls, or duendes, and Zulema, a witch owl who was the target of evil witches.
As the relationship between Vincent and Zulema evolves, becoming more complex and exciting, so too does the current case! Two new beings turn up: a hideous figure dressed as a Mexican cowboy whose face is devoid of flesh and a second spooky woman! Ms. Che, a Latin American folklore expert, tells them about el Charro Negro and the weeping women collectively called Cihuateteos. This bilingual book for intermediate readers, the fourth installment in Garza's Monster Fighter Mystery series, follows the nail-biting battle for the souls of two boys! Will Vincent and his friends be able to save them from the monsters' clutches?!?
.
CHRONICLES OF A LUCHADOR by Ray Villareal (Piñata Books, October 31, 2021). Young Adult. Jesse Baron, the son of the American Championship Wrestling star known as the Angel of Death, is about to graduate from high school. His parents expect him to attend the University of Texas and study mechanical engineering, something he's not interested in.
The young man knows he would be a natural at professional wrestling, and with his father's help he might even reach the same level of fame and success. But the Angel of Death, retired from the ACW and running a wrestling promotion and school, refuses to train his son for fear he will choose sports entertainment over a college degree. Jesse decides that once he gets settled at UT, he's going to look for another place to wrestle. To keep his father from finding out, he'll promote himself as a masked luchador from Oaxaca, Mexico, named Máscara de la Muerte. When no one will hire him, Jesse reluctantly considers joining a lucha libre organization, even though he doesn't speak Spanish. Will the fans and his fellow wrestlers see him as a luchador—or just a gringo with a mask?
In this stand-alone sequel to his acclaimed novels, My Father, the Angel of Death and Body Slammed!, Ray Villareal continues his exploration of a teenager growing into manhood against the backdrop of the wrestling world.
.
CHANCES IN DISGUISE by Diana J. Noble (Piñata Books, October 31, 2021). Young Adult. In this sequel to Evangelina Takes Flight, the young girl who left her home during the Mexican Revolution to start over in a small Texas border town is now seventeen. She has had several years of medical training with her mentor, Doc Taylor, but when a doctor from a neighboring town finds her helping an Anglo woman in labor, he is enraged. He calls her a dirty Mexican and kicks her out. The next day, Evangelina is arrested for murder.
The racist sheriff and many of the townspeople believe Mexicans are inferior and that Evangelina must be guilty of using witchcraft to kill the pregnant woman. But she isn't all alone. Doc Taylor believes in her innocence, as does Cora Cavanaugh, the spirited daughter of a wealthy businessman. And there's Selim Njaim, a young Muslim with whom she has a forbidden relationship. Soon La Liga Protectora Mexicana assigns someone to represent her, but will Joaquín Castañeda be able to convince the jury that Evangelina is not a murderer?
Set in Texas in 1915, this eye-opening historical novel for young adults reveals the racial inequity in the justice system, the discrimination experienced by Mexicans and other non-whites and the limitations placed on women. Teens will relate to the theme of finding confidence and bravery in times of uncertainty, while learning about the harassment, torture and killing of innocent Mexicans and Tejanos in the early part of the twentieth century.