Reviewed by Jessica Walsh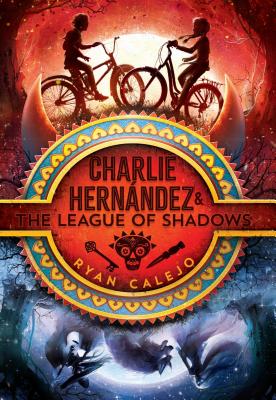 DESCRIPTION FROM THE PUBLISHER: Charlie Hernández has always been proud of his Latin American heritage. He loves the culture, the art, and especially the myths. Thanks to his abuela's stories, Charlie possesses an almost encyclopedic knowledge of the monsters and ghouls who have spent the last five hundred years haunting the imaginations of children all across the Iberian Peninsula, as well as Central and South America. And even though his grandmother sometimes hinted that the tales might be more than mere myth, Charlie's always been a pragmatist. Even barely out of diapers, he knew the stories were just make-believe—nothing more than intricately woven fables meant to keep little kids from misbehaving.
But when Charlie begins to experience freaky bodily manifestations—ones all too similar to those described by his grandma in his favorite legend—he is suddenly swept up in a world where the mythical beings he's spent his entire life hearing about seem to be walking straight out of the pages of Hispanic folklore and into his life. And even stranger, they seem to know more about him than he knows about himself.
Soon, Charlie finds himself in the middle of an ancient battle between La Liga, a secret society of legendary mythological beings sworn to protect the Land of the Living, and La Mano Negra (a.k.a. the Black Hand), a cabal of evil spirits determined to rule mankind. With only the help of his lifelong crush, Violet Rey, and his grandmother's stories to guide him, Charlie must navigate a world where monsters and brujas rule and things he couldn't possibly imagine go bump in the night. That is, if he has any hope of discovering what's happening to him and saving his missing parents (oh, and maybe even the world).
No pressure, muchacho.
MY TWO CENTS: "Myths, my abuela used to say, are truths long forgotten by the world."
Mythological figures are as real as anything in Charlie Hernández and the League of Shadows. This debut middle grade from Ryan Calejo takes readers both familiar and unfamiliar with Latin American mythology (and everywhere in between) on a crash course of myths from all over the Spanish-speaking world.
Charlie is in middle school, where standing out for any reason can make you a target. When Charlie suddenly sprouts horns (which go away) and feathers (which keep growing back) soon after his parents disappear, Charlie knows he has to try to stay under the radar. One school bully targets Charlie for being born in Puebla, Mexico. That same bully jokes about Charlie's parents being deported because news has spread that they have been missing for two months. Surprising everyone, including Charlie, popular girl Violet Rey stands up to the bully in defense of Charlie when the bully tries to steal a locket left behind by his mother. "No sweat. I can't stand racists or bullies — and especially not racist bullies." With Violet's help, Charlie discovers a map inside the locket that matches the layout of an old cemetery in town.
While investigating the cemetery with hopes of finding clues to his parents' whereabouts, Charlie and Violet encounter the first of many mythical figures — a mysterious groundskeeper who is actually a calaca, a walking, talking skeleton who tries to kill them! But Charlie uses knowledge his abuela gave him about Juancho Ramirez, who had cheated Death, a calaca in the fable. Juancho knew calacas were traders by nature and loved trinkets, in particular, which could be bartered to save your life. The calaca/groundskeeper wants to trade Charlie for his map, and on closer inspection, tells Charlie it is an ancient map handsketched by la Calavera Catrina. The map shows the way to the world between worlds. The calaca/groundskeeper confirms that all Hispanic myths are real. The calaca's explanation is that "the landmasses currently known as Central America, South America, and the Iberian Peninsula are closer in metaphysical proximity to the spirit realm than anywhere else on the planet."
And so begins a journey to find out where Charlie's parents are. Charlie must use all of the knowledge his abuela shared with him to stay alive even when enemies of La Liga de Sombras try to kill him. One after another, famous mythological figures show up to either help or harm, believing Charlie to be the Morphling, a hero who defeats the world's most powerful witch. All in all, over twenty mythological figures from all over the Spanish-speaking world make appearances, along with brief explanations, usually from Charlie himself.
The conclusion is satisfying, yet clearly leads the reader to believe that more is to come for Charlie. The sequel, Charlie Hernández and the Castle of Bones releases October 22, 2019.
Spanish is used throughout the story, often with English translations, though readers will notice that italics are only used to show emphasis, whether Spanish or English. A glossary provides more information about each mythological figure that appears in the book.
Charlie Hernández and the League of Shadows is fast-paced and funny — just right for readers who are looking for adventure!
ABOUT THE AUTHOR: Ryan Calejo was born and raised in south Florida. He graduated from the University of Miami with a BA. He's been invited to join both the National Society of Collegiate Scholars and the Golden Key International Honour Society. He teaches swimming to elementary school students, chess to middle school students, and writing to high school students. Having been born into a family of immigrants and growing up in the so-called "Capital of Latin America," Ryan knows the importance of diversity in our communities and is passionate about writing books that children of all ethnicities can relate to. Charlie Hernández & the League of Shadows is his first novel.
ABOUT THE REVIEWER: Jessica Walsh is a K-12 ELA Instructional Specialist from suburban Chicago. She has been a middle school teacher for twelve years. She holds degrees in Secondary English Education and Reading Instruction. She is a mom, an avid reader, and a strong advocate for equity in education. You can find her on Twitter at @storiestoldinsf.