.
We are an affiliate with Indiebound and Bookshop. If If you make a purchase through these links, at no additional cost to you, we will earn a small commission.
In addition to listing 2022 titles by/for/about Latinx on our master list, we will remind readers of what's releasing each month.
CONGRATULATIONS to these Latinx creators. Let's celebrate these April book babies!
.
.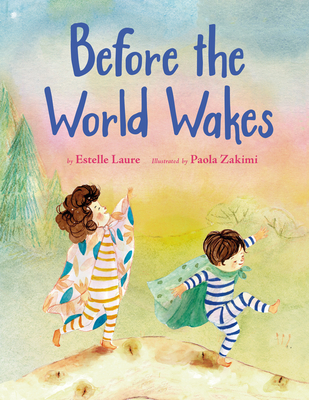 BEFORE THE WORLD WAKES by Estelle Laure, illustrated by Paola Zakimi (Two Lions, April 1, 2022). Picture Book. When everything is still gentle and quiet-ish and the stars say good morning at the same time they say good night, a brother and sister venture outside. They marvel at the dance of the snails and the birdsong that surrounds them. And then they join in, reveling in the early morning–and their time together before the rest of the world wakes.
.
.
.
.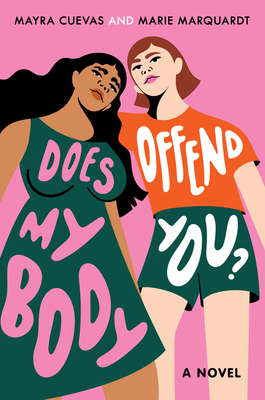 DOES MY BODY OFFEND YOU? by Mayra Cuevas and Marie Marquardt. (Knopf Books for Young Readers, April 5, 2022.) Young Adult. Malena Rosario is starting to believe that catastrophes come in threes. First, Hurricane María destroyed her home, taking her unbreakable spirit with it. Second, she and her mother are now stuck in Florida, which is nothing like her beloved Puerto Rico. And third, when she goes to school bra-less after a bad sunburn and is humiliated by the school administration into covering up, she feels like she has no choice but to comply.

Ruby McAllister has a reputation as her school's outspoken feminist rebel. But back in Seattle, she lived under her sister's shadow. Now her sister is teaching in underprivileged communities, and she's in a Florida high school, unsure of what to do with her future, or if she's even capable of making a difference in the world. So when Ruby notices the new girl is being forced to cover up her chest, she is not willing to keep quiet about it.

Neither Malena nor Ruby expected to be the leaders of the school's dress code rebellion. But the girls will have to face their own insecurities, biases, and privileges, and the ups and downs in their newfound friendship, if they want to stand up for their ideals and––ultimately––for themselves.
.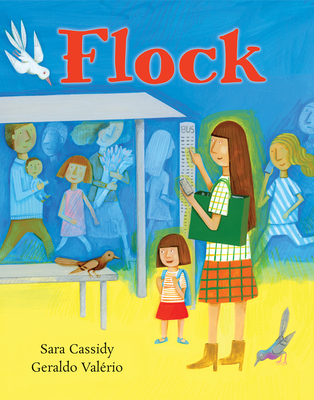 FLOCK by Sara Cassidy, illustrated by Geraldo Valério (Groundwood Books, April 5, 2022). Picture Book. Lunch turns into bird food when a little girl starts feeding birds at the bus stop. First, a pigeon she names Serious comes pecking, and then Fancy and Sleepy gather to gobble up the offerings. But what happens when more and more birds want to join in on the feast? And what are all these fantastical birds doing in the city, anyway?
.
.
.
.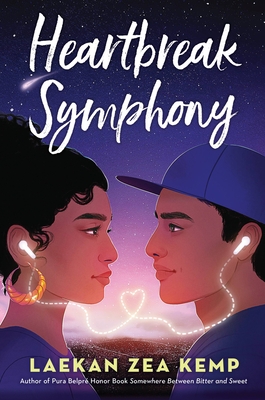 HEARTBREAK SYMPHONY by Laekan Zea Kemp. (Little, Brown Books for Young Readers, April 5, 2022). Young Adult. Aarón Medrano has been haunted by the onstage persona of his favorite DJ ever since his mother passed away. He seems to know all of Aarón's deepest fears, like that his brain doesn't work the way it should and that's why his brother and father seem to be pushing him away. He thinks his ticket out is a scholarship to the prestigious Acadia School of Music. That is, if he can avoid blowing his audition.
Mia Villanueva has a haunting of her own and it's the only family heirloom her parents left her: doubt. It's the reason she can't overcome her stage fright or believe that her music is worth making. Even though her trumpet teacher tells her she has a gift, she's not sure if she'll ever figure out how to use it or if she's even deserving of it in the first place.
When Aarón and Mia cross paths, Aarón sees a chance to get close to the girl he's had a crush on for years and to finally feel connected to someone since losing his mother. Mia sees a chance to hold herself accountable by making them both face their fears, and hopefully make their dreams come true. But soon they'll realize there's something much scarier than getting up on stage—falling in love with a broken heart.
.
HIGH SPIRITS by Camille Gomera-Tavarez (Levine Querido, April 5, 2022). Middle Grade. High Spirits is a collection of eleven interconnected short stories from the Dominican diaspora, from debut author Camille Gomera-Tavarez. It is a book centered on one extended family – the Beléns – across multiple generations. It is set in the fictional small town of Hidalpa – and Santo Domingo and Paterson and San Juan and Washington Heights too. It is told in a style both utterly real and distinctly magical – and its stories explore machismo, mental health, family, and identity.
.
.
.
.
.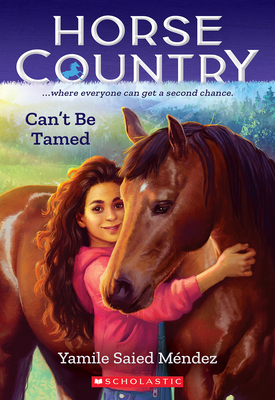 HORSE COUNTRY: Can't Be Tamed (Horse Country #1) by Yamile Saied Méndez (Scholastic, April 5, 2022). Middle Grade. Welcome to Paradise Ranch, where everyone can get a second chance. Carolina Aguasvivas grew up on Paradise Ranch, which she knows down to every last pony. But things are sure to change when the new owner's daughter, Chelsie Sánchez, sweeps in with an attitude and a feisty Thoroughbred named Velvet. The mare is skittish, headstrong, and hurt — and Carolina is determined to ride her.
Chelsie, who considers herself too good to clean stalls, certainly doesn't seem like a real horse girl. Caro knows she's the only one who can help Velvet recover, and she's ready to prove it — no matter what it takes.
The girls may discover they have more in common than they think… including a passion for bringing the healing power of horses to every kid.
.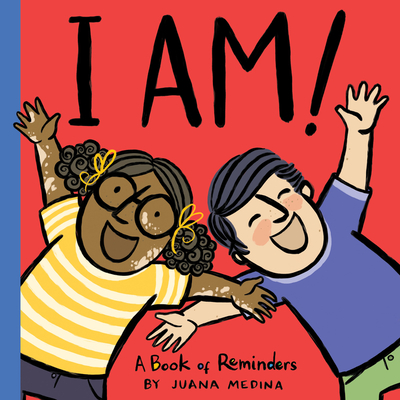 I AM!: A Book of Reminders by Juana Medina (Versify, April 5, 2022). Picture Book.
I am strong.
I am confident.
I am funny.
The words and pictures in this book are here to remind the reader how wonderful they are! Focusing on helping to build emotional literacy, self-esteem, and self-worth as well as improving communication skills, this new series is the perfect read aloud for kids and adults of any age!
.
.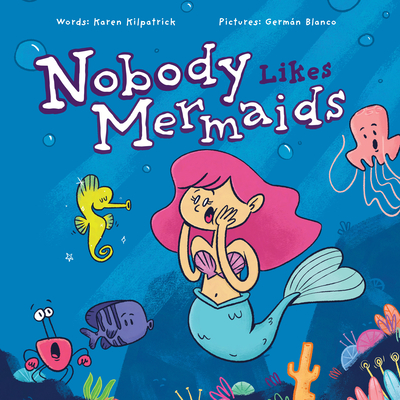 NOBODY LIKES MERMAIDS by Karen Kilpatrick, illustrated by Germán Blanco (Genius Cat Books, April 5, 2022). Picture Book. When a seahorse tries to convince a group of sea creatures why nobody likes mermaids, will it be the seahorse who learns something in the end? Come along on this imaginative, laugh out loud adventure and learn why nobody likes mermaids (hint: it's because everybody loves them ).
.
.
.
.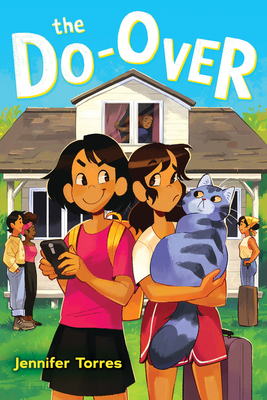 THE DO-OVER by Jennifer Torres (Scholastic, April 5, 2022). Middle Grade. The Mendoza sisters need a do-over!
Raquel and Lucinda used to be inseparable. But ever since their parents split, Raquel has been acting like editor-in-chief of their lives. To avoid her overbearing sister, Lucinda spends most of her time with her headphones on, practicing her skating routine.
Then a pandemic hits, and the sisters are forced to spend the lockdown at their dad's ranch house. Suddenly Raquel sees a chance to get back everything they've lost. If they can convince their mom to come along, maybe they can get their parents to fall in love again and give their family a second chance, a do-over.
But at the ranch, they get a not-so-welcome surprise: their dad's new girlfriend and her daughter are already living there! Lucinda finds she actually likes them, which only makes Raquel more desperate to get rid of them. And as her Raquel's schemes get more and more out of hand, Lucinda starts to wonder what they are really fighting for. Is trying to bring the Mendoza family back together really just tearing them further apart?
.
SCOUT'S HONOR by Lily Anderson ( Henry Holt and Co., April 5, 2022). Young Adult. Sixteen-year-old Prudence Perry is a legacy Ladybird Scout, born to a family of hunters sworn to protect humans from mulligrubs—interdimensional parasites who feast on human emotions like sadness and anger. Masquerading as a prim and proper ladies' social organization, the Ladybirds brew poisons masked as teas and use knitting needles as daggers, at least until they graduate to axes and swords.
Three years ago, Prue's best friend was killed during a hunt, so she kissed the Scouts goodbye, preferring the company of her punkish friends lovingly dubbed the Criminal Element much to her mother and Tía Lo's disappointment. However, unable to move on from her guilt and trauma, Prue devises a risky plan to infiltrate the Ladybirds in order to swipe the Tea of Forgetting, a restricted tincture laced with a powerful amnesia spell.
But old monster-slaying habits die hard and Prue finds herself falling back into the fold, growing close with the junior scouts that she trains to fight the creatures she can't face. When her town is hit with a mysterious wave of demons, Prue knows it's time to confront the most powerful monster of all: her past.
.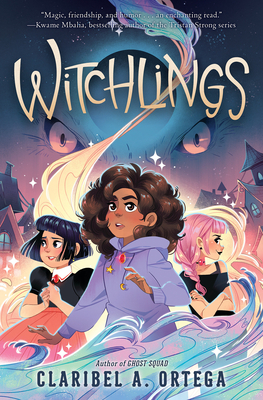 WITCHLINGS by Claribel A. Ortega (Scholastic Press, April 5, 2022). Middle Grade. Every year, in the magical town of Ravenskill, Witchlings who participate in the Black Moon Ceremony are placed into covens and come into their powers as full-fledged witches.
And twelve-year-old Seven Salazar can't wait to be placed in the most powerful coven with her best friend! But on the night of the ceremony, in front of the entire town, Seven isn't placed in one of the five covens. She's a Spare!
Spare covens have fewer witches, are less powerful, and are looked down on by everyone. Even worse, when Seven and the other two Spares perform the magic circle to seal their coven and cement themselves as sisters, it doesn't work! They're stuck as Witchlings—and will never be able to perform powerful magic.
Seven invokes her only option: the impossible task. The three Spares will be assigned an impossible task: If they work together and succeed at it, their coven will be sealed and they'll gain their full powers. If they fail… Well, the last coven to make the attempt ended up being turned into toads. Forever.
But maybe friendship can be the most powerful magic of all…
.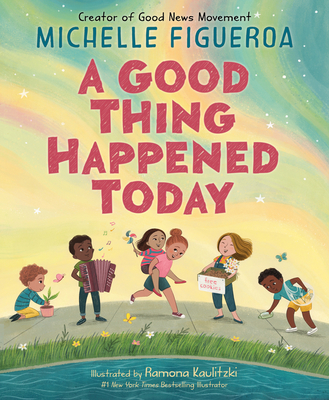 A GOOD THING HAPPENED TODAY by Michelle Figueroa, illustrated by Ramona Kaulitzki (HarperCollins, April 12, 2022). Picture Book.
A good thing happened today. Hooray! Did you hear?
Good things are happening every day, and everywhere!
A rhythmic collection of happiness and hope inspired by real-life good news, this book reminds us that there are positive things happening every day and we can all be a part of it.
.
.
.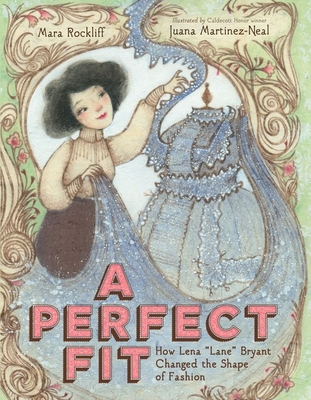 A PERFECT FIT: How Lena "Lane" Bryant Changed the Shape of Fashion (Clarion Books, April 12, 2022). Picture Book. Lena came to America with nothing but a dream—and an exceptional ability to drape and snip and stitch. She never used a pattern or a tape measure, but every dress she sewed turned out to be a perfect fit.
Then, one day, a customer presented her with a new challenge. Could she design a stylish, comfortable gown for a body shape that did not meet the current standards of fashion?
Lena took the challenge. Under the company name Lane Bryant, she became famous for flattering and modish clothing designed for all different shapes and sizes. The world of fashion would never be the same.
.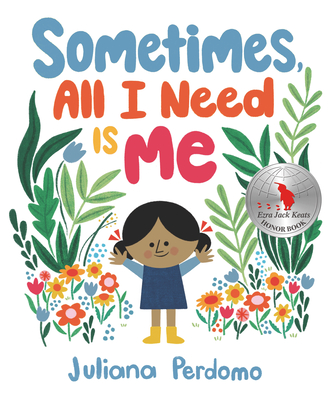 SOMETIMES, ALL I NEED IS ME by Juliana Perdomo (Candlewick, April 12, 2022). Picture Book.
I love listening to music, especially samba!
It feels like my heart follows the beat.
Meet a young girl who loves her cozy home. It smells like cinnamon tea and feels like warm pajamas. But even when she's away from home, and everything is different, she finds a way to become her own home, where she feels calm. At night, when it's too dark and her feet are cold, her room can be a little scary. But she creates her own light when she closes her eyes and thinks of the sun.
.
.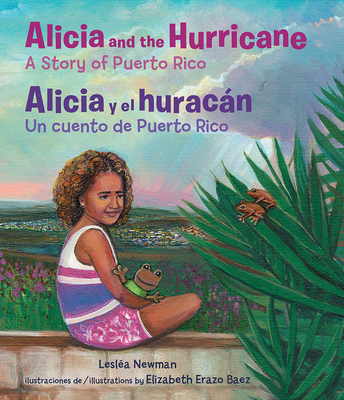 ALICIA AND THE HURRICANE: A Story of Puerto Rico/ALICIA Y EL HURICÁN: Un cuento de Puerto Rico by Lesléa Newman, illustrated by Elizabeth Erazo Baez, translated by Georgina Lazaro (Children's Book Press, April 19, 2022). Picture Book. After snuggling into bed each night, Alicia listens for the big voices of the tiny coquíes that live all around Puerto Rico and sing her to sleep. Ko-kee, ko-kee, the little frogs call. Ko-kee, ko-kee.
One day a terrible hurricane comes to Puerto Rico, and Alicia and her family take refuge in a shelter. At bedtime Alicia hears grown-ups snoring and babies crying, wind howling and rain pounding. But even though she listens hard, she cannot hear the song of the coquíes. Are the little tree frogs safe? And what will Alicia and her family find at home when the storm is over?
.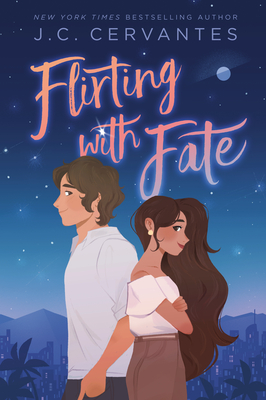 FLIRTING WITH FATE by J.C. Cervantes (Razorbill, April 19, 2022). Young Adult. Ava Granados will never forgive herself for being late to her beloved nana's deathbed. But due to a flash flood that left Ava in a fender bender with a mysterious boy, she missed her grandmother's mystical blessing—one that has been passed between the women of her family upon death for generations.

Then Nana's ghost appears with a challenge from beyond the grave. As it turns out, Nana did give Ava a blessing, but it missed its target, landing with the boy from the night of the storm instead. Was it fate? Ava refuses to believe so. With the help of her sisters and Nana's rather bumbling spiritual guide, she's determined to reclaim her share of the family magic and set Nana free.

For guarded Ava, befriending some random boy is the last thing she wants to do. She's gotten along just fine protecting her heart—keeping people at a distance is a great way to ensure no one ever hurts you. But as Ava embarks on her mission to retrieve the lost blessing, she starts to wonder if getting close to thunderstorm boy is worth the risk.
.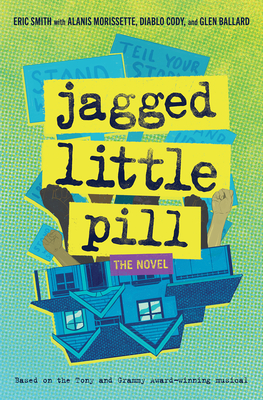 JAGGED LITTLE PILL: The Novel by Eric Smith with Alanis Morissette, Diablo Cody, and Glen Ballard (Amulet Books, April 26, 2022). Young Adult. Jagged Little Pill: The Novel follows the intertwining lives of five teens whose world is changed forever after the events at a party.
Adopted Frankie struggles to see eye-to-eye with her mother—who would rather ignore a problem and preserve their "perfect" life than stand up for what's right. Jo just wants her mom to accept her queer identity—and is totally crushed when Frankie, the only person who really gets her, finds herself infatuated with someone new. Phoenix tries to find his place at the new school and balance wanting to spend time with Frankie but knowing he also has to help out with his sick sister at home. Bella wants to enjoy the end of high school and just head off to college without a hitch. Everyone expects Frankie's brother Nick to be the golden boy, but even though he just got into his dream school, he's not even sure he's a good person. Each of their stories intersects when Bella is sexually assaulted at a party, and it looks like the perpetrator might get away with it.
.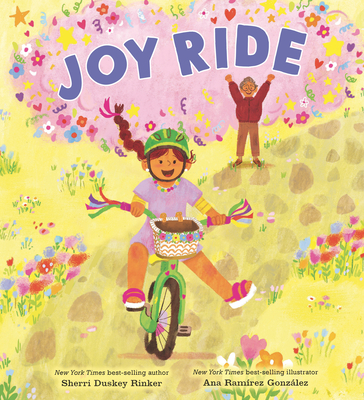 JOYRIDE by Sherry Duskey Rinker, illustrated by Ana Ramírez González (Candlewick, April 26, 2022). Picture Book.
Needing something to fill up her summer days, Joy seeks out her granddad, who also likes to tinker, for something to do. Together they find the perfect project: sprucing up an old bike for Joy. From hardware stores to garage sales, the two find everything they need to transform this bike, little by little, into something that's truly one of a kind. Ornamented with sparkles, a basket, and a brand-new bell, the bike is finally ready for Joy to ride it all over the neighborhood, filling the air with her own kind of music that exudes JOY.
But when a few kids take notice of Joy's bike, and not in a good way, Joy makes an impulsive decision that ruins the dazzling bike she and Granddad worked so hard on. Joy realizes quickly, however, that trying to fit in can be boring, and it doesn't make her feel JOY. Just maybe, with a heartfelt apology and Granddad's help, she can get back on track to being true to herself. This touching story, told by Sherri Duskey Rinker and Ana Ramírez González, addresses the moments of uncertainty when trying to fit in with the crowd, and exclaims the joyful exuberance of self-expression.
.