LUCÍA THE LUCHADORA
Review by Dr. Sanjuana Rodriguez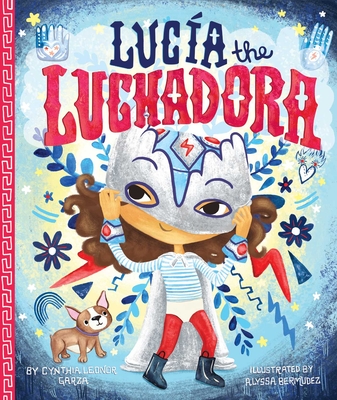 DESCRIPTION OF THE BOOK: Lucía zips through the playground in her cape just like the boys, but when they tell her "girls can't be superheroes," suddenly she doesn't feel so mighty. That's when her beloved abuela reveals a dazzling secret: Lucía comes from a family of luchadoras, the bold and valiant women of the Mexican lucha libre tradition. Cloaked in a flashy new disguise, Lucía returns as a recess sensation! But when she's confronted with a case of injustice, Lucía must decide if she can stay true to the ways of the luchadora and fight for what is right, even if it means breaking the sacred rule of never revealing the identity behind her mask. A story about courage and cultural legacy, Lucía the Luchadora is full of pluck, daring, and heart.
MY TWO CENTS: The cover of the book is flashy with a larger than life young girl in a luchadora outfit. The story begins with Lucía playing on the playground where there are two other boys. Lucía tries to play with the boys, but they are not interested in playing with her. One of the boys tells Lucia that "girls can't be superheroes" and she gets angry that they have told her this. That's when Lucia's abuela whispers a secret to Lucía. Abuela shows Lucia her cape and mask and tells her about the Mexican lucha libre tradition. She shares that she was a luchadora as a young girl and tells her that "a luchadora has moxie. She is brave and full of heart, and isn't afraid to fight for what is right." The next day, Lucia goes back to the playground wearing her luchadora cape and mask. Everyone notices Lucía, but she does not reveal her identity to the kids. One day when she is playing she notices another luchadora dressed in pink. She hears the boys telling her the same thing, "girls can't be superheroes! Girls are just made of sugar and spice and everything nice!". Lucía remembers when her abuela told her that "a real luchadora must fight for what is right" and reveals that she is a girl. When others start clapping, she notices that there are luchadoras all around her who also reveal their identity. She continues to play without her mask and tells herself the following with her grandmother smiling as she watches her play, "I am still the best kind of superhero. I am Lucía the Luchadora, mask or no mask."
This book is a rare jewel–it features a strong Latina girl as a superhero! This book sends a clear message to all kids to be courageous in the face of injustice. Lucía does not reveal who she is until she understands that it will help another little girl who is going through something similar. In the end, Lucía realizes that she does not need a mask to be a hero. The book also shows the importance of inter-generational relationships in the Latinx culture.  Lucía's abuela is the one who shares her own experience and shares with her the mask and the cape. The last picture shows abuela smiling as Lucía plays with the other luchadoras on the playground.
The illustrations in this book are beautiful and bright. My favorite illustration shows Lucía when she gets angry.  In a full page spread, red and orange peppers surround Lucia to show that she is "spicy mad. KA-POW kind of mad." The illustrations are very detailed and show careful attention to the depiction of cultural artifacts and symbols such as rosary beads and the abuela's perfume.
TEACHING TIPS: At the end of the book, the author included a note on luchadoras, luchadores, and lucha libre in which the author discusses luchadores in Mexico and the history of lucha libre.
The author worked with an educator to create a curriculum guide to go along with Lucía the Luchadora. The guide includes questions, lesson ideas, and information about the author and illustrator.
http://www.cynthialeonorgarza.com/curriculum-guide-download-for-lucia-the-luchadora/
The following is an article of an interview with the author, Cynthia Leonor Garcia.
http://www.chron.com/entertainment/books/article/Luc-a-the-Luchadora-author-wants-more-11056270.php
This guide titled "Lucha Libre and Mexican Culture for Kids" features information about lucha libre as well as other picture books about this topic:
http://www.spanishplayground.net/mexican-culture-lucha-libre/
WHERE TO GET IT: To find Lucía the Luchadora, check your local public library, your local bookstore, or IndieBound. Also, check out Goodreads, Amazon, and Barnes & Noble.
ABOUT THE AUTHOR (from her website): I'm a writer and write all sorts of things. My debut picture book Lucía the Luchadora was published in March 2017. I've written essays for The Atlantic, commentaries for NPR's All Things Considered and am an alum of the VONA/Voices writer's workshop. I'm also a journalist and have worked as a reporter for several newspapers including the Houston Chronicle and the Fort Worth Star-Telegram. I graduated from Rice University and have a Master's in Journalism from Northwestern University's Medill School of Journalism. I was born and raised in South Texas and currently live with my husband and two young daughters in Nairobi, Kenya. Reach me via Twitter or at luchalady [@] gmail.com
ABOUT THE ILLUSTRATOR (from her website): As a born and bred New Yorker, my recent move to Tasmania has led me to discover a limitless wellspring of inspiration in the form of an urban and rural coalescence.  My artistic framework stems from my undergraduate and graduate degree courses at the Fashion Institute of Technology in New York where I studied illustration, computer animation and interactive media. Illustration is my main form of communication and memory keeping, and I believe that even the smallest life experiences can be the greatest asset to inspired creations. To me, art is a powerful motivator which equips me with the ability to transcribe my imagination into something tangible. I hope to direct those who view my work into a deeper experience with curated colour, delightful subject matter and professional craftsmanship.
ABOUT THE REVIEWER: Sanjuana C. Rodriguez is an Assistant Professor of Literacy and Reading Education in the Elementary and Early Childhood Department at Kennesaw State University. Her research interests include the early literacy development of culturally and linguistically diverse students, early writing development, literacy development of students who are emergent bilinguals, and Latinx children's literature. She has published in journals such as Journal of Language and Literacy Education, Language Arts, and Language Arts Journal of Michigan.
ABC PASTA: An Entertaining Alphabet
Review by Cecilia Cackley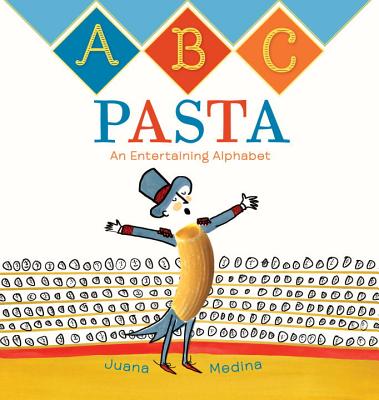 DESCRIPTION OF THE  BOOK:
A is for angel hair acrobat
M is for Macaroni the Magician
and T is for tortellini trapeze artist.
It's an ABC circus that's good enough to eat
MY TWO CENTS: We all know pasta is delicious, but who knew it could be so colorful and informative? After focusing on depicting animals in her last delightful concept book 1 Big Salad, Juana Medina adds human limbs, features and accessories to various pastas and other ingredients to create an engaging circus alphabet. Her lines are bold and sketchy, with splashes of color for cheeks and clothing added to create a beautiful, balanced effect. Medina has told me that Quentin Blake was a huge influence on her art, and it's really visible in these energetic drawings. She constantly changes the way she incorporates the photographs of the different kinds of pasta (plus a few herbs and cheeses), sometimes using it for the body of the character, sometimes the head or the hair, and occasionally for wheels, instruments or hoops. This is a delicious concept picture book that readers of many ages will be thrilled to pick up.
TEACHING TIPS: This is a book that rewards careful observation, and teachers can use it with preschool and kindergarten classes as a fun read aloud for introducing the alphabet. For slightly older students, a scavenger hunt would be a fun way to create an activity to go with the text, asking kids to find letters that use the pasta for different effects, or count how many letters include an instrument. Medina's vocabulary is very sophisticated for an alphabet book, making this a good choice for a language lesson explaining words like 'spectator,' 'invincible,' or 'zestful.' Art teachers can use this alongside Debbie Ridpath Ohi's found object art to spark ideas for student drawings using pasta or other items. I'd also like to point out that unlike many other circus themed books, Medina focuses solely on the humans, with no animals included at all. Now that the Ringling Bros circus has closed, most circuses in the U.S. have retired the elephants and seals and instead feature an incredible range of acts from acrobats to jugglers to clowns. It was nice to see those acts introduced to young people in this book.
ABOUT THE AUTHOR: Juana Medina was born in Bogotá, Colombia, where she grew up, getting in a lot of trouble for drawing cartoons of her teachers. Eventually, all that drawing (and trouble) paid off. Juana studied at the Rhode Island School of Design – RISD (where she has also taught). And she has done illustration & animation work for clients in the U.S., Latin America, and Europe. She now lives in Washington, D.C., where she teaches at George Washington University. She is the illustrator of Snick! by Doreen Cronin and the author and illustrator of 1 Big Salad, Juana and Lucas (which won the Pura Belpré Award) and the upcoming picture book Sweet Shapes.
WHERE TO GET IT: To find ABC Pasta, check your local public library, your local bookstore, or IndieBound. Also, check out Goodreads, Amazon, and Barnes & Noble.
Click here for a post about a studio visit with Juana Medina.
ABOUT THE REVIEWER: Cecilia Cackley is a performing artist and children's bookseller based in Washington DC where she creates puppet theater for adults and teaches playwriting and creative drama to children. Her bilingual children's plays have been produced by GALA Hispanic Theatre and her interests in bilingual education, literacy, and immigrant advocacy all tend to find their way into her theatrical work. You can find more of her work at www.witsendpuppets.com.