Review by Mimi Rankin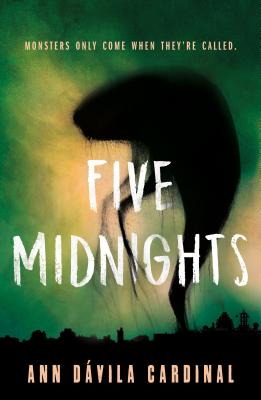 DESCRIPTION OF THE BOOK: Five friends cursed. Five deadly fates. Five nights of retribución.
If Lupe Dávila and Javier Utierre can survive each other's company, together they can solve a series of grisly murders sweeping though Puerto Rico. But the clues lead them out of the real world and into the realm of myths and legends. And if they want to catch the killer, they'll have to step into the shadows to see what's lurking there—murderer, or monster?
MY TWO CENTS: As soon as I read about Five Midnights by Ann Dávila Cardinal (Tor Teen), I was determined to get my hands on a copy. YA horror-crime set in Puerto Rico? Everything about this called my name.
Lupe Dávila is a "Gringa Rican" spending her summer in Puerto Rico, leaving her alcoholic dad in Vermont to explore his homeland on her own for the first time. The niece of the police chief, Lupe finds herself attempting to solve a mysterious murder case when it seems like her missing cousin, Izzy, might be the next victim. One of Izzy's oldest friends, Javier, is trying to make peace with himself and his sobriety, but when his old pals, Los Congregitos, keep being murdered in gruesome and inexpiable ways, all on their 18th birthdays, he fears as his own draws near. Can Javier and Lupe track down a vicious murderer before it's too late?
First things first: I could not put this book down. I seriously considered taking a personal day from work to finish it (I tweeted this and both Cardinal and Tor Teen told me I was allowed to). The book combines mythology, crime, and a stark look at addiction, all set in the greater San Juan, Puerto Rico area. Each page sparked a new question in the best way possible. Is El Cuco real? What's the deal with the ominous abuelita? I was pulled into the stories and backgrounds of the various characters and could not inhale the book quickly enough. The last few chapters felt slightly rushed, but there is so much action and detail packed into the climax, the racing could have just been from my own heartbeat.
One of Cardinal's greatest strengths came through her characters. In particular, Marisol was one of the most fascinating and complex characters I've encountered in YA literature. She is bold and electric and passionate about her country and community. There is a sincere depth to her, and I would love nothing more than to see her succeed. Another character who I truly felt like I was getting to know as a human being was Javier. His struggle and battle with his addiction, his relationship with Padre Sebastian, and even his relationship with his family, all felt whole. The text even went as far to explain the socioeconomic misunderstanding of addiction; a favorite line is "My dad is a g—d—n lawyer."
The world that Cardinal has created in San Juan was so tangible, painting both the stunning aspects of the city like the Spanish blue bricks of Old San Juan and the harsh realities of an island struggling to come back from a devastating hurricane and a corrupt government. Five Midnights invites readers to the captivating supernatural realm of an island just as mystifying with the resilience and heart of its people. I fully plan to champion Tor Teen to pick up a sequel—there is more havoc for El Cuco to cause and more stories to be told from Puerto Rico.
ABOUT THE AUTHOR: Ann Dávila Cardinal is a novelist and Director of Recruitment for Vermont College of Fine Arts (VCFA). She has a B.A. in Latino Studies from Norwich University, an M.A. in sociology from UI&U and an MFA in Writing from VCFA. She also helped create VCFA's winter Writing residency in Puerto Rico.
Ann's first novel, Sister Chicas was released from New American Library in 2006. Her next novel, a horror YA work titled Five Midnights, was released by Tor Teen on June 4, 2019.
Her stories have appeared in several anthologies, including A Cup of Comfort for Mothers and Sons (2005) and Women Writing the Weird (2012) and she contributed to the Encyclopedia Latina: History, Culture, And Society in the United States edited by Ilan Stavans. Her essays have appeared in American Scholar, Vermont Woman, AARP, and Latina Magazines. Ann lives in Vermont, needle-felts tiny reading creatures, and cycles four seasons a year.
ABOUT THE REVIEWER: Mimi Rankin received her Master's Degree with distinction in Children's Literature from the University of Reading. Her thesis, on which she received a rating of First, centered around claims to cultural authenticity and representation in Hispanic Children's Literature. She currently works in the publishing industry as a marketing manager. Her reviews do not reflect the opinions of her employer.