.
We are an affiliate with Indiebound and Bookshop. If If you make a purchase through these links, at no additional cost to you, we will earn a small commission.
By Cindy L. Rodriguez
This is an occasional series about middle grade Latinx authors. We decided to shine a spotlight on middle grade writers and their novels because, often, they are "stuck in the middle"–sandwiched between and overlooked for picture books and young adult novels. The middle grades are a crucial time in child development socially, emotionally, and academically. The books that speak to these young readers tend to have lots of heart and great voices that capture all that is awkward and brilliant about that time.
Today, we highlight Anika Fajardo.
Anika Fajardo was born in Colombia and raised in Minnesota. She is the author of a book about that experience, Magical Realism for Non-Believers: A Memoir of Finding Family (University of Minnesota Press, 2019), which was awarded Best Book (Nonfiction) of 2020 from City Pages and was a finalist for the 2020 Minnesota Book Award. Her debut middle-grade novel What If a Fish (Simon & Schuster, 2020) was awarded the 2021 Minnesota Book Award. Her next book for young readers, Meet Me Halfway (Simon & Schuster) will be published in spring 2022.
Her writing for adults and children has appeared in numerous publications including Brief Encounters: A Collection of Contemporary Nonfiction (Norton), We Are Meant to Rise: Voices for Justice from Minneapolis to the World (U of Minnesota Press), and Sky Blue Waters: Great Stories for Young Readers (U of Minnesota Press). She has earned awards from the Minnesota State Arts Board, the Jerome Foundation, and the Loft Literary Center.
A writer, editor, and teacher, she lives with her family in the very literary city of Minneapolis.
.
Here is the publisher's description for WHAT IF A FISH: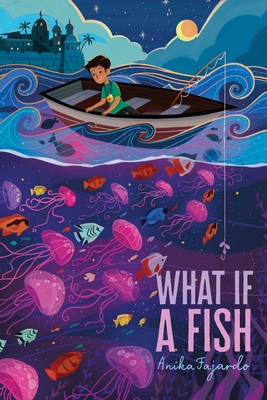 A whimsical and unflinchingly honest generational story of family and identity where hats turn into leeches, ghosts blow kisses from lemon trees, and the things you find at the end of your fishing line might not be a fish at all.
Half-Colombian Eddie Aguado has never really felt Colombian. Especially after Papa died. And since Mama keeps her memories of Papa locked up where Eddie can't get to them, he only has Papa's third-place fishing tournament medal to remember him by. He'll have to figure out how to be more Colombian on his own.
As if by magic, the perfect opportunity arises. Eddie—who's never left Minnesota—is invited to spend the summer in Colombia with his older half-brother. But as his adventure unfolds, he feels more and more like a fish out of water.
Figuring out how to be a true colombiano might be more difficult than he thought.
.
.
Anika Fajardo
1. Who or what inspired you to become a writer?
My mom and my grandparents regularly read aloud to me when I was growing up, so books were always a big part of my life. In sixth grade I won a poetry contest after working with a guest poet in the schools. I got to read my poem on stage in front of an audience, and I decided I really wanted to be a writer. But it took me many careers (teacher, librarian, social media manager, web designer) before I actually let myself believe I could do it.
2. Why do you choose to write middle grade novels?
I remember being that age fondly; I loved to read, write, play pretend, go on adventures. It's such a great audience–they're old enough to appreciate well-formed characters, intriguing plots, and sophisticated themes but without any of the sexy stuff of YA.
3. What are some of your favorite middle grade novels?
Of course, I love the middle-grade novels from Las Musas (THE OTHER HALF OF HAPPY, THE DREAM WEAVER, THE MUSE SQUAD). I'm from Minnesota, so my first picks are Minnesota authors like Kate DiCamillo (I adore RAYMIE NIGHTINGALE) and Pete Hautman (FLINKWATER FACTOR). I also love older books like MIXED-UP FILES OF MRS BASIL E FRANKWEILER and THE WESTING GAME.
4. If you could give your middle-grade self some advice, what would it be?
Keep dreaming and don't let any grown-ups tell you what you can or cannot do with your one precious life.
5. Please finish this sentence: Middle grade novels are important because…
kids need something that's just for them–not babyish and not too grown up–to which they can escape.
.
.
Cindy L. Rodriguez is a former journalist turned teacher and children's author. She is a middle school reading specialist in Connecticut, where she lives with her family. Cindy is a U.S.-born Latina of Puerto Rican and Brazilian descent. Her debut contemporary YA novel is When Reason Breaks (Bloomsbury 2015). She also has an essay in Life Inside My Mind (Simon Pulse 2018) and wrote the text for three Jake Maddox books: Volleyball Ace (2020), Drill Team Determination (2021), and Gymnastics Payback (2021). Her debut picture book will be published by Cardinal Rule Press in summer 2022. She can be found on Facebook, Twitter, and Goodreads.