Review by Katrina Ortega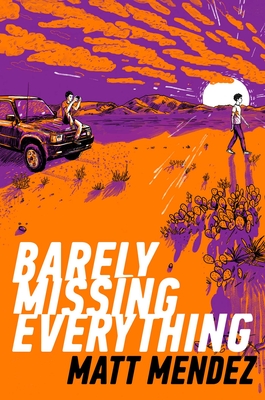 DESCRIPTION OF THE BOOK (from Simon & Schuster): Juan has plans. He's going to get out of El Paso, Texas, on a basketball scholarship and make something of himself—or at least find something better than his mom Fabi's cruddy apartment, her string of loser boyfriends, and a dead dad. Basketball is going to be his ticket out, his ticket up. He just needs to make it happen.
His best friend JD has plans, too. He's going to be a filmmaker one day, like Quinten Tarantino or Guillermo del Toro (NOT Steven Spielberg). He's got a camera and he's got passion—what else could he need?
Fabi doesn't have a plan anymore. When you get pregnant at sixteen and have been stuck bartending to make ends meet for the past seventeen years, you realize plans don't always pan out, and that there some things you just can't plan for…
Like Juan's run-in with the police, like a sprained ankle, and a tanking math grade that will likely ruin his chance at a scholarship. Like JD causing the implosion of his family. Like letters from a man named Mando on death row. Like finding out this man could be the father your mother said was dead.
Soon Juan and JD are embarking on a Thelma and Louise­–like road trip to visit Mando. Juan will finally meet his dad, JD has a perfect subject for his documentary, and Fabi is desperate to stop them. But, as we already know, there are some things you just can't plan for…
MY TWO CENTS: This book felt so real to me for a number of different reasons. First, as a native El Pasoan, it's hard to not immediately feel pulled to any novel which takes place there. Though likely not recognizable by the average reader, Mendez does an incredible job of capturing the city's personality, and displays the city's many characteristics through descriptions of the neighborhoods and characters.
I appreciated that Mendez wrote with such authenticity. He explains that the experiences in the book are similar to those that he went through as a youth in El Paso, which makes the authenticity reasonable, but it's more than that. Mendez writes Juan's and JD's characters in an incredibly life-like manner. They have genuine teen personas and voices. They make realistic teen decisions: they're emotional, impulsive, and reactionary, but the reader can also see the calculated thought processes that happen in their heads. The characters develop in nuanced and genuine ways, becoming deeper, more advanced versions of themselves as the plot advances and they confront new situations.
Like many youth who grow up in the city, Juan wants to leave as soon as possible to achieve lofty goals elsewhere; whether his goals are in any way realistic or attainable is a conversation that adults often have with teens (again, authenticity!). JD is coming from a household in the midst of tumult, and, as expected, his easygoing persona is his crutch. He tries to be the best person that he can be, even in the midst of cynicism and negativity from his family. But even though both JD and Juan struggle to keep their heads straight while their family lives become chaotic and challenging, their ability to pursue their dreams despite the chaos is so genuine and, to me, exemplifies exactly what teens everywhere struggle to do every day.
The icing on the cake of this book was Fabi's character. It was so refreshing for a YA novel to portray an adult who was trying as best they could to help their family succeed, but who was very much struggling in the process. Fabi's character was, to me, very unlikable initially. I assumed she was going to be the sort of parent who had checked out of their teenage child's life and never looked back. As the book continues, though, the reader can see her hidden depths, much in the same way that we see Juan's and JD's multiple layers shine through as we get to know them. Mendez does a phenomenal job of creating characters that are complex, intricate, and very well-developed.
The plot of this book, particularly the ending, is a fast-paced, interesting, and very realistic portrayal of the lives and experiences of a couple of families living in an area of the country that is currently a political, social, and humanitarian hotbed.
TEACHING TIPS: The point of view: Mendez's use of three narrators makes the storyline feel varied and interesting throughout the book. This novel offers a great opportunity to speak about how using these varied points of view make the story feel fuller and more complete, as well as helping to give further perspective about the characters themselves.
Representation: The book also offers an opportunity to speak on a number of issues involving representation. First, these characters come from low socioeconomic communities, and their experiences are contrasted a number of times with those of people in higher socioeconomic groups. Readers can see how belonging to the group that Juan, JD, and Fabi do often have to navigate around the world, how their class can affect the decisions that they make, and how they interact with people in other classes.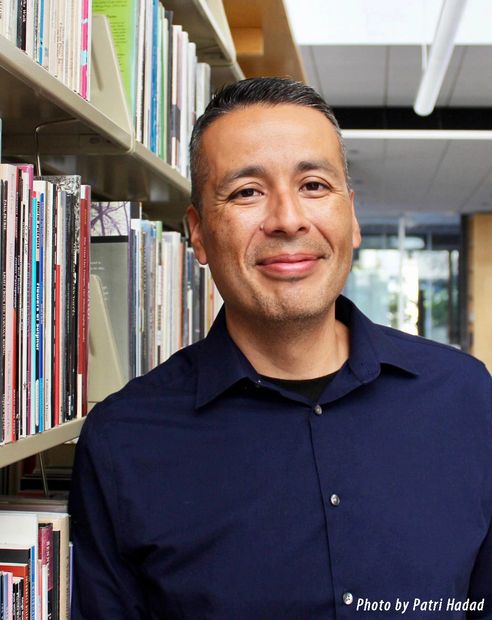 ABOUT THE AUTHOR (From Simon & Schuster): Like his characters, Matt Mendez grew up in central El Paso, Texas. He received an MFA from the University of Arizona and is the author of the short story collection Twitching Heart. He lives with his wife and two daughters in Tucson, Arizona. Barely Missing Everything is his debut young adult novel. You can visit him at MattMendez.com.
ABOUT THE REVIEWER: Katrina Ortega (M.L.I.S.) is the manager of the New York Public Library's College and Career Pathways program. Originally from El Paso, Texas, she has lived in New York City for six years. She is a strong advocate of continuing education (in all of its forms) and is very interested in learning new ways that public libraries can provide higher education to all. She is also very interested in working with non-traditional communities in the library, particularly incarcerated and homeless populations. While pursuing her own higher education, she received two Bachelors of Arts degrees (in English and in History), a Masters of Arts in English, and a Masters of Library and Information Sciences. Katrina loves reading most anything, but particularly loves literary fiction, YA novels, and any type of graphic novel or comic. In her free time, if she's not reading, Katrina loves to walk around New York, looking for good places to eat.