.
By Cindy L. Rodriguez
This is an occasional series about middle grade Latinx authors. We decided to shine a spotlight on middle grade writers and their novels because, often, they are "stuck in the middle"–sandwiched between and overlooked for picture books and young adult novels. The middle grades are a crucial time in child development socially, emotionally, and academically. The books that speak to these young readers tend to have lots of heart and great voices that capture all that is awkward and brilliant about that time.
Today, we highlight Donna Barba Higuera.
Donna grew up in central California surrounded by agricultural and oil fields. As a child, rather than dealing with the regular dust devils, she preferred spending recess squirreled away in the janitor's closet with a good book. Her favorite hobbies were calling dial-a-story over and over again, and sneaking into a restricted cemetery to weave her own spooky tales using the crumbling headstones as inspiration.
Donna's Middle Grade and Picture Books are about kids who find themselves in odd or scary situations.​ From language to cultural differences in being biracial life can become…complicated. So like Donna,  characters tackle more than just the bizarre things that happen to them in their lives.
Donna likes to write about all things funny, but also sad, and creepy, and magical. If you like those things, she hopes you will read her books!
Donna lives in Washington State with her family, three dogs and two frogs.
Her middle grade novel, Lupe Wong Won't Dance released September 8, 2020.
.
Here is the publisher's description: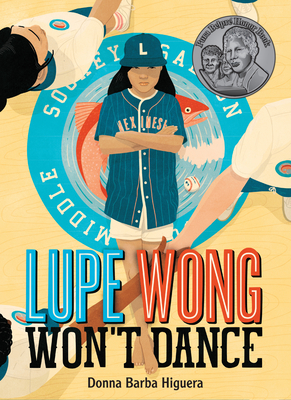 My gym shorts burrow into my butt crack like a frightened groundhog.
Don't you want to read a book that starts like that??
Lupe Wong is going to be the first female pitcher in the Major Leagues.
She's also championed causes her whole young life. Some worthy…like expanding the options for race on school tests beyond just a few bubbles. And some not so much…like complaining to the BBC about the length between Doctor Who seasons.
Lupe needs an A in all her classes in order to meet her favorite pitcher, Fu Li Hernandez, who"s Chinacan/Mexinese just like her. So when the horror that is square dancing rears its head in gym? Obviously she"s not gonna let that slide.
.
Donna Barba Higuera
Q. Who or what inspired you to become a writer?
Teachers. That's the short answer.
Mrs. Griffin, Mrs. Presho, Mrs. Arnoldus, My Uncle Ted. Mr. Presho. Each one of them at specific times told me I should write down the stories in my head.
I think of myself as a storyteller more so than a writer. My imagination has been on full speed, creating alternate plotlines for as long as I can remember. From the books I'm reading, to those "I wish I would've done this instead" moments, to my Aunt's Readers Digest Mysteries of the Unexplained book that I read to tatter, my mind tries to make those things more magical, or brave or mysterious.
But still, bottom line, teachers encouraged me to channel those bizarre stories churning in my mind and put them on paper. Imagining stories for me is easy. Writing them down is hard work. Thank goodness for the teachers who encouraged me to work.
Q. Why do you choose to write middle grade novels?
I've written adult and YA novels as well, but I always get pulled back into Middle Grade. I've tried to put my finger on why this happens. I think it's because that was the age in which I felt most awkward and vulnerable and experienced the most internal struggle in my own life. (But also, the most external conflict.) It's the age where I still need to work through my thoughts and issues. If this comes across onto the page, there's more emotional conflict, and that is where I believe better stories come from.
I think many writers don't even realize until they are done writing a book that they've written something that is helping them digest something from their past.
Q. What are some of your favorite middle grade novels?
For me, the best MG has a mix of humor and emotional growth.
Everything Sad is Untrue by Daniel Nayeri
Just released. Unlike any format in MG I've ever read, but so beautifully written and funny and sad. This book is going to be a classic!
I Am Fartacus- Electric Boogerloo (2nd in series) by Mark Maciejewski
Hilarious! Probably the only book with Fart and Booger in the title that received a Kirkus star. Perfect balance of humor and friendship and MG struggles.
Rogue by Lynn Miller Lachmann
Again, a perfect mix of humor and strife. Also, one of the best books showing "voice" of a character. And we need more books with neuro-diverse characters.
The Moon Within by Aida Salazar
This book does have some funny moments of awkwardness that are so true to life regarding menstruation. Those funny moments help will help young readers digest these topics that have historically been taboo. This novel has had to navigate some speed bumps with the more conservative crowd, but it will overcome that and stand the test of time to be a classic.
Q. If you could give your middle-grade self some advice, what would it be?
LOL. Remember how I mentioned most writers realizing after they wrote a book, that it helped them digest something about themselves. It's the message I discovered after writing Lupe Wong Won't Dance that my kid-self needed to hear.
It is: Always be your true self. If you are, the right people will enter and remain in your life.
Q. Please finish this sentence: Middle grade novels are important because…
If writers put our own vulnerabilities and hurdles on the page, it allows kids who are going through the same timeless struggles, feel like they are not so alone.
.
.
Cindy L. Rodriguez was a newspaper reporter for The Hartford Courant and researcher at The Boston Globe before becoming a public school teacher. She is now a reading specialist at a Connecticut middle school. Cindy is a U.S.-born Latina of Puerto Rican and Brazilian descent. She has degrees from UConn and CCSU. Her debut contemporary YA novel is When Reason Breaks (Bloomsbury 2015). She also has an essay in Life Inside My Mind (Simon Pulse 2018) and wrote the text for Volleyball Ace, a Jake Maddox book (Capstone 2020). She can be found on Facebook, Twitter, and Goodreads.