We are so excited to host a cover reveal for Lee & Low's upcoming spring title from two of the biggest names in the Latinx children's book community: Pat Mora and Raul Colón. Their new book, called Bookjoy, Wordjoy is the third collaboration between these two award-winning book creators. First, let's take a quick look at their two previous collaborations. Click on the cover images for more information:
Now, here's some information about their new book, which releases May 15, 2018:
Whether we are collecting words, reading favorite books in the library, celebrating holidays, writing poems, sharing secrets, or singing a jazzy duet, words and books can take us on wonderful adventures and bring us joy. Poet Pat Mora has brought together a collection of her poems that celebrates engaging with words and books in all these ways and more. Vivid illustrations by Raul Colón bring the poems to life and interpret the magic of the language with captivating images in a style influenced by Mexican muralists. Together the poems and illustrations are sure to inspire creative wordplay in readers of all ages.
We can read, you and I,
see letters become words,
and words become books . . .
You and I read, round and round,
bookjoy around the world.
Before we reveal the cover, the wonderful crew at Lee & Low have provided us with some insight on how Raul Colón created his illustrations. ARTISTS: This is for you! Insight from one of the greatest Latinx illustrators!
Raul Colón worked with watercolors on paper and Prismacolor pencils to complete these illustrations. He started the visuals with a light yellow watercolor wash on white paper. When it dries, he pencils in the full drawing, then continues with a watercolor that's usually applied in sepias and golden brown tones. The next step is to etch a few lines onto the paper in the proper areas. Finally, the "real" and final colors are rendered with multiple layers of color pencils.
.
Now for the cover reveal!
Scroll down!
*
*
*
*
*
*
*
*
Keep scrolling!
*
*
*
*
*
*
*
*
Building suspense….almost there!
*
*
*
*
*
*
*
TA-DA!
.
.
 .
 And here's a bonus inside illustration:
 .
 .
ABOUT THE AUTHOR (From her website): 2018 promises to be a happy poetry year for Pat. Lee and Low Books is publishing her fourth poetry collection for young readers, Bookjoy, Wordjoy, illustrated by the talented Raúl Colón. The University of Arizona Press will publish her seventh adult poetry collection, Encantado: Desert Monologues. Pat's other poetry collections for children are This Big Sky, Confetti, and Yum! ¡MmMm! ¡Qué Rico! Pat also wrote two collections for young adults, Dizzy in Your Eyes: Poems about Love written in the voices of teens, and My Own True Name.
Pat has published more than thirty-five award-winning children's books. Her recent books include The Remembering Day, El Día de los Muertos and Water Rolls, Water Rises/El agua rueda, el agua sube. Among her other children's books, many available in Spanish or bilingual editions, are Doña Flor: A Tall Tale about a Giant Woman with a Great Big Heart and Tomás and the Library Lady.
She has published three books of adult nonfiction Zing! Seven Creativity Practices for Educators and Students, a writing memoir and innovation guide; House of Houses, a family memoir; and Nepantla: Essays from the Land in the Middle. Her adult poetry inclues six collections.
Pat's honors include the Lon Tinkle Award for Lifetime Achievement from the Texas Institute of Letters, the Virginia Hamilton Literary Award, and she delivered the May Hill Arbuthnot Lecture. She's a lifetime member of the United States Board on Books for Young People (USBBY), an honorary member of the American Library Association, received National Leadership (Kellogg Foundation) and Poetry Fellowships (NEA), and honorary doctorates from North Carolina State University and SUNY Buffalo.
With her daughter, Libby Martinez, Pat wrote I Pledge Allegiance and Bravo, Chico Canta! Bravo! A literacy advocate excited about sharing what she calls "bookjoy," in 1996, she founded Children's Day, Book Day, in Spanish, El día de los niños, El día de los libros, "Día." Pat and her partners including the American Library Association and First Book nationally promote this year-long initiative of creatively linking all children and families to books and establishing annual April Children's Day, Book Day celebrations. Pat's Book Fiesta captures this bookjoy spirit. April 30, 2018 is the 22nd anniversary of this initiative.
Born in El Paso to a loving, bilingual family, Pat lives in Santa Fe. She's grateful for her three children, her enthusiastic four-year-old granddaughter, her husband, anthropology professor Vern Scarborough, and her readers. A former teacher, university administrator, museum director, and consultant, Pat is a popular speaker about creativity, inclusivity and bookjoy. She is always working on new books.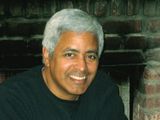 ABOUT THE ILLUSTRATOR (From The National Center for Children's Illustrated Literature website): Colón was born in New York City in December of 1952 and moved with his parents in the 1960s to Caguas, Puerto Rico, where he studied commercial art. In 1978 Colón made Florida his home, working at an educational television center designing everything from puppets to short animated films. In 1988 the artist settled with his family in New City, New York and began a freelance career. Today, Colón continues to be a versatile and acclaimed illustrator whose work has appeared in important national publications.
An award-winning illustrator of over thirty books for children, Colón was chosen to illustrate Dr. Jill Biden's Don't Forget, God Bless Our Troops as well as Frank McCourt's bestselling Angela and the Baby Jesus, both from Paula Wiseman Books. The industry has recognized Colón with a Golden Kite Award, two Pura Belpré Award, a gold and silver medal from the Society of Illustrators, included twice in the NY Public Library's 100 titles for Reading and Sharing; and been a two-time recipient of The Tomas Rivera Mexican American Children's Award.
Colón uses very unique techniques in his artwork to create texture and rich, deep colors. The illustrations are done on watercolor paper and combine watercolor washes, etching, and the use of colored pencils and litho pencils. Colón himself explained his technique for the illustrations in Angel and the Baby Jesus. "I began with textured watercolor paper. I added a wash of golden undertone watercolor. On top of that I drew the image – sketched it – and then added the middle tones. There are about 5 to 8 washes on top of each other. I then used colored pencils to make the texture of the paper come out. I also use a scratchboard instrument appropriately called a "scratcher" to draw down through the layers."
Colón currently resides in New City, NY with his family.