.
We are an affiliate with Indiebound and Bookshop. If If you make a purchase through these links, at no additional cost to you, we will earn a small commission.
Review by Leslie Adame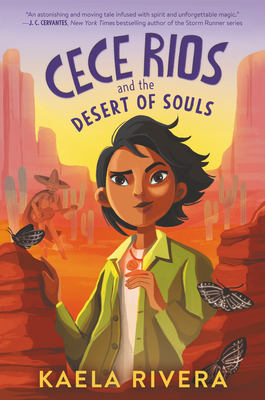 DESCRIPTION OF THE BOOK: Living in the remote town of Tierra del Sol is dangerous, especially in the criatura months, when powerful spirits roam the desert and threaten humankind. But Cecelia Rios has always believed there was more to the criaturas, much to her family's disapproval. After all, only brujas—humans who capture and control criaturas—consort with the spirits, and brujeria is a terrible crime.
When her older sister, Juana, is kidnapped by El Sombrerón, a powerful dark criatura, Cece is determined to bring Juana back. To get into Devil's Alley, though, she'll have to become a bruja herself—while hiding her quest from her parents, her town, and the other brujas. Thankfully, the legendary criatura Coyote has a soft spot for humans and agrees to help her on her journey.
With him at her side, Cece sets out to reunite her family—and maybe even change what it means to be a bruja along the way.
MY TWO CENTS: Cece Rios has lived under the scrutiny of her small desert town ever since she was "cursed" by the criatura Tzitzimitl when she was seven. Compared to her perfect sister Juana, Cece considers herself a disappointment and a shame to her entire family. So it is no surprise she feels the need to prove herself when her sister is taken by the criatura El Sombrerón after an argument between the two sisters. But to get to her sister, Cece must become a bruja to obtain access to Devil's Alley— the home for all criaturas.
But becoming a bruja is no easy feat. The condition for becoming one requires Cece to gain control of a criatura of her own and win the Bruja Fights. Hearing this, Cece is convinced she's lost the one opportunity to save her sister, until she rescues the criatura Coyote from Cantil Snake. Indebted to her, and seeing that she's not malicious like other brujas, Coyote promises to help Cece win the Bruja Fights and save her sister. They form a bond of trust and loyalty, which is non-existent between brujas and criaturas, as the role of brujas is typically to enslave criaturas. Without realizing it, Cece is changing what it means to be a bruja, all while making new friends and obtaining the confidence she needs to save her sister.
Cece Rios and the Desert of Souls is a beautiful story that combines some of our most favorite Latin American urban legends and places them all in a world set up very eloquently. Although the beginning may be a little slow for younger readers, it is necessary to understand the world Cece Rios comes from. As the story picks up, the reader will fall in love with Cece and root for her success as she ventures on this journey to find her sister as well as herself. The relationship between Cece and her family is a realistic one, and middle grade readers with siblings will come to relate to Cece's troubles to be seen, as she is constantly compared to her older sister.
Readers will also come to love Coyote, a grumpy but loyal partner whose mysterious backstory will compel the reader to unravel it. The parallels between Cece and her long missing Tía were alluring as well, and it was a joy to unpack her backstory. Overall, Rivera did an amazing job creating a beautiful world with intriguing characters that pull you in from the start. Fans of stories born from urban legends and mythology such as the ones written by Rick Riordan, J.C. Cervantes, and Roshani Chokshi should pick up Cece Rios and the Desert of Souls at their local libraries or book stories. It is truly a treat to read.
.
ABOUT THE AUTHOR: Kaela Rivera was raised to believe in will-o'-the-wisps and el chupacabra, but even ghost stories couldn't stop her from reading in the isolated treetops, caves, and creeks of Tennessee's Appalachian forests. She still believes in the folktales of her Mexican and British parents, but now she writes about them from the adventure-filled mountains of the Wild West. When she's not crafting stories, she's using her English degree as an editor for a marketing company (or secretly doodling her characters in the margins of her notebook). Her biggest hope is to highlight and explore the beauty of cultural differences—and how sharing those differences can bring us all closer.
.
.
.
ABOUT THE REVIEWER: Leslie Adame is a graduate of the University of California, Los Angeles with a degree in Political Science and a minor in Film, Television, and Digital Media. Along with writing books herself, she invests most of her time mentoring historically marginalized students and preparing them for a higher education. She strongly believes in the importance of representation in books, and has volunteered in events like the Latinx Kidlit Book Festival to put a spotlight on Latinx/e authors. Leslie grew up in the Inland Empire, specifically Ontario, California. She hopes to one day publish a middle grade fantasy centered around a first-generation protagonist and her undocumented parents.