Review by Cris Rhodes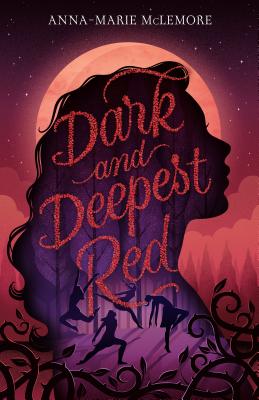 DESCRIPTION OF THE BOOK: Summer, 1518. A strange sickness sweeps through Strasbourg, France.  Women dance in the streets, some until they fall down dead. As rumors of witchcraft spread, suspicion turns toward Lavinia Blau and her family, and Lavinia may have to do the unimaginable to save herself and everyone she loves. 
Five centuries late:  A pair of red shoes seals to Rosella Oliva's feet, making her dance uncontrollably. They draw her toward a boy who knows the dancing fever's history better than anyone: Emil, whose family was blamed for the fever five hundred years ago. But there's more to what happened in 1518 than even Emil knows, and discovering the truth may decide whether Rosella survives the red shoes.
MY TWO CENTS: As with any Anna-Marie McLemore book, Dark and Deepest Red is like watching a particularly colorful sunrise breach over a murky, ominous landscape. It's illuminating, warming, but also bears with it a hint of darkness that makes the sunlight that much sweeter. Their distinctive prose, full of lush and elegant language, is immediately recognizable as is their attention to telling the stories of people history would try to forget. Dark and Deepest Red takes that task to a new level, pairing the historical narrative of Lala and Alifair in Strasbourg in 1518 with that of Rosella and Emil in a contemporary world. Their stories parallel, sharing common themes and motifs.
The Strasbourg narrative retells the dancing plague, in which roughly 400 people were struck by a shared affliction: dancing incessantly, sometimes to death. McLemore frames this historical moment as not just a time to examine socio-religious and early medicinal practices, but as a backdrop for xenophobic concerns about the Romani peoples. Lala, also called Lavinia to avoid being coded as Romani, flees her homeland to avoid persecution, but anti-Romani laws follow her. With the onset of the dancing plague also comes speculation that Lala or her aunt are the culprits. Her assumed involvement is further compounded by her relationship with the transgender Alifair. Lala is the focus character for the chapters recounting Strasbourg in 1518, making her a key character alongside Rosella and Emil.
Meanwhile, Rosella and Emil alternate chapters. Rosella's told in the first person and Emil's in the third. That we only get into Rosella's mind is important, as she is afflicted with a similar plague: when she resews a pair of shoes originally made by her treasured grandparents and tries them on, she quickly learns that she cannot remove the shoes, and, to make matters worse, the shoes force Rosella to dance and, indeed, act independently of her body, often putting her in danger. The shoes also lead Rosella into Emil's arms. Emil, who has rejected his own Romani heritage, must tap into his roots to help save Rosella.
The alternating chapters are a dance in and of themselves, leaping from Rosella to Strasbourg to Emil back to Strasbourg and resuming the sequence. This alternation, however, does possibly overemphasize the Strasbourg chapters, potentially at the risk of subordinating Rosella and Emil's stories. When reading, I did find myself more invested in Lala and Alifair, rather than Rosella and Emil. (And, to be fair, this may just be a personal preference, but I do wonder if this is tied to the narrative structure, or my own personal interest in dance and the dancing plague…) While each story is deeply intertwined and McLemore does an artful job of drawing them together, the dual narratives may appear too divergent, at least initially. To be clear, they do come together. And they do so in the intricate, special, and supernatural ways typical of McLemore's work.
Importantly, as well, for an audience invested in Latinx children's literature, this text does not centralize Latinidad or problematize it. It's incidental but nevertheless present. I find this so significant. Rosella's ethnicity and racialized body are certainly something that inform the plot, but she is not the one who largely experiences xenophobia, Lala does. Regardless, Latinx readers will find mirrors in Lala's experiences. That McLemore poses this shift in representation offers a wider appeal to this text. Rather than being seen as a "Latinx text," or a "Romani text," or a "queer text," it's all three. At these intersections we find a lovely, challenging, and poignant read.
TEACHING TIPS: The historical narrative of this text would lend it well to a paired text with a lesson on history. It may also be an interesting discussion tool to aid in explorations of the treatment of queer peoples in history. 
It would also pair well with discussions of Andersen's "The Red Shoes," as McLemore notes thus tale as a major influence on their writing of the novel. Students may read both and write about the similar themes. Students may also consider other Andersenesque stories and write their own retelling wise diverse casts. 
ABOUT THE AUTHOR: Anna-Marie McLemore (they/them) is the queer, Latinx, non-binary author of THE WEIGHT OF FEATHERS, a 2016 William C. Morris YA Debut Award Finalist; 2017 Stonewall Honor Book WHEN THE MOON WAS OURS, which was longlisted for the National Book Award in Young People's Literature; WILD BEAUTY, a Kirkus, School Library Journal, and Booklist Best Book of 2017; BLANCA & ROJA, a New York Times Book Review Editors' Choice; DARK AND DEEPEST RED, a Winter 2020 Indie Next List title; and THE MIRROR SEASON, forthcoming in 2021. 
ABOUT THE REVIEWER:  Cris Rhodes is an assistant professor of English at Shippensburg University of Pennsylvania. She teaches courses of writing, culturally diverse literature, and ethnic literatures. In addition to teaching, Cris's scholarship focuses on Latinx youth and their literature or related media. She also has a particular scholarly interest in activism and the ways that young Latinxs advocate for themselves and their communities.