Review by Clarissa Hadge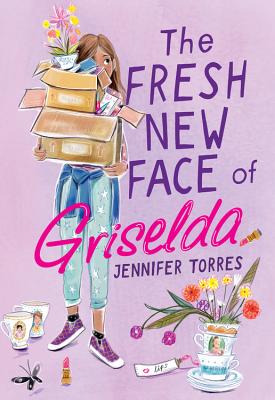 DESCRIPTION OF THE BOOK: Griselda "Geez" Zaragoza has a love for beautiful things, like her collection of vintage teacups and the flower garden she and her dad planted in the front yard. But when his business fails, Griselda loses not just her home, but also her confidence and her trust in her unflappable parents.
Tagging along with big sister Maribel, who postponed college for a job selling Alma Cosmetics, Geez dreams up a way to reclaim the life she thinks she lost. If she can sell enough tubes of glistening, glittery Alma lip gloss, she'll win a cash prize that could help jump start her dad's business.
With ups and downs along the way, Geez will discover that beauty isn't just lost or found, but made and re-made.
MY TWO CENTS: Griselda "Geez" Zaragoza and her family have fallen on hard times. Her dad has lost his landscaping business, forcing the family to move from their home to Griselda's Nana's house. Her mom, a former TV reporter from before Griselda was born, picks up hours as an assistant at Griselda's Tia Carla's salon. Griselda's big sister Maribel has postponed going off to college to stay home and help the family by selling cosmetics door-to-door as a saleswoman for Alma Cosmetics. Griselda spends the summer before starting sixth grade following Maribel through her rounds.
After one of these sales calls, Griselda sees an ad in her sister's cosmetic brochure that reads, "Are you between the ages of 12 and 19? Join Alma Cosmetics as a Junior Associate." The ad promises Junior Associates who sell 500 tubes of Alma's new Fairytale Collection lip gloss a chance to win $5,000, and the opportunity to be the "Fresh New Face" of the cosmetics line.
In the moment, Griselda tosses the brochure away, her mind heavy with thoughts about her family's finances. The only thing that seems to bring her happiness anymore are her collection of First Lady teacups, found at various yard sales through the years, searching long and hard with her Nana. Maribel gives Griselda a lip gloss, for helping with their last sale.
A fashion forward classmate notices Griselda holding the lip gloss at lunch on the first day of school, and realizes that it's a color that is from a new line. Griselda initially offers to give it away, but then she realizes that she could instead sell it to the classmate. The classmate eagerly buys the new gloss, and other girls notice, asking Griselda if she has other colors. An idea starts formulating in Griselda's mind – that she could maybe become a Junior Associate with Alma Cosmetics, and potentially win the $5,000 prize. Griselda knows that $5,000 isn't going to get her house back, or her dad's job, but she knows that it can help her family in some way. After a starting boost from Maribel, she gains traction in her cosmetic sales. With more and more classmates excited about the new colors and styles, and their eager willingness to pay, Griselda's popularity grows.
But though she is on her way to winning the cash prize, and maybe becoming the "Fresh New Face" of Alma, Griselda's rise is not without its obstacles. She might be able to sell lip gloss and nail polish, but at what expense? Her friends? Her relationship with her family? Though her intentions are honorable, Griselda will learn a valuable lesson in what it takes to be at the top.
Jennifer Torres's middle grade novel is a sweet tale of one girl trying to help her family. I appreciated the way that the novel dealt with class differences, Griselda's introspection about her family's situation, and what she could do to make things easier for all of them. Though the Zaragozas are not without a physical roof over their heads, and have the privilege of never going without food, Torres captures the turmoil a tween might undergo, of wanting to help, but not being quite old enough to make a significant difference. Griselda's relationship with her Nana was one of my favorite parts of the novel, and with seamless Latinx references throughout the text – Griselda eating pan dulce with her Nana before school in the morning, the breezy inflections of her Nana calling her mija – I was reminded of my own childhood moments with my Granny.
The secondary character of Griselda's best friend Sophia was fleshed out without being stereotypical. My heart broke as Griselda has less and less time with Sophia and have an inevitable falling out at the mall. The scene is supposed to be celebratory, as they are there to spend their birthdays together, but it ends in disaster. Griselda's worry over money comes to a head when she internalizes all of her anger and sadness as she sees Sophia spending money, without having to care about how much everything costs, as Griselda does. The scene is poignant, both girls angry at each other for all the wrong reasons, but not realizing no one is really to blame in the moment.
I especially loved the details about Griselda's First Lady tea cups, with each chapter starting with a quote from a First Lady. This characteristic of Griselda felt unique. I have to admit I searched online to see if these existed, and while it doesn't appear as though a matching set exists in our world, I'd like to think that Griselda eventually finds all of the cups to make a full set.
ABOUT THE AUTHOR: Jennifer Torres is the author of Flor and Miranda Steal the Show, Stef Soto, Taco Queen, and Finding the Music/En Pos de la Música. A graduate of Northwestern University and the University of Westminster, London, her background is in journalism. She has worked for The Record newspaper in Stockton and now lives with her husband and two little girls in Southern California.
ABOUT THE REVIEWER: Clarissa Hadge is a Chicanx transplant from sunny Southern California who now lives in the less-than-sunny Northeast. A graduate of Simmons University, her background is in writing for children. An advocate for more inclusive literature for children and young adults, she is the bookstore manager and children's book buyer at an independent bookstore in Boston and the current co-chair of the New England Children's Booksellers Advisory Council (NECBA).