.
We are an affiliate with Indiebound and Bookshop. If If you make a purchase through these links, at no additional cost to you, we will earn a small commission.
Today, we are chatting with author Alexandra Alessandri about her second picture book, Isabel and Her Colores Go to School, which is illustrated by Courtney Dawson.
The book just released yesterday! HAPPY BOOK BIRTHDAY!
.
First, here is the publisher's description of the book:
English, with its blustery blues and whites, just feels wrong to Isabel. She prefers the warm oranges and pinks of Spanish. As she prepares for class at a new school, she knows she's going to have to learn–and she would rather not! Her first day is uncomfortable, until she discovers there's more than one way to communicate with friends. This is a universal story about feeling new and making new friends.
.
Now, here's some information on the creators:
Alexandra Peñaloza Alessandri is a Colombian American poet, children's author, and Associate Professor of English at Broward College. She received her BA and MA degrees in English from Florida International University, as well as a Certificate of Fiction from UCLA Extension. Her poetry has appeared in The Acentos Review, Rio Grande Review, YARN, and Atlanta Review, where her poem "Inheritance" was a Finalist in the 2017 International Poetry Competition. She is the author of Feliz New Year, Ava Gabriela! (Albert Whitman, Oct. 2020) and Isabel and Her Colores Go to School (Sleeping Bear Press, Fall 2021).
Alexandra is represented by Deborah Warren of East West Literary Agency. When not writing or teaching, Alexandra spends her time daydreaming, relearning the piano, and planning the next great adventure with her family. She lives in Florida with her husband, son, and hairless pup, dreaming of Colombia.
.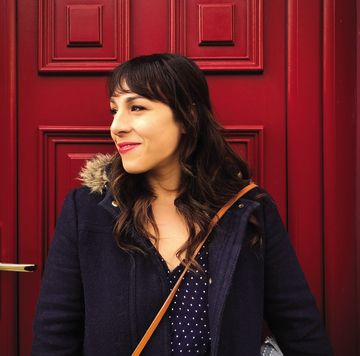 Courtney Dawson is a children's book illustrator of many titles including A Vote is a Powerful Thing (Albert Whitman) and The Stars Beckoned (Philomel). She is inspired by the world around her and all of the good in it. Courtney loves to work on projects that are empowering, inclusive, and whimsical. She also loves rainy days and painting to Sam Cooke in her California studio.
.
.
Now, here's our Q&A with Alexandra:

1. What was your inspiration for this story?
Isabel and Her Colores Go to School was inspired by my own experience of starting kindergarten in New York. We only spoke Spanish at home, and when I started school, I spoke almost no English. My story was a little different—I literally got lost in the hallways of my school because I misunderstood the teacher—but I wanted to channel those feelings into Isabel's story.
.
2. In the story, your character struggles with the first day of school and not knowing the language. What made you decide to incorporate colors, too? (I couldn't help but think of the song De Colores while reading it.)
I hadn't listened to "De Colores" since I was a kid! Thank you for this trip down memory lane.
Though I'm not an artist, I love color—the bolder and brighter the better—and I'm also fascinated by the different names for different shades (I love reading the names on paint chips!) When I started brainstorming for Isabel, I didn't know I would incorporate color this way, but I knew Isabel was an artist, so I started asking myself, What would the different languages sound like to her? What would she associate them with? For her, Spanish would remind her of home, with the green of her mountains, pinks, yellows, and purples of her mami's flowers, the brilliant blues of nearby rivers. And, because English is foreign—and scary—for her, she would associate it with storms. As I wrote and revised, I worked at strengthening this connection in both a literal and figurative manner.
.
3. The story has the Spanish translation right on the pages. Was that part of your original vision for this story, so that Spanish speakers could read and enjoy it, too?
I've always wanted to have my stories translated into Spanish, so my family and Spanish speakers could read and enjoy them. For Isabel, though, I wrote and submitted the story in English with Spanish sprinkled in, as it's what's most natural for me. It was my brilliant editor Sarah Rockett who suggested having the book as a both an English and Spanish edition. I celebrated! I didn't realize just how much I yearned for this, and I'm incredibly excited to be able to share this story with English and Spanish speakers.
.
4. The artwork on the pages is beautiful. Did you have any input in the art process?
Courtney's art is just so gorgeous! I love how she got the essence of who Isabel and the other characters are and how she captured the play of colors in the artwork. When I first saw her sketches, I knew the story was in great hands. I did get to see the art in a few parts of the process, like the cover sketches and interior pages, and I was invited to give feedback, which I appreciated. But most of my feedback was just me gushing about the illustrations—Courtney's art just blew me away!
See for yourself….
.
Congratulations to Alexandra and Courtney! Isabel and Her Colores Go to School is now available wherever books are sold. You can quickly find it here at Indiebound or through her publisher, Sleeping Bear Press.